Jack and Jill bathroom designs are a blessing for large families or those who are pressed for time in the morning wee hours when it comes to getting ready to go about their routine business — either to leave for work or school.
We do realize that it can be difficult to make sure that every person in the family gets enough time to use the bathroom. Especially siblings. A Jack and Jill bathroom is then the perfect solution.
If you grew up watching The Brady Bunch in the '70s, you would've already seen this kind of bathroom layout. The father Mike Brady, perhaps an architect, had built this utilitarian bathroom in the house plan to make it convenient for his six children.
But, who actually invented a Jack and Jill bathroom? Apparently, even Google is clueless. Whoever it was, had a sense of humor. The fact that it's named after the famous nursery rhyme brother-sister characters, is a proof. Quite fitting, isn't it?
What is a Jack and Jill bathroom?
A Jack and Jill bathroom is a shared bathroom, generally between two bedrooms. It includes separate entrances and two sinks. But, users share the bath or shower and toilet area. It is much like having an ensuite for both bedrooms yet is more cost-effective than having two separate ones.
Such a bathroom is a brilliant concept that solves a lot of problems. The benefits of a Jack and Jill bathroom are many. It is cost-effective, saves space, gives easy access to more than one person through different doors, gives kids their own sinks and storage spaces — and a sense of ownership in a shared Jack and Jill bath. Above all, it saves time.
And, since the doors have locks on both sides, there is no compromise regarding privacy. The bathroom goer, however, must remember to lock the doors during usage and unlock when it's not in use.
All in all, such a bathroom helps families go about their daily business smoothly — particularly when more people live together. If you're considering a bathroom remodeling, find a qualified contractor who has experience constructing Jack and Jill bathrooms.
Now that you've made up your mind, let's help you with 10 amazing Jack and Jill bathroom designs that are beautiful to look at and practical. So here goes.
1. Contemporary Glamor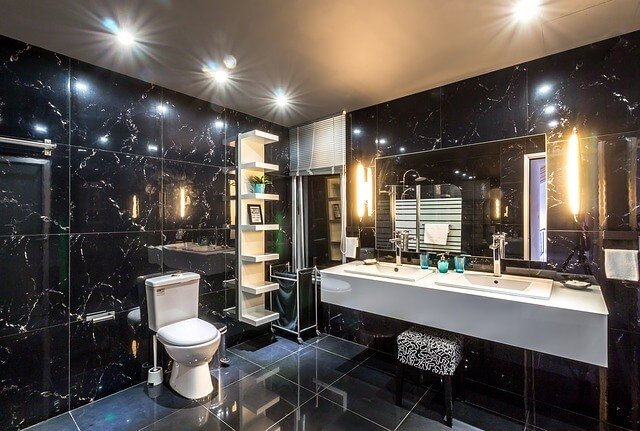 Pixabay
A Jack and Jill bathroom can be all that you dream of. It's up to you to add style and oomph to the design. This bathroom stands out with its black quartz walls. Notice how the smooth surface is bouncing off light — making the space vibrant and full of energy. Even the tiled flooring is shining like a mirror! You can tell by the design that the homeowner is someone who doesn't hesitate from experimenting. Everything about this space is glamorous. We love the simple white countertop with its stylish faucets. A cushioned stool is the only furniture in the bathroom. We like.
2. Utilitarian Design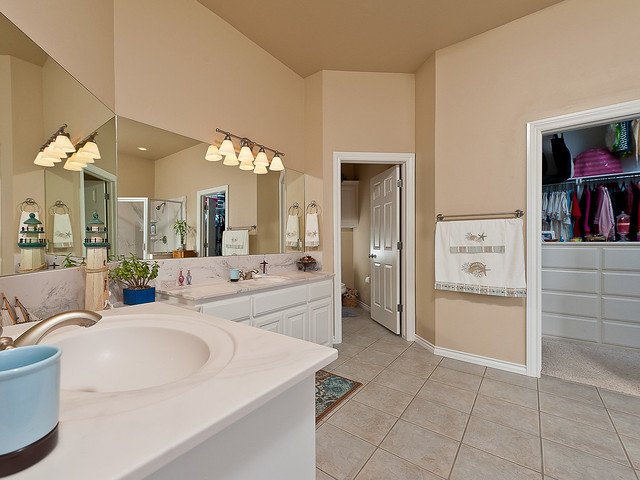 Photo by Bill Wilson from Flickr is licensed under CC By 2.0
Sometimes, the most practical solutions are the best solutions. If you are blessed with extra space, this multifunctional design is perfect for your kids' bathroom. The peach wall paint, accent lights, and marble countertops with buffed faucets are all pleasing to the eyes. Very understated, yet chic. Apart from housing the essentials of a bathroom, it even has a walk-in closet cum dressing room for your children! It's the best solution to store all their clothes. This way, the bathroom, as well as their respective bedrooms, can be kept uncluttered and organized. And, the children can get ready for school here only — on time.
3. Minimalistic Style
Photo by designmilk from Flickr is licensed under CC BY-SA 2.0
This Jack and Jill bathroom design is specifically meant for a family that has same-gender children. The layout has been kept simple yet functional. The homeowners have used wood panels, subway tiles, and dual concrete sinks in a way that adds a lot of practicality to the area. We love the skylight above the tub and the large windows. They let in natural sunlight and make the place look brighter and cheerful.
4. Doubling Up On Amenities
Photo by Bill Wilson from Flickr is licensed under CC BY 2.0
You know, what is the perfect way to remove crowding and prevent any kind of screaming matches between siblings? By doubling up on the amenities. Two quartz countertops, under-sink storage, mirrors, and even accent lights give a dreamy look to the bathroom. This design provides a much smoother flow of traffic in the morning and during bedtime routines. No more fight for space and utilities. Here, solid wood cabinetry in a light hue and three large mirrors lend an opulent look to the area. A perfect setup for teenaged girls.  
5. Using Furniture For Visual Separation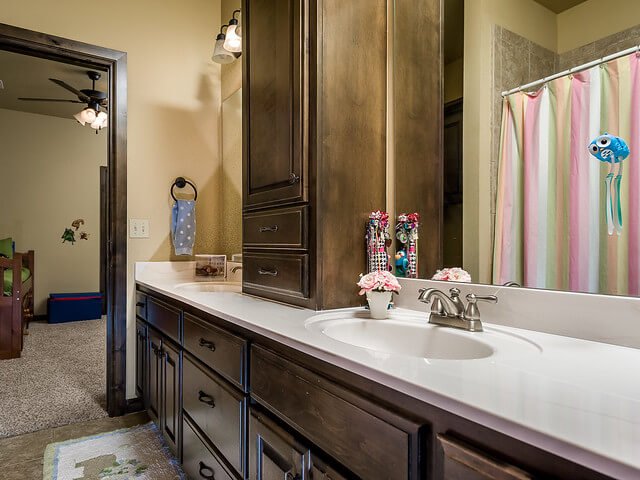 Photo by Bill Wilson from Flickr is licensed under CC BY 2.0
What we like best about this design is that the homeowners have strategically placed a tall solid-wood cabinet on top of the dual quartz washstand to partition it into two clear-cut halves — one for each user. The under-sink storage matches it in style and color. The bathroom has a playful vibe — right from the pink curtains to the flower arrangement. This design utilizes space efficiently and is perfect for smaller bathrooms. The absence of extra doors and other frills keeps the bathroom renovation cost in check too.
6. The Opulence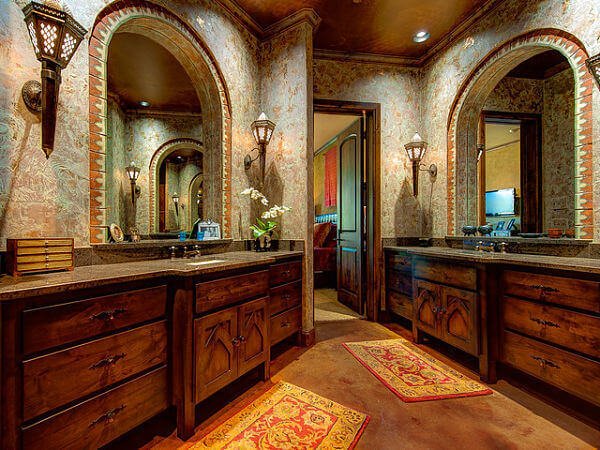 Photo by Bill Wilson from Flickr is licensed under CC BY 2.0
Who says a Jack and Jill bathroom is only for kids? We don't. In fact, it can make for the perfect guest bathroom. And, it need not be boring and plain Jane. Get your creative juices flowing while designing this space. Here, the homeowners have added a middle eastern touch with curved and edged mirrors, dark wood furniture, Persian rugs, and wall-mounted antique accent lights. The ceiling recessed lights add to the mystique of the room. These combine to create a look that's straight out of Arabian Nights.
7. Splashes Of Colors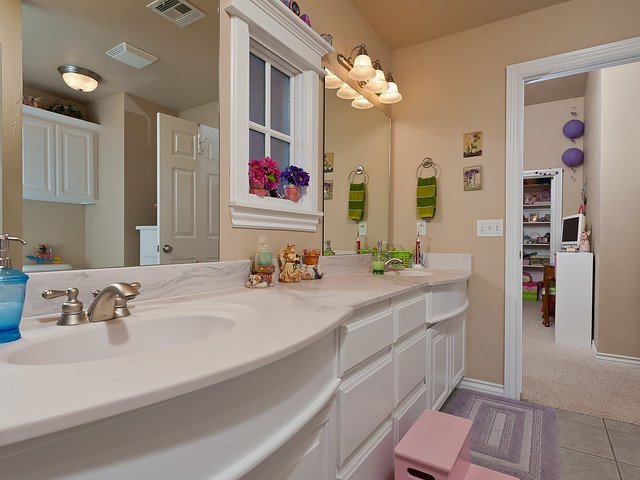 Photo by Bill Wilson on Flickr is licensed under CC BY 2.0
This bathroom design is extremely useful when you have young children. They are easily able to access the bathroom directly from their bedroom. Otherwise, waking up in the middle of the night and walking down a hall can be disorienting, and even scary — for them as well as us. Here, the all-white cabinetry is easy on the eyes and goes well with the light wall color. The washstands are practical with no sharp edges. A vibrant flower arrangement on the French-style windowsill and pops of colors — enliven this bathroom and how! We love the step-up ladder to aid small children when they brush their teeth. 
8. A Mix Of Styles From Different Era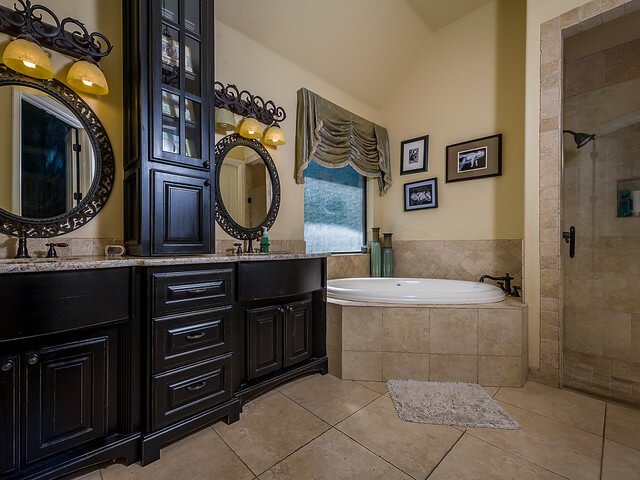 Photo by Bill Wilson from Flickr is licensed under CC BY 2.0
If practicality and convenience are on your mind while designing a Jack and Jill bathroom, this eclectic style is for you. It has glamor and yet is simple. A humongous vintage storage unit, with Medieval wrought-iron mirrors, is the focal point of this layout. We love the modern granite countertop with sinks, tiled tub, and the separate shower room. There is a mix of materials and style that is quite charming, and might we add unique.
9. The White And Gold Classic Design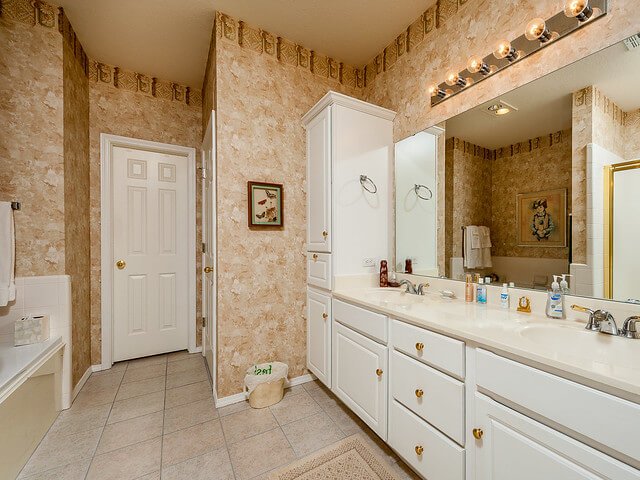 Photo by Bill Wilson from Flickr is licensed under CC BY 2.0
We are drooling over this classic white and gold bathroom. Right from the white cabinetry and door with golden knobs to the textured golden wallpaper and yellow accent lights — the bathroom is as rich as can be. And, the amount of storage this room has is remarkable. The designer has utilized each and every space — drawers and cabinets under the sinks as well as on each side of the washstand. These storage ideas will help organize your bathroom and make it look spacious despite the limited square footage.
10. Mirror Imaging For A Vintage Vibe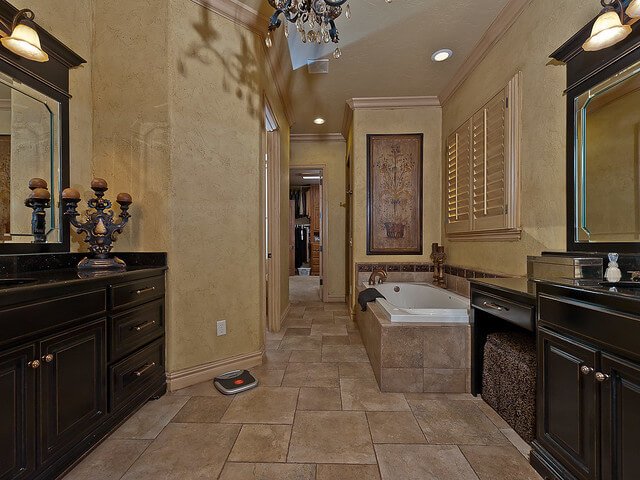 Photo by Bill Wilson from Flickr is licensed under CC BY 2.0
This design is classy and gives off a vintage vibe with its decor. Notice how the dark-hued antique furniture has been placed opposite each other across a tiled floor. They are almost like mirror images. A perfect setup for a Jack and Jill that shares its boundaries with a guest room. The stand-out chandelier, recessed lighting, and wooden shutters look absolutely magazine-worthy. We love the ornate candelabrum too. Very elegant.
Final Thoughts
As seen in the above designs, a well-made Jack and Jill bath will have doors to separate areas of the bathroom, like the toilet and shower. This allows multiple people, especially in larger families, to get ready at once. Someone can be brushing their teeth while another is showering or putting on makeup. These designs are simple yet quite sensible — utilizing space in the most beautiful way.
Sharing such a bathroom can work well, given some understanding of ground rules by the users. And, if children happen to use a Jack and Jill bathroom, it can teach them responsibility, patience, and respect for other people's privacy.
 Read more: 10 Bathroom Design Faux-Pas (And How To Avoid Them)
10 Clever Jack And Jill Bathroom Designs For Your Home
was last modified:
October 6th, 2019
by