A half bathroom? What exactly is a half bathroom and how is it different from a full-fledged bathroom? And, are you thinking of renovating your home and looking for unique small half bathroom ideas? Don't worry, you'll get all your answers here.
What is a half bathroom?
A small half bathroom, also known as powder room, is a space around 50 square feet or less which offers basic services like a sink and toilet. It has no bathing facility. Since it's used mostly by visiting guests, its location is usually near the entrance of your home for convenience.
There is no set design pattern regarding how big a half bathroom should be. Generally speaking, its total room dimensions may be around 50 square feet but the walkable area might be around 16 square feet — just big enough to be able to walk from the toilet to the sink.
This is the reason most half bathrooms are basic in terms of layout, offering you half the services of a full-blown bathroom. But they don't have to be! If you entertain often, there's no reason for this room to be dreary. You can use your ingenuity to transform it into an extraordinary one — making your guests swoon. And, since the room and its decor say a lot about your designing taste too, why not!
We have curated a list of 10 small half bathroom ideas that are so awesome that they will blow your mind away. So here goes:
1. Balancing Space With A Color Scheme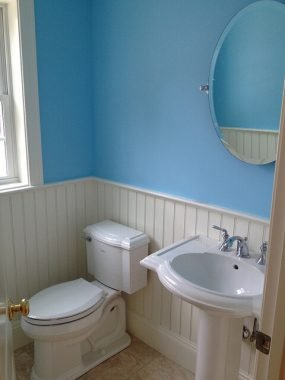 Photo by Steven and Courtney Johnson on Flickr licensed under CC BY-SA 2.0
Since space comes at a premium here, the best way to make your small half bathroom look bigger than what it is, is to paint it in two equal halves vertically. This opens up the space — drawing your eyes upward — beautifully creating an illusion of height.
Here, the white wainscoting and fixtures combine well with the blue to create a look that is pleasing to the senses. The color combination is the only thing bold about the room. The rest of the aspects have been kept to a minimum.
Tip: Research your color scheme well to come up with an aesthetic combination. Blues and indigos are preferred colors for a half bath. If choosing rich colors, contrast the tone with a white or light secondary color for the vanity, toilet, and towels.
2. Textured Wall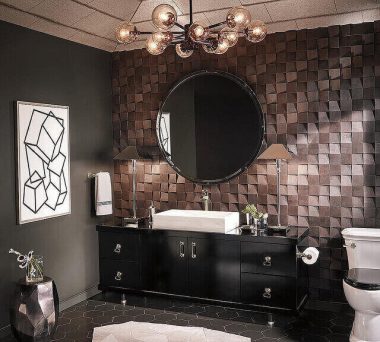 Photo by designmilk on Flickr licensed under CC BY-SA 2.0
There's is no denying the power of textures. A textured wall can effortlessly add an air of sophistication to any interior. It draws people closer, to want to be able to feel it by touching, and is incredibly attractive to look at. Although your powder room is small, layer as much texture as you can to add depth and style.
Here, a wooden cabinet with a fitted sink has been placed against an ornately textured brown wall. Dramatic overhead lights, a large round mirror, and a black-and-white modern artwork complete the look.
Tip: It's better to stick to a monochromatic color theme. Natural colors, with varying shades of the same tone, are easier to mix and match with different designs and decor.
3. Glossy Finish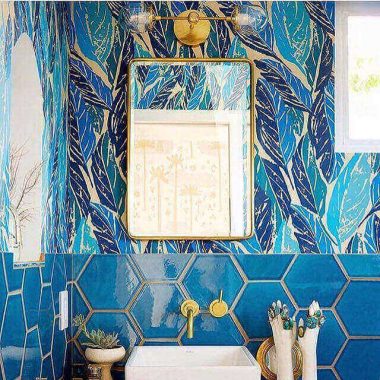 Photo by designmilk on Flickr licensed under CC BY-SA 2.0
High-gloss finishes add a reflective quality to colors, making them look richer. You can create a vibrant half bath by combining a glossy, tiled background with a matching zippy wall paper. A simple counter, a plain mirror and a handful of stylish accessories add to a warm vibe. You may also opt for a metallic, geometric wallpaper for than grander-than-grand shine.
Here, a lustrous surface of pentagonal tiles has been set with a vivid wallpaper that matches it in its spirits. The tone of the fixtures, including the lights, has been purposely kept matted golden for a chic look. The whole appearance is electrifying yet comfortable. Such a space is bound to make you happy.
Tip: Don't go overboard when it comes to luster. If you have glossy walls, keep the floor and ceiling simple.
4. Black Interiors
Photo by designmilk on Flickr licensed under CC BY-SA 2.0
Who says, a small half bathroom has to be all-white? We don't. In fact, we encourage you to be experimental and give your powder room a stylish black decor. And, it's easy to maintain too.
Here, the entire interior has been coated with, hold your breath, chalkboard paint!  You can actually use the wall to unleash your creativity. Sketches, poetry, or inspiration quotes — your bathroom, your graffiti. The guest bathroom will give out a cafe-like unbound energy. That's the young vibe you want for your area. Add an unusual light source and a stylish sink to the setting — making it look dramatic and uber cool. A design that's difficult to forget!
Tip: It's easy to go wrong with the tone of metallic fixtures in a black bathroom. Peruse through the different options available in the market and choose the ones with similar sheen. You don't want your faucets to clash with your mirror. Do you?
5. Bright, Aesthetically Placed Wallpaper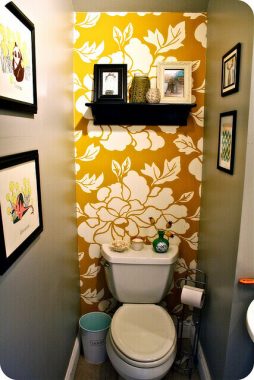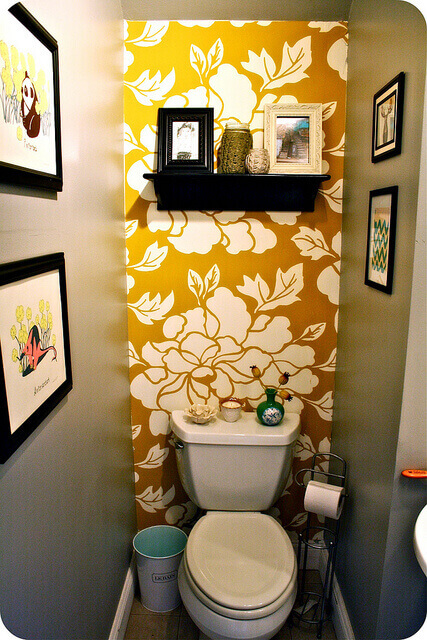 Photo by Amy Gizienski on Flickr licensed under CC BY 2.0
A small half bathroom is a blessing in disguise. Since there's no bath area, decorating and styling it is not too much work. But it's your job to transform it into quite the showpiece. Breathe life into it with a vibrant wallpaper. The trick is to cover a single wall and accentuate it.
Here, a bright floral wallpaper is strategically used to add depth to the otherwise small room, making it appear bigger than its actual size. The colorful layout also adds to its aesthetic value. Add a DIY rack over the toilet to keep the essentials and throw in a few matching paintings for good measure. The welcoming vibe of the bathroom will make your guests go weak in the knee.
Tip: Choose a vinyl, water-resistant wallpaper, even though there might not be too much splashing.
6. Invest In Stunning Tiles
Photo by designmilk on Flickr licensed under CC BY-SA 2.0
Tiles can be expensive. But the good news is, if you have a tiny half bath, you don't need a lot of tiling done. We suggest, you go for it – the beautiful effect tiles create far exceeds the investment.
Tip: Choose a tile with a graphic or geometric pattern and use it floor-to-ceiling. If your budget is limited, you can tile the vanity wall and use a less expensive flooring material like vinyl adhesive tiles. These look like stone or real tiles.
7. Geometric Flooring
Photo by designmilk on Flickr licensed under CC BY-SA 2.0
Give your small half bathroom an usual yet inviting look with a contrasting floor. Think black cubic tile flooring with pink walls.
You can choose the best combinations available. Go wild with the colors. The floor will provide a 3D effect to the area, giving an optical illusion of more space.
8. Unique Fixtures Over Practical Storage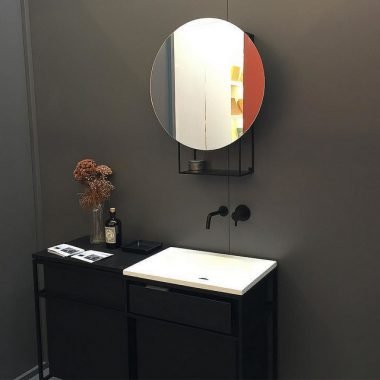 Photo by designmilk on Flickr licensed under CC BY-SA 2.0
When space is an issue, as in the case of a half bathroom, you want to utilize the best of features — but on a smaller scale. Get a simple storage cabinet to fit the area under the sink. It helps organize your essentials and makes use of the space perfectly. As far as the fixtures are concerned, don't go down the beaten track — try something funky. Here, notice how the black faucets have been installed in a unique way; right through the wall. The round mirror and the stark white sink offset the grey wall. All in all, a color scheme that spells sophistication.
Tip: When choosing what type of cabinetry will work in your half bathroom, consider everything you will be keeping. Wash cloths, hand towels, and extra guest supplies are all you'll need.
9. Great Lighting
Good lighting can make all the difference in your guest bathroom. You would want your half bathroom to give out a welcoming, warm vibe — especially when it's small. Include both mood lighting and functional lighting. Invest in a brighter, cooler-temperature bulb for your functional lighting and dimmer bulbs for your ambient lighting.
Tip: A small pendant light can make a huge statement and light up the room. Wall sconces or candles can add to the ambiance.
10. Dress Up Your Small Half Bathroom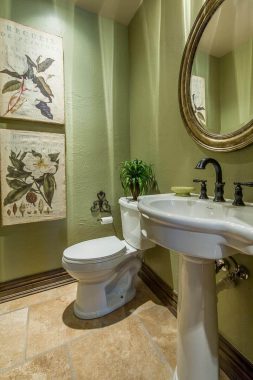 Photo by Bill Wilson on Flickr licensed under CC BY 2.0
So what if your powder room is small, you can still make it the highlight of your home by adding the perfect accessories. After all, the magic is in the details. Look around and mix and match items. A light-weight cane wastebasket, a bright rug thrown on the floor, a unique wall art, a vase with colorful orchids, scented candles, or a room diffuser — your choice.
Tip: A little bit of added carpentry can also render an expensive feel to the most basic half bathrooms. If you own your house, adding paneling or molding to your powder room can increase your home's property value.
We hope you've found these 10 small half bathroom ideas amazing. Get inspired and bring together the most memorable half bathrooms ever. Make this tiny space your new favorite room. A little bit of effort on your part will make all the difference. We're sure, your friends and family will agree. Happy renovating!
Read more: Simple Small Bathroom Renovations For Those On A Budget
10 of the Cleverest Small Half Bathroom Ideas
was last modified:
February 12th, 2020
by