Is your closet that hideout in your home to throw in everything and then close the door to hide it from plain view? But later, when you have to search for a particular item on a busy weekday morning, how do you feel? Hassled and irritated, right? So, why not employ some quick closet organization ideas during your next bedroom renovation and turn this hidey-hole into a neat and functional space? With our list of tips, you will be able to eliminate mistakes keep any closet under control, transform it into an organized storage solution, and stack items according to preference. But before going there, let's first understand a few issues that homeowners often face while sorting out their essentials in their closet.
What Is the Best Way to Organize a Closet?
There are so many best ways to perfectly organize a closet. Maximizing space inside a closet involves smart ideas such as — hanging smallest apparels from hangers, stacking shoes on the door, using double hangers, or labeling your items. Have a look around and think of innovations as to how you can make the best use of this area.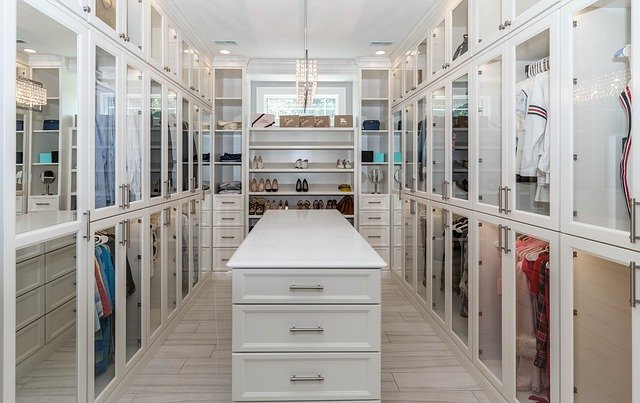 Pixabay
How Can I Make the Most of My Small Closet?
A small closet puts up a difficult but interesting storage challenge. Some of the best options are to go for multiple hanging racks, extender rods, and shelf dividers. Put unused clothes in suitcases and store them in another place. Also, install hooks and hang some items on the closet door.
How Do I Become a Professional Closet Organizer?
By following our list of the best closet organization ideas! Yes, just check out this catalog and then shortlist the alternatives which shall perfectly suit your needs. We promise you will definitely come back to thank us later!
10 Best Closet Organization Ideas
Use Hangers Strategically
Hanging clothes is one of the simplest methods to keep them organized, crease-free, and accessible. Hang small items such as tops, blouses, and skirts in the space above in-built shelves. Hang longer dresses and pants on hangers that have nothing underneath them. Another intelligent tip is to double up the capacity of your hangers. Instead of one shirt, why not go for two or even three? Multiply your storage capacity, while utilizing a single hanging space! How easy is that?
Is a built-in wardrobe more of your style? Take a look at our guide on building a built-in wardrobe for both him and her, everybody wins!
Create DIY Storage Containers
You can create DIY storage boxes from fabric or cardboard. Now use these small containers to put away items such as ties, scarves, jewelry, belts, and bags. These accessories may look tiny but they create a huge mess when not kept properly. Stacking them individually will also make them easily accessible.
Read more: Lessons From Micro-Housing: How To Make The Most Of Your Space
Use Drawers to the Max
Install drawers with a purpose; for example, to store your intimates. You can even use these portable compartments to neatly fold and place ties and scarves.
Closet Lighting? Take a look at these 8 Important Tips!
Put Away Seldomly Used Items
During summer, take out all your winter clothes, give them a quick wash, and stow them away in a plastic storage container or a suitcase. You can undergo the same exercise in the winter months. Code the boxes according to color or simply label them.
What About Your Shoes?
One of the simplest and most effective closet organization ideas for shoes is to keep your regularly used footwear on the inside surface of the door. You can simply fix a towel rod and hang your heels from it. Another tip is to place a shoe rack or install cubbies. Section them according to occasions for better differentiation.
Use Garment Bags
It's common knowledge that we all wear our formals only once in a blue moon. So why allow them to take up precious space? Instead, pack them up in garment bags and store them at the back of your closet. You can also utilize the unused wall space and install a towel rod there. Now, hang your formals in this hidden area, thereby, keeping them dust- and crease-free.
Stack Away Your Handbags
Do you own several handbags, totes, sachets, purses, and wallets? Why not get a compact bag organizer and keep everything in one place? You may also opt for shower hooks and use them to hang your purses. Fix these hooks on the inside surface of your closet door so that, next time, you don't have to search the entire house for your favorite handbag!
Read more: How To Choose The Right Walk In Closet Dimensions
Bins, Boxes, and Baskets
Use bins, boxes, and baskets to store small apparels that don't wrinkle and to shove in your accessories. Bins can hold different categories of items, such as tights, belts, gym clothes, sweaters, scarves, and handbags or undershirts and camisoles.
Install Shelf Dividers
Shelves are handy and one of the most popular closet organization ideas; correct. But bigger shelves can easily lead to clothes getting mixed up with each other. So, go for shelf dividers. They will sectionalize your closet shelves into smaller compartments and prevent one category of items from trespassing into the territory of others.
Another use of dividers is that you can use them to stack clothes without the worry of them toppling over. Your apparels will be in place and trust us, the entire space will look much neater and cleaner.
Label Your Items
Creating labels for everything and anything is one of our favorite closet organization ideas. One day spent in labeling your closet shall save you a lot of trouble in the long run. Create your labels from hard papers, sketch pens, and strings or adhesives. Put them over small storage baskets which usually remain hidden from plain view. Once you have them labeled, you can easily know which basket holds your mittens and which compartment has your ties. Now, you don't have to empty the whole closet in search of one item.
Conclusion
Irrespective of whether you own a small, medium or large closet, you can maximize storage space by implementing any of the above closet organization ideas. You can execute them with the simplest efforts and you don't even need to spend a lot of dollars. Most of these hacks are budget-friendly. But if you implement them, you shall save a lot of time and hassle in the long run. So, which tip will you try in your next bedroom remodel? Let us know in the comments below!
Read more: 10 Simple Steps to achieve a Dream Closet
Closet Organization Ideas: Best Storage Tips for a Tidy, Functional Space
was last modified:
May 22nd, 2022
by
Recommended