Designing your teenager's bedroom could be a daunting task. It needs to go well with the rest of your house while highlighting their personal styles and aspirations. Want some creative inspirations? We have 10 teen bedroom ideas that are sure to make your adolescent one of the most popular kids on the block.
Decorating your teen's room needs to be planned well. You want to make sure it grows with them through the precious growing years. And also, you want to be prepared if they demand something like over-the-top accent pieces or color and patterns. Whatever interior design you choose, be sure to do it together.
Teenagers are always looking for something funny, exciting, or motivating. As a parent, you should decorate their bedrooms according to their interest and well-being. Some love music while others are fans of sports. Keeping their passions in mind, here are 10 teen bedroom ideas that super cool.
1.  Make your girl's room a dreamy experience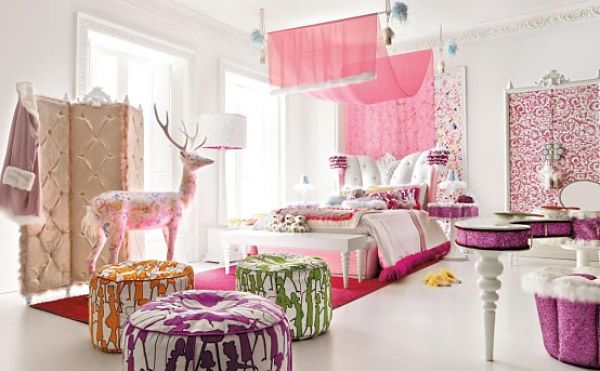 Charming and opulent Pink girls room Altamoda Girl 8, by home space on flickr [CC BY-SA 2.0]
Girls want their bedrooms little feminine and different. Excessive vanity, exquisite lamps, and a bed frame that's straight out of a fairy tale — and your girl's dream bedroom is ready. And, let's not forget the beautiful stuffed toys! There is a whimsical note to this design that we love. If ever in doubt about the interior design, it's best to consult your teenager. It's important that she likes what you're proposing. Finalize a theme based on her choice.
2.  Utilize fairy lights in the most unique ways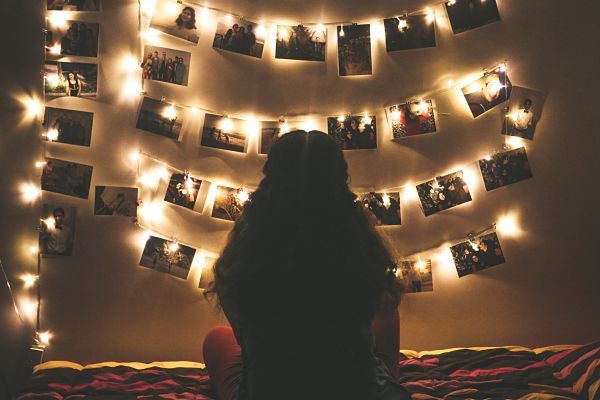 Photo by Pexels [CC0]
Teenagers tend to grow rapidly not only with age but also their emotions and tastes. But, this bedroom idea is timeless. Bring in a sense of mystique with fairy lights or string lights. With the use of these lights, you can make many interesting alterations in their bedrooms. Here's an idea. Hang their photographs on these string lights and create the most perfect wall gallery.
3.  Get sporty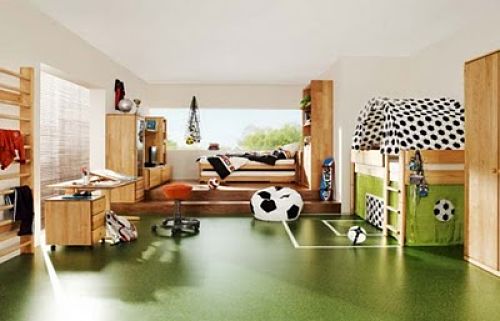 Soccer Theme Kids Bedroom Design 1, by mattwalker69 on flickr [CC BY-SA 2.0]
Generally, teenagers — especially boys — love to play sports. Decorate their bedrooms with sporty things like footballs, bats, hockey, etc. and watch their delight. You can also allow them to install a big poster of their favorite player or game. Hail Ronaldo!
4.  Brighten up your kid's room with a skylight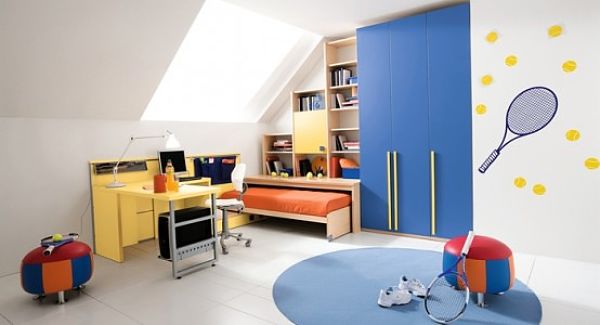 Cool Boys Bedroom Ideas by ZG Group, by home space on flickr [CC BY-SA 2.0]
Now, here's an idea that is as unique as it's utilitarian. Install a skylight in your child's room and make it even cooler. Or, should we say brighter? The natural light streaming in from above will enliven the room no end. Place a vibrant and functional study table under it for the best kind of illumination. A book rack, a colorful wardrobe, and a lively wall decal — your kid will simply love this interior design.
5.  Experiment with a color palette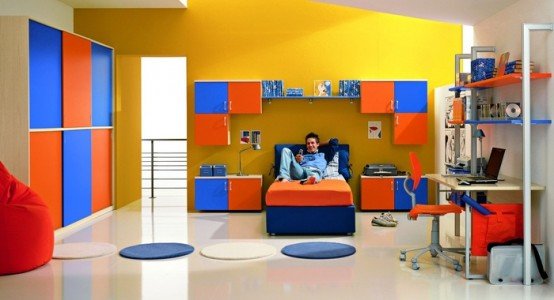 Photo by home space on flickr [CC BY-SA 2.0]
This is the age when teens prefer spending more time in their room than out of it. But, that's okay. This is when they are in the process of discovering new things and faces of life. You teen would want a bright and lively place where he can feel happy and cheerful. Give his or her room pops of color with great paint ideas. They would love to bring home friends and show off their little haven.
6.  Bring in the fun elements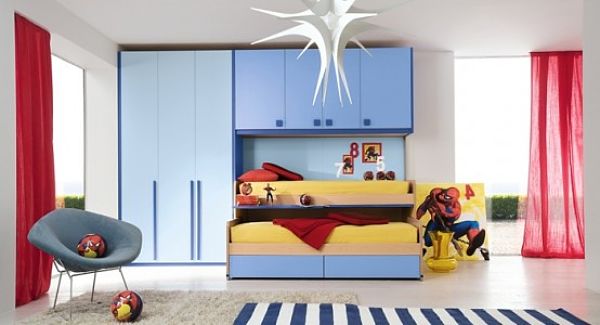 Cool Boys Bedroom Ideas by ZG Group, by home space on flickr [CC BY-SA 2.0]
Enriching the bedroom with fun elements will keep the mood of teenagers fresh and light. Try a vibrant piece of furniture, or create a lovely gallery wall of their artwork, graffiti walls, cartoon figures, or geometric flooring for some great teen bedroom ideas. Or, you could also install unique pendant lights in their bedrooms for that extra drama. Whatever you do, stay away from the boring.
7.  Get creative for your gym enthusiast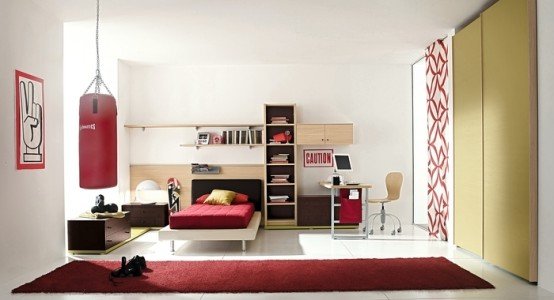 Cool Boys Bedroom Ideas by ZG Group by home space on flickr [CC BY-SA 2.0]
For gym lovers or workout enthusiast teens, this red and white bedroom is a wonderful idea. You could install gym instruments in their bedroom for constant motivation and inspiration. Or, install a punching bag and dumbbells for their workout. Go for large posters of famous athletes and sportsmen. Think Arnold Schwarzenegger or Muhammed Ali.
8.  Create a multipurpose room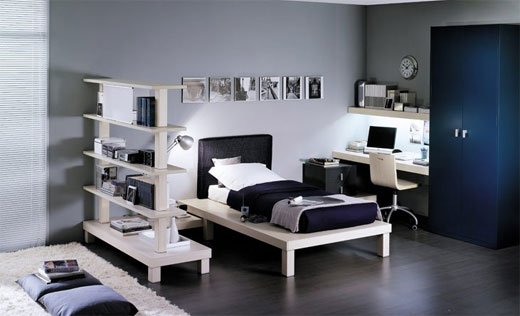 teen bedroom interior 3, by highfithome on flickr [CC BY-SA 2.0]
You can create a multipurpose room by adding space to study, sleep, and lounging with friends. Invest in floating shelves, a study area, and good storage. Add in some throw pillows on a rug and your teenager will love to spend most of his or her time here with friends. Additionally, it will also give them their required privacy.
9. Save space with a bunk bed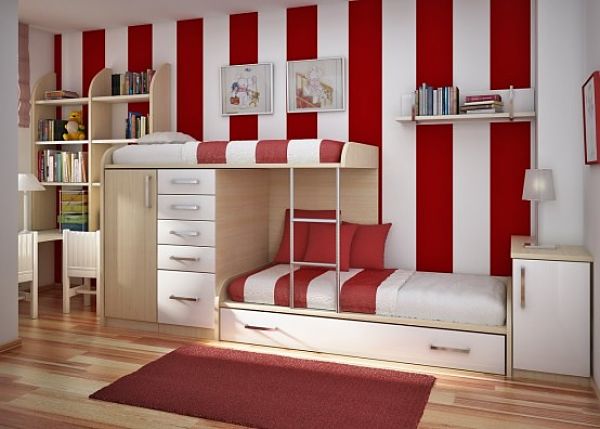 teen room 6, by home space on flickr [CC BY-SA 2.0]
If you have two teenagers in the house, an interesting bunk bed is a great choice. This space-saving bedroom idea is especially useful for a small space. However, don't go in for boring one-on-top-of-the-other bunk bed. Opt for a different style that has integrated storage — keeping the room uncluttered and organized. We love this red and white bedroom that has lovely wood accents, including a polished wooden flooring.
10. Get a musical themed bedroom for your rockstar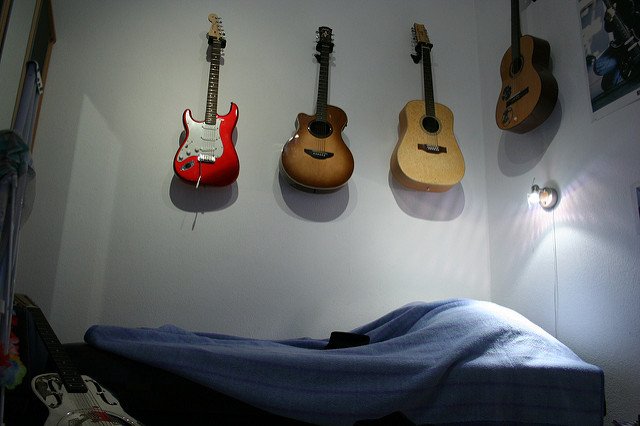 The Bedroom, by Bastian Greshake Tzovaras on flickr [CC BY-SA 2.0]
Teens love music. There is bound to be some pop singer whom your teen loves. It would be amazing to decorate their bedrooms in a music theme centered around their favorite idol. You can choose from the many decorating options. Try placing guitars, hanging posters of singers, keeping harmonium in the room. And, do let them use a loudspeaker system ever so often.
Conclusion
There is no dearth of cool teen bedroom ideas. You must know which one suits your teen's needs and interests. We have listed just a few of them in this article. You can get your designing juices flowing and create the most wonderful space for your adolescent.
Read more: Fun And Interesting Teen Room Ideas
10 Cool Teen Bedroom Ideas That Are Impressive
was last modified:
August 3rd, 2019
by