Teenagers are exciting members of your life. Decorating bedrooms as they want will affix you as a parent with your teenager child. Teenagers are always looking for something funny, exciting or athletic. In this age, passions stay high and you will see any teenager is fond of something. Parents should decorate the bedrooms according to their interest and well-being. Some teenagers love music while others are fan of sports. Some teenagers are fans of some gorgeous modern model while other would love historic things. There are 10 cool teen bedroom ideas that will blow your mind.
1.  Musical themed bedroom designs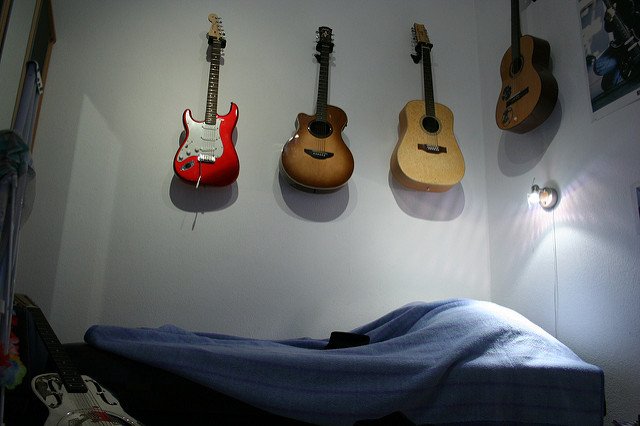 Photo by Bastian Greshake Tzovaras on flickr [CC BY-SA 2.0]
Teens love music. Their passion for music encompasses all the limits. There will some pop singer who is ideal for your teenage boy. Some sweet girl singer can also mesmerize them. It would be amazing to decorate their bedrooms in music themes. There are many options to decorate the bedrooms with music themes like placing guitars, hanging posters of singers, keeping harmonium in the room and letting them use a loudspeaker system.
2.  Decorative and colorful themes
Photo by highfithome on flickr [CC BY-SA 2.0]
Teenage is already considered very colorful life as well. Teenagers get excited when they see something cherishing and exciting. Parents can paint the walls of their bedrooms with colors like yellow, red, pink or marron. Painted walls along with hanging musical instruments will make the vibrant appearance.
3.  Bedroom ideas for girls
Photo by home space on flickr [CC BY-SA 2.0]
Girls want their bedrooms little feminine and different. They want to show their talent to the world through passion and aggression. Parents should consult with girls before finalizing a particular theme for the bedroom. Excessive vanity looks, colorful paintings or illustrative images containing bedroom can be the dream bedroom for a girl. 
4.  Photographs or fairy lights
Teenagers tend to grow rapidly not only with age but also their emotions are constantly changing along with their tastes. Fairy lights or string lights will decorate their bedroom amazingly. With the use of these lights, you can make many funny alterations in their bedrooms. Teenagers love to have photographs of their idols in the room. By fulfilling this wish, you are going to make them very happy.
5.  Sports themed bedrooms
Photo by wonker on flickr [CC BY 2.0]
This age is about passions. Teenagers would love to play sports and they could have their idols from sports as well. You can decorate their bedrooms with sporty things like keeping football, bats, hockey etc. You can also allow them to install a big posture of their favorite player or game.
6.  Vintage themes
Photo by wee bird on flickr [CC BY 2.0]
Many teenagers are found to love exploring history. Decorating their bedrooms in the 40s or 50s styles of bedrooms will give them amazing vintage feeling. The color palette can be used for this purpose. The color palette has a lot of earthy colors.
7.  For boys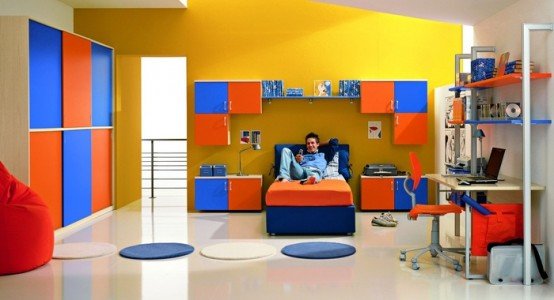 Photo by home space on flickr [CC BY-SA 2.0]
Boy teens are fond of parties and enjoying with their friends. They want a place where they could enjoy with their friend away from others, and they could do whatever they want to. It would be wise to consult their teen boy before finalizing a specific theme for their bedroom. Sporty theme or music theme is best for boys but some boys also love simple designs.
8.  Fun elements
Theming the bedroom with fun elements will keep the mood of teenagers fresh and light. Fun elements or arts can be chosen for this purpose. You should not use many boring colors. Keep the colors vibrant and refreshing. Graffiti walls or geometric flooring are some useful ideas for this purpose. You could also install hanging chairs, folding tables and the top quality of portable standing desks in their bedrooms for keeping their room spacious.
9.  Gym lovers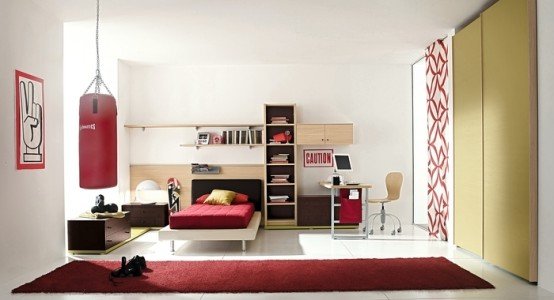 Photo by home space on flickr [CC BY-SA 2.0]
For gym lovers or workout enthusiast teens, you could install postures and gym instruments in their bedrooms for their constant motivation and inspiration. Punching pad should be there for their workout exhaustion. Additionally, you should place flowers and plantation in their bedrooms for keeping them healthy. Flowers will add beauty to their room and soften their moods. You can also place dumbbells in the bedrooms. A large photograph of Arnold Schwarzenegger should be gifted to fitness enthusiasts so that they could install it in their bedrooms.
10.  Create a multipurpose room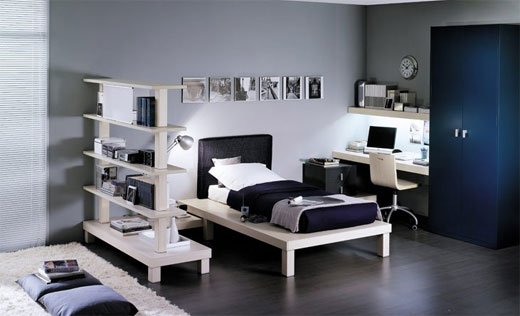 Photo by highfithome on flickr [CC BY-SA 2.0]
You can create multipurpose room by adding spaces for study, sleep, and lounge for sitting with friends. You can add also areas for sports like video games etc.
This multipurpose room will help them to stay in their bedroom and do whatever they would like. Additionally, it will also give them their required privacy which teens usually seek.
10 Cool Teen Bedroom Ideas That Will Blow Your Mind 
was last modified:
April 7th, 2019
by