We love a beautiful kitchen. For us, it's more than a place where we cook, its where we create magic. In all the architectural wonders of a kitchen design, a French country kitchen tops or list. Why? Because it's elegant, full of warmth, and classic. Once we share our 10 amazing French country kitchen ideas with you, you will agree too. They will woo you with their simple charm.
For those who are new to the world of interior designing and are contemplating a remodeling fo their kitchen, we explain the style in simple terms.
What is French country kitchen style?
A typical French country kitchen is a decorative style that draws inspiration from Parisian aesthetics. The shabby chic decor is both elegant and homey. It is rustic yet refined. Think antique-style cabinetry, oven hoods with crown moldings, and charming vintage accents.
This style is easily identified by its strong notes of elegance and polish while upholding its ode to actual French countryside living. Expect such a kitchen to have a lot of mustard yellows, aged whites, and warm reds for that rustic, chic look.
To say that French country kitchens are beautiful is an understatement. They are almost ethereal. The earthy tones, wood detailing, and decor items such as ceramic plates, toile fabrics, orderly florals, and vintage task lighting are delightfully charming.
Let our 10 French country kitchen ideas take to a land far, far away; where everyday feels like a vacation in France. So, ready? Here goes.
1. Soft, Soothing Color Palette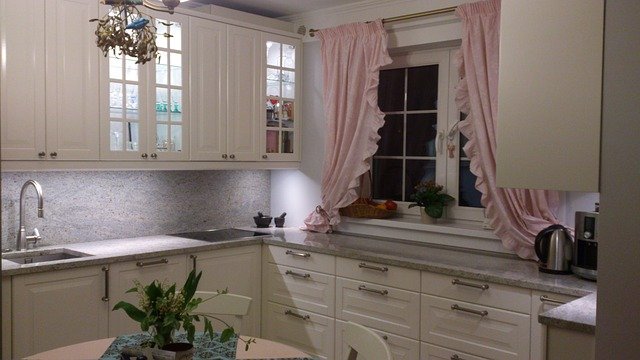 Pixabay
A quintessential French country kitchen decor is marked by a soothing color palette. Soft sage on the cabinets and a pink frilly curtain on the French-designed window create an abundance of warmth and coziness. Muted gray on the slab and understated decor complement the serene old-world charm. Notice how even the stone backsplash behind the sink matches the simple yet elegant color theme.
2. Typically French Range Hood With A Backsplash
A French kitchen is incomplete without the classic range hood that is more or less the showstopper of the kitchen. Here, the stunning stone range hood takes up an entire wall and has a metallic tile backsplash for a stone and bronze look. It makes a statement and how! The bronzed candle stands, along with dark brown wood cabinetry, give a delightfully rustic accent. Do notice the flowers that effectively offset any starkness the dark hued kitchen might have.
3. Roomy Elegance
When the pièce de résistance in your cooking area is the kitchen island, you know you've been successful in creating a French-inspired decor. The practical but elegant island looks amazing against matching crisp-white cabinetry. The antique brass lantern-style light fixture that hangs over the island gives the kitchen a nice European touch. It provides perfect task lighting for your cooking area. The vibe of the kitchen is airy yet cozy.
4. All-natural Stone Wall For A Rustic Vibe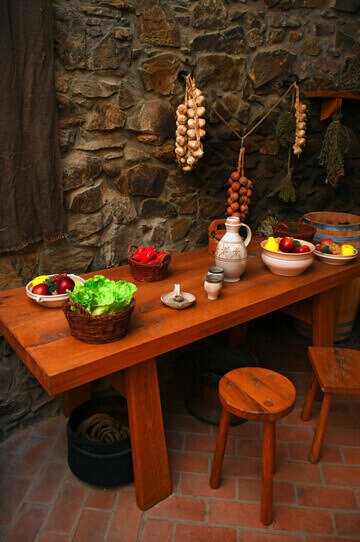 Pxhere
A stone wall adds personality to a kitchen, and makes it look very, very French. The natural finish gives it an aged feel that adds a sense of intimacy, not to forget drama. The old-surface vibe is complemented by a distressed wooden dining table and stool bars to sit on. The flooring too seems to be in a time-wrap, seducing us with its vintage charm. The idea is to replicate the simple life of a French country. And it does, beautifully.
Read more: Beautiful Rustic Kitchen Ideas That You Can Pull Off With Ease
5. Matching Detailing
If you want to achieve a classic French country look for your kitchen, bring in warm reds and antique whites. Match your accessories, furniture, and the rest of the decor to this color scheme. Notice the grandfather clock that stands in a corner, adding to the vintage aura of the room. The copper pots and pans complete this definitively French look.
6. Twinning Cabinetry And Furniture
A furniture-style cabinetry makes the kitchen well-put-together. There's effortless old-world charm — achieved through antique-finish cabinetry and furniture, a white light fixture, floral wallpaper, and rich Parisian fabrics. The ambience is so welcoming that you would want to spend time here as a family. The classic French kitchen is perfect for a bonding session over a sumptuous petit-déjeuner. In case, you're wondering, we mean breakfast.
7. French Country Cottage Feel In Your Kitchen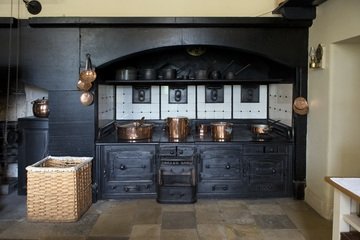 Pixabay
Want to pretend that you live in a cottage? Why pretend when you can bring the cottage-feel home, thanks to this French-style kitchen. Here, the antique-finish cooking range over matching cabinets are inside an arched grotte! The copper and iron utensils do their bit to add to this exotic look. And don't miss the extra large French basket to store all the potatoes and onions. See the fairytale setting for yourself. It's surreal.
Read more: How to Spice up a Cottage Style Kitchen
8. Lighting à la French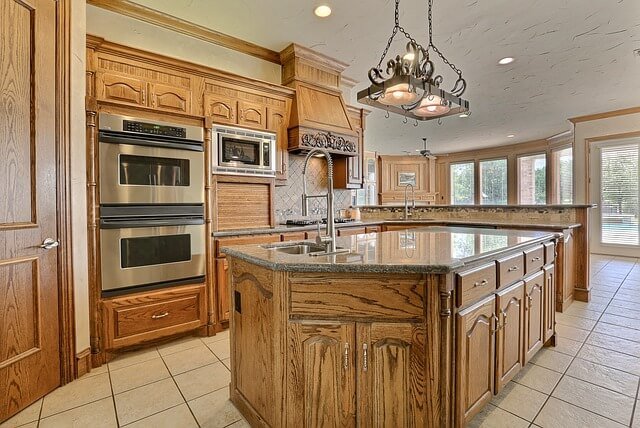 Pixabay
Let a French-inspired light fixture be the ultimate visual sensation for your kitchen. Opulent craftsmanship and elegance at its finest — typical of a Parisian decor. The stunning piece spreads a cozy and and illuminated charm across the room. There couldn't be a better setting for the place where you create magical recipes and homemade culinary delights.
9. Copper Accents
The French prefer the concept of open, roomy kitchens. The more the visual space, the better. This rule of thumb applies to their ceiling too. They believe a ceiling should be as high as possible and the kitchen design should allow its different angles to show. Here, an enviable collection of copper is used to accentuate the angled soffits. The homey vibe is all heart, all warmth.
10. Shabby Chic Display Of Pots And Pans
If there's one thing the French like, it's to create a rustic, not to be confused with rural, kitchen design. They embrace natural and aged finishes. Antiqued detailing in the form of primitive vessels, ceramic crockery, and a classic range hood reflect the French signage in all its glory. The cabinets in this kitchen are made from reclaimed wood, and their unfinished look gives out a country-like simplicity. The island too with its half-open shelves add to the illusion of age.
Final Thoughts
These French country kitchen ideas are all about recreating the warmth and comfort of a simple life. Graceful lines, understated elegance, intricate woodwork, and the rich fabrics make the decor very appealing to the eyes.
You may add other typically French features such as rustic bronze cabinets, wrought-iron chandeliers, and wine cellar doors. Keep it traditional yet up-to-date, functional, and enjoyable. You don't want your French country kitchen to look too contrived and museum-like, do you? Just let it be fun and vibrant. We hope these ideas clicked with you. If you liked them, merci beaucoup!
10 French Country Kitchen Ideas That Will Make You Drool
was last modified:
May 20th, 2022
by
Recommended