11 Safety Tips for House Renovation and Reconstruction
Are you planning a house renovation? Do you have a strict budget for it? Do you know anything about repairing walls or pilling? Ask Geobond professionals how technically challenging all this is.
House renovation is a tedious task which requires technical expertise and experience to ensure customer satisfaction. There are numerous considerations when you talk about renovations and reconstructions because sometimes you don't have to spend on breaking a wall, but you do it anyway, as you lack the right expertise behind it.
Safety should be your primary concern because falling plaster and broken floors can be quite deadly. Read on to know how can you keep yourself and your family safe from renovation and reconstruction hazards:
1. Thoroughly assess the place
Right before you decide on hiring a contractor or doing it yourself, access your house thoroughly to justify your decision. You might not need a complete reconstruction; rather, a small renovation patch would do. Most importantly, you need to recognize if it is a DIY-possible project or if it requires a contractor with years of experience. Apart from the technicality of the work, you also have to recognize the severity of the work. Is it risky for you to get it done or is it possible with a little guidance from an expert? When you know the answer to these questions, only then you should take your final decision; else you might hurt yourself or your loved ones in the process.
2. Gear up
The first aspect of a Do-it-yourself project is to have the right gear and tools to get the job done. Consider the possibility of spending a fortune on equipment and attire than spending a few pounds on the right contractor. Experience is essential too! You can buy any type and quality of gear, but knowing how to use it efficiently is vital too. Gear is important because many harmful gases and particles are emitted during the process, and direct contact with such hazardous particles can have severe consequences. Think twice before spending on gear because it might not be of any use.
Read more: Home Remodeling: Coming In On Time And Under Budget
3. Keep it clean and dry
This is a common fact that renovations and reconstructions generate massive amounts of waste, in the form of dust, dirt, broken wood and tiles, etcetera. The question that you need to ask yourself is, "How and when will you take care of it"? Do you know why it is recommended to keep the area clean and dry? Apart from the appearance of the place, a wet, dirty place attracts all kinds of bacteria and fungi that can cause severe diseases, infections, and allergies to anyone who comes in contact with it. It can also damage the renovated parts and stain the entire area. Keeping the area clean and dry is also dangerous and full of hassles. If you are not careful, you might be a victim of all this. So, the question you need to ask yourself is, "Is it worth the risk"?
4. Divide and conquer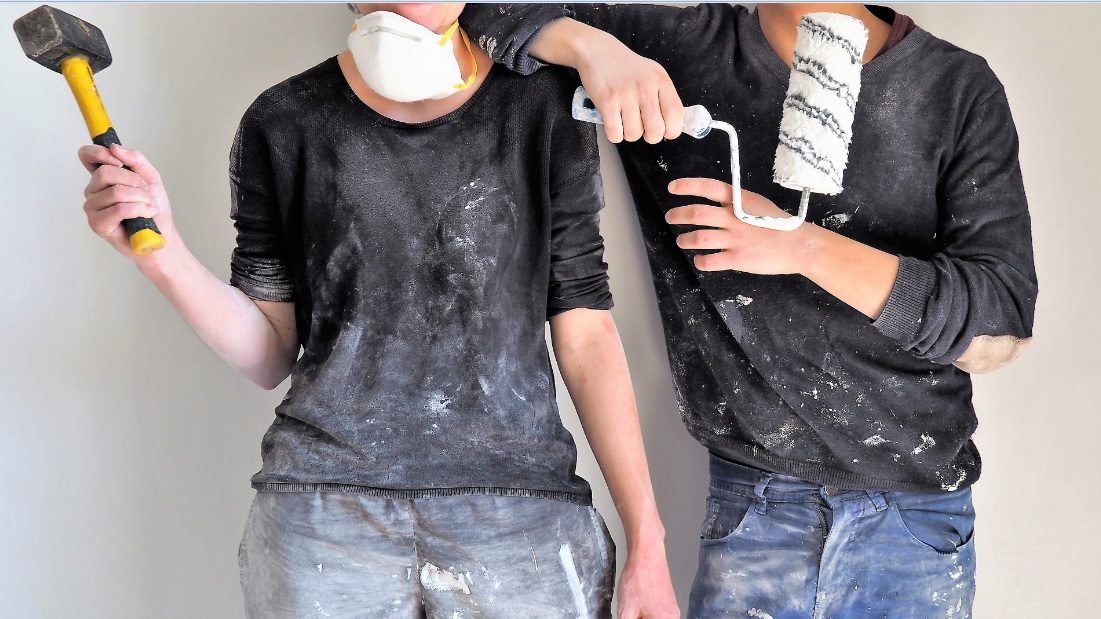 Photo by Umanoide on unsplash
Don't plan on doing everything all by yourself. If not the professionals, then you can surely ask your friends and family to lend a hand with some work. Taking in all the pressure will be injurious to your health, and a different perspective towards renovation is advisable because it leads to more creative outputs. This will also allow you to hand over technical work that you don't know to someone who knows what they are doing. This helps in avoiding unnecessary injuries and encourages family bonding.
Read more: Benefits of using ICFs in your home
5. Stay away from falling plaster
Photo by Milivoj Kuhar on unsplash
As already mentioned above, falling plaster and broken floors is a common occurrence in a house that is being renovated or reconstructed. It is also extremely dangerous for the people working in the area. If we talk about experts, then we have to consider the possibility that they know what they are doing, they have the right equipment and knowledge to handle the work, while you are just fascinated by the idea of taking care of everything yourself. The fascination brings along dangerous situations with it. So, weigh the risk of hurting yourself before planning to take up this DIY project.
6. Keep the kids away
Child safety is a huge responsibility, especially during renovations and reconstructions because as already mentioned above that when there are high chances of your hurting yourself, then the kids have a much higher chance because of their fragile bodies and irresponsible minds. Even if you don't consider the severity of falling plaster and broken floors, even then the hazardous gases like asbestos, particles, and deadly tools are enough to cause harm to their body. It is not a joke, so always prefer to drop at the neighbors' house or some relative until the work is finished.
7. Don't look for cost; look for quality instead
Even with a strict budget, you should not prefer value to quality because low-quality materials crack and break fast. Imagine, your wall or ceiling falling on you or your loved ones because you chose a low-quality plaster. Quite devastating, right? Isn't it better to save up on professionals and using that extra cash on high-quality materials to ensure utmost safety and a classy home? Don't think twice about it; if you cannot afford a particular product, then ignore it, but never buy a low-quality one for your house; unless it is only a decorative piece.
8. Keep safe from sharp corners and edges
During the renovations and reconstructions, there might be many sharp corners and edges, and it is pretty common to scratch yourself while working in the vicinity. No matter how quickly you wish to finish a certain part of the house; never be careless about the edges because those sharp edges can scratch you deep and the wound can get infected real fast because of all the dirt and rust on the old pieces. Also, the floor must be covered with sharp, broken pieces, so avoid that too.
9. Don't challenge your ego
As already mentioned above, it is a rather challenging task to do it yourself. So, don't lose confidence if you are not able to finish a specific task. You should never challenge your ego, and force yourself in doing something that may hurt you real bad, and it is quite frequent during renovations and reconstructions because people tend to lift objects that their body cannot support or try to use tools that are complex and dangerous even when they apparently don't know how to. If you are able to carry out more than fifty percent of the work, then you should be proud of yourself and not lose heart when you cannot accomplish the remaining tasks. Get the required help when necessary!
10. Know the hazards of unfinished areas
The unfinished areas of the house will have sharp edges and corners, waste all around the floor, chances of loose plaster and other fittings and what not! What are your plans for those areas? You need to know the hazards of unfinished areas to avoid leaving them like that. One of the most common for home renovations are fall hazards such as unprotected openings in floors and roofs. That's why proper equipment and fall protection are so important. If your schedule is not allowing you to carry on the work, then hire someone who can finish it precisely as you want. The hazards are endless, and most of them are mentioned above.
11. Hire the right contractor
DIY renovation projects are time-consuming, costly and quite dangerous for an inexperienced person to do. So, it is advisable to hire an experienced contractor for the job or at least for guidance. They can help you finish the unfinished areas if your schedule has just caught up. Don't hesitate to hire expert help because they can provide you with a better-finished product any day, and it is also safer for you and your family.
Take care! Keep safe! Stay alert and enjoy the renovations!
Read more: Home Safety Checklist Every Home Dweller Must Know
11 Safety Tips for House Renovation and Reconstruction
was last modified:
May 18th, 2022
by
Recommended