11 Ways to Repurpose Window Shutters at Home
Shutters are always a great decorative addition to your home. It adds the right flair of style to the existing look of your house. Shutters for windows always add value to your homes by giving it a revamped look. Shutters were initially used for the purpose of protecting your home from weather extremes and also keep intruders at bay.
It was the perfect option to maintain an optimum temperature inside your home. But, shutters these days have more to offer than just the functional purposes. It adds the right touch of elegance to your homes. Shutters need replacement after a certain time interval. Often, people do not have the idea of how to repurpose old window shutters.
You can also create something exciting by repurposing the old shutters in some creative way. Here we have mentioned a few ideas to repurpose old shutters at your home:
Photo or Painting display piece
You can always repurpose old wooden shutter to make it into an exciting photo or painting display piece. You can just clean it and then stain it, or you can retain the existing wooden texture by using it as it is. Without cutting or doing any sort of structural modification you can always make the photo display piece look great. You can put it up on a wall or lean it against the wall and attach photos with pins.
Vertical garden
If you have vintage styled window shutters that need replacement after a few years, you can always reuse to make a vertical garden for your home. Adding a touch of greenery to your home is always possible by using the window shutters as a vertical wall where you can hang small plant pots. You can also grow fresh herbs planted in jars in your kitchen by using the vintage shutter as the wall for your vertical garden.
Window box
Window shutters can always be reused to make beautiful window boxes. Window boxes are a great way to add a touch of beauty to your homes. You will be needing two shutters to make such boxes depending on the size of the windows. You are always free to paint it with the color of your choice to add a splash of colors to your home's exterior look. Growing colorful flowers in these boxes is always a great idea to make your home look great.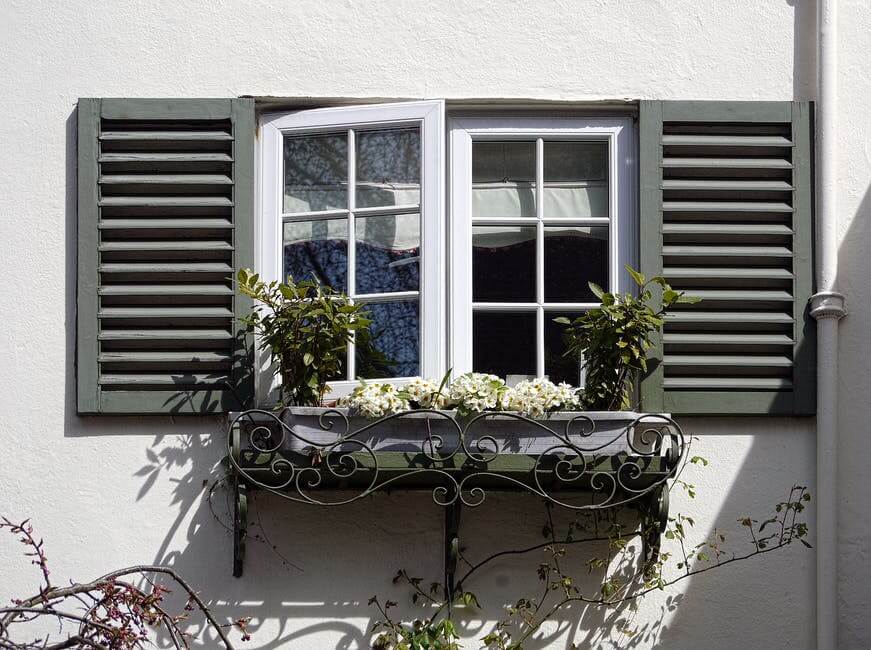 Read more: How To Choose Wood Shutters For Your Home
Shelf for your living room
Looking for someplace to keep your artifacts and showpieces in your living room? You can always add shelves to your room by repurposing those old exterior shutters that you no longer need. As long as you have the necessary tools and materials, you can always add a touch of uniqueness to your room with old shutters.
Organizer
Looking for some cool organizers for your home? You can always use the old exterior shutters to craft it into an organizer of your choice. There is nothing more exciting than giving your room a fresh look with a new splash of colors to your shutters. Make it the organizer of your choice by giving it a fresh look and start organizing your belongings. You can keep it in your bedroom or kitchen to keep your belongings clearly stacked up.
Decor item
It is not necessary to use your shutter to make a new organizer or a new shelf. You can simply enhance the look of your room by keeping a shutter piece as a backdrop decor item for your home. This is a great way to utilize spaces and also influence the décor and ambiance of your room. Focus on the look and be prepared to paint, scrape and decorate the shutter to give a fresh stylish look.
Organizer station or note board for office
Why only repurpose it for your home? You can always do something creative with old shutters at your workplace. Nothing beats than a warm and charming touch of a repurposed old shutter. You can always turn it into an organizer station after cleaning, painting and mounting it on the wall. To complete the look, you just need to add a separate shelf under it and you are good to go or simply you can use it as a note board.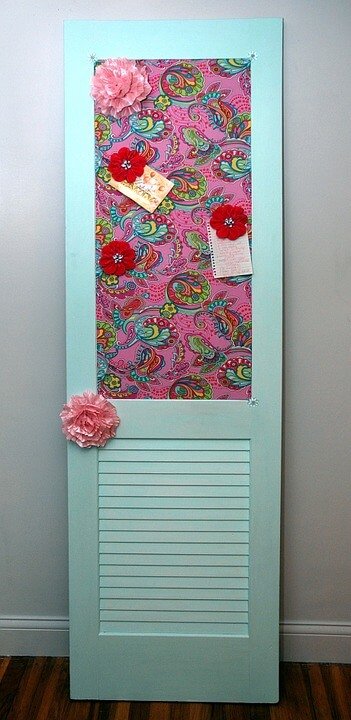 Kitchen plate track
There is nothing more satisfying than reusing old discarded shutters as a furniture of utility. Though it is a little difficult, you can always convert shutters to some useful furniture of your wish. So, consider old shutters to make it into a kitchen plate track. You can make it a useful furniture by adding some hooks to hang mugs and cups of your choice. This way you get a lot of storage space and also make use of old shutters.
Bench for homes
Sometimes, it is a great idea to use the discarded shutters as a bench for your dining table. It gives a rustic look that adds value to the décor of your room. You can also have a family picnic in your garden by going for a long table and this kind of benches to sit on. For people who wish to get hold of some patio furniture or outdoor furniture, this can be a good option.
Tea table
A tea table with your sofa or couch is something we all need for our homes. There is nothing more exciting than using exterior shutters as a tea table. You also need some scrap wood to build the frame of the table along with a glass and four legs from some other furniture to complete the look. The base of the furniture can be a shutter which you can cover with a glass frame. If you are looking for something different for your living room, this can be a good option.
Jewelry holder
Looking for the right piece of furniture to organize all your earrings? There is nothing better than a shutter that can also be a lovely jewelry holder. You can always customize the shutter with the paint option you like and then you are all set to stack your earrings there. For women, who need to stack and neatly organize their pieces of jewelry, this can be a unique way to do so.
These are some of the innovative ways in which you can repurpose an old shutter. Even if your shutter is uninstalled from your windows, it can still add value to your home by being the perfect décor item.
Read more: Waste not want not ways repurpose old water heater
11 Ways to Repurpose Window Shutters at Home
was last modified:
May 18th, 2022
by
Recommended