Whether you've decided to retreat to a countryside lifestyle or simply want to give your boring bedroom a brand new makeover, a farmhouse bedroom design is perhaps the best bet!
There's something about a cozy, rustic farmhouse décor that never goes out of style. The strange comfort of old warm barn woods, the classic feeling of stylish industrial metallic features, and the vintage vibes of refurbished furniture items in the bedroom is always a win.
Besides, transforming your bedroom in a farmhouse design will be heaps of fun! You can get as creative as you like to be with how you want the final look to be.
So, are you ready to make your bedroom time feel like a walk in a classic forest?
Here are 12 awesome ideas for a farmhouse bedroom makeover that everyone will fall in love with!
1. Barnwood on the Ceiling, Animal Fur Rug on the Floor
Nothing speaks the classic farmhouse look like the ultimate combination of barnwood ceiling and a furry floor!
To heighten the effect, consider choosing gray hues for the ceiling and throw a white rug on the floor. This, when complemented with traditional wooden furniture, will pull the whole look of your bedroom together.
Read more: Designing with agrarian-style architecture
2. Old Ladder Turned Storage Shelves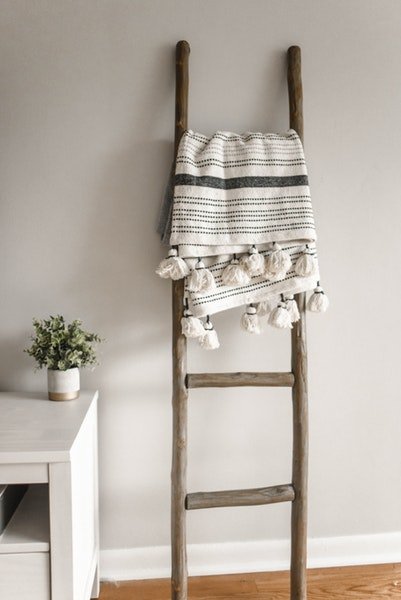 If you've ever lived on a farm, you'd know how old, wooden pieces are always an essential aspect of the whole farm frame.
The key to getting the authentic farmhouse look in your bedroom is by using old items that signify a farm look. The best addition will be an old wooden ladder that you always thought was of no use to you!
Place the ladder against a plain wall and treat its steps as shelves for your photo frames and other tiny items. And if you're really serious about the farmhouse decor, use black and white photos to add to the originality of the classic farm look.
Take a look at our guide on smart small bedroom furniture arrangement hacks
3. Think Antlers
If you're a fan of rustic interiors, hang a couple of beautiful antlers on your bedroom wall without giving it a second thought!
These statement pieces look oh-so-fabulous when contrasted with wooden floor and furniture items. For a perfect rustic interior, consider leaving the bed, rug and curtains plain white. That's not all – have you seen angled ceilings? Well, make it a point to add an angled ceiling and make it wooden too!
Take a look at these Top 10 Master Bedroom Ideas for That Luxurious Feel
4. A Sliding Barn Bathroom Door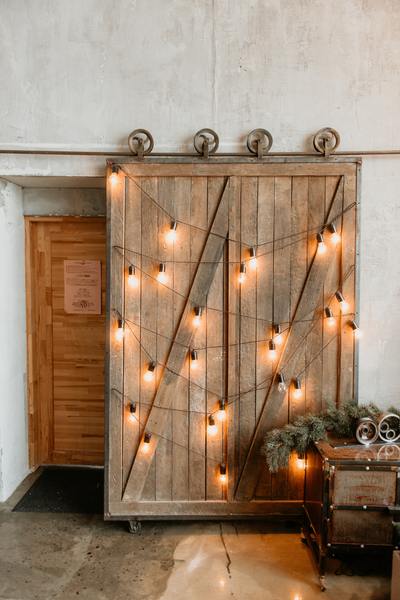 Pxhere
Do you have an en-suite bathroom in your bedroom?
Why make it boring when your bedroom looks on point with farmhouse decor?
Forget a contemporary aka boring bathroom door and install a wooden sliding barn door! This simple trick will take your farmhouse bedroom makeover to the next level. If you're a true fan of farmhouses, you'll love the look and feel of it!
5. Don't Forget the Lanterns!
A farmhouse bedroom design can never be complete without lanterns! They aren't only a treat for the eyes of classics lovers but also look gorgeous when you light them up.
While these lanterns will signify your creativeness as a showpiece during the day, they'll make for the perfect ambiance when all lit up at night.
Check these Master bedroom design tips
6. Metallic Bed Frame Paired with a Classy Chandelier
Think metal accents when choosing the perfect furniture for your farmhouse-inspired bedroom. A couple of metallic lampposts guarding the two sides of a bed with a metallic frame will lend a unique industrial touch to the farmhouse decor. You may even go for a slightly rusted bed frame if you want a classic farmhouse design!
And what possibly can look dreamier than looking at a shiny, traditional chandelier while lying on the bed? The overall metallic feel complimented with a wooden floor will take you to a comfortable farm tucked away on a faraway land.
7. Windows Encircling the Room
To make your bedroom your ultimate cozy retreat, consider installing French-styled window treatments on a track that forms a circle around the room.
Open the windows during daytime allowing natural light to flood into your room and close them at night to enjoy cocoon-like feels!
How to Make the Most Out of Your Four Poster Beds?
8. Add a Dramatic Effect with a Fireplace and Brick Wallpaper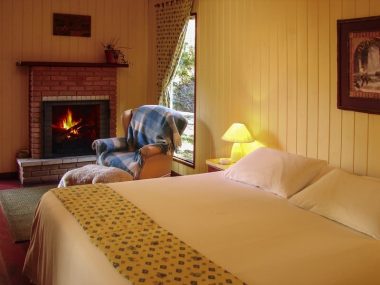 Pxhere
The perfect location for a fireplace is in the bedroom when it comes to farmhouse decor!
If you already have a fireplace in your bedroom, consider yourself lucky and enjoy the farmhouse feels. And if you don't, consider installing a faux fireplace to add a dramatic effect. The faux ones look real enough for a farmhouse bedroom design and require no chimney or woods.
In addition to this, consider adding a quirky twist in your bedroom by adding exposed brick wallpaper. Not only will it give your room more contrast but will also make it look cozy and exquisite.
9. A Ruffly Bed Skirt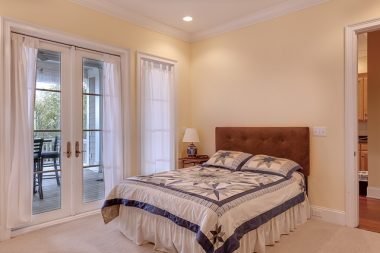 For a classic farmhouse look, throw a ruffly bed skirt on your bed. It not only adds elegance to a farmhouse decor but also offers the perfect hiding space for your farm jeans and overalls.
10. A Statement Cross Board
If you're someone who lives for a dreamy bedroom interior, it doesn't get better than a statement wooden cross board!
Hang netted, flowing curtains on the board to transform a normal sleeping space into a dreamy bedroom. The curtain cloth moving in rhythm with the wind will make all your dreams of a dreamy farmhouse bedroom come true!
11. A Vintage Old Chest
Placing an old wooden chest at the foot of the bed is the perfect example of taking the theme and practicality hand in hand. The vintage chest will make for a stunning storage piece while accentuating the whole farmhouse decor of the room. To keep the chest empty or stacked full is totally on you!
12. Oversized Alphabet Initials or Quotes
If you want to give your farmhouse bedroom a funky, rustic look, consider adding oversized initials or short quotes to the walls. This casual addition will give off countryside vibes while lending warmth and comfort to the bedroom.
To enjoy the feel of living in a farmhouse, you don't have to move to a rural area. You just have to say yes to the tradition and underlying country vibe that signify the classic farmhouse style. These ideas for a farmhouse bedroom makeover will make your snuggle and sleep time your favorite!
12 Farmhouse Master Bedroom Makeover Ideas
was last modified:
September 21st, 2022
by
Recommended