Nobody wants a boring, outdated kitchen. And, certainly not shabby, forgettable kitchen cabinets. Do you hate your kitchen cabinets? Don't worry. It's time for the perfect cabinet makeover. Instead of ripping out the old and buying new ones, it's better and cheaper to update the ones you have. Fortunately, if you know how to update kitchen cabinets, you can easily transform the entire kitchen and that too at fraction of the cost of a major renovation. Know how to make your kitchen cabinetry attractive, trendy, functional, and remarkable. And, if you don't, we are there to help you.
This article gives you some interesting ways you can update kitchen cabinets to make a huge difference and set the perfect tone for the entire home. Whether you add trims and crown moldings or add a fresh coat of paint on your cabinets — you can remodel your kitchen on a planned budget. We are sure your kitchen will become the most favorite gathering place for your whole family. So, let's begin the home improvement.
1. Cabinets Styled in Gold
Here's a design that will make you want to change your kitchen cabinets to gold immediately! Instead of remodeling the entire cabinetry, make a drastic change in one of the cabinets. In this case, with gold. The metallic cabinet effortlessly becomes the most talked-about feature of your kitchen. It oozes style, class, and a uniqueness that is the perfect focal point of this space.
The rest of the kitchen has been purposely kept simple by installing a black tall storage unit with golden hardware. The black stools complement the marble and wood kitchen island. We love how the designer has put together this gold-and-black decor.
2. Minimalistic Cabinets
This is another cabinet design which has a strong black influence. However, the scale has been kept minimalistic with beige-colored knob-less upper cabinets. The lower cabinetry is jet-black with matching pulls. Even the countertop is simple and functional with a single sink. Notice how the golden accent lights beautifully complement this stylish kitchen.
Home Renovation Cost Estimator
Sorry, we currently don't have that project at our disposal.
---
You can take a look at our most popular ones:
Water Heater Installation
Exterior Door Replacement
Install Recessed Lighting
Exterior Door Installation
Interior Door Installation
Interior Door Replacement
3. Moody Woody Cabinets
As much as we love a bright kitchen, we also love earthy, moody ones. A kitchen cabinet design which perfectly matches the rest of the house in color and material. The wooden cabinets lend a no-fuss, homey feel to the kitchen. This space features a black island with a matching marble benchtop. You can choose any island or benchtop materials as long as they break the monotony of wood in a pleasant way.
Read more: A Concise Guide For Painting Laminate Cabinets
4. All White and Bright
Here's a secret to transforming your kitchen into a seamless design. Just above your ordinary cabinets, install interesting trims and crown moldings. And, paint them in the same color as the cabinets. These wall trims add extra personality to your kitchen — making it stylish.
Here, all-white cabinetry goes well with the nickel knobs and pulls. Even the silver on the integrated range hood, sink faucet and pendant lights above the white marble island have been chosen in the same material and sheen. We love this uniform and chic kitchen. The white decor is effortlessly making the place seem bigger and brighter.
5. Scandinavian-inspired Cabinets
Looking for distinct cabinetry for your kitchen? Opt for the pleasantly stark Scandinavian-style kitchen cabinet design. A black-and-white kitchen is perfect for those who steer clear of the ordinary. Here, dark-hued knob-less cabinets, with steel pulls, nicely offset the white brick wall. They are installed in a linear manner to add length to the smallish kitchen. The steel accent lights, black-colored kitchen appliance, and even the rug add to the crisp charm of this area.
Read more: Why Should You Hire Kitchen Designers & Cabinet Makers?
6. Ivory Elegance
If elegance is what you are looking for, it's time to take down your boring cabinets and opt for stylish ivory-colored wooden ones. This is a more expensive way to update kitchen cabinets but it's going to be a worthwhile decision in the long run. A smart and lavish kitchen is a magnet for home-buyers. Remember to add an element of drama with quartz countertops and proper lighting. Install beautiful pendant and recessed lights. These lights will bounce off the countertops to make the place even brighter and roomier.
7. Contemporary and Expansive Cabinetry
Want to make your kitchen the focal point of your house? Opt for expansive cabinetry that's easy on the eyes. Here, brown wooden kitchen cabinets occupy most of the kitchen space. Apart from storage, they lend an organized, smooth look to the kitchen. And, there's an interesting twist to this kitchen. Nestled within this cabinetry are the integrated kitchen appliances and a wood-fired pizza oven! Yes, you read right — this design, we're sure will resonate with those who do not shy away from experimenting in style.
Read more: Buying Kitchen Trash Compactor? Know How, With Our Complete Guide
8. Sleek White Modernism
A no-frills yet creative cabinetry is perfect for those who prefer practicality and sleek modernism in their kitchen. DO NOT confuse simple with boring. Trendy cabinets with square nickel handles are anything but that. They are a beautiful and practical mix of glass and wood. We love how green indoor plants adorn the peek-a-boo glass cabinets. Right from the marble kitchen island to the wooden flooring and beams on the ceiling — this all-white, bright kitchen is inviting and full of warmth.
Read more: Should You Paint Or Replace Your Kitchen Cabinets?
9. Knob-less Pull-outs
Here's another seamless design for your cabinetry. Pull-out cabinets have no knobs. They are installed in such a way that you can conveniently open the cabinet doors. Notice that the wood used on them perfectly matches the island. The designer has opted for a clean, unobtrusive look which we love. The no-curtain, no-grill window enhances this facet further.
10. Bold Color Block Kitchen Cabinets
Bored with your traditional kitchen? Pull-down those shabby cabinets and break your kitchen wall to show-off the new modern ones you install. Look at this design and you will understand what we are talking about. Keep it simple with a color palette of black and warm cedar. The tall wooden cabinets, the black kitchen appliances, futuristic chimney, and the white accent lights seem to lend a harmonic yet trendy style to the space. The only dash of color comes from the yellow stools. We like this uber-cool look.
Read more: Simple and Highly Effective Corner Kitchen Cabinet Ideas
11. Under-cabinet Lighting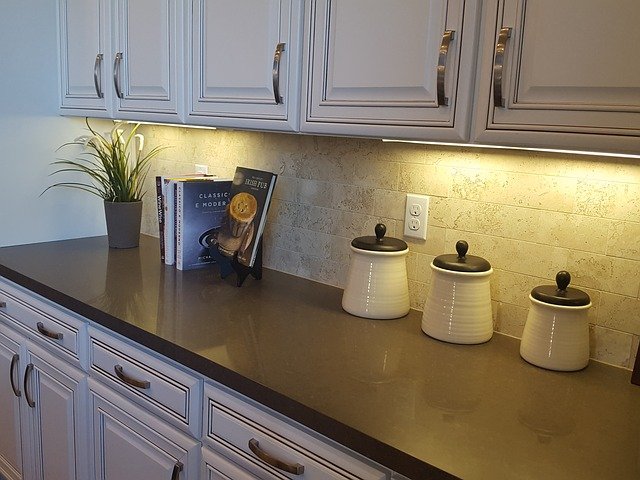 You don't want to change the cabinetry you have, but yearn for a kitchen makeover? Here's our secret mantra for owning a chic-looking kitchen without going through major remodeling. Install under-cabinet task lighting. They will add a new life to your existing cabinets and how!
The best part is they are fairly easy to retrofit beneath upper wall cabinets. You can either install wired lights or get peel and stick ones from your local home improvement store. Notice how the lights don't just add an aesthetic value to the kitchen, they bathe the countertop in bright white light — a huge advantage for everything from dicing vegetables to reading recipes. Psst, psst, these dramatic accent lightings are great for a night light or for incorrigible midnight snackers. LED lights make for the most eco-friendly and cost-effective under-cabinet lighting.
Read more: Best Materials for Your Outdoor Kitchen Cabinets
12. Dual-toned Vibrancy
Which cabinets do you prefer — painted or stained? If you are on a remodeling budget, we suggest you go for painted cabinets. Also, doing the job yourself is more cost-effective. All you need are a few gallons of paint, sandpaper, cleaner — and you're ready to begin. However, know that this process may be time-consuming. Paint your cabinet surfaces in dual-tones — a different color for the upper cabinets and another for the lower ones. The look is bound to be eye-catching yet simple. We love the subtle green-and-white painted cabinets. The light colors make the kitchen appear bigger and are easy on the eyes too.
Final Thoughts
You don't have to live with your ugly cabinets anymore. Replacing the existing kitchen cabinets is the most viable option for radically updating kitchen cabinets. You can create an exciting new look for your kitchen if you know how. We hope, our ideas help you along the way. Installing newer, trendier cabinets is a worthy investment that increases the value of your home, as well as achieves the most authentic, complete transformation. So, what are you waiting for? Start making plans to update those outdated cabinets.
Read more: Get A Grip On Cabinet Knobs & Handles To Upgrade Your Kitchen
12 Interesting Ideas to Update Kitchen Cabinets in Your Home
was last modified:
May 24th, 2022
by
Recommended