Bathroom exhaust fan installation is important. Just as a chimney is for a fireplace! This simple appliance, if fitted properly, pulls all the moisture generated in the bathroom and keeps the area dry, healthy, and well-maintained.
Despite this known fact, many homeowners do not still have bath fans. The reason is that they are intimidated by bathroom exhaust fan installation. But, trust us, there's no need for any apprehension. This article will guide you through the entire process and tell you about crucial questions and their solutions to keep in mind while going ahead with bathroom ventilation installation. Here goes:
Are exhaust fans required in bathrooms?
Yes, exhaust fans are absolutely crucial in preventing moisture damage to walls and ceiling, decaying of wood trim, mold and mildew, and general deterioration of the building insulation.
This spot ventilation, especially in a bathroom, is critical for maintaining healthy levels of indoor humidity as well as overall environment.
When you use a shower, large amounts of moisture is added to the ambient air and gets concentrated. The resulting blistering paints and peeling wallpapers are not only a sore sight for the eyes, they also lower your house's value.
What all does a bath exhaust fan do?
A bathroom exhaust is a small fan that pulls air from the bathroom and pushes it out through a vent that is minimum 4-inch long. It's an effective way to:
Improve indoor air quality

Protect tiles

Remove bathroom odor

Lower shower and bath humidity

Defog mirrors

Discourage mold growth

Prevent wood trim decaying

Slow fixture rust
Can bathroom fan installation be done as a DIY project?
Yes, bathroom ventilation installation is quite doable if you have the know-hows in place. This article will take you through the entire process step-by-step. It's easy and fun. However, when you're in doubt, stop, and call a licensed contractor.
Read more: How to install a ceiling fan
Can a bathroom exhaust fan be mounted on the wall?
Yes, there are two ways of installing a fan, through the bathroom ceiling or mounting it on one of the walls.
Where exactly should a bathroom exhaust fan be located?
A bathroom exhaust fan should be as close to the shower or tub as possible. This will maximize its effectiveness. If it's located in a powder room, make sure it's directly over the toilet.
How are exhaust fans rated?
Exhaust fans are measured by two factors:
CFM (cubic feet per minute) which indicates the strength of the fan's draw. Most standard bathrooms require fans with less than 200 CFM.
Sone which indicates the sound the fan makes. It ranges from an almost silent 0.5 to 4.0 which sounds as loud as a television. Most people choose a 1- or 2-sone fans.
What is the ideal CFM for a standard-sized bathroom?
There are no hard and fast rules regarding CFM rating but the ideal set up is 50 CFM for a toilet with a bathtub, 100 CFM for a jetted whirlpool tub, and 50 CFM for a shower.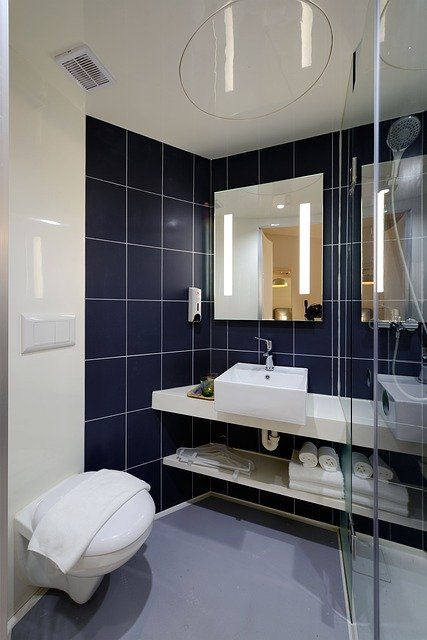 Pixabay
Where does a bathroom fan vent to?
Bathroom exhaust fans need to be installed in such a way that they are vented outdoor. Do not vent the fan directly into the attic even if the attic itself is vented. The excessive moisture will cause condensation for the roof members, insulation, and then cause mold and mildews.
How much does it cost to install a bathroom exhaust fan?
Generally, the cost of bathroom exhaust fan installation may set you back by around $200 to $550 for a standard-sized bathroom. The cost also depends on whether the procedure involves cutting through the ceiling to accommodate a roof vent or if a new ductwork needs to be created. For instance, in case running the duct involves going through the entire attic, it might cost more.
Additional features may add considerably to the cost. For example, installing a humidity sensor — the device which automatically turns on the fan just as the humidity level reaches a certain point — combination light fixtures, noise-dampening, etc.
You must get a quote from at least three bathroom remodeling companies to get a fair idea. You can of course save considerable money if you decide to do it yourself.
Read more: Bathroom remodel financing
What are the standard costs of bathroom fans?
A standard exhaust fan costs around $70 to $120. But, the bigger the bathroom, the higher the cubic feet per meter (CFM) needed and the more costly it will be. Also the sone rating, which identifies the unit's noise level, determines its cost. It's important to choose a fan that meets your budget and requirements.
When shopping for a new bathroom exhaust fan consider extra features available in the market such as light or heater. Keep in mind that these may require additional electrical wiring, or a circuit upgrade.
What is the most important legality to keep in mind before a bathroom exhaust fan installation?
Before starting this project:
Get all your permits in place.

Go through your homeowner's insurance; make sure it does not require a licensed contractor for this kind of electrical task.

Verify local building codes; know if there are certain requisites that need to be met.
If you are an experienced DIY homeowner, use your common sense, refer to the manufacturer's instructions, and install the bathroom exhaust safely. You'll be able to do it in a single day if you've planned the task well.
How important is planning the exhaust fan system's layout?
Very important. Installers who blindly cut a hole in the bathroom ceiling, without a proper layout plan, sometimes run into trouble — especially when they come across an unseen obstruction such as a plumbing vent or air conditioning duct. You don't want the duct to make too many bends or be too long — it decreases the fan's efficiency.
Finally, we come to the most important question.
How to Install a Bathroom Exhaust Fan?
Follow the following steps for a smooth bath exhaust fan installation:
Turn off the circuit breaker controlling the fan's power source. Keep the circuit breaker off for the remainder of this project.

Identify the exhaust fan's location.

Plan the duct's path from the exhaust fan toward the discharge vent. A straight duct path helps the fan's efficiency.

Every extra foot and bend the venting makes increases friction and decreases air draw.

Cut a hole in the bathroom ceiling using a drywall knife — keeping the layout of the fan housing in mind.

Set the duct connector in the ceiling.

Hold the fan housing up and slide the connector into the slot.

Drive screws into the joists.

Head up to the attic and attach the brackets to the joists.

Connect the bracket to the body with a screw.

Attach the ducts to the connector with HVAC tape on the wiring.

Take off the junction box cover.

Connect the house wires with the fan wires.

Replace the junction box cover and turn on the power.

Add the mounting springs and push the cover into place.

Your bathroom exhaust fan installation is complete.
Conclusion
A fully functional bathroom exhaust fan is not a luxury; it's a necessity. It replaces contaminated, smelly air with fresh air. A bathroom without proper ventilation has a number of problems including, stuffiness, foggy mirrors, and unpleasant odor.
Hopefully, this article will convince many homeowners to install a bathroom exhaust fan in their home. And, that too, all by themselves. Not only will they be able to save dollars but also learn all about bathroom exhaust fan installation. Just a word of caution though: follow all electrical safety rules and be guided by your common sense. And of course, the manual that comes with your new bath fan.
Read more: Kitchen exhaust fan maintenance
Bathroom Exhaust Fan Installation: 13 Important Questions You Need To Ask
was last modified:
July 18th, 2022
by
Recommended