13 Most Popular Types of Window Treatments
Window treatments are an essential part of a house — they provide privacy, make temperature and light-control easy, and enhance your curb appeal. What's more, apart from adding a decorative element to a room — be it the living room, bedroom, kitchen, or bedroom — the various types of window treatments add efficiency to the house by interrupting the transfer of heat. So, if you're planning a cost-effective window replacement, this is a good time for installing a window treatment because of the varieties available on the market at various prices.
In fact, the window treatment options are so many that choosing the right one can be a tad confusing for a householder. Our guide will help you understand the available choices and find the best window treatment for your style and utilitarian requirements. But first, let's clarify a few doubts for a first-time homeowner.
A window treatment is any glaze, tint, or a decorative element that is added to windows. Its purpose is to enhance the aesthetics as well as the utilitarian value of a room. It could include drapes, shutters, shades, blinds, or even mini blinds.
Now that you know window treatments are worth the money and effort, let us look at some basic types of window treatments.
Window treatments are divided into three categories:
Hard window treatments that are made of hard materials such as wood or vinyl. These include wooden shades, blinds, and shutters.
Soft window treatments that include anything that is made of soft materials such as sheers, curtains, drapes, valances, and Roman shades.
Combination window treatments that are a mix of both the above kinds. They are also called layered window treatments. A good example would be where you mix drapes with blinds or curtains with shutters, and so on.
Under these broad categories, we have 13 popular types of window treatments which resonate well with most homeowners. You will know whether they are hard or soft. Let us explore them in detail.
Read more: 20 Inspiring Window Treatment Ideas For Living Room
Popular Types Of Window Treatments
1. Roman Shades
There is something very beautiful about Roman shades. They have the soft appearance of drapery, yet give a more airy vibe to the room. They work with a cord mechanism whereby as you raise them to let in light and air, the fabric gets lovely horizontal folds. When the window is closed, these lay flat against the pane and provide complete privacy.
The best part is that it allows the user to adjust the height of the covered area. Roman shades are effective when it comes to light control and insulation.
2. Shutters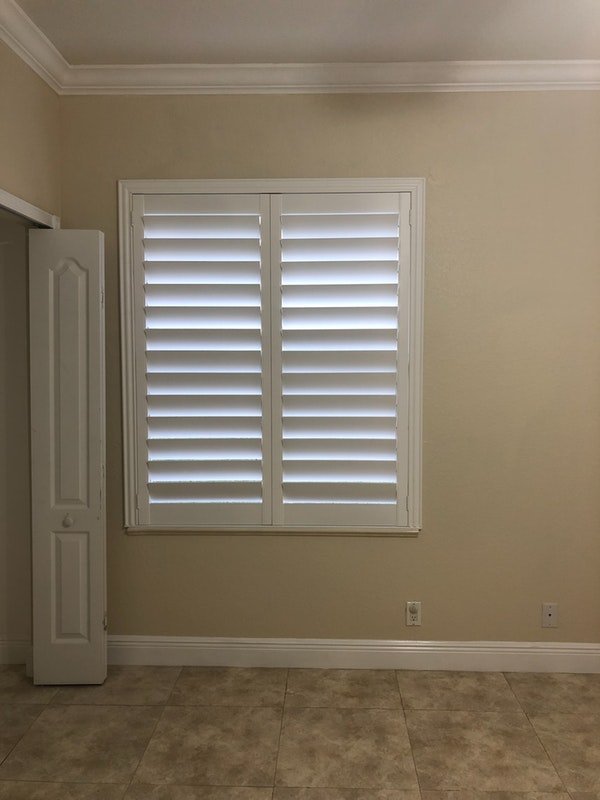 Shutters are one of the most classic types of window treatments that have an old-world charm. They are perfect for a cottage, country, or rustic house. Typically, they are made of natural or faux wood.
They are fitted on the window frame with hinges that make them swing open or close. The small louvers with lever help to filter the light as per requirement. Apart from this function, wood shutters add a great value to your home because they look attractive from both sides — inside as well as outside.
3. Solar Shades
Solar shades, popularly known as window sunglasses, limit the amount of light that comes through a window without disrupting the view. This is a great solution when you want to have a considerable amount of light control.
Since they are available in degrees of openness ranging from 3- to 14-percent, you must know that a higher openness translates to letting in more light without compromising on the outside view.
4. Wood Blinds And Faux Wood Blinds
Wooden blinds are a great choice if you want window treatments that are stylish, durable, and timeless. You have two choices: you can either go for real wood ones with grains and stains or the more affordable faux wood blinds.
These look the same as real wood but are made of PVC, vinyl or composite wood material. The advantage they have over wooden blinds is that they are moisture resistant and do not crack — making them perfect for kitchens and bathrooms.
Whichever you choose, the warm woody look of these blinds goes well with other wood furniture, flooring, and trim.
5. Vertical Blinds
Vertical blinds look very stylish. Period. They give the room a structured and neat look — sliding from side to side. For this reason, they are easier to operate vis-a-vis horizontal blinds. They are the perfect solution for covering wide windows and patio doors.
If you opt for fabric blinds, you will be glad to know that they reduce noise considerably and insulate the room from the heat of the sun or the chill of the wind. What's more, vertical blinds are less likely to collect dust. You can find such blinds in PVC, fabric, faux wood, metal, and real wood.
6. Venetian Blinds
These classic blinds are one of the most common types of window treatments. They are suspended using strips of cloth known as tapes or by cords. One can rotate these slats to almost 180 degrees. For instance, when you want to open the blinds, you can operate the chord mechanism and the slats will overlap each other completely.
You can choose varying degrees of separation and rotation. Typically, a slat width is 25 mm but may range from 16 to 120 mm. Venetian blinds are generally made of wood, metal, or plastic.
7. Cellular Shades Or Honeycomb Shades
Here is a type that is probably the best insulator of all energy-efficient window treatments. They feature a unique honeycomb design and hence the name. This pattern, with its pockets holding trapped air, creates a barrier between the surface of the window and the room. It helps maximize energy efficiency and insulates a home.
No wonder, they are perfect for keeping the heat out in summer and warmth in during winters. What's more, these blinds — based on whether they are single-cell, double-cell, or triple-cell — offer different levels of light control. Typically, they are made of soft paper or cloth-like material.
8. Woven Wood Shades
If you prefer a more casual, relaxed vibe in your home, woven wood blinds, also called bamboo shades or matchstick shades, are perfect for you. The textured window treatment instantly adds a natural, and may we add an exotic, touch to your space.
They come in a variety of materials such as twines, bits of hemp, grasses, wood, reeds, and bamboo. Basically, they are the most natural and eco-friendly of all window treatment options. And, they look really inviting. If you want to increase privacy, insulation, or add a fabric trim — you may add liners.
9. Roller Shades
For a homeowner who is on a tight budget, roller shades are one of the most affordable choices for a window covering. As the name suggests, these discreet shades roll up neatly when not in use. A minimal yet stylish option indeed. You may opt for a light-filtering shade or a blackout one according to the amount of light control you want to have.
10. Valances
For those who like their homes to have a dramatic vibe with extra pizzazz — these decorative window treatments are the ideal choice. They are positioned around the top of a window frame and can be easily used with drapes, curtains, shades, or blinds. Valances can be pleated, arched, gathered or flat, straight, or shaped.
The idea is to conceal the mounting hardware while creating a larger-than-life look. No wonder, they are a great choice for a living room, parlor, or a master bedroom — making the room appear grand and full of warmth.
11. Sheer Fabric Curtains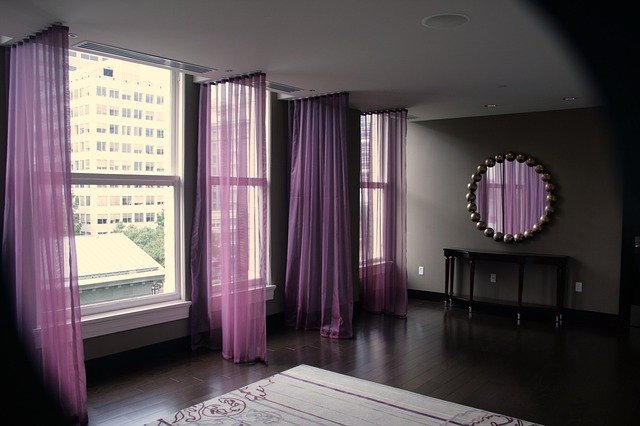 A sheer or net curtain is translucent that can range from extremely rare, very thin to barely visible. Usually, one would find such a curtain in silk, rayon, gossamer, or nylon. It may be available in various colors and prints, but the most popular choice remains plain sheers in white or shades of ivory.
These privacy curtains are perfect if you like your space to have an airy, light vibe. The best part is, during the day, you can easily see from the inside out. Yet, it prevents people outside from seeing directly into your house.
12. Drapes and Curtains
Drapes and curtains are the easiest window treatments to install. As compared to a light-weight curtain, a drape is made of a heavier material. Nevertheless, both add style and elegance (a drape more so) to your house while providing light control and privacy.
You may hang them vertically from opaque panels or a hardware (rod in most cases) which could be anywhere from just above the window frame to a few inches below the ceiling line. The advantage is, you get to select the height according to your desired length.
These are available in various styles, fabrics, colors, and patterns. Choosing home curtains is not such a daunting task. The best part is that it is easy to coordinate your drapes and curtains with your home decor and flooring.
13. Café Curtains
These straight curtains hang from rings that slide along a rod. Most often than not, they cover the lower portion of the window — providing privacy to just a part of it. It is a great solution when you want to allow a lot of light into the room. They effortlessly make your space look homey and inviting. They are ideal for a kitchen or a guest bedroom.
Final Thoughts
Before you make a choice about which window treatment to use, consider what purpose the different types of window treatments will be fulfilling in each room. Choose the best option depending on whether you want to sleep, cook, or host get-togethers there. You can always customize it to match your style and function.
On average, the cost of treatment is about $150-$200 per window. It may even go as high as $1,000. Of course, this amount depends upon the kind of window treatment a homeowner selects, the number, and the size of their window(s).
With such competitive pricing and loads of options available, window treatments are indeed a great way to personalize your house and enhance its aesthetic value.
Read more: Great Ways On How To Soundproof A Window
13 Most Popular Types of Window Treatments
was last modified:
November 15th, 2022
by
Recommended