20 Window Treatment Ideas for Living Room That Are Inspiring
When it comes to window treatment ideas for living room, there is no dearth of creativity. Our living room is the perfect canvas for which we can choose great color palettes, structural elements, and aesthetically pleasing furnishing solutions. All of these ideas give the space personality, comfort, and functionality.
A homeowner who likes to entertain friends and family knows that the living room deserves a little extra decorating effort. If it's pleasing to the eye and comfortable, it will be more inviting and full of warmth. No wonder, it's important to select the right kind of furnishings and decorative details.
Therefore, these window treatments are an important component of a living room. What and how you choose will depend greatly on how you and your family use the space.
If you often entertain and host dinner parties, you might want to go for a slightly more formal look with tailored curtains with elegant trims. Boisterous, boldly patterned shades signal its use as a family room while sheer panels may be the perfect choice for a person who likes to keep it light and airy.
Whether you need to dress cold and drafty windows or just replace old windows, the right ideas will add life to your living space. The trick is to strike a balance between functionality and decor. Before you begin work, do get a cost estimate on window replacement.
Depending on your living room area and the amount of natural light you receive, you have the option of going for flowing drapes, Roman shades, simple shutters, etc. In fact, we have 20 window treatment ideas for living room that will inspire you. Let's look at them.
1. Floor-to-ceiling Sheer Magic
Sheers look great in every room without costing a fortune. And, they offer a decent amount of privacy while still allowing for plenty of light into your living room. Of all the hues, white sheers create a beautiful, breezy look. They work and look their best when hung from floor to ceiling.
2. Classic Neutral Palette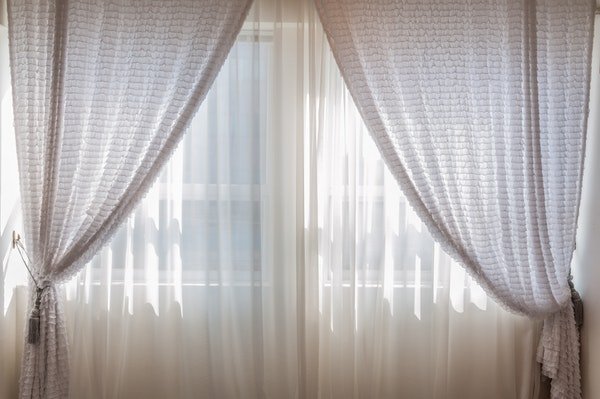 Sometimes, it's better to let the window treatments be passive players in the room's scheme. Choosing neutral, subtle, and pattern-free window treatments is a great way of dressing up any type of window in a way that it brings calm to the over-all decor — and your life. You can mix and match fabrics and colors to result in an interesting combination that is far from boring.
3. Roman Shades
Wide Roman shades are perfect for privacy and light control in your living room. They are constructed with soft folds, rather than crisp pleats — giving an understated elegance to your space. Choose nubby linen, formal silk, or casual cotton ones in warm tones and hues if you want your living room to have a collected, comfortable vibe.
4. Eco-friendly Drapes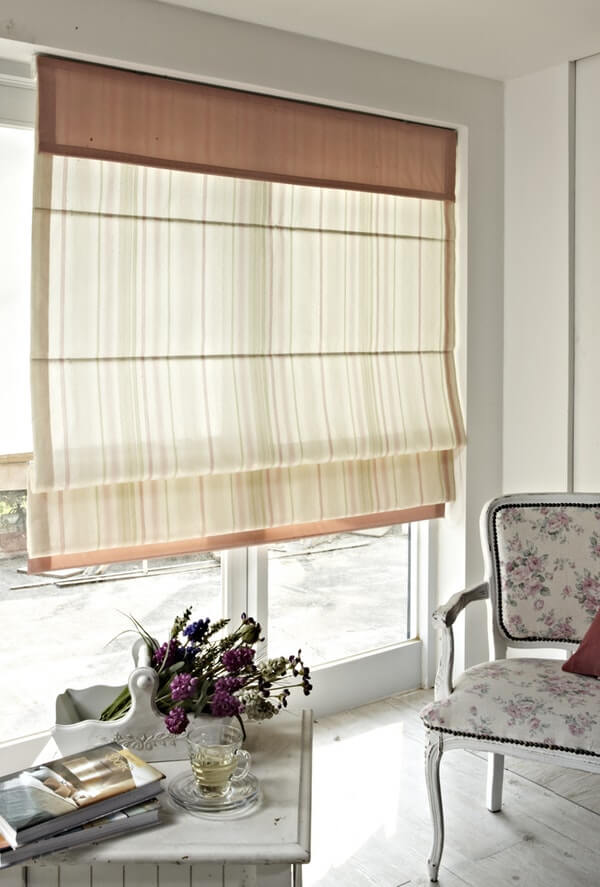 If you are a crusader for a greener planet, you can take small steps even when it comes to your living room decor. These eco-friendly wooden Roman shades offer privacy while giving a smart, casual look to your space. You can roll them up and down as and when required without much effort as they are light-weight too.
5. Vertical Blinds On Opaque Panel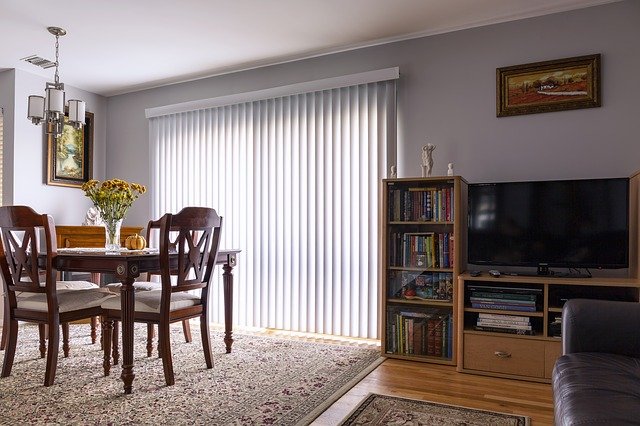 No list of window treatment ideas would be complete without the ultra-rich look of opaque panels. And, when you combine them with vertical blinds, the look is quite amazing. Here, the clean and structured lines of the Venetian blind and the panel render the living room elegant and beautiful, yet functional.
6. Linen Blockout Blinds
This window treatment makes your living room look neat and organized. And, it blocks sunlight and heat. The linen blockout blinds are easy to pull up and down with a control on the side. You can also opt for cellular shades or honeycomb ones. If you like total privacy, you may go for darker blockout blinds.
7. Wooden Shutters
There's something timeless about shutters. The built-in fixtures lend a sense of reassuring permanence and stability in our lives and homes. Stately yet simple, wooden shutters go perfectly well with all kinds of living room decors. What's more, they look as lovely from the inside as they do from the outside — making them one of the most popular living room window treatment ideas.
8. Window Valance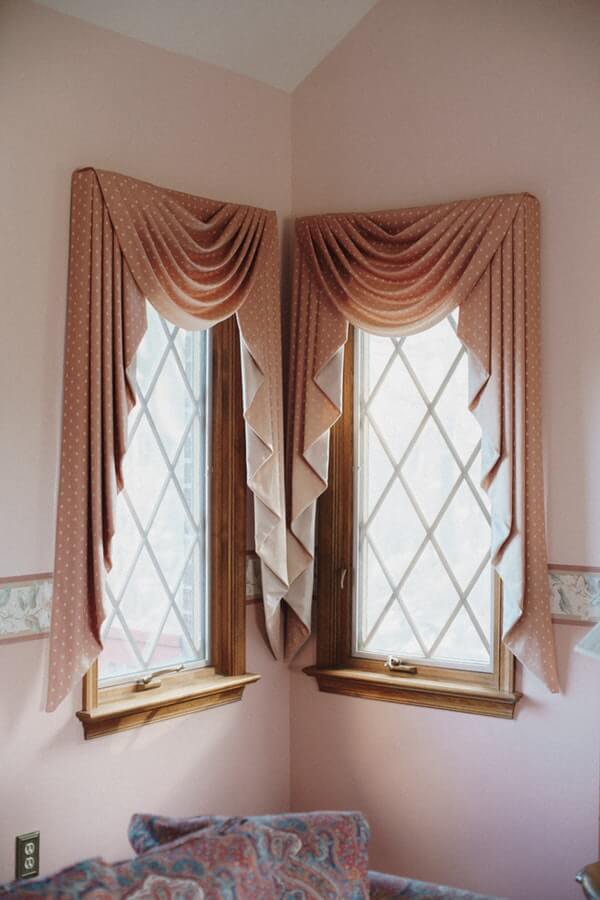 Not every valance adds a dated and traditional look to your window. Or, uses only thick fabrics such as velvet or silk. In a modern living room, you can pattern light and bright valances too. They will make your space look unique and pleasing to the eyes, and might we add — quite spunky.
9. Traditional Ring-top Checkered Curtains
As old as bay windows are, they deserve being the focal point of your living room. Here, silken checkered drapes add depth to the bay window and the ringed top makes it easy to maneuver the drapes. This window treatment gives the living room a cozy and traditional vibe that is quite inviting.
10. Light-weight Airiness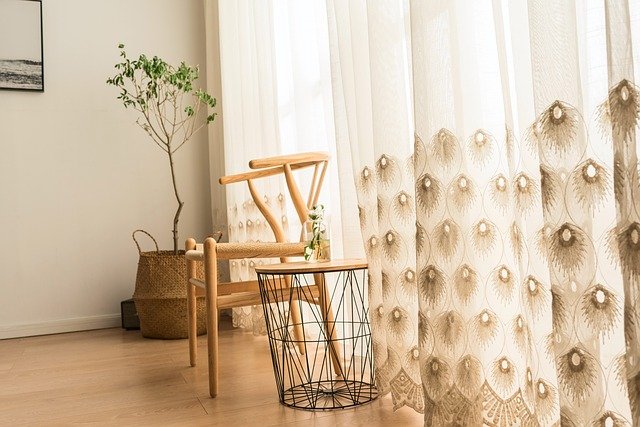 If you're blessed with tall windows with large glass panes, this window treatment idea is for you. A lightly embroidered white, flowing drape gives an airy look to the living room — making it look bright and full of life.
11. Concealed Curtain Panels
Want your living room to have a clean, structured look? Go for floor-to-ceiling drapes with high, concealed panels. You can opt for a combination of fabrics for that smart elegance. Match the colors with the rest of your living room decor for a uniform, cohesive look.
12. Double-rod Grommet Drapes
We love this window treatment idea. The pop of colors in the living room and the lovely combination of turquoise and white drapes on a double rod give the space an inviting vibe. Notice how the darker fabric is thicker while the white drape is almost sheer. It can be used in the afternoon while the turquoise one is perfect for entertaining in the evening. The grommet style makes it easy to maneuver the curtains.
13. Dramatic Drapery With Holdbacks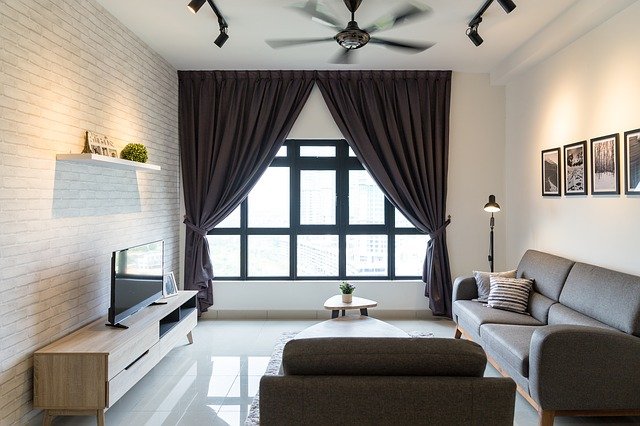 Some living rooms need that extra amount of smart elegance. And, window treatments provide it effortlessly. With a sophisticated choice of fabric and style, they set the perfect environment for special occasions. Here, in this precise space, there is no room for loose gathers and wrinkles. Notice how the thick curtains are held back neatly through matching holdbacks. Chic.
14. Blinds and Drapes
One of the most common and timeless living room window treatment ideas is drapery. You can have it in almost any color and pattern thinkable. The ideal choice is to combine it with another window treatment such as wooden blinds or Roman or cellular shades aka honeycomb shades. Together, they work as a temperature barrier — keeping the cold out and warmth from seeping out of the windows in winter.
15. Magnificence In Length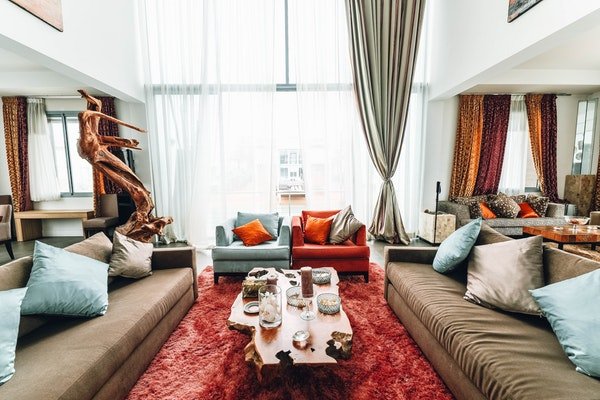 This is one living room window design that we can't help falling in love with. The extra-long window with its beige and white drapes is easily the talking point of all conversations in this house. The sheer length of the window makes the large living room brighter and lively.
16. Swing Arm Curtains
A bay window in your living room will ensure that your window treatment idea is different from a regular window — with swing arm curtains. They require a special hinged curtain rod set at an angle for the differently shaped window. Swing arm curtains are a surprisingly inexpensive solution for living rooms (and bedrooms) where you don't have to worry about ruining a carefully pleated curtain fabric with daily adjustments.
17. Print and Plains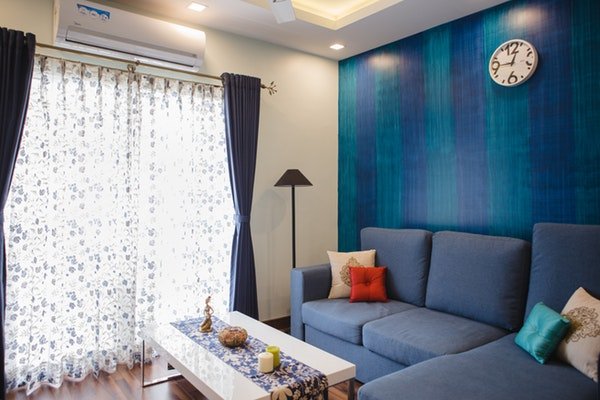 If you get bored of your living room decor easily — this window treatment is for you. A combination of floral print and a thicker fabric in the same color tone gives you an option of breaking the monotony of the space. You can choose either of the styles for different occasions and time of the day. Cool, isn't it?
18. Regional Influence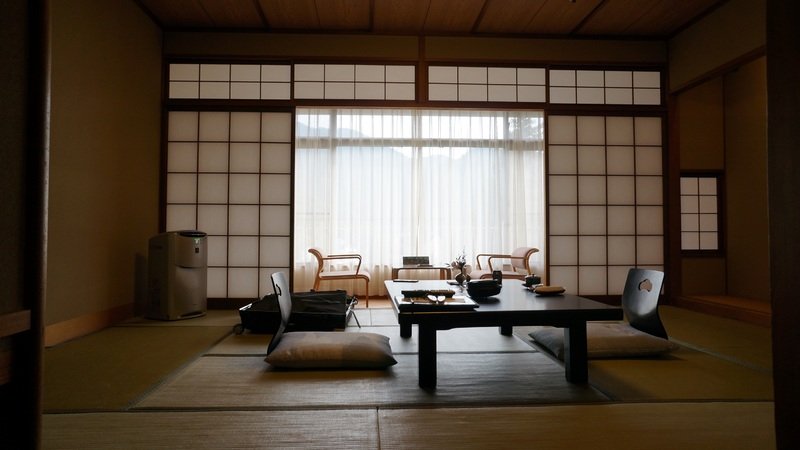 Photo from pxhere
If you have imbued your living room's decor with an international or regional flavor, your window dressings must become an important part of that style. Here, an Asian, specifically Japanese, influence is clear from the combination of window screens and sheer drapery. The black window trim is the ideal complement that's simple yet eye-catching.
19. Absolute Match
The window treatment matches the rest of the decor of the living room in color, fabric, and style. The windows with their green curtains and valances give the room a lived-in feel that is full of warmth.
20. Colonial Shutters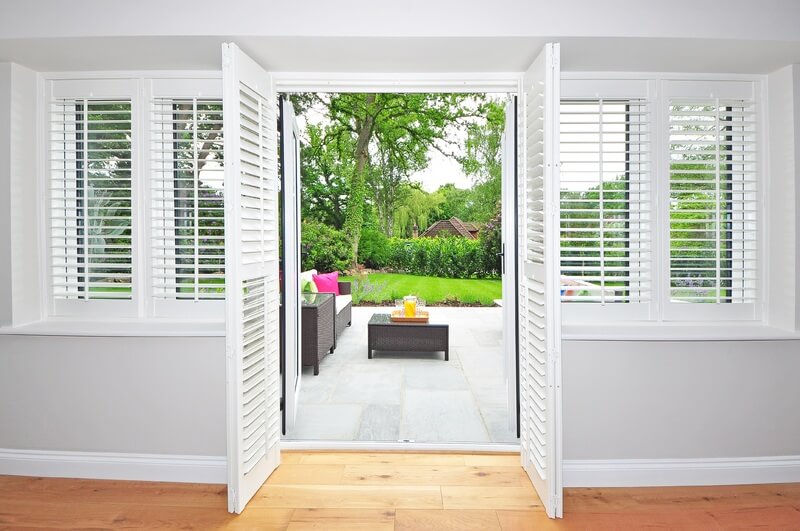 Photo from pxhere
Here is our final window treatment idea that is simple, yet very smart. These colonial shutters are easy to install and can be matched to the T with your door too. We feel white is the perfect hue for such windows. They give this room a neat look — while giving a great view to the outside world.
Final Thoughts
This list of 20 inspiring window treatment ideas for your living room is a perfect starting point for those who are moving into their new house or contemplating a home remodeling.
Whether you choose blinds, curtains, or screens — your windows offer a great place to anchor your room's overall design. And, they help inject your own personal style. Before deciding on a window treatment, think clearly and practically about what function it needs to serve and the aesthetic value it will add to your living room.
Read more: Great Ways On How To Soundproof A Window
20 Window Treatment Ideas for Living Room That Are Inspiring
was last modified:
May 27th, 2022
by
Recommended