3 Ways to Make Your Space Bigger & Brighter With Mirrors
Mirrors give the illusion of a window reflecting both natural and artificial light, making the room appear bigger and brighter. The reflections allow light to bounce around your room opening up the space. Are you stuck with a blank wall in your space? Mirrors just might be the perfect fix!
1. Fake a Window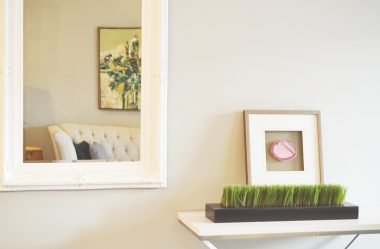 Mirrors shaped like windows trick the eye into thinking the space is larger and brighter than it actually is. Place them near or opposite of a window to reflect light. If your home lacks adequate light and windows, these paned mirrors can imitate the feel of a window. Even though they won't actually let in natural light, they give the room the open and airy feeling the way a real window would.
A farmhouse foyer features this bronze windowpane mirror and rustic console table. Love this look?
2. Oversized Floor to Ceiling Mirrors
Position a large mirror (at least three-fourths as tall as the wall) in the room to reflect a specific focal point. Instead of hanging it up, place it on the floor and rest it up against the wall. You can secure a leaning mirror to the wall with a hook if you have little ones running around! Large mirrors also reflect light to open up your space, making it feel DOUBLE its actual size! (Shhhh…A classic interior design trick that the pros use to add instant square footage.)
Make sure your mirrors will reflect a nice feature of the room and not your ceiling fan or TV.
Floor length mirrors make any space feel taller and their long shape draws the eye up. Place them behind a grouping of furniture or out on their own.
This tall leaning mirror pulls double duty as both mirror & artwork in a small living room that could benefit from more light. Notice how we also selected light colored furniture and a leggy, glass coffee table to make the room feel more spacious.
 3. Mirrors Above the Sofa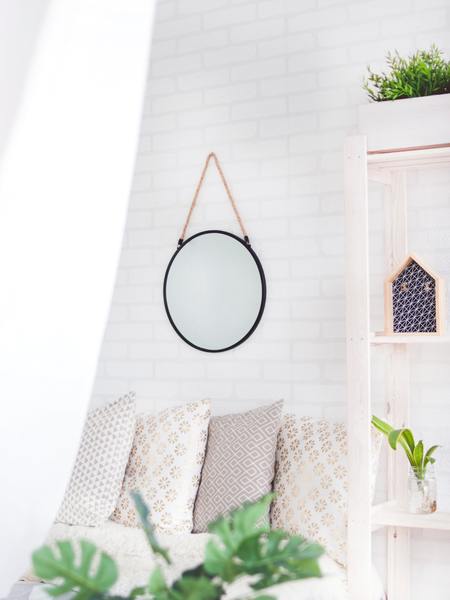 The area above the sofa can be a tricky space to decorate. If quality artwork is cost prohibitive, a mirror is often a good alternative. It's an easy way to brighten up your space and once again, makes the room feel larger and more spacious. One oversized traditional rectangle frame is a simple and chic way to fill the empty space above the sofa, while adding light and dimension into the space!
Round or oval mirrors are also a great way to style the wall space above your sofa and provide a nice contrast to the straighter lines of your sofa and accent tables.
Mix and match different shapes and sizes for a more eclectic look. A mix of mirrors, or mirrors combined with artwork will give your space a unique look and feel.
Now you have 3 quick and easy ways to make your space appear bigger and brighter with mirrors!
Happy Decorating!
This article originally appeared on http://swatchpop.com
3 Ways to Make Your Space Bigger & Brighter With Mirrors
was last modified:
April 20th, 2022
by
Recommended