Looking to give your bathroom a new look on a budget? Read these 4 creative budget-friendly ways below to spruce up your bathroom. If you are remodeling your home, chances are that you have put your bathroom at the end of your priority list. It isn't unusual for people to focus their time, energy and money on rooms that the visitors can immediately see and bathrooms are usually neglected. And by the time you think of starting on the bathroom, your funds would have diminished. Time to worry? No, it's not. It is possible for you to refurbish your bathroom in creative and inexpensive ways rather than totally remodeling it. Let us look at a few of them here:
1. Fix the Fixtures
Look at the fixtures around your bathroom and boost them. For example, update the sink and bathtub faucets, light fixtures, mirrors, towel racks, etc. Most people usually overlook these aspects and try to rip off major elements in order to give a new look. What you might not realize is that updating the fixtures, which may seem small, will totally revamp your bathroom. Look at some creative ways to update the fixtures, like using old plumbing as towel racks to get an industrial feel in your bathroom.
TIP: Estimate the cost to renovate a bathroom in minutes for free
2. Throw in Some Light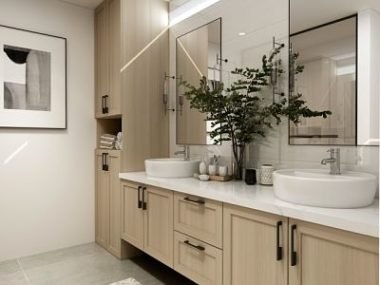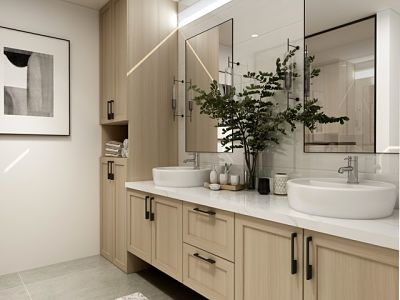 Light is one of those elements that has the power to change even the dullest and most depressing rooms into something exciting. If your bathroom is short on light, look at different ways you can bring in more light — both natural and artificial. Trim the shrubs outside your bathroom window so that they don't block the natural light from coming in. Installing a solar tube on your roof is an inexpensive skylight alternative.
If you have limited options as you live in an apartment and have limited options with how to bring in the light through a single window on the 30th floor, don't worry. You can add a few mirrors or large pictures that can reflect the existing light around your bathroom. You may even consider installing a room-length mirror covering an entire wall length for an instant change. Switch the solid door with an etched glass door. Bold choices with lighting will work in your favor and give an entirely a new feel to your bathroom.
3. Painting Your Bathroom Red, — Green, White or Rainbow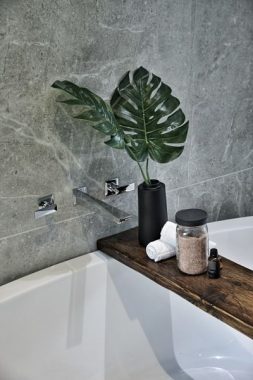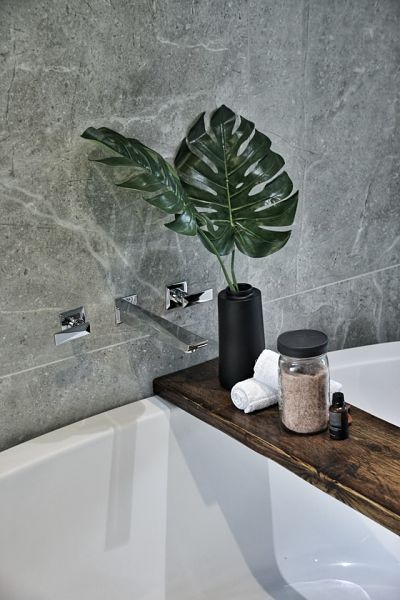 Painting different elements like walls, tiles, shelves or even fixtures is a really inexpensive and quick way to update the look of your bathroom. However, make sure that there are no moisture problems which can peel off the paint or tiles. In that case, bathroom remodeling is the only option. Go for a mildew-resistant, semi-gloss paint or matte paint designed for high-moisture areas. If you don't want to change the color of the entire tiles and walls, you can just paint the accent tiles, shelves or fixtures in a contrasting color. Try to break up monochromatic walls with a splash of contrasting colors, paintings or designs. Before you start painting the bathroom, make sure that you have prepped the surface correctly.
4. Keep it Functional
Don't make the mistake of prioritizing just design over functionality in the bathroom. What good would having a pedestal sink do if you have nowhere to keep the essential stuff like your toothbrushes, cosmetics or cotton swabs? Add storage elements and fixtures such as towel racks without compromising on the space or design. At the same time, don't ditch them just because the bathroom will look good without them! Even the containers or boxes you choose to store your essentials in will add personality to your bathroom. So choose them carefully, and ensure they stay cohesive with the design.
Making minor changes will go a long way in resurrecting your bathroom. Put on your thinking caps and spruce up your bathroom with small, inexpensive and creative details.
MORE: What to Do If You Have Leaky Pipes in the Kitchen or Bathroom 
Spruce Up Your Bathroom Without Breaking the Bank
was last modified:
April 22nd, 2022
by
Recommended