4 Interior Window Trim Styles That Have an Old-world Elegance
Your window and door trims are a compelling and important part of the interior design of your home. They beautify your living space and make it look clean and well-structured. No wonder, the way you select them is equally crucial. In this article, we show you how a balance between design and function is essential when you choose the best window trim designs for your home. We talk about four of the most popular interior window trim ideas and styles that have an old-world elegance. But first, a question for the uninitiated.
What is window trim?
A window trim, or casing with milled wood, is a fitment that is attached to the interior wall around a window. It covers the unfinished space between the window frame and the wall and has a decorative appeal that spruces up a house's interiors effectively.
Window trims vary with home styles, from the simplest trims to architectural styles like Colonial, Craftsman, Ranch, and Provincial. In fact, a simple way to choose interior window trim is to match it to your home's design and moldings. It ensures a uniform, cohesive look. Of course, the interior trim you choose also depends on your individual taste.
But we insist that you do follow guides and researches to help make your trim decision a perfect one. As mentioned, keeping the style of your trim consistent with your home design and architectural style is the most important rule of thumb to remember.
Let's begin with the four interior window trim styles that will give your house an old-world elegance.
Plan your window installation right. Try our estimator tool today.
Colonial-style window trims
The Colonial-style molding is inspired by the refined and classical Georgian period in the 1700s. Even the proportions and details are in accordance with this time-frame.
Did you know, the early colonists brought the elements of this popular style from Europe? Over time, they developed a taste for newer architectural looks and got influenced by the classic Greek and Roman forms. The result was the birth of Colonial trims.
Such a style tends to be simple yet elegant — reflecting a handcrafted look. These moldings are constructed using several moldings together. They are especially great for rooms with higher ceilings where scale is important.
All in all, this style is all about symmetry and confident formality — lending a touch of stately courtliness to each and every room. Therefore, there is a good amount of attention to detail when it comes to this kind of window trim.
Whether you own a home of this style and age or just wish to recreate a historical look — Colonial trims are for you. The great news is that there's a variety of crown moldings available to help you achieve your goals.
Instantly estimate the cost of your remodel...
...or take your time to personalize dozens of choices to transform your house into your dream home.
Handy tip: A good way to accentuate such homes is to select trims that have flat casing with a crown and sill. Choose multi-piece trim and wider baseboards, wainscoting, and crown molding for windows. You can use the same pattern for floors, walls, and ceilings as well.
Read more: How to build a window sill
Craftsman-style window trims
If you want to spruce up a dull room with modern, chic window trims — this style is for you. Craftsman trims are simple, tailored, and rich with minimally ornamented window casings.
The classic design looks beautiful in every home. And not only that, it is simple to build and install. It requires very elementary carpentry skills. Installing craftsman trims is an excellent project if you're a beginner in the field of home improvement.
You just need accurate measurements and cuts, and you're ready to shoot casings into place with a handful of well-placed fasteners.
The best part is that these window trims can be as ornate as you want, or incredibly simple. Either way, these will create a unique visual effect in your home interiors. The reason is that they have the same common design elements in every application.
Handy tip: Create roomier spaces with white, light beige, and cream-colored Craftsman-style window trims and moldings.
Ranch-style window trims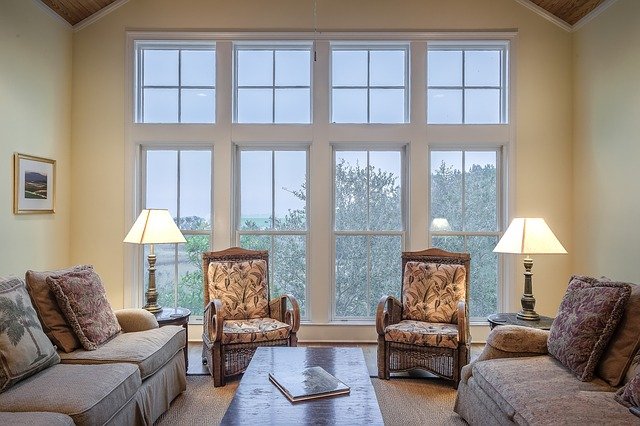 This style is designed to be functional as well as decorative. Typically, it's undecorated or routed with a simple design cut into it. No wonder it is among the most popular and widely used window trims. The best part is that it is readily available anywhere in the country.
If you're looking for an open, informal, and inviting window trim — ranch is for you. It has a modern look with almost no embellishment. There's relaxed energy about this structure. And the warm feeling flows naturally from room to room with the clean lines of this architectural style. Since these homes have larger, horizontal glass spans — the window trim is kept simple and unobtrusive.
Handy tip: Keep these ranch-style trims as minimal as possible. Avoid embellishments and too many design details. You can use simple baseboards or more formal trimmed windows. The style can be maintained throughout the house — in the kitchen, fireplace mantels, and even passageway casings.
Provincial-style window trims
The provincial style is practical and unassuming. And yet, is very classic. Such a pattern is great for homes that have an intricate, elegant design.
If you love the idea of an ornate home with a country elegance as opposed to a modern one – this style is for you. It is especially a great choice for larger homes away from the humdrum of cities.
There is something very timeless about a provincial design — a palpable refined charm. We don't see this classic design going out of style anytime soon. So, once you install such a window trim, there wouldn't be a need to replace it for decades.
One more reason why it is so popular is that it gives a softer, more elegant take on minimal or rustic farmhouse decor.
Handy tips: Provincial carved trims add a classic look to flush doors, walls, and cabinets too. Pre-mitered wood and matching straight moldings create appealing patterns.
Find out how much your window installations will cost with our estimator tool.
Takeaways
When choosing interior window trim styles, go with any of the four architectural types — Colonial, Craftsman, Ranch, or Provincial.
Avoid contrasting window trims.
A good window trim installation will increase the home's aesthetics and performance.
Hire a professional contractor if you're not comfortable with a DIY project.
Generally speaking, the width of a good casing spans two or three inches. But, you can choose as per the size of the area and your window.
When replacing your home's interior window trims, consider replacing the exterior ones too for a uniform look.
Get a window replacement cost estimate before beginning work.
Read more: Popular Wall Trim Styles You Can Choose For Your Home
4 Interior Window Trim Styles That Have an Old-world Elegance
was last modified:
August 31st, 2022
by
Recommended