Imagine getting the perfect body — and you never have to leave your living room to make it happen! All you have to do is sign on this line to get a monstrous machine placed in front of your TV. Then make monthly payments you can't afford for the foreseeable future. Easy, right? In two years, when you realize you haven't used the equipment enough — and you hate how much space it's taking uphaul the exercise equipment out to your driveway and sell it at a garage sale for a fraction of what you paid.
All jokes aside, it really is tempting to buy expensive exercise equipment. The promises made by manufacturers are nothing short of miraculous, and who wouldn't want to get their "perfect" body by using fancy equipment in their own home? But while expensive exercise equipment has its place, that place doesn't necessarily need to be in your living room. In fact, no one really needs expensive exercise equipment to have the perfect home exercise room.
You can get the workout you want (with those coveted results!) with just a few smart, inexpensive purchases. These five items won't run your bank account dry, but they will deliver impressive results (providing you actually use them!).
Exercise Mat
A good, THICK exercise mat is a must! When you are holding plank on your elbows or performing seated roll-up/roll-downs, your body will be thankful for the thick padding. I personally use a Harbinger mat, which comes with nice carrying strap.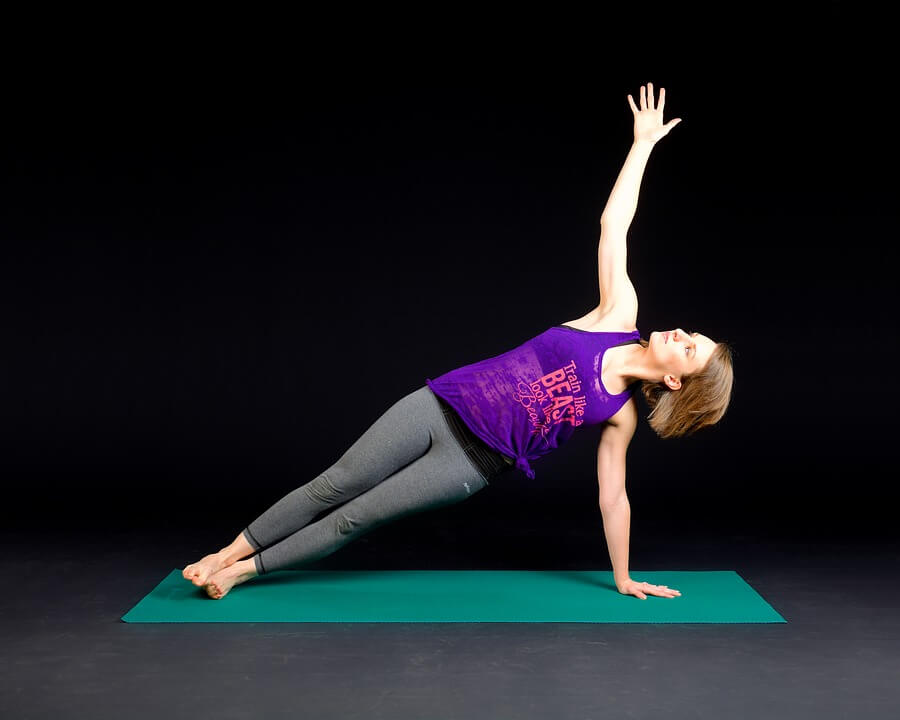 Free Weights
Surprisingly, you may not even need free weights in the beginning of your fitness journey since your own body weight can be an acceptable starting place. In actuality, proper form is more important than the amount of weight you lift.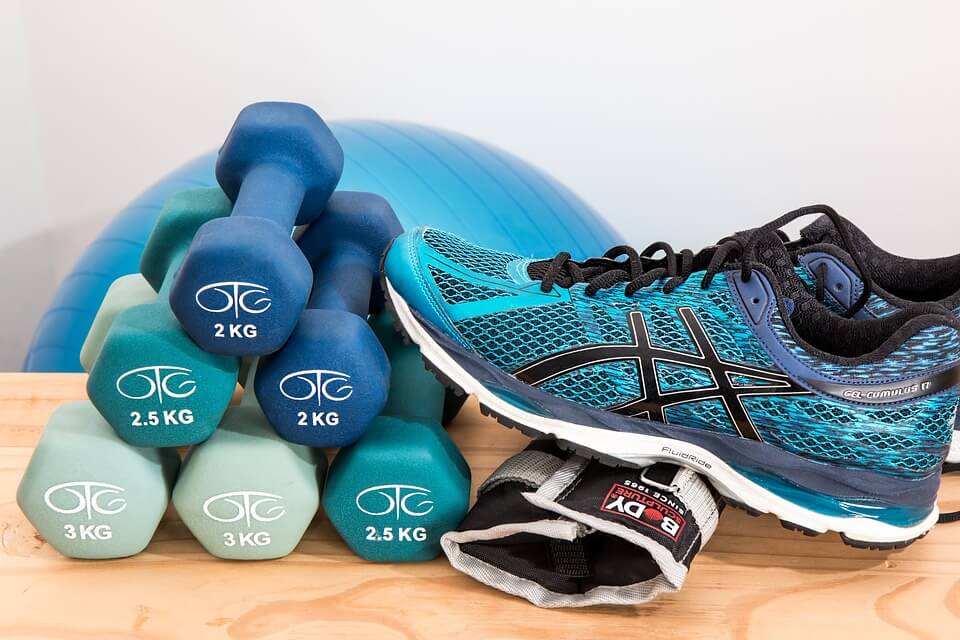 However, if you are beginning an exercise program and are determined to lift weights (dumbbells/free weights), start light. By light, I mean 5 to 8 pounds. Keep in mind that you are going to be doing 8 to 12 repetitions (aka reps) of a certain exercise multiple times (aka sets). For example, you might do 12 reps and 3 sets of bicep curls. This means your muscles will get tired. How tired should they be? You want your muscles to be fatigued by 8 to 10 reps, but NOT failing or in pain. As the exercises become too easy, then it's time to move up in weight.
Keep in mind that dumbbells are charged by weight. A dumbbell that is 8 pounds costs a bit more than a 5-lb dumbbell. I recommend purchasing neoprene covered hexagon free weights. These are easy to grip, especially when your hands start sweating. Plus, the hexagon shape means they're less likely to roll away from you.
Make sure the free weight fits nicely in your hand as you grasp it. I have found some brands do not fit well in a woman's smaller hand. A good brand to purchase is Weider.
Resistance Loops and Tubing
Resistance loops and tubing are both extremely versatile and inexpensive. The wider resistance loops are perfect for exercising the muscles of your legs and hips. With the tubing, you can perform strength and fitness exercises through a full range of motion. The loops and tubings hold up well after numerous uses (and even a little abuse). I actually stand on mine, wrap them around poles and hooks, and pull the heck out of them. I prefer the professional grade Power-System brand.
Jump Rope
Bring out your inner child with the jump rope! It's actually my favorite cardio exercise. You can search on Pinterest for some killer cardio workouts that can burn about 10 calories per minute.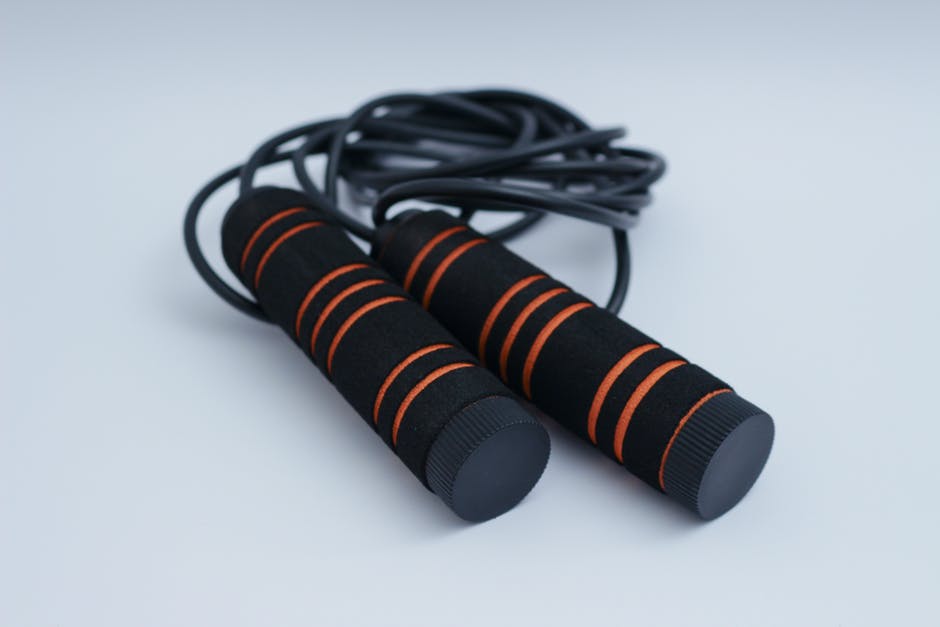 If you plan to purchase a jump rope, choose a thin speed rope. Jump ropes come in different lengths that correlate to your height. Test the length by opening the package and setting up in the ready position with both handles in your hands. Does the rope gently touch the ground?
Water Bottle and Towel
You can't forget your water bottle and towel when you work out! Hydration is a must. I bring a 36-ounce bottle to my workout, but I don't finish it all during the workout. However, within an hour, I make sure that I drink whatever is left. You may not feel parched during your workout, but try and drink a bit every several minutes or so. Your body will thank you.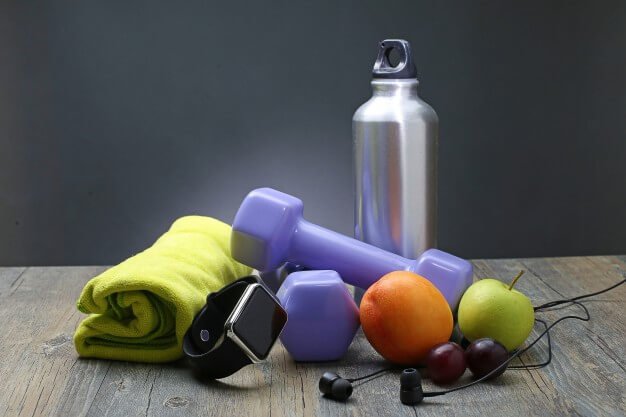 Background photo created by xb100 – www.freepik.com
A large beach or bath towel will help you at the mat. It will keep your sweaty hands and body from slipping around, and it will keep your mat clean.
These five workout items are perfect for anyone — both the person who never leaves her living room to work out and the one who works out at a gym with a personal trainer. Keep these at home for in-between gym workouts, take them with you to your workout sessions, and keep them on hand for whatever life throws your way.
READ MORE: How to Achieve a Soundproof Room Without Breaking The Bank?
5 Essential Items for the Low-Budget Home Exercise Room
was last modified:
May 17th, 2022
by
Recommended