5 of the Best Home Automation Products for Aging in Place
Whether you are looking for complete remodeling for your home, home automation can help you do it without much hassle. Many websites and online stores offer quality home automation products to give your home a great update. Whether it is a smart home assistant, pill dispenser, smart refrigerators, or video doorbells; home automation gives a new breath of life to your haven.
We recommend that you install these ultra-cool and functional home automation devices to keep your haven safe.
If you are a senior who wants to be able to stay in your home or if you are trying to find ways that can help your elderly parent's age in place, then you will want to take advantage of today's new home automation products that can help seniors in a variety of ways.
Even if you aren't tech savvy, you can still use many of the home automation products on the market. You can either pay someone to install the products or have a trusted friend to help you out.
Smart Home Assistants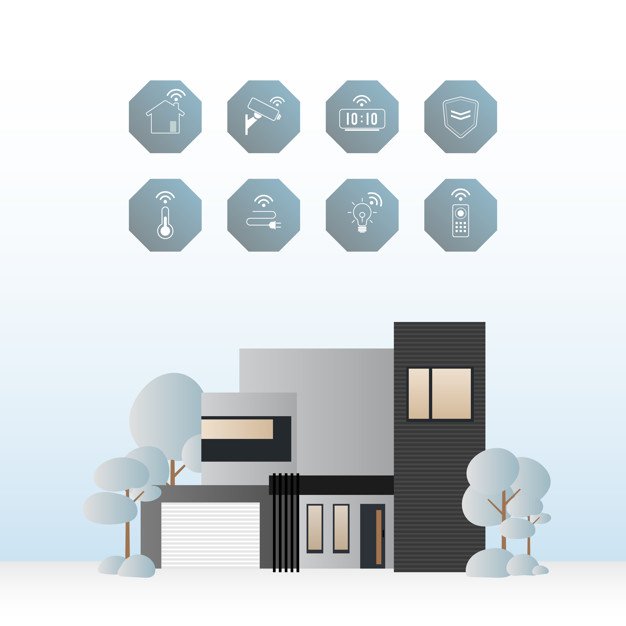 Infographic vector created by rawpixel.com – www.freepik.com
One of the best products in home automation for seniors are the smart home assistants. There are many different brands available, but Echo, by Amazon, is our top choice since it is easy to find other smart home units that integrate with Echo.
Voice-activated technology is far easier than trying to remember a set of commands, passwords, or even touch controlled units. Home assistants can play music, read books out loud, place phone calls, all simply by speaking a command.
Video Doorbells
One of the concerns seniors have is home security. The new video doorbells, such as Ring, allow seniors to see who is at the door before they open it, and even speak to the person, without ever having to open the door. This handy device also allows seniors to stay in whatever room they are in and not risk walking down a flight of stairs or tripping over an object in the dark to answer the door. These can also be connected to other security lights and cameras outside the home.
Smart Thermostats
Sometimes digital thermostats are so confusing, it seems as though you need to be under 10 to work them! However, smart thermostats, like Sensi, can help keep seniors keep home temperatures comfortable by simply speaking a command. Sensi works with most home assistants, like the Amazon Echo, so seniors don't even have to read the numbers on the dial, they only need to speak their desired temperature and Sensi will take action.
Smart Refrigerators
Although smart refrigerators are often marketed to young families, the truth is that products like the Samsung Family Hub can help seniors tremendously. More rural areas may not have service yet, but for large and medium-sized cities, smart refrigerators can help seniors order groceries directly from the refrigerator door and then have them delivered. There are no apps to learn, either, as today's smart refrigerators come with voice technology.
Smart Pill Dispensers
This is perhaps the most useful device of all. For seniors who have a great many medications to keep track of, it is easy to forget which pill you were supposed to take at what time. This can prevent missed doses of medication or stop seniors from doubling up if they have forgotten that they previously took medication.
The Med Minder Pill Dispenser is one of the smart home products. Only one compartment can be opened at a time and the unit offers reminders, such as flashing lights, phone calls, or text messages, to alert seniors that it is time to take their meds. This product can also alert caregivers, family members, or medical professionals if something seems wrong. The best part is that these products cost less than $100 but the peace of mind they bring is priceless.
Read more: Home Renovation Options For Aging Parents
Honorable Mention
While this isn't necessarily a smart home product that is controlled via an assistant or even a phone app, the Approach Wall Cabinet Lift system is something that deserves mention here.
Reaching items on the top shelves of kitchen cabinets often requires a step stool or step ladder, both of which can be tricky for seniors. Since falls are one of the biggest reason's seniors go to the hospital, you want to avoid using step ladders.
The Approach Wall Cabinet Lift has a button that allows the cabinet itself to move up or down as far as much as 20 inches. It has an automatic shut off if it should contact anything as it moves up and down and makes reaching items on the top shelf an easy task.
Read more: Stair chair lift
Summing Up
Home automation is a new approach that makes lives easier for all age groups. As being a senior resident, you can choose any of these automation gadgets and enjoy a great life ahead. You can compare different brands for features and prices and ease your life with technology or aging at your place.
Read more: Introduction to group homes
5 of the Best Home Automation Products for Aging in Place
was last modified:
March 22nd, 2022
by
Recommended