Five Things to Consider When Creating a Home Theater
When you decide that you want to bring a home theater system into your humble abode, you may be overwhelmed by the selection available to you. Every retailer has the latest and greatest stereo systems, speakers and televisions to suit your needs. How do you know what's best for you, your budget, and your living space? Here are five factors to consider when creating a home theater.
1. Space
The size of your room is a big factor that you need to consider before your splurge on a home theater system. Your choice will be dependent on where you decide to place your home theater system inside of your room. Perhaps you have an entertainment cabinet you already want to use, or maybe there is built-in shelving in your space. Regardless, you'll want to bust out your measuring tape and take accurate readings before you shop. Having these dimensions on hand at the store is a must.
2. Type
There are a wide variety of home theater systems on the market. Some of them come in separate parts, while others have all of the equipment packaged together as one unit, so you need to decide exactly which components you want to have in your home theater system. For example, you'll probably want a Blu-Ray player if you're a movie buff. You may not need a gaming console if you're not into video games, so you can opt to skip this expense.
3. Lighting
Prior to bringing in your new home theater system, you need to consider the lighting in the chosen space. For instance, plasma televisions are known for looking better in dimly lit rooms, while LCD screens are optimal in bright light. Whether you intend to use mostly natural light or you want install recessed lighting, think about how the light will affect your enjoyment of your home theater system.
Read more: Indirect lighting ideas make your home inviting stylish
4. Sound
Sound travels fast, especially in a small home, and you have to account for this factor as you shop. Home theater systems are all about having sound that flows seamlessly with the entertainment, whether it's a new video game, a classic movie, or your favorite TV show. That being said, there are a few features you need to consider.
The flooring in your living space can play a large role in how sound travels within the room and beyond. Carpeting, for instance, can dull sound from a second floor for first floor inhabitants. Room size also impacts sound – you know what it's like to hear noise echo throughout a large space. Creating softer audio can be a matter of bringing in large, padded furniture and using drapes to absorb sound.
5. Furniture
Home theater furniture comes in all shapes and sizes, and you don't have to spend a big chunk of your budget to get the look you want. Just remember, it's all about seating – these are chairs you're going to be sitting in while screening long movies. The chairs should be large enough to provide coziness and comfort, but small enough to fit into your theater. With that in mind, it's essential to measure the dimensions of your room and the furniture from the vendor before making a final purchase.
Read more: Furniture arrangement hacks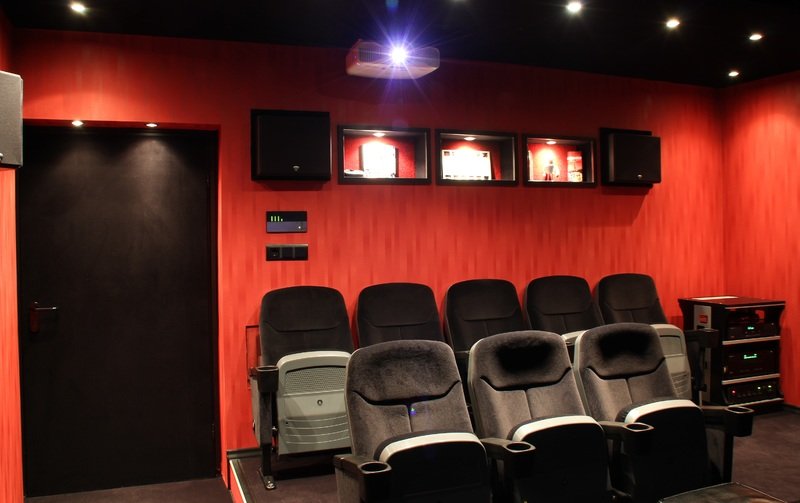 Pixabay
You also need to keep size in mind as you shop for items such as lamps and side tables. Overall, you want your theater to feel welcoming, and it should be easy for everyone to move around the space – especially once the furniture is in place.
Owning a home theater system can be rewarding for a number of reasons, but before you treat yourself, these five factors are critical to keep in mind. By understanding what goes into a home theater system and how it impacts your living space, you can shop wisely.
Read more: How to choose the right furniture for your home
Five Things to Consider When Creating a Home Theater
was last modified:
May 10th, 2022
by
Recommended