Want your home to have the perfect basement kitchen design? It's very much possible. All you need is some careful planning, in-depth research, and our tips to create a great kitchen for your basement suite.
Here are 13 tips to help you add the most functional and valuable basement kitchen design.
1. Be clear about the purpose of your basement kitchen
Think about why you really require a basement kitchen. Do you want to create the ultimate entertaining space for parties? Or, are you looking for a small kitchen where your guests can feel at home?
Once you get your answer, plan the home improvement accordingly. For instance, you can set up a bar for your drinks and snacks or add a cozy cooking space with a tiny stove where you can prepare a full meal.
What Are the Key Points of Any Kitchen Design Layout? Let's find out!
2. Have a safe basement kitchen design plan ready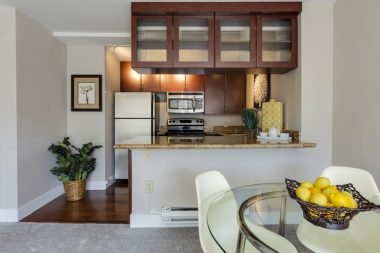 When it comes to installing a basement kitchen, it's important to design the space well. Ensure that your plan accommodates proper fire exits, ventilation for cooking fumes, basement plumbing, and the safest way to connect kitchen appliances.
Decide upon the most secure wiring, kitchen lighting, appliances, fixtures, and flooring. Also keep your budget estimate in mind. If a full-scale kitchen is too costly, consider installing a kitchenette for your basement space.
A kitchenette has all the necessary amenities such as a kitchen sink, enough counter space, smallish kitchen cabinets, and a dishwasher. A full basement kitchen, on the other hand, will have larger appliances and more space to move around.
3. Ensure there are sufficient power outlets
Make sure you have enough and easily accessible electrical outlets. Especially for your countertop appliances such as blenders, coffee makers, microwaves, and toasters. You don't want to be in a quandary if and when you or your house guests require power supply.
4. Create a cheerful vibe with good lighting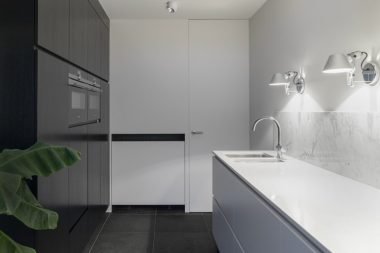 Pay attention to basement lighting. It can either make or break the look of your kitchen. A dark space doesn't just look uninviting but it can make the room appear smaller than it actually is. Keep in mind that too bright a lighting will also make your kitchen time uncomfortable.
Since there isn't much scope for natural light pouring in, pick out the ceiling lights, wall lights, and accent lighting carefully. You can always hire a professional kitchen contractor or interior designer to help you along the way.
Plan your basement remodel just right with our estimator tool.
5. Match the kitchen to the style of your house
Make sure your basement kitchen ideas match the rest of the house. It will not just create a cohesive, well-put-together look but also add to the amazing kitchen design ideas you have used upstairs.
If each room matches and complements one another in terms of colors and styles, the transition from upstairs to downstairs will feel natural and easy.
6. Use smaller-sized appliances
If you don't have a lot of space to build your basement kitchen, it's a good idea to think carefully about the type of kitchen appliances to add. Thankfully, there are lots of smaller alternatives to traditional full-sized appliances that help you save on space.
These include:
Smaller, single bowl sinks instead of larger or double sinks

Compact ovens or toaster ovens instead of a full oven

Smaller, thinner, or a mini-fridge instead of a full combination fridge and freezer

Small, portable dishwashers on wheels or a countertop dishwasher that hooks up to the kitchen sink
7. Install proper ventilation
With cooking comes the inevitable smoke and steam. You WILL require a proper ventilation for safety reasons. The standard will be to use an electric hood fan to suck up and disperse any fumes and odors.
They come in several models: ducted hood fans which connect to the ducts of the house to vent the fumes outside or ductless hood fans that recirculate the air back into the same room and use something like charcoal to purify the air.
In a basement, it's best if you plan to build the kitchen close to your current duct system so you can hook up a ducted hood fan to it. Or else, you can install a ductless hood fan.
8. Use smart storage
More often than not, a basement kitchen has limited space. It's important to plan your storage accordingly. Instead of huge kitchen cabinets and drawers, invest in fewer storage units.
Use vertical space instead of horizontal by making use of the walls. Do not pile up your second kitchen with stacks of plates, cups, and cookware. An organized basement kitchen design will give your basement a much cleaner look, and allow you to use the rest of the kitchen for other things.
Here are some smart shelving solutions to maximize space:
Get floor-to-ceiling cabinets where you have full use of the space

Install cabinets that slide instead of swinging out

Add hooks and racks to the sides of cabinets and the insides of doors

Get vertical shelving or dividers for your cutting boards, baking trays, and so on
Read more: 5 Clever Kitchen Storage Ideas That You May Not Have Heard Of
9. Invest in great-looking flooring
Do not think of carpet flooring in the basement. It might lead to mold and mildew later. Instead, choose between a hardwood floor or a tile flooring. Make sure the color scheme you pick out for your counters and cabinets complement the tile or wood flooring.
Take a look at these 6 Kitchen Flooring Trends For Every Style and Budget
10. Use a floating kitchen island
A clever way to maximize your counter space for preparing food is by including a floating kitchen island or cart. It looks like a small kitchen island (with a countertop and cabinets below for storage) on wheels. The wheels give you the flexibility to move it where you need it or when you want to get it out of the way.
Just make sure you get one that's good quality, otherwise, you'll wind up with something that rattles and shakes as you try and actually use it to prepare food.
Take a look at these 9 Really Smart Small Kitchen Island Ideas for Your House
11. Build a closet pantry
Another way to deal with a lack of space to include storage options is by turning a nearby closet into a full pantry. If there isn't a closet nearby, you can always add one. The advantage of using a closet instead of more cabinets is that it does not stick out from the wall. And hence, it takes up less floor space and avoids making the kitchen too cramped. It's an ideal option to store bulkier food and cookware items.
12. Design counter seating
Combine your basement kitchen with dining. Simply put a set of high-top chairs against the kitchen counter and voila! A functional dining area-cum-family room is ready. It will change the way you entertain guests and gather for meals — and make your get-togethers more intimate. It also leaves space in the basement for a home theater, couch, or a pool table.
Get the best estimate for your basement remodeling with our estimator tool.
13. Opt for an eye-catching backsplash
A bold kitchen backsplash will make your space more inviting — adding oodles of glamour. It can even make the entire basement appear bigger and better. Just make sure your tile backsplash doesn't look out of place or randomly chosen.
13 Tips For Adding a Kitchen To A Basement
was last modified:
October 11th, 2022
by
Recommended