Curb appeal is an essential component to your home's success on the market, and overall appeal to visitors and passersby. Sure, it's what's on the inside that counts, but that doesn't mean there's any harm in sprucing up the outside too.
Not only does curb appeal increase your home's attractiveness to potential buyers, it's proven to boost your home value. Exterior upgrades and improvements deliver, at minimum, a 150% return-on-investment (ROI).
Fortunately, you don't need intricate landscaping to achieve this. Small touch-ups and DIY upgrades can have the same effect, the key is just to do them right and to know which ones are most important. So, if you're looking to improve your home's curb appeal, start with these easy improvements.
1. Refresh your mailbox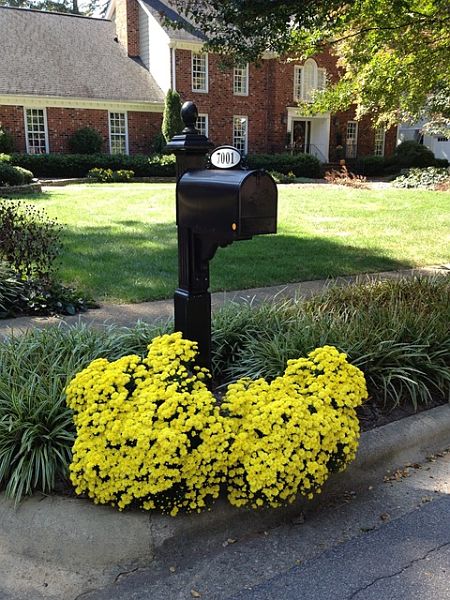 A small yet mighty change, an upgraded mailbox sends an important message. By showing potential buyers that you take great pride in caring for your mailbox, perhaps the smallest and most insignificant part of your home's overall exterior, it shows that this pride and care carries over into other parts of the home.
This is especially important if your home has a large fence or vast vegetation covering its façade. In these cases, the mailbox is often the most visible aspect of the exterior.
Rest assured that your mailman is not the only one that will be impressed with this change. If you decide to get creative with your mailbox, everyone is sure to take notice. Updating to a brick or stone mailbox is also a lovely addition.
Top it off by adding some climbing vines or flowers along the base of the mailbox.
2. Re-paint trim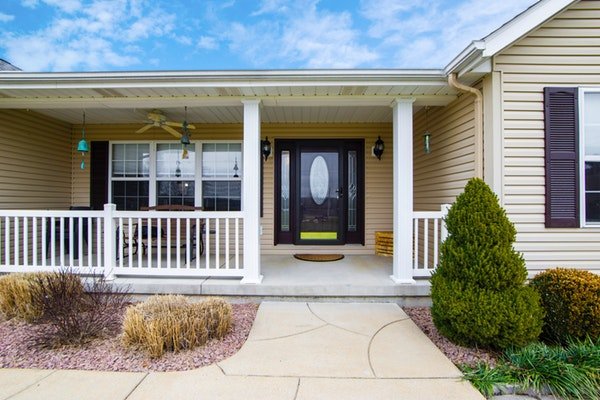 You'll be amazed at just how much newly painted trim can refresh your home's façade. Old homes with brown or beige trims will especially benefit from an upgrade to white trim. White trim makes your home, and the fixtures it surrounds (like doors and windows), appear bigger.
It also gives your house a very clean look, and emphasizes your exterior's base color.
Repainting trim is a process that makes a huge difference, and usually only takes a couple of days (based on the size of your house). Just remember to open doors and windows when you paint the trim around them so they don't get sealed shut. Take great care when painting the trim on upper floors, and make sure to use sturdy ladders and scaffolding.
Read more: Scaffolding safety tips and tricks
3. Place planters in the front yard
Planting trees and flowers takes time. Not only because they take a while to grow, but because they require constant care and maintenance. Planters are an easy solution to this problem. They're ready to go, and decorative pots add an extra bit of flair.
The best part about planters is they're completely mobile, meaning you can move them around and change their positioning any time you want. A couple of planters placed symmetrically along the front walkway or on either side of the front door will really brighten up your home's exterior.
Potted fruit trees, succulents, or topiary bushes are easy to take care of and add a pop of color to an otherwise drab front yard.
Read more: Front Walkway Landscaping Ideas To Increase Your Curb Appeal
4. Re-paint your front door
Think of a front door as a first impression. If it's worn down and beaten up, it's likely to affect people's overall opinion of the home. Repainting a wooden front door is easy and doesn't differ that much from painting your walls. You'll need to use a roller brush and regular paintbrushes to get in between the cracks and crevices.
Make sure to remove all hardware (door knockers, doorknobs) for this process and reattach them only once everything has dried.
One interesting thing to note is how the color of your door affects the way people perceive your home. A 2018 study conducted by Zillow actually found that homes with black front doors sold for $6000 more on average. While it's not entirely certain why this is, experts believe that there's a subconscious correlation between black doors and increased security.
So, while you may like the look of your red door, it may be time to give black a try.
Read more: Five Front Door Tips to Boost Your Home's Curb Appeal
5. Install new light fixtures
Some landscaping experts estimate that landscape lighting contributes a 20% increase in value. Lighting is an important attribute, as it allows your home to maintain evening curb appeal also. And, similar to the black front door, many people associate well-lit exteriors with safety and a decreased risk of burglary.
Exterior lighting shouldn't only be practical, however, it should be attractive. Warm lighting, as opposed to fluorescent or white lighting, will make a much better impression on prospective buyers. Fencepost lighting, garden lights, and front door lighting fixtures make a big difference.
Some white string lights along the trim or the eaves also give your home a warm glow. They're also affordable to buy and easy to hang up.
If your home has hanging lantern-style lights, consider buying some flame effect light bulbs. These give off the impression of candlelight, without the safety concerns.
Read more: Home siding maintenance tips for different siding types
6. Spruce up the front porch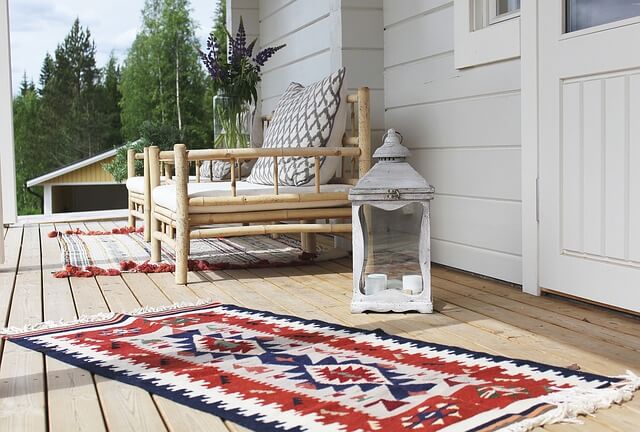 Staging is essential. Realtors stage interiors so that potential buyers can really see themselves living in that home, which can be difficult to do with empty rooms. The same goes for the exterior. Some nice planters, patio chairs, and other décor on the front porch help people envision themselves using it.
Suddenly, a front porch becomes a much more important feature as a result.
Even small touches make a big difference – a wreath on the door, a welcome mat, and seasonal decorations. A few accessories will allow buyers to envision themselves spending summer nights on the front porch, and also establish a favorable opinion of the home before even entering – which will give a positive boost to their impression of the interior, as well.
Read more: Why are porch ceilings painted blue
Exterior upgrades don't have to be a labor-intensive project, nor do they have to be costly. With just a couple hundred dollars and some creativity, anyone can enhance their home's curb appeal. You don't have to be putting your home on the market to benefit from these changes either. If you simply take great pride in your home, these improvements are sure to inspire you.
Read more: A home maintenance plan to keep your property's value up
6 Exterior Upgrades That Will Improve Your Home's Curb Appeal
was last modified:
September 29th, 2022
by
Recommended