The bathroom is one of the most visited places in any house. For this reason, it needs a warm and inviting aesthetic. While it's easy to spend a lot of money and turn a large bathroom into a work of art, performing bathroom makeovers on a tight budget can be a daunting task. Moreover, if space is a concern, such as in the case of powder rooms, then you need to open up your creative skills and set your mind to work. Yes, this task does look a bit challenging but it can be done. So, here are 6 small bathroom remodel ideas on a budget, which you can maybe adapt for your next renovation project. And trust us, each of these tips won't add much of a difference to your total bathroom remodel cost.
1. Vanity Mirrors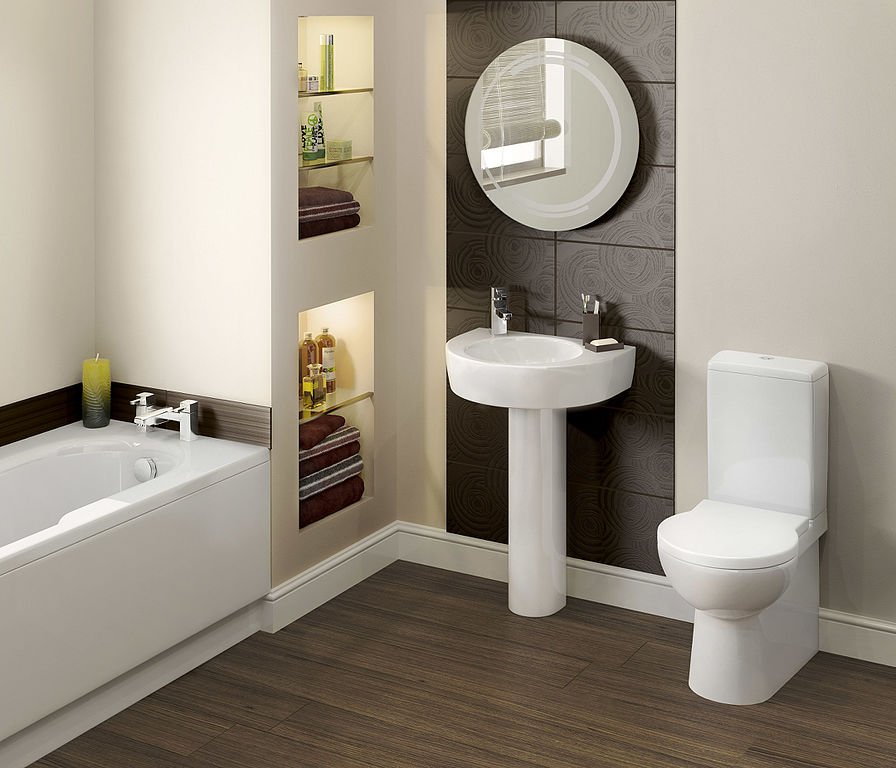 Photo from wikimedia commons [CC BY 3.0]
The first of our small bathroom remodel ideas is to replace your existing mirror with a new vanity mirror. Round vanity mirrors are in style right now and are also a practical choice for small bathrooms because they take up minimal amounts of space. You can even try backlighting your mirror to give it a touch of glamorous vintage style and create the illusion of extra space.
2. Plants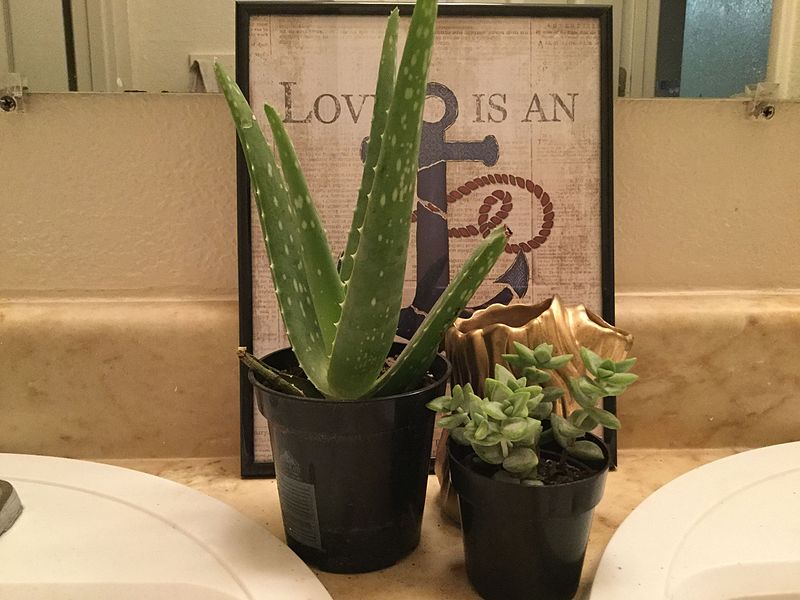 Photo by Simkinseled from wikimedia commons [CC BY-SA 4.0]
Another one of our cheap, but effective small bathroom remodel ideas it to hang plants around your bathroom next to your vanities and bathtub. Plants that deal well with the moisture present in bathrooms include bamboo, begonias, aloe vera, and Chinese evergreens, to name a few.
3. Try a New Paint Job
One of the cheapest and simplest small bathroom remodel ideas is to grace your bathroom with a fresh coat of paint. You can use solid colors, or designs, or whatever else you'd like to give your bathroom walls an entirely different look.
4. Re-caulk and Re-grout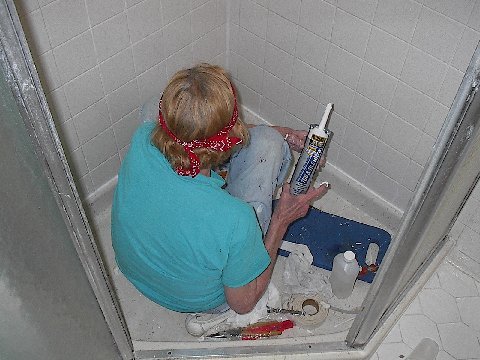 As time passes by, the caulk and grout in your restroom start to take on a sort of discolored and moldy appearance. One of the most simple bathroom designs is to re-caulk and re-grout your bathroom fixtures. Touching up your tub, sink, and other items can give your bathroom an entirely new glow.     
5. Enhance, Not Replace
Instead of going out and buying entirely new items, you should look to make upgrades on your old items. Glaze one of your vanities, replace your shower curtain with a glass door. Replacing just small items instead of large ones can save you a great deal of money.
6. Try a Shower Curtain
Install a shower curtain which moves back and forth. This simple addition will save space over a glass door that moves in and out. In fact, you can get shower-tub combos that can easily fit in a small space. You can even get tubs, starting at 60 inches in length.
7. Tall, Narrow Cabinets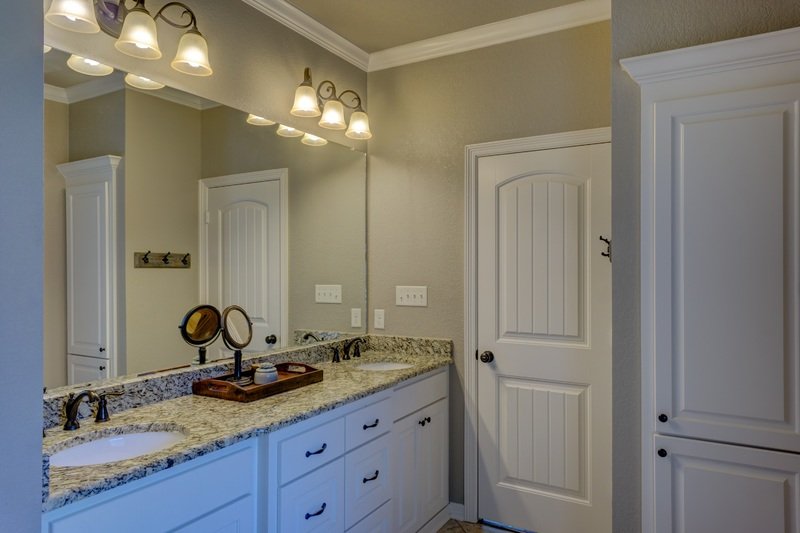 Using tall and narrow cabinets instead of short and wide ones will serve to save you tons of space in your small or half bathroom. If you have a small bathroom, the goal should be to store things higher, not wider. You can find vintage cabinets in thrift stores and discount cabinets all over the internet.
8. Go for a Corner Sink
Sometimes, a pedestal or vessel sink or a sink across the shower can disrupt the flow of traffic in a narrow bathroom. can disrupt the only available traffic lane in a bathroom. In such a scenario, go for a corner sink and install it across the toilet.
9. Utilize the Space Above the Toilet
This is yet another of the clever small bathroom remodel ideas. Just placing a wooden or stone slab utilizes the vacant vertical space above the toilet and acts as extra counter space. You can place small items of daily use in this area.
10. Ditch the Shower Door
When space is not a luxury and ideal for placing just a toilet and a 60-inch tub, then it is better not to install a shower door. A simple glass panel will suffice.
Well, these were few of our choicest, simplest, and budget small bathroom remodel ideas. So, which one will you use in your next renovation project? Do not forget to let us know in the comment section below.
READ MORE: SMALL BATHROOM LAYOUT IDEAS FROM AN ARCHITECT TO OPTIMIZE SPACE
10 Simple Small Bathroom Remodel Ideas on a Budget
was last modified:
April 3rd, 2019
by