6 Wonderful Beadboard Ideas for Your Home
Beadboard is a classic and fun decorating style that can instantly add designer appeal to any room of a home. If you have a knack for rustic, cottage-chic style, adding beadboard fixtures into different areas of your home is the easy way to create that cottage vibe. It's an easy way to add architectural detail to a plain old wall or the ceiling of a quaint attic room. You can even apply it on insipid furniture pieces to give your everyday kitchen, bathroom, or bedroom a customized look. Let's take a look at some beautiful beadboard ideas for your home.
Beadboard in kitchen
Use beadboard wainscoting instead of spending money for replacements if you need to refurbish your old kitchen cabinets. Why spending money on expensive renovation when you have a cost-effective solution? Use the wainscoting solution for all the sides of the cabinets or apply it on the cabinet doors only for a minimal but stylish look.
Coordinate the new look by updating the drawer fronts and adding new hardware such as changing the knobs, pulls, and handles.
Beadboard Furniture
Your ordinary and old furniture pieces can also have a new look with this classic styling. Use these stylish panels to the sides of the dressers, chests of drawers, buffets, and sides of your kitchen island to bring a chic appeal to those everyday furniture pieces.
Read more: How to choose the right furniture for your home
Beadboard Panels for Walls
Beadboard panels are an excellent option for changing the look of a flat wall, updating a particular part of a wall such as a backsplash or a mantel area, or concealing cracked or missing wall tiles.
Cover half of a wall with beadboard and cap the top edge with chic trim so that the gaze smoothly flows from the drywall to the newly-installed fixture. You can also install the beadboard panels on the entire wall and add visual interest by installing double trims at any point or the point where the wall meets the ceiling. Installing open shelves on the beadboard walls and fill them up with colorful accessories is another effective way to spice up the look.
Bathroom with Beadboard
If your bathroom needs a major renovation, think of giving it a facelift with beadboard instead of breaking the bank for costly fixtures. If the walls get old, use beadboard paneling on the lower half and paint the other half for giving it a brand new look. You can also keep those classic panels around the sides of the bathtub.
Keep the beadboard panels in the classic white or spray them with metallic paint in copper or oil-rubbed bronze to give them an upscale look.
Beadboard on Ceiling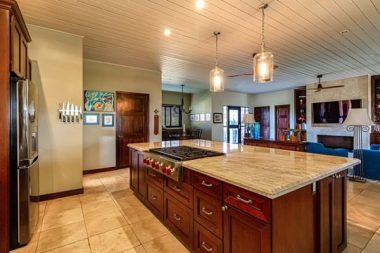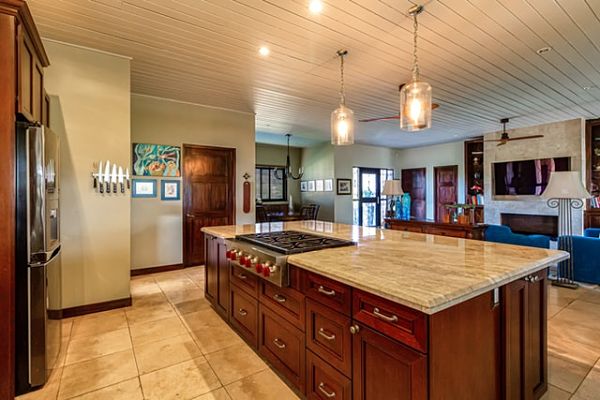 Beadboard looks beautiful on the ceiling, especially among wooden beams that may otherwise appear very unsightly. Boost the natural appeal by installing beadboard panels between rustic ceiling beams. You can use the panels directly over the existing ceiling. Keep the ceiling and walls in the same color for creating a harmonious look. However, using a different color on the beams will look lively and exciting.
Pair up with Ornamental Molding
Beadboard panels exude a kind of simple but elegant beauty. Their no-frills layout is fantastic for any minimalist style home décor setting. However, sometimes you need to jazz things up if you have a soft corner for Victorian style home decor. So, create your own kind of style by pairing up the beadboard fixtures with decorative fixtures and decorative crown moldings.
Before bringing beadboard into your home decoration, make sure that the wooden panels are suitable for the indoor climate. However, there are vinyl and PVC beadboard panels that are more accustomed to water splash and moisture damage. Use such boards in the bathroom and behind kitchen sinks so that they last for a long time.
It's also possible to experiment with the size and placement of the boards. For example, if you are using the boards on a large area of a room, choose wider planks so that room doesn't look busy. Similarly, horizontal placement of the boards will create will visually expand a small room.
6 Wonderful Beadboard Ideas for Your Home
was last modified:
August 26th, 2022
by
Recommended