7 Air Conditioner Types: Choosing the Best for Your Home
Choosing the best option for your cooling needs could be a tad confusing given that there are various air conditioner types available in the market. You need to know which ones are cost-effective, energy efficient, and meet all your requirements.
This article endeavors to provide you with valuable information about the top seven air conditioner types for your home. Understanding these different types of air conditioning systems will help you choose the most efficient one.
But first, here's a concise look at the most common types of air conditioners:
AC Type
Pros
Cons
Approximate Cost of AC units (excluding installation)
Window

Most popular
Easily available
Has relatively low noise output
Medium efficiency
Water drains out easily; no piping required
Can adequately cool 100-300 to 650 sq ft

Blocks a window permanently
Bulky design
Tricky installation without exterior support
Removal is a hassle
Needs a trained handyman for installation
Leaves your home at a security risk

$550 – $3,000
Through-the-wall

Inexpensive
Does not block the view
Better cooling capacity than window AC — more BTUs and better fans
No ducts and joints required during installation

Once installed, can't be removed
Difficult installation; requires a lot of work
If not well insulated, will allow wind to blow inside your house

$300 – $1,500
Portable

Requires no installation
Can easily be moved from one room to another
Less expensive than central or ductless air conditioning

Generates a good amount of noise
Even with a venting hose, you will need more air conditioning to keep a room cool
Some portable units come with water tanks that need regular cleaning
The larger the unit, the heavier it is; more difficult to move around
Not adequate for very large rooms

$345 – $700
Ductless, Mini-split

Technically advanced
Easy installation
Requires only a very small hole to be drilled; less vulnerable to air leakage and security problems
Less visible and audible
Energy-efficient
Provides both cooling and heat

$1,300 to $4,500
Central Air Conditioning

Cooling solution for your entire home
Now available with smart thermostats
Air quality of a home improves
Provides both cooling and heating

May not control temperature uniformly throughout the house
Higher energy bills
High duct maintenance

$500 – $4,000
Heat Pumps

Lower running costs
Less maintenance
Reduces your carbon emissions
Long lifespan

Difficult to install
High upfront cost
Requires special planning permissions
Not ideal for extreme climates

$500 – $8,000
Packaged central air conditioners

Compact size
Ideal for homes with limited indoor space
All the parts come pre-assembled by the factory
Easy installation

More suitable for hotels and offices
Vulnerable to leaks and negative effects from rain and wind due to external installation

$500 – $8,000
Find out how much your ac replacement will cost with our estimator tool.
Window Air Conditioner
This compact unit, installed in a window, is a perfect choice when you want cooling in just one room. The room air conditioner works by emitting the warm air out of a room and blowing cool air into it.
The front side is where the cooling takes place and the outdoor unit is where the absorbed heat is released to the atmosphere. It also features an adjustable louver that controls the direction of airflow for increased comfort.
Through-the-wall Air Conditioner
A through-the-wall air conditioner is similar to a window AC but is installed flush with a wall for a streamlined appearance.
Typically, such units do not have venting mechanisms on each side of the housing. The reason is that blocked venting grilles will lower the unit's cooling efficiency.
In comparison with window ones, these air conditioners have higher cooling capacities and weigh slightly more.
Portable Air Conditioners
A portable air conditioner takes in air from the room, cools it, and then directs it back into the room. The unit then vents any warm air outside by means of an exhaust hose that is installed in a window.
Like window air conditioners, these are designed to cool only one room. They need absolutely no installation, are a versatile and affordable option for homeowners with smaller living space.
Ductless, Mini-split Air Conditioner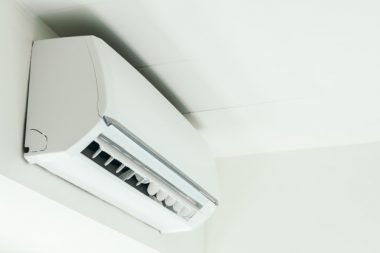 Background photo created by lifeforstock – www.freepik.com
Known for their high-efficiency cooling, these air conditioners work quietly and unobtrusively. Also, they look neat, are flexible, and provide both cooling as well as heating.
They have an outdoor compressor or condenser and an indoor handling unit. And, you can customize the number of handlers according to your requirements.
Both the components are connected through the insulated conduit — housing the refrigeration lines — that runs from the condenser unit to the blowers inside.
And, one need not worry about temperature control. Each room has its own thermostat — allowing you to adjust the comfort level. All in all, ductless air conditioners are worth their cost.
Central Air Conditioning
This is the most common type of system — perfect for larger homes due to its ability to cool efficiently.
It circulates cool air through supply and return ducts. They carry the cooled air into the house. Then, once the air becomes warm it circulates it back to the air conditioner through these ducts.
Needless to say, installing a central air conditioning system requires a lot of planning and preparation. Or else, you will end up with lower efficiency and high utility bills.
Read more: How Much Does a Central Air Unit Cost to Install?
Heat Pumps
A heat pump is a variation of the traditional split system. A notable advantage is that it can cool and heat a space, so you can use it all year round.
It works by pulling heat out of the outside air when it heats your home but can be reversed to pull heat out of your house and cool.
There are two kinds of heat pumps, both of which save considerable money and energy:
Air Source Heat Pumps/Hybrid Air Conditioner
During summer, such a heat pump will pull heat from your home and distribute it outdoors. While in the winter, it works in reverse — pulling heat from the outside environment and distributing it into your home.
Ground Source Heat Pumps/Geothermal Heating Or Cooling
If you live in a colder climate, this specialized type of heat pump is ideal for you. In comparison to the air source one, it works by drawing heat out of the ground rather than the air. During summer, it provides cool air to flow throughout your house and in winter, it supplies warm air to keep you comfortable.
Get the best HVAC replacement cost for your project with our estimator.
Packaged Central Air Conditioner
This air conditioner is more suitable for commercial buildings but can be used in residences too. The best part is that the evaporator, condenser, and compressor come in a single unit — and the unit looks compact.
Typically, you can place it on a roof or a concrete slab near the foundation. Ducts that run exterior walls or roof draw air from inside the house and return cooled air indoors.
Read more: Planting around AC unit
Final Thoughts
Perusing through these popular types of air conditioners, we are sure, will help you make up your mind as to which is the best one for you.
Here are some useful tips from our side
Choose a unit with higher Energy Efficiency Rating (EER) ratings — which means lower greenhouse emissions and monthly electric bills.
Check the yellow energy star ratings on units.
Select the right British thermal unit (BTU) for your room size — ensuring the most energy-efficient cooling system.
Make an informed decision and choose wisely.
Read more: Should You Opt For A Window Air Conditioner Or Central Air?
7 Air Conditioner Types: Choosing the Best for Your Home
was last modified:
October 17th, 2022
by
Recommended