A living room is all about comfort and relaxation after a hard day's work. It's also about fun get-togethers and countless memories. You would want it to establish your signature style. Needless to say, the living room colors you choose have a huge impact on the overall personality of your home. We have seven living room color ideas that are forever-beautiful.
So, if you're contemplating a paint job, you can hire a professional painter or maybe paint the living room yourself with different color combinations. A DIY project will definitely lessen your living room renovation cost.
Whether it's bright, neutral, or a bold hue — you can get inspiration from our seven timeless color ideas and enliven your living room walls.
Soothing Green
There's something traditional yet timeless about green and its shades. While a dark green room exudes serenity, a light one is soothing with its understated elegance.
When you think of everything natural, you think of green. It's the color that spells harmony, productivity, and energy. We think green is one color that even interior designers swear by for its fresh vibe. It's the perfect choice for those who find neutrals too predictable and boring.
Best color combinations: Try mixing green with neutral tones and rich browns to add a hint of opulence into your living room.
Here are some popular color schemes: emerald with burnt orange, olive with light orange, lime green with pink, pale green with tan, green with white, and kiwi green with off-white.
Serene Gray
Did you know, gray walls can make your living room look more spacious? This elegant, sophisticated, and serene color is perfect for those who prefer a modernist décor with a hint of the vintage charm.
If you like to experiment with pops of color, your gray living room wall will be the perfect backdrop to splash colors on.
Best color combinations: You can try any shade of gray with electric blue, powder blue, gold, charcoal, dark green, burnt orange, and light pink.
Read more: Living Room Lighting Ideas
Eternal Blue
A living room with blue walls will have a calming, cozy, stabilizing effect on your home. The best part about blue is that you can go with any shade and still have an attractive living space.
Typically, pale blue walls give a living room a calming vibe. Dark blue looks chic, navy blue is classic, baby blue is pleasing to the eyes, teal is sporty, and midnight blue is ethereal.
Best color combinations: Blue is a cool hue by nature and goes well with gray, purple, or even black. You can even opt for contrasts with red or yellow. All shades of blue go well with neutrals.
Versatile Brown
There is something very homey and warm about brown. It makes a room look solid, well-put-together. You can use this hue for your wall paint, flooring, as well as furniture — and yet it won't overwhelm you.
Using this versatile color, you can bring out the architectural details of your living room. Even your furnishing will pop against the dark backdrop. What's more, it allows you to mix wall finishes and textures.
Best color combinations: Browns, whether light or dark, always look great with bright white. They also pair well with aqua, teal, light blue, orange, and pink.
Positive Pink
Pink is a positive color that inspires warmth and comfort. And, it doesn't have to be overly feminine. With the right shade, texture, and wood accents — this pastel can transform your living room as easily into a funky bohemian space as it can into a glamorous chic room.
Best color combinations: Pink has tremendous versatility when it comes to combining with other colors such as blue, green to red, orange, burgundy, and yellow.
While light pink with subtle gray is always calm and soothing, the blush pink and black combo will spell happiness. If your living room is ultra modern, try salmon pink with teal.
Read more: Living Room Wall Decor Ideas to Inspire You
Deep Crimson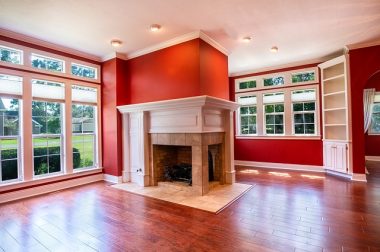 Pixabay
Red and its different shades raise a room's energy level and create a strong first impression. A very interesting facet of this hue is that it draws people together and helps them start a conversation. No wonder, most room designers insist that it be used for the living room.
When choosing the exact shade for your living room, avoid super-bright reds. Try a richer shade of crimson or brick red; it will warm up your space.
Best color combinations: Classic red goes well with blue and white. You can try bright red and aqua, burnt red with dark brown, pale red with dark or light gray, red with orange or even pink.
Traditional Neutrals
Somethings never go out of style. Neutrals such as beige, ivory, taupe, black, gray, and shades of white are eternal. Warm shades tend to be cozy and inviting while those with cool undertones have a chic, modern vibe.
Neutral colors provide a great background for a living room. It's like a blank canvas for your favorite art and furnishings. You have a choice of adding muted accessories or statement-making pieces. Either way, your space will look sophisticated.
These neutrals are the go-to paint colors for professional interior designers all over the world. They are dependable, classy, and stunning.
Best color combinations: Goes well with practically any color
To Summarize
When it comes to experimenting with colors in a living room, the possibilities are endless. You can choose to go bold with a shade like pink or red, opt for a subdued color palette of neutrals, or get the best of both worlds by choosing a combination of these.
Always bear in mind that when it comes to living room color ideas — opt for colors that make your space comfortable and inviting. Hues that you will not get bored of, and will impress your guests every time they walk in.
Get inspired by our seven living room colors that are dependable and timeless.
Read more: 7 Living Rooms That Proved Dark Paint Colors Are The Best
7 Living Room Color Ideas That Are Timeless
was last modified:
May 24th, 2022
by
Recommended