The bedroom is often the most overlooked space in any home. However, there couldn't be a bigger turn off than a cluttered bedroom. But, few simple tricks and tips can solve this issue. And fortunately, we happen to know a thing or two about small bedrooms. We're pros at creating a space that even though is tiny will be beautiful and comfortable.
While most ideas for tiny rooms usually relate to areas such as the bathroom, lounge or the kitchen, the bedroom also needs to be paid close attention. These 7 small bedroom storage ideas will blow your mind and make your bedroom the heaven that it needs to be.
Use fold down shelving
There aren't many ideas which can be adapted for tiny bedrooms, especially when it comes to concerning shelving. However, the use of fold-down shelving can revolutionize your bedroom.
A lot like breakfast bars, the shelf comes down when you need it to and in the meantime will not get in your way. Moreover, to increase space in the room, you can also suspend a circular shelf on the ceiling with a chain or rope to the side of the bed.
Nevertheless, since the shelf does not have any legs, it won't compromise any floor space – giving you the versatility of space your room needs!
What about small bedroom ideas for a kid's room? take a look at our creative, space-saving ideas
Make use of baskets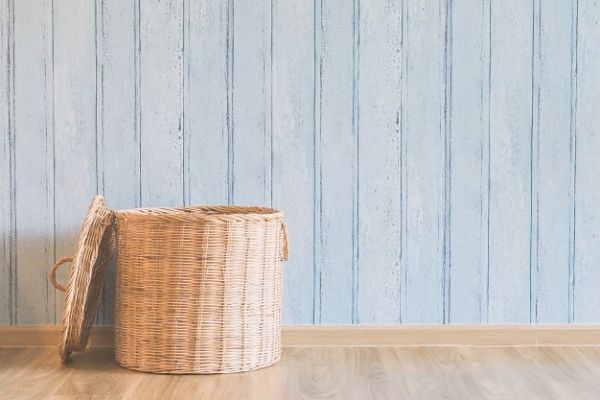 As opposed to drawers, baskets make perfect bedroom storage. The flow of living in a tiny bedroom requires economic living solutions. For instance, when you're working from home, you don't want to be in your bedroom worrying about finding socks because your feet are cold.
Basket your life! Having your belongings organized in a basket will prevent the compromising of space permanently. Moreover, it will also help you move your things from one place to another more conveniently and easily.
Go under not up!
Typically in bedrooms, the wardrobes go up. Basically, everything from cabinets to hooks goes up. However, if you're dealing with a small room space, make careful use of space under the largest space occupier, the bed. You can get a customized base made for your bed, it'll create a heap of bedroom storage space you need.
Use magnets to hold things together
In smaller living spaces, a great space saving idea would be to sort all your odds with magnetic strips, magnetic paint or a magnetic notice board at the back.
Jewelry, hair bands, contact lenses and other bits and pieces from here and there can be kept organized with magnetic strips. It won't create clutter and will keep them from getting lost. What's great is that it'll fit your theme from urban chic to vintage, to retro.
Use a slim headboard
The last idea to create extra storage space in a tiny bedroom is to use a slim, purpose-built headboard. The headboard can be installed behind the bed, and you can store anything in it. From fishing gear to Christmas gear, whatever you want. The shelf will be entirely within your reach and small enough to prevent the cluttering of your room.
Install shelves
The installation of shelves along the perimeters of your bedroom walls is a great way to create space for storage. There is no space more unused than the walls just below your ceiling, it's one of the least used spaces in your bedroom.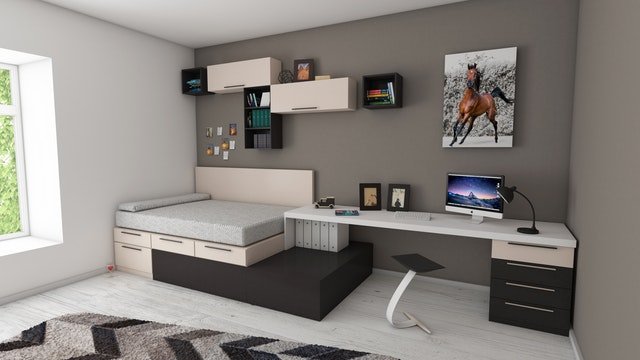 The best way to make use of that area is to install shelves along it, it'll add dozens of storage to the square feet. You can even stack a few decorative pieces on the shelves other than just your books to declutter while making your room appear fancier.
Store cords in the arms of binder clips
This cord storage hack is the simplest and most convenient to pull off. You might not realize this, but your laptop and phone chargers take up the most space. Especially when they're lying beside your bed, they are just adding to the clutter.
Clip binders on to your study desk or bedside table and use the clips loops to store cords. The charging cords may be small, but they add a lot of clutter! You can even pair it up with a DIY charging box. Moreover, it'll also keep your chargers from tangling up in the drawers.
A tiny bedroom does not mean that you can't have everything you need within your reach o can't live comfortably. These ideas can be used to create the very picture of comfort you need for those perfect nights of slumber. A little bit of planning can create beautiful and functional space in no time!
Read more: Renovation ideas for spare bedroom
7 Small Bedroom Storage Ideas to Blow Your Mind
was last modified:
May 17th, 2022
by
Recommended