If you have the room to create an outdoor living space in your backyard, there's no reason not to use it. An outdoor patio is a place to gather and relax when the weather is warm. It's where you land when you get out of the pool, and it might be where you eat dinner every night throughout the summer. An outdoor patio is nice to have, and you should do what you can to make it as perfect as possible.
There are some obvious differences between beautiful, practical outdoor patios and those that miss the mark entirely. You want yours to add to your property value and help you and your family get more out of your home, which means you need to cover all of the bases. From seating arrangements and awnings to appliances and lighting, every detail counts. Here are seven tips you can use to build the perfect outdoor patio.
1. Have Enough Seating
The perfect outdoor patio should be comfortable for you and your family, as well as your guests. That means you'll need enough seating for everyone at your gathering. This might not be an issue if you don't typically have people over to your house, but your friends will be coming over in droves once they see your gorgeous outdoor patio. Invest in versatile seating and add a few couches to your chairs and benches. Don't forget to protect your seating from the elements so it lasts all summer long.
2. Add a Fire Pit
The best additions to your outdoor patio are those that are as aesthetic as they are functional. A fire pit acts as a focal point for the space even when it's not hosting a fire. When the embers start burning, the real show begins. Your kids will remember the summer nights sitting around the fire pit with the family, roasting marshmallows and enjoying each other's company. On the cooler nights, it also offers a great way to stay warm and continue to enjoy your outdoor hangout.
Take a look at these 8 Beautiful Patio Stone Ideas for the Perfect Outdoor Living
3. Plan for Events
With a great backyard comes great responsibility. People will want to spend time on your outdoor patio throughout the summer, so make sure you're ready to host them. This means you should have a working grill and all the necessary grilling accessories to throw backyard barbecues for your friends and family. You'll need materials like tongs to handle the food on the grill and a brush to clean it off when you're done. You may turn out to be the group entertainer once your guests get a taste of your outdoor patio, so be ready with the right tools.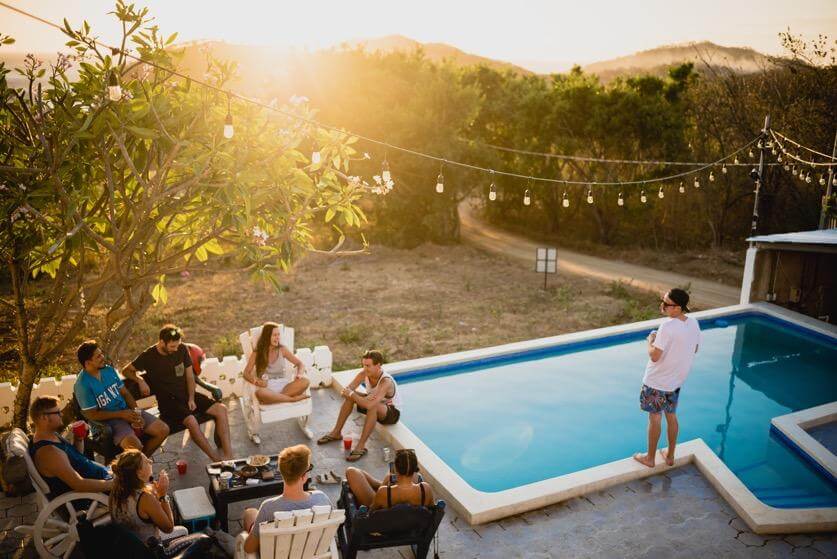 Photo by Eric Nopanen on Unsplash
4. Block the Sun
Warm weather brings people out of their houses and into the fresh air and sunlight, giving them vitamin D and a mood boost. As nice as it is to enjoy the sunshine, too much can be harmful for your skin, your eyes and your general health. Your outdoor patio should include a reprieve from the sunlight, so your guests don't get sunburnt. This could come in the form of an awning, plexiglass covers or even an umbrella. Whatever you use to create shade on your patio, the design should match your space. 
Read more: Ways to Brighten Up Your Backyard With Outdoor Lights
5. Stay Warm at Night
A fire pit can get you through the chillier nights in comfort, but not everyone has the space or desire for one. The good news is there are other ways to stay warm when the sun goes down. A patio heater gives you the warmth you need without taking up too much space. It stands vertically and radiates heat in all directions and, like a fire pit, it serves as an attractive focal point for your patio. They work especially well in more modern designs, and they offer better heating than fire pits.
6. Match the Pool Area
You know what you need for your outdoor patio, but what type of design scheme should you go for? Try looking at your pool area for inspiration. Your pool might be right off your patio or on the other side of the yard. Either way, you can tie your whole backyard design together by matching your pool area and patio. If the pool area is modern, use the same sharp, streamlined look in your patio furniture and appliances as well. When your pool area furniture and your outdoor furniture are the same, you can even use them interchangeably when you have guests over.
Further info? Check Out These Perfect Patio Design Ideas
7. Consider Your Lighting
Lighting can make or break your outdoor living area, as there are many ways to go right but just as many ways to go wrong. Since there are countless different types of lighting, visualize your space and think about what you want before you start looking. String lights can dangle along the edge of an awning or umbrella, or they can even outline a pathway in the dark.
Neon fluorescent lighting creates a nice, fun atmosphere and interacts with your pool water. Remember, LED lighting may seem expensive at first, but the bulbs last much longer than traditional incandescent bulbs.
How To Clean Outdoor Patio Cushions? Let's review the basics!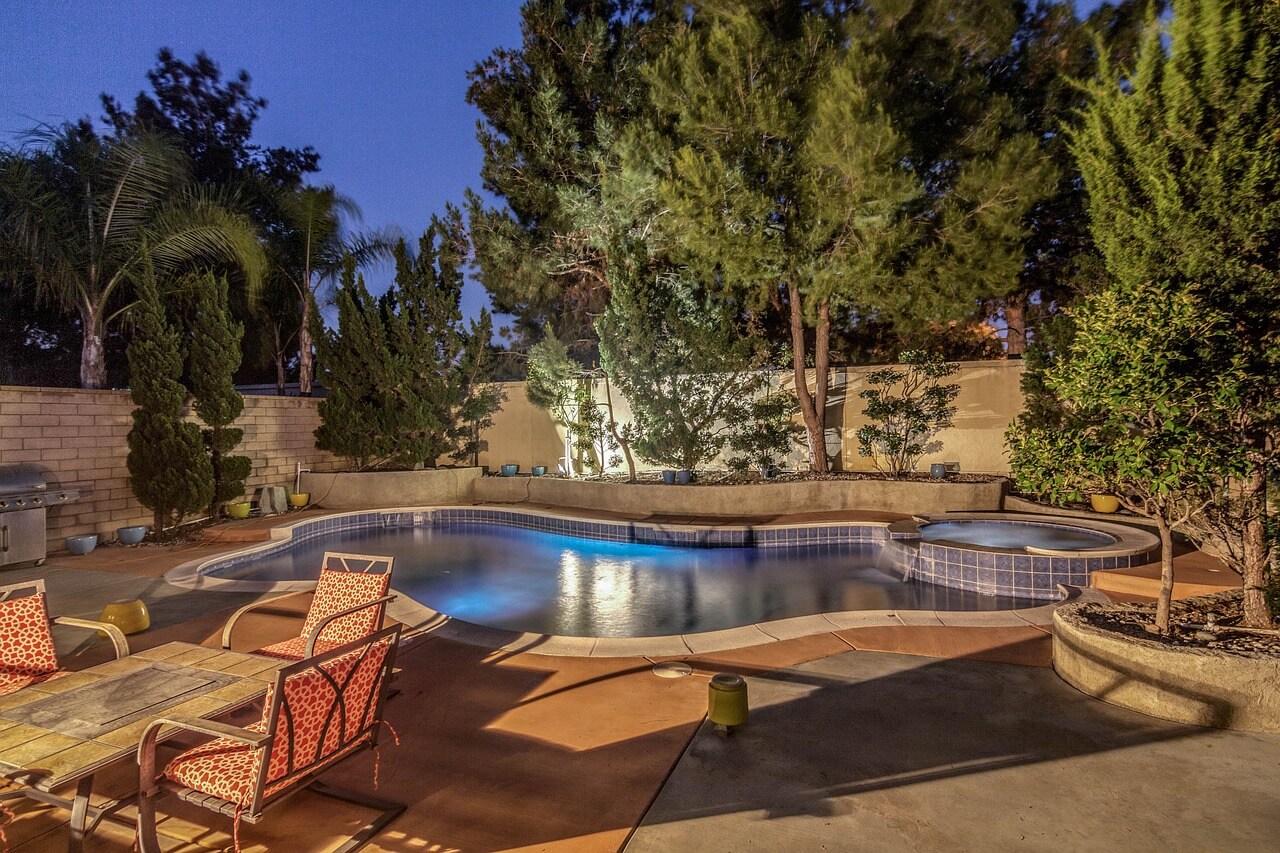 Pixabay
The key to designing your outdoor patio is making it as comfortable as you can for yourself, your family and your guests. Use fire pits and glass tube patio heaters as functional focal points, awnings or umbrellas to block the sun and the sauna for healthy relaxation. Use lighting and your creative eye to match your pool area and outdoor patio for one consistent design.
Want to keep your backyard clean and out of leaves? Take a look at these electric leaf blower options.
7 Tips to Design a Perfect Outdoor Patio for Your Home
was last modified:
May 18th, 2022
by
Recommended