7 Tips to Finding Your New Neighborhood
What should you consider when you're looking for the best neighborhood?
So you're moving and looking for a new place to live – congrats! Moving to a different city can be a really exciting opportunity and usually brings some hard choices with it. Whether you're an individual, family or retiring couple there's a neighborhood that's right for you and some universal things to look out for before you settle in.
Your commute, distance from family, friends, stores and your favorite spots all come into play. Families with children will want to check out the school district. How's the crime rate, where's the nearest hospital, and do you want to be in town or a quiet street?
Your new neighborhood is a big factor when it comes to buying a home, so here are some tips to get you on the right track.
1. Location, location, location!
The first place to turn to when you have a question is usually Google, and what better than a GoogleMaps search. Mapping out your commute with real-time traffic flow is a huge help when you're learning a new area. Considering the walkability of your town, access to public transportation and where you'll shop – these are the nuts and bolts of everyday living.
Try giving your potential new commute a practice run. Map out how far your old haunts are or investigate some new spots! Knowing where to go is half the battle, and will help you avoid a lot of drive-time and frustration when you settle into your new neighborhood.
Read more: Building a new house in an old neighborhood
2. Ask your Realtor
Realtors are like a really well-informed neighbor. They'll have insight into schools, events, crime and the vibe of a town, as well as community info. Crys Keith, Realtor and co-owner of Keith Home Team likes to help clients think through their neighborhood choice from every angle.
"When you're looking for the perfect neighborhood there's a lot to consider. Depending on your work commute, your location to a highway can be a deal-breaker, but on the flip-side, noise and traffic are big factors for many people. For clients with small children, you'll want to be comfortable with the positioning of your yard in relation to the road, and the school district. Your neighborhood's distance to grocery stores, fire department and hospitals weigh in too. What
amenities does your neighborhood offer? Are you a through-way street for traffic or a quiet cul-de-sac, or are you looking for a gated community? A great Realtor will provide these answers and more about your new neighborhood and help you make the best choice for you."
Read more: Living in Chicago – best neighborhoods for you to move
3. Go for a few walks – at different times of day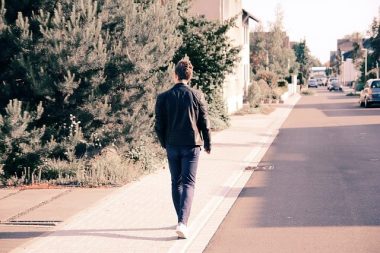 Pixabay
Take a stroll around. Being in your new neighborhood can be helpfully revealing. Observe and listen to the sounds: your potential neighbors, the sound of traffic on the corner lot, etc. Consider how exposed your home may be to the street in the winter when the trees lose their leaves. Are the streetlights right at your window? Is there a party house at the end of the block?
None of these things have to be a deal-breaker but at least you won't be surprised when you're buying a noise machine and blackout curtains.
4. Talk to your potential neighbors
While you're taking your walk down your street strike up a conversation with your maybe-new-neighbor! This is a great chance to introduce yourself and learn about the neighborhood from an insider. Ask them what they like and dislike, learn about the demographics, culture and vibe of the town, and what are the best local restaurants and coffee
shops. If you're going to be a local, you might as well learn from one.
Read more: Things to look in new neighborhood
5. Visit the town website
The local town website is usually helpful and revealing. From the little quirks to annual events, that's the place to go for the happenings.. You'll find the details for regular events, the times of outdoor markets, if you have weekly summer events, Festivals and what local charities are close-by.
If you're considering moving into a borough like the one I live in, your local website provides all the snow alerts, trash updates and where to take your Christmas tree…you know, the fun stuff. It can be helpful to sign up for the email list and then you'll get way more info that you ever imagined a small town was capable of producing. Large or small, your neighborhood website has something going on that will give you an insider's view of everyday life.
Why is the Kukun iHomeReport the best CarFax for homes? Let's find out!
6. The digital nitty-gritty
Neighborhood Scout may be one of the most informative online tools when it comes to neighborhoods. As a home buyer/seller you can enter the location of your next home and learn all there is about the area: demographics, schools, crime, real estate value, and so much more. This can give you insight into the value of your home based on the surrounding neighborhood and help you be an informed neighbor.
7. Crime reports
Getting a good idea of the types and frequency of crime in your new neighborhood is a no-brainer. CrimeReports.com is an online platform that reports local crime. You can enter the address of your new home and learn about various types of incidents that may have occurred around the area. Another helpful tip is to check in with the local police department for more current data. You can also look up sex offenders on Family Watchdog.
These are helpful ways to get an idea of the neighborhood's not-so-pretty parts and will help you to make safe choices as you adjust and navigate your neighborhood.
Read more: Solutions to common neighborhood problems
In the end, it all comes down to you
There's no one-size-fits-all home or neighborhood, which is kind of freeing! The best choice is whatever you and your loved-ones value. So no matter what neighborhood you land in these tips will set you off on the right foot and help you make a great decision. Happy hunting!
Read more: A renter's guide to the best neighborhoods in Chicago
7 Tips to Finding Your New Neighborhood
was last modified:
November 8th, 2022
by
Recommended