9 Reasons Why Real Estate is one of the Best Investments
Real estate is one of the best investments when you compare it with other investment options. There are several reasons that make real estate the best investment as compared to other investment options. Many billionaires the world over have generated their wealth from real estate companies. Thankfully, today, everyone can have a piece of this pie.
Here are some of the top reasons why you should invest in real estate:
1. High Tangible Asset Value
Unlike more other investments, real estate investments always offer you very high tangible value. Say, for example, the stock price can down drastically down in just a couple of days. Or, your new car can have low market value just within a few months of your purchase. But real estate investment is just the opposite. In fact, it is one of the main reasons people love real estate investment.
2. Appreciation of Price Most of The Time
Another thing that makes real estate a great investment is that it appreciates fast. In fact, it keeps appreciating all the time. With many modifications to the home, simple things like the installation of a rock bed, the addition of water features in the lawn, extending the patio, sprucing the deck and so on are bound to increase the value of the property. You can be sure that any appliance you invest in, any fixture that you install and any landscape or hardscape design you incorporate is going to increase the value of the home. More importantly, if you do nothing, still the value of your property can increase significantly over time due to some new developments around your property.
3. It is Easy to Liquidate
With real estate, it is quite easy to liquidate your property since there are always some buyers for any property. Such buyers can easily pay for the property in cash and if you had cash flow issues then you are able to get cash that can sort out your emergency.
Being able to turn your investment into liquid cash when you need to is one of the things that you should consider when investing. However, note that some properties may not be easy to liquidate as this depends on the location mostly. If you invest in property in a ghost town, it may be hard to liquidate that. So buy with the location in mind. Still, real estate investment always offers you the opportunity to liquidate quickly.
4. You Can Actually Cash in on Your Home Equity
As you continue paying your mortgage, your equity in the home continues to increase. This means that should you wish to liquidate the property in future, you can get a good amount of equity, perhaps even enough to go and put a down payment on another property investment.
It should be easy for you to calculate your home equity. Just take the appraised value of your home and from it, subtract the mortgage balance/any liens you have on the property. The balance is your equity. The good thing is that if you have a high equity in your home, you will access more financing options if you need them.
5. Regular Rental Income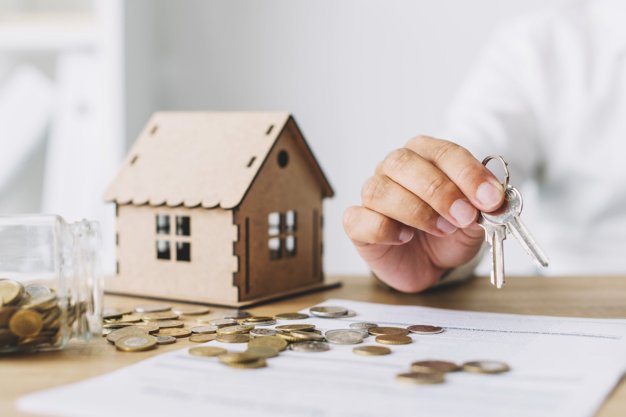 Business photo created by freepik – www.freepik.com
If you are not occupying your property, it becomes easy to rent out the property. This is one way of getting good passive income from your property. It should give you a good return on investment with time. With the passive income, one can even invest in other properties and within no time, one can have financial freedom.
Note that there is more to getting rental income. With renting homes just gone digital with platforms like Airbnb, you can as well rent out the home to holiday makers especially if it is located near great tourist attractions.
6. Not Always Affected by Inflation
In most cases, real estate property is not affected by inflation and this makes it an ideal investment. While other investment ventures may be depreciating during inflation, the value of real estate can only go up. Note that it is not every time property investments will escape the pain of inflation. For example, if economic measures are not implemented fast to curb inflation, you could actually end up losing out, as buyers may prefer to hold back, thus lowering the demand for property. The law of supply and demand perfectly works here.
7. Financial Security for Your Retirement
With real estate, there is long-term security for your finances. Since you are sure that it will appreciate, you stand to reap bigger benefits in future. As long as you have invested in the right location, you are sure that you have financial security in real estate. If you are looking for an investment option that can take care of you in retirement, try real estate. It almost never fails. You should be able to continue living on the same standard as you were when you were working. You can have your property rented and get good monthly income from that.
8. Taxation Benefits
The tax charged on real estate for homeowners is quite low. There are efforts to encourage people to invest in real estate and … you guessed right, low taxes are the incentive here. You can avail deductions on insurance, property taxes, operating costs and expenses, cash flow from investment properties and mortgage interest. This makes it ideal to invest in real estate, more than in other options. By taking advantage of tax benefits and exceptions, owning property becomes easy and one can easily build up their investment portfolio.
9. Great Sector to Invest to Add Diversification in Your Investment
If you already have invested in many other sectors, you need to think about possible ways of diversifications of your investment. As real estate almost never fails if you own property in right areas, you can survive even severe economic crisis even if all other of your investments fail you. Experts even ask for at least 33% investment in real estate for long-term financial security.
Conclusion
Real estate has to be one of the best investments if you have enough cash in hand. So, start the exploration of the opportunities for your next real estate investment now. If you are from Los Angeles, you can search for Los Angeles condos for sale. Even a single, small condo in Los Angeles can be the best long term financial security for you. If you are from Santa Monica, check various listings of Santa Monica real estate properties and make the best decision of your life.
9 Reasons Why Real Estate is one of the Best Investments
was last modified:
May 17th, 2022
by
Recommended