9 Tips for Designing with Agrarian-Style Architecture
The term agrarian refers to being of the land. Agrarian architecture harkens back to the agricultural practices and lifestyles of the Greek Arcadians in the late 1700s. This building style tends to focus on incorporating local materials into dwellings with farmhouse elements that are often rustic, organic, and comfortable. Agrarian-style architecture tends to invoke a communal spirit. Here are a few tips for designing this style of house.
1. Choose Natural Materials
Stone and wood are ideal materials for farmhouse-inspired residences, as they are of the land. This goes for both the structure and interior home decor. You can use stone for the exterior facade, the floors, and the fireplace surround.
When choosing wood, consider using exposed post and beam timber construction for the framing. A great option is reclaimed lumber from an old barn. You can also face the building with clapboard or board and batten siding. The interior framing can be left unfinished and exposed. Plank wood flooring should be sealed to protect them. Exterior wood siding can either be sealed or stained to protect it from the elements.
Read more: Eco-friendly building materials revolutionizing home construction
2. Use Substantial Framing or Masonry
When building with wood, consider framing the structure with 2×6 wood studs. This will provide deep walls that are properly insulated. It also will give you deep windowsills. Deep sills allow for space for living plants. This brings the outside in, which is very agrarian and a distinctive interior decoration idea.
Stone structures are naturally heftier and deeper than the traditional 2×4 house framing. If you have ever traveled to rural areas of Italy or Greece, you might have noticed the depth of the exterior walls of many houses being up to 12 inches. There is something that feels secure, fortress-like when you are tucked in at night. In fact, these houses are also quite energy efficient. Thick stone walls help retain interior heat in winter and can block exterior heat in summer.
Further architecture education? Take a look at Vitruvius Architecture's Golden Rules: The Vitruvian Triad
3. Building Placement is Key
Once you have chosen the lot to build your house on, take stock of the views, terrain features, and sunlight exposure. A classic farmhouse is often placed with the communal living spaces facing the cultivated fields or grazing areas. As well, these spaces will take advantage of sunrise and sunset. This is soothing and healthy. The sun can help to heat your interior in winter if you are in a cold climate. In warmer climates, consider placing a porch or veranda to help shade the interior of the house while still offering pleasant views and breezes.
Take a look at our guide on Art Deco Architecture
It makes sense to have the bedrooms on the northern exposure of the house where the rooms are cooler and sunlight is not as necessary when trying to sleep.
Planning a full remodel for your home? Feel free to use our estimator tool to know how much the cost would be!
4. Plenty of Windows
While thinking about bringing the outside in, it makes sense to incorporate plenty of windows into the design. Views of the green landscape can be an almost meditative experience. Operable windows allow for ventilation and natural daylight. This is healthy living.
Current window technology is quite amazing. They are extremely energy-efficient, while still being attractive. For a farmhouse appearance, consider windows with divided lites. Many of these are "simulated" with the grills being in-between 2 panes of glass. Or, the grills are placed on the surface of both panes. They do lend a classic appearance.
When it comes to the window trim-style you should incorporate into your Agragian-style home, it's recommended you keep it simple and minimalistic but not so plain that it's "flavorless." While the focus will be on the views granted by the windows, it does help to frame those views tastefully. Craftsman-style window trims tend to work the best all-around.
Architect vs Interior Designer – Ultimate Decision in Home Renovation
5. Open or Closed Floor Plan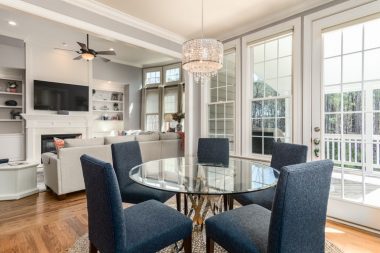 Photo by Douglas Sheppard on unsplash
There are 2 schools of thought on whether an agrarian-style house should have an open or closed floor plan. Traditional farmhouses had smaller rooms that could be closed off from one another. This made sense when it came to heating the interior. By closing off the rooms that are not being used, the heat could be designated primarily to the smaller rooms. For example, dining rooms and kitchens did not need to be heated at night, but bedrooms did. Back in the 1700s bedrooms were cozily tiny for this reason.
However, gone are the days of heating with wood and fire in every room. It is so easy to incorporate a zoned HVAC system where different areas can be controlled by thermostats. An open floor plan allows for plenty of daylight and promotes socialization. Open spaces seem to bring families together, especially when meals are being prepared.
How to Hire the Right Residential Architect? Let's find out!
6. A Mudroom is a Practical Necessity
It is a natural assumption that a rural or farmhouse style dwelling will be closely associated with the surrounding landscape, even if it is in an urban setting with just a terrace. If you intend to pay attention to the landscape by planting gardens or filling your terrace with potted plants, you will be communing with nature.
Being one with your land almost always ensures that you will bring the elements inside, especially if you are an avid gardener. A traditional farmhouse often generally has a mudroom. As the name implies, this is the area where you take off your muddy boots, wet jackets, and gardening gloves. These items stay there so that the more formal living areas remain clean.
A mudroom does not have to be large and it does not have to be the main entry for guests. This small room should have floors that can withstand dirt and moisture, such as tile or stone. The walls can be covered with beadboard or wood siding that is well painted with hooks for wet jackets. A bench is a good idea for taking off those boots. Taking shoes off before entering a residence, especially in an urban setting, is a common trend these days.
How to Make the Most Out of Your Mudroom? Let's find out!
7. Choose a Calming Color Scheme
Barns painted or stained red were common in rural Europe. The color choice came with immigrants to the United States. The red paint had ferrous oxide which repelled fungus, was inexpensive and provided a durable surface finish. While red is okay, it is sometimes too bold of a statement.
Read more: How To Think Like An Architect? Take a look at the basics!
Modern farm style houses tend to be of more muted tones, inside and out. Exteriors that are natural, in the case of stained wood and stone, blend in with the landscape and don't assault the senses. This is also true of the interior. Softer color schemes and natural finishes can have a very nurturing and calming effect. A modern farmhouse tends to shy away from bright and bold colors and has more elements like natural wood and stone as the core home decor idea or theme. The home should feel cozy and soothing.
Are Farmhouse Style Homes Functional or Just a Fad? Get your facts straight with this guide.
8. Furnishings should be Comfortable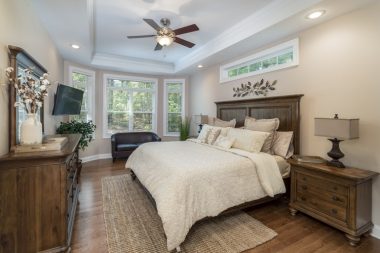 Photo by Douglas Sheppard on unsplash
One of the major drivers of pleasure with this style of building is that the interior spaces beg for comfortable, casual furnishings. Overstuffed chairs and sofas are welcomed. Heavy, sturdy wood tables are great for dining rooms. Pick items that are welcoming and that you will allow your family and guests to prop their feet up on. Basically, furnishings should be pieces that you will not stress over if they get a lot of use. Mix and match your styles by taking advantage of tag sales, consignment shops, and antique stores. Have fun shopping.
Lots of throw pillows, shawls to wrap yourself in on cold evenings, and area rugs are all you need to dress up a room. Wall-to-wall carpeting is not recommended. Be confident in showing off those wood or stone floors. Add some floor and table lamps for a homey feel.
Take a look at these Must-Know Things About Architects
9. Quality Outdoor Space
We already addressed how to deal with what you drag in from the outdoors with a mudroom, now let's consider what that outdoor space is.
You don't have to be a farmer to enjoy your outdoor surroundings. If you are, that is awesome. Gardens and thoughtful landscaping are stress-reducing. Plants, including grass lawns, are attractive and are excellent for the environment. Greenery uses carbon dioxide to live and gives us clean oxygen in return. More oxygen means better health. Go with more soft landscaping and fewer hardscapes as much as possible around your property. A fire pit is a nice addition for gathering around.
Read more: Questions To Help You Find The Right Architect For Renovation
9 Tips for Designing with Agrarian-Style Architecture
was last modified:
October 11th, 2022
by
Recommended