Your home's heart undoubtedly lies in the kitchen. This is where all the hustle-bustle of meal preps, family gatherings over drinks and snacks, and fun-filled entertaining happens. So, if you spend a good part of the day here, getting the right kitchen upgrades for this space will make your life easier and your home more valuable in terms of return on investment or ROI.
Whether this is the first apartment you've moved into or you simply feel that the existing home is lacking in some convenient features, kitchen upgrades would certainly be a good change.
Many people hesitate to change anything in their home out of fear that upgrades cost more than they can afford, but that doesn't have to be the case. There are things you can change in your kitchen without breaking the bank.
Let's explore 12 affordable kitchen upgrades that will transform the way your kitchen looks and operates.
1. Create an accent wall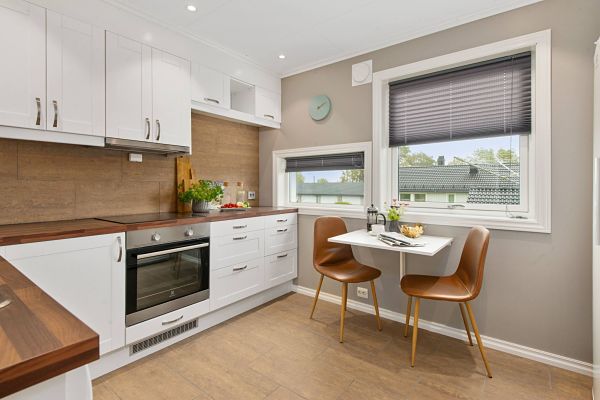 When you don't have enough time to paint all your walls, you can opt for painting a single wall instead. Not only is this accent wall cost-effective and quick to paint, but it's also noticeable and makes a huge difference in a room.
You can try brightening the place up by painting it bright yellow or green, or you could try something completely unique with bold colors and patterns.
Extra tip: Chalkboard black kitchen walls are dramatic, eye-catching, and useful. You can use them to write down recipes or little notes in chalk and simply wipe them away later.
2. Add more lighting
You know how important natural light is to any space. However, if your kitchen cannot accommodate too much natural light, consider changing your current lighting.
Add as much lighting as you can. You will love working or gathering in a well-lit kitchen! Once you're satisfied with the amount of light you have here, the next step is to think about swapping those old and ugly fixtures for some shiny new ones.
Extra tip: Get cost-effective under cabinet task lighting. This will not just make your kitchen counter easier to work on but will make your space look straight out of a magazine cover.
3. Install a butcher's block countertop
There's something intrinsically homey and cozy about having a butcher's block in the kitchen. The thick, wooden butcher-block counter perfectly tones down the coldness of stone counters or the metallic appliances in your cooking space. And, such a slab is durable too. It resists warping and nicks better than most countertops.
And, it looks equally suitable in a modern kitchen as in an old farmhouse-style home.
Extra tip: The hard-wearing, knife-friendly butcher's block goes well with black counters and gives a soft look to the kitchen.
4. Get a sleek kitchen island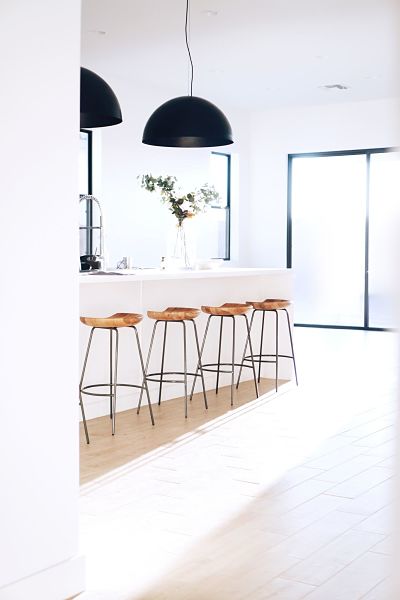 Whether your kitchen has a small layout or is part of an open house plan, a kitchen island adds a wow factor to the space. Choose sleek ones for kitchen with limited square footage. Such a fixture will not be very expensive and yet help to give a character to your kitchen.
Want to add some informal seating in your kitchen? Throw in some bar stools next to the island and create your own tiny dining area.
Extra tip: Add on extra storage space inside the kitchen island. It will make things easier for you.
5. Design a unique pot rack with repurposed metal
A rustic-looking pot rack evokes the feel of the Victorian era. The exposed metallic pipes and the pots and pans hanging — ready to be used for a sumptuous meal. You can get a copper pot rack or an iron one. Such a custom-sized rack is ready in just a few hours. And requires minimal maintenance.
Extra tip: If you have less square foot in your kitchen, try to hang this rack from the ceiling. It will save you valuable wall or floor space.

6. Get an eye-catching tile backsplash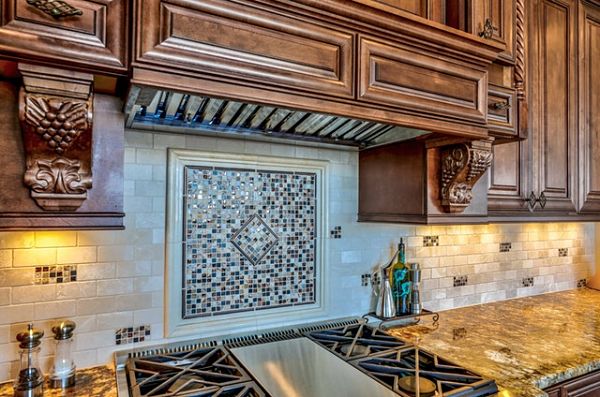 Don't forget to embellish the stain-prone spot behind your range or sink. It will add a great focal point to your kitchen. There are a lot of benefits of using tile backsplashes. Greasy splatters or messy spills are super easy to clean. And, these tiles are easy to install with no requirement for a sealant. You can consider translucent glass mosaic tile for a rich look.
Extra tip: If you live in a rental or are on a tight remodeling budget, you can try backsplash stickers. These peel and stick tiles are as easy to install as they are to remove.

7. Paint your existing cabinets
We won't be wrong in saying that kitchen cabinets set the tone for the rest of the kitchen. The fixtures make a huge impact on the overall design of your home, especially if you have an open floor plan.
The good news is that if your existing cabinet doors look outdated, boring, or plain ugly, you don't have to go and buy yourself new ones (we all know how costly new cabinets can be). Instead of replacing them, you can try painting your kitchen cabinets.
Not only is this a much more affordable solution, but it will make your kitchen look brand new.
Extra tip: Apart from the classic all-white cabinets, you can try something completely different. Denim blue, cool mint, emerald green, and bright pink are all trendy kitchen colors that will brighten the space up.
8. Wall-mount open shelving
An open plate rack or shelves can boost the charm and functionality of your kitchen dramatically. Simply mount one to the wall and color it in your favorite hue. The rack will ensure that your dishes are easy to grab and your kitchen counters remain uncluttered.
Extra tip: You can use rustic, unfinished wooden slabs for the open shelves. Use them to showcase your precious China and other decoratives.
9. Get new hardware for your fitments
If you want to make a small yet effective change without spending either too much money or time on a new project, you could try replacing cabinet and drawer pulls and handles with new ones. It's a small and quick upgrade which will draw attention to the details.
Extra tip: You can get simple colorful handles to match the walls or curtains, which will brighten up the place, or you can opt for something a bit more extravagant like leather straps or smoky quartz handles. If you're a fan of the timeless classics, try brass, nickel, or stainless steel handles – these will never go out of style.
10. Get utilitarian pull-out shelves
A well-installed pull-out shelf will make the most of your kitchen's existing storage space. Design the shelf to resemble a drawer that glides out smoothly. It will give you easy access to items stored even at the back of the cabinets. The best part about such shelves is that you can attempt a DIY project with simple tools and raw materials.
Extra tip: Don't forget your corner storage. Corner kitchen cabinets are a great way to make your cooking space more organized and efficient.

11. Replace your worn-out kitchen sink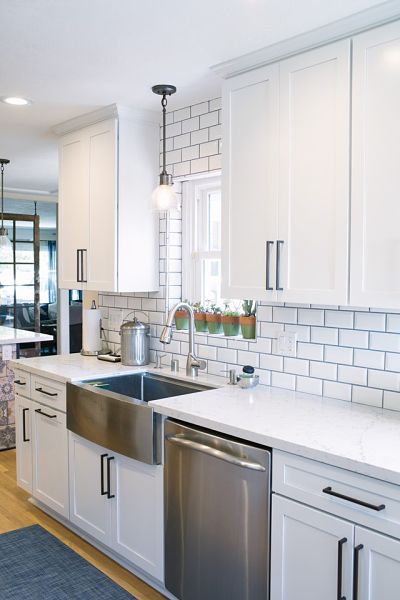 A shiny new sink will instantly jazz up your kitchen, and for considerably less amount of money. Today, you can easily install a new sink and faucet — sometimes just by simply screwing or glueing them together.
Extra tip: Opt for a single sleek pull-down faucet that requires easy installation. And, you can perform almost all functions with one hand.
12. Install a water filter
If you're satisfied with the quality of the water you're drinking, that's great! Still, when it comes to your health, you shouldn't take any chances. Getting a water filter is an easy and effective way to make sure you're using water that's safe. When you use filtered water, you won't have to buy bottled one, which means you'll save a lot of money in the long run.
Extra tip: You can decide on a reverse osmosis water filter that goes under the sink, which you won't even notice, or a simple pitcher-type water purifier which you can keep on your counter.
Conclusion
You don't have to give up half of your savings if you want to change something in your kitchen, as some of these upgrades take more of your time than money. If you have a good idea, plenty of will, and some money, you will be able to transform your kitchen completely.
If renovating your kitchen is on your to-do list, these easy and affordable tips will give your kitchen a new look while adding a lot of convenience and efficiency for you.
Research supports the fact that the kitchen is one of the best places where any kind of upgrades will be noticed, and rewarding! Take these small steps and create the kitchen of your dreams.
READ MORE: 17 Small Kitchen Remodel Ideas for the Perfect Makeover
12 Affordable Kitchen Upgrades Sure to Boost Your ROI
was last modified:
May 17th, 2022
by
Recommended