Do you feel like your kitchen could use an update? It doesn't matter if this is the first apartment you've moved into or your old home we're talking about, an upgrade would certainly be a good change. Many people hesitate to change anything in their home out of fear that upgrades cost more than they can afford, but that doesn't have to be the case. There are things you can change in your kitchen without breaking the bank.
Paint the cabinets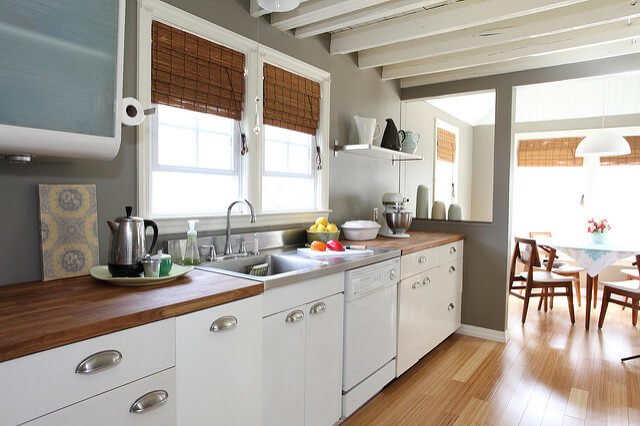 kitchen by designbuildinhabit [CC BY-ND 2.0]
Cabinets you now have might be outdated, boring, or plain ugly but you don't have to go and buy yourself new ones (we all know how costly new cabinets can be). Instead of replacing them, you can try painting them. Not only is this a much more affordable solution, but it will make your kitchen look brand new. White is boring and way too outdated, so try something completely different. Denim blue, cool mint, emerald green, and bright pink are all trendy kitchen colors and they will really brighten the space up.
 

?

Estimate the cost of your kitchen renovation in just a few clicks with our free cost calculator
Get new handles
If you want to make a small yet effective change without spending either too much money or time on a new project, you could try replacing cabinet and drawer handles with new ones. It's a small and quick upgrade which will draw attention to the details. You can get simple colorful handles to match the walls or curtains, which will brighten up the place, or you can opt for something a bit more extravagant like leather straps or smoky quartz handles. If you're a fan of the timeless classics, try brass or nickel handles – these will never be outdated.
Different lighting
You know how important natural light is to any space, and if you lack natural light, you might want to consider changing your current lighting. Even if you're satisfied with the amount of light you have in your kitchen, think about swapping those old and ugly fixtures for some shiny new ones. If you love all things vintage, try browsing flea markets for some Edison bulbs which will give you the perfect industrial look which is incredibly popular today. If, however, you're more into something modern and edgy, try getting metallic fixtures. Brass, copper, and nickel are all popular and very luxurious.
Kitchen Serving Counter by Don Cornelius [CC BY 2.0]
Paint a single wall
When you don't have enough time to paint all your cabinets, you can opt for painting a single wall instead. Not only is this cost-effective and quick, but it's also noticeable and makes a huge difference in a room. You can try brightening the place up by painting it bright yellow or green, or you could try something completely different. Black kitchen walls are dramatic and eye-catching, but they are also useful: you can use them to write down recipes or little notes in chalk and simply wipe them away later.
Water filters
If you're satisfied with the quality of the water you're drinking, that's great! Still, when it comes to your health, you shouldn't take any chances. Getting a water filter is an easy and effective way to make sure you're using water that's safe. You can decide on a reverse osmosis water filter that goes under the sink, which you won't even notice, or a simple pitcher-type water purifier which you can keep on your counter. When you use filtered water, you won't have to buy bottled one, which means you'll save a lot of money in the long run.
You don't have to give up half of your savings if you want to change something in your kitchen, as some of these upgrades take more of your time than money. If you have a good idea, plenty of will, and some money, you will be able to transform your kitchen completely.
READ MORE: What You Should Do If Your Kitchen Floods
Affordable yet Effective Kitchen Upgrades
was last modified:
March 20th, 2019
by