An architect's practical vision for a kids' room layout
If you're looking for inspiration for your kids' room layout, this simple yet functional design by our expert architect will help you. The beautiful design will accommodate massive storage and children's furniture without making the room look cluttered. 
Keep in mind that your kid's bedroom is more than just a place to sleep in. This is where they do their schoolwork, get together with friends, play games, and read those amazing bestsellers. You'd want your kids' room layout to serve multiple functions, be interesting, and be as comfortable as possible.
This kids' room idea is so practical that it will create the most perfect place for your children – for years to come. 
Kids' room layout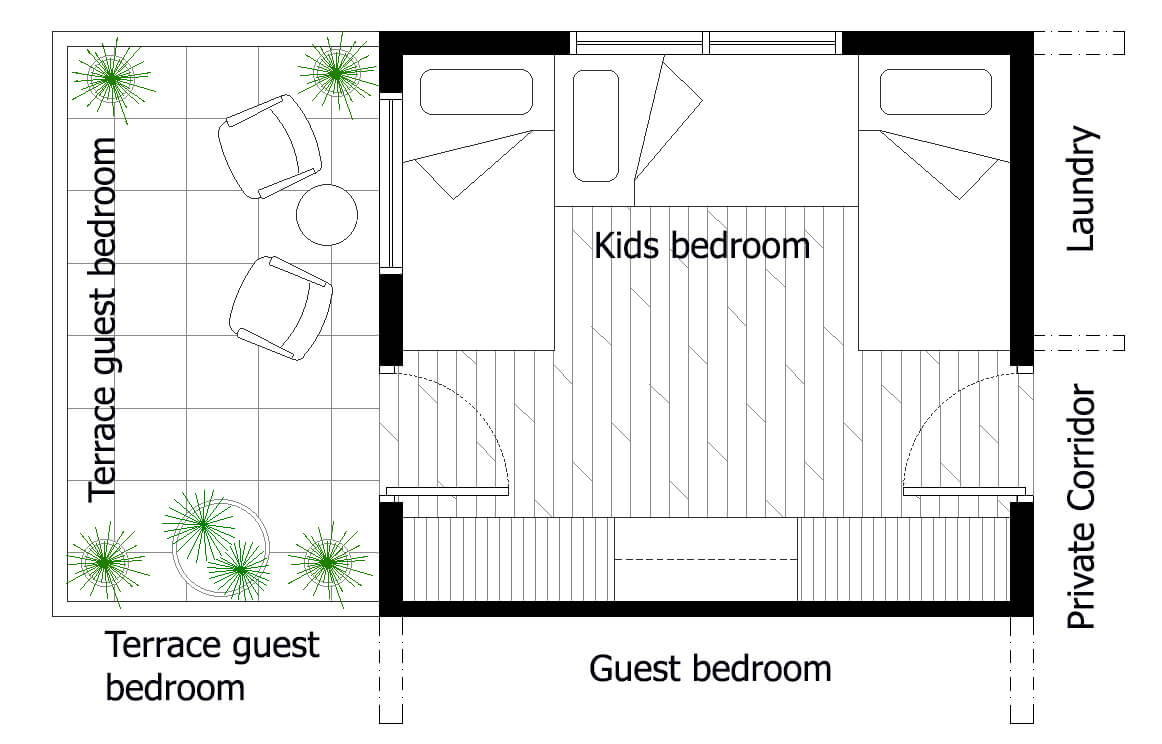 Ideal for: Children aged 4 to 12 years old
Dimension: 21.16ft x 12.63ft
Area: 267.25ft²
Bedroom capacity: Can accommodate three beds and an extra bed
Inclusion: A play space and a private terrace
The room is accessed through a private corridor of the house via a swing door measuring 2.95ft.
The room design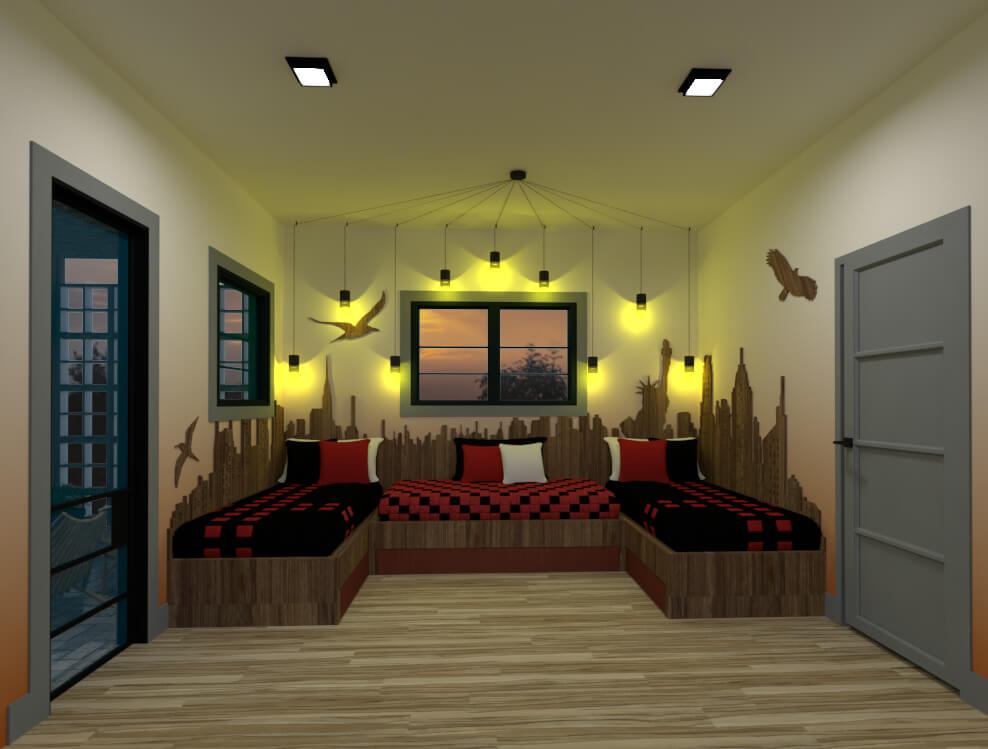 It's important that you identify your children's tastes, interests, and activities. Once you do that, it's easier to personalize the living space and come up with original design elements.
This room is perfect for children and adolescents as it offers a private and fun space. They can spend their time resting, playing, and studying – apart from being able to share the space socially with friends. The room design is trendy and yet will never get dated.
The extra storage space, the illuminated cabinets, and the bold colors make the area feel and look spacious as well as comfortable. And because there's a zoning of activities, the space is organized and open. There's sufficient floor space of about 6.56ft x 3.28ft between the beds to serve as a play zone – provided the extra trundle bed, in the center, is not being used.
The storage solutions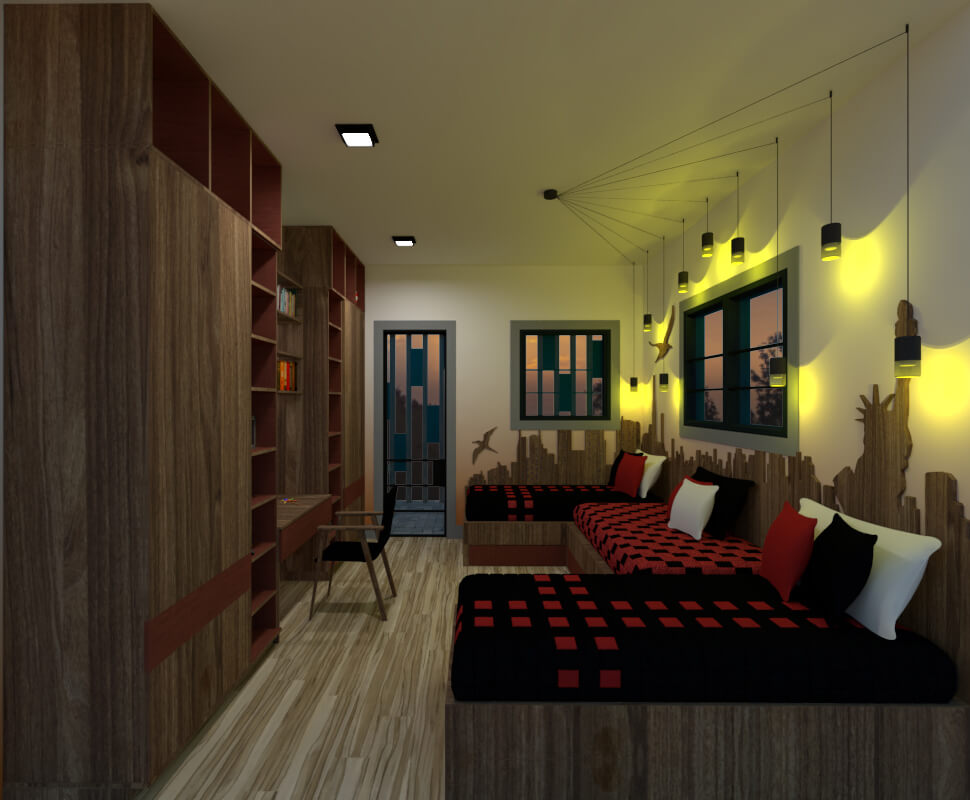 The architect recommends using multifunctional furniture with good storage, floating shelves, and floor-to-ceiling cabinets to utilize every inch of the room – horizontally as well as vertically.
The closet area is divided into three parts – one is a double door closet measuring 4.59ft x 1.80ft primarily for toys and clothes storage, then there are open shelves with eight rows which are 1.42ft wide and 0.92ft high, and some floating shelves divided into three columns which are 1.46ft wide and 1.64ft high.
These shelves can be utilized for displaying decorative items or for storing board games, books, or sports accessories. You could even utilize this space for toy storage.
In the center, there's a desk measuring 3.94ft x 1.80ft with drawers. Furthermore, there's a space of 2.79ft from the tabletop to the shelves that's sufficient for a 40- to 48-inch TV.
We understand that children this age will want a lot of storage for their stuff and may mess up the area if there isn't enough. But you needn't worry – this arrangement will help keep the room orderly and clean.
What's more, you can make the room appear bigger with full mirrors. These will not only make the space look brighter but will also add a touch of elegance.
Every piece of furniture and the closet are in two tones of wood – one dark brown and the other a reddish tone to give a playful contrast. The built-in desk marks the study area for the children.
The interior decor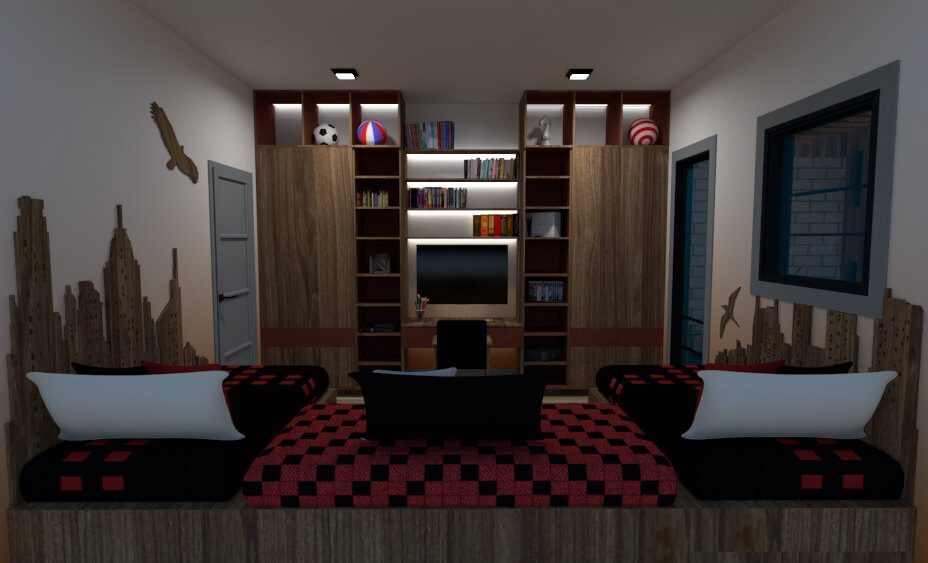 The room decoration should be such that it highlights the simple yet functional design. The interesting beds perfectly complement the rest of the bedroom furniture – adding to the harmonious vibe of the room.
Notice how the room walls seem to have a life of their own – with a continuous wooden headboard of 0.07ft thickness and variable height, creating a silhouette of New York City – complete with the Statue of Liberty and the skyscrapers. What's more, there are silhouettes of flying birds in dark wood tones, with a thickness of 0.07ft – portraying a skyline. The architect feels that adding a bright wallpaper with a graded orange tone will give the impression of the perfect sunset against the New York skyline.
This unique design element is undoubtedly the focal point of the room. The 3D effect will mesmerize children of all ages. They can decorate the room further with fun elements such as posters, paintings, colorful wallpapers, photos, wall decals, or painted murals.
The architect recommends keeping the ceiling and the moldings on the doors, windows, and baseboards in medium-tone gray. Black has been used for metallic frames of doors, windows, and lamps. This room has simple lines and colors in warm tones.
The furnishing
The architect has created an interesting vibe through the furnishing – be it the linen bed covers, pillows, cushions, and other accessories. All of them display the color scheme of red, black, and white. Moreover, there's a matching geometrical pattern in the upholstery, colors, and textures – all of which add a bold character to the room. You could even add a rug to match the style of the room.
This room can accommodate four single beds. The sides of the beds are supported by three walls forming a letter "U". Two beds have box storage beneath them while a third one is a trundle bed measuring 6.23ft x 3.12ft with a height of 0.66ft. It has an extra sliding bed below.
Read more: Interesting room colors for children
Lighting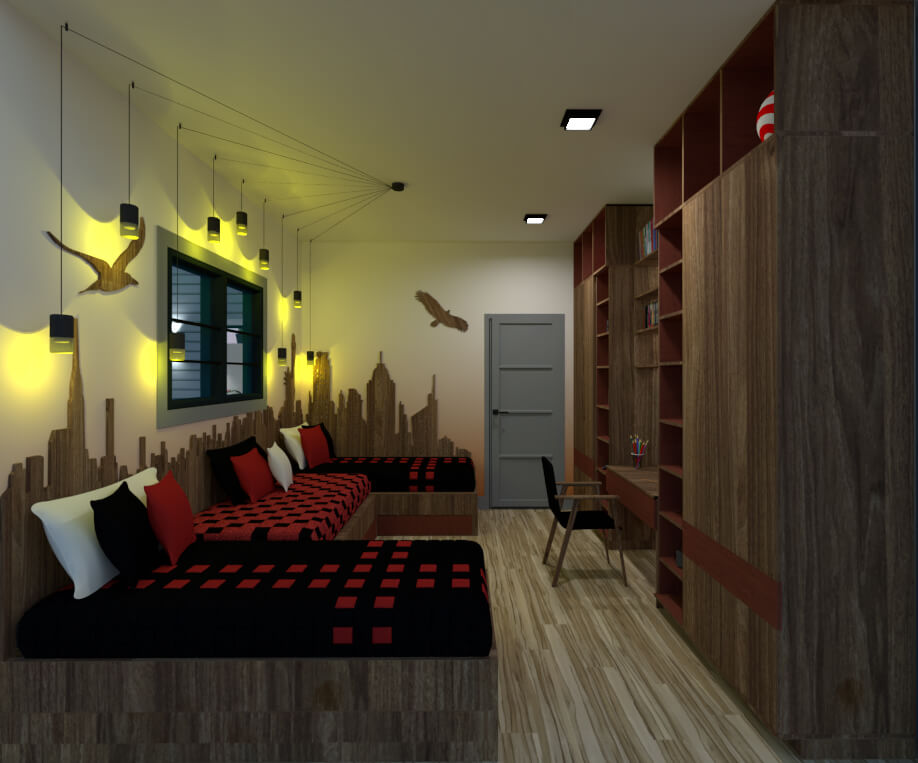 Lighting can make or break a room. Our architect has used modern light fixtures to complete the urban scene. There are nine hanging lights at variable heights (ranging from 1.35ft to 4.63ft) towards the wall supporting the beds.
The unique cylindrical lamps are 0.47ft high with a 0.21ft base radius. They are connected to a support point anchored to the ceiling by thin cables. The mellow pendant lights can be perfect for helping children sleep.
Apart from these lights, there are square overhead LED light fixtures that illuminate the room whenever the children are studying or playing.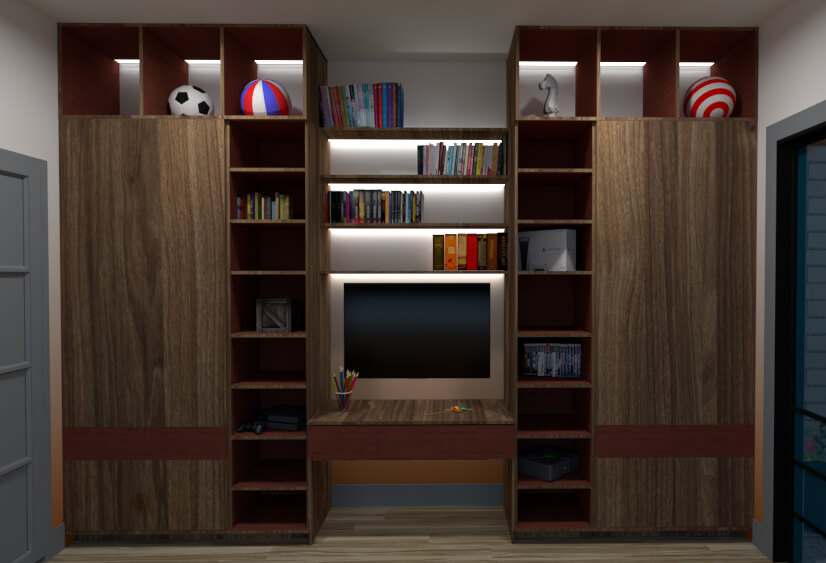 The built-in desk and the shelves too have indirect lighting with LED strip lights.
And, there's good natural lighting coming through two windows and a French door measuring 2.95ft x 7.87ft that leads to the private terrace. The children can add fairy lights too to add a whimsical touch to the room.
The terrace area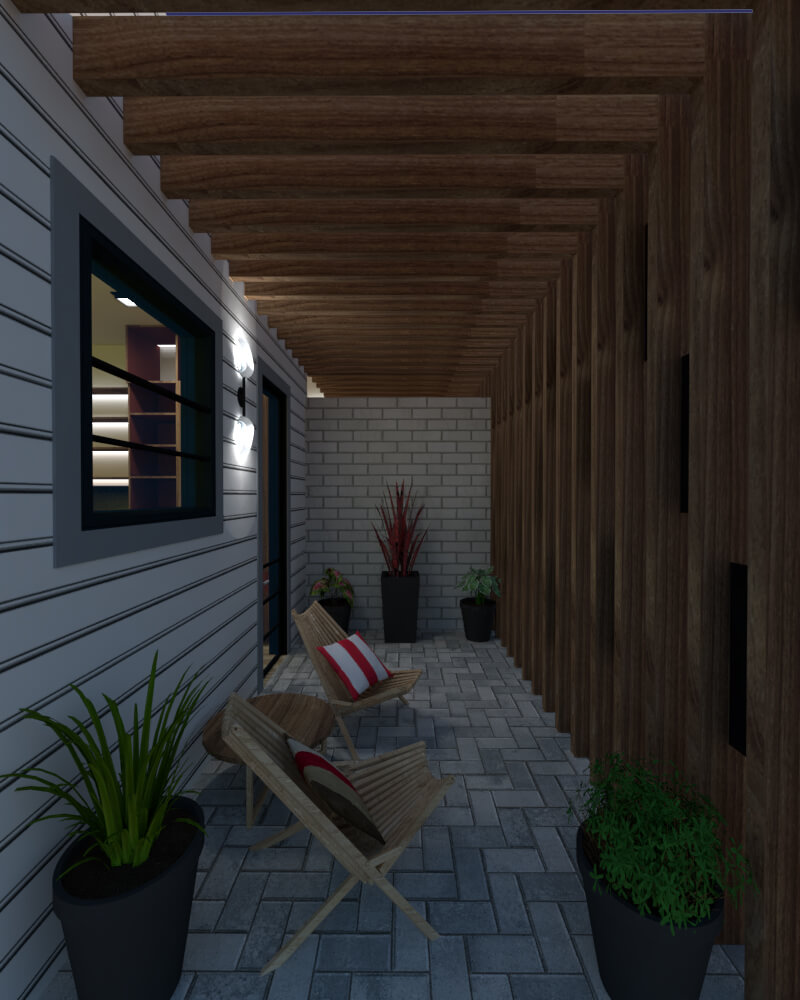 The terrace measures 6.73ft x 11.96ft, with an area of 80.49ft². It's furnished with modern folding chairs in light pine wood. These chairs measure 1.48ft x 0.98ft and have a height of 2.30ft. There's a two-tone wood industrial-style round pedestal table with three legs to complement the chairs. You can add bright-colored throw pillows for a lovely contrast.
The look is completed with ornamental plants and small shrubs in pots. Our architect has added unique lampshades to make the patio even more interesting.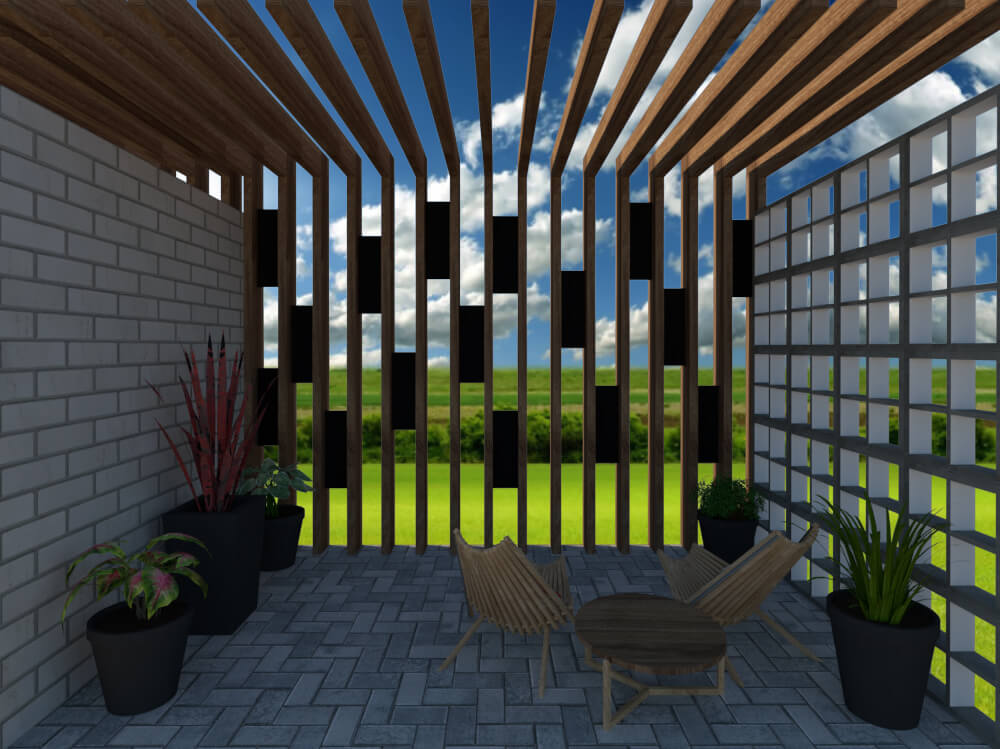 The gray cobblestone flooring with a herringbone pattern and a pergola-like structure above seem to add a lovely touch to the semi-shade area. As you can see, the terrace provides security as well as allows light and natural ventilation.
Last thoughts
This practical and downright creative kids' room layout is sure to inspire those who like to keep things simple yet fully functional. We understand that designing kids' bedrooms can be a lot of work. You need to use the most amazing kids' bedroom ideas, keep the vibe of the room fun, and add a lot of storage. In a nutshell, you need to create a calm place for them to sleep, play, and study – regardless of whether it's a large room or a small space. Some interior designs are timeless – like this one by our expert architect.
An architect's practical vision for a kids' room layout
was last modified:
February 10th, 2023
by
Recommended