13 Apartment Decorating Hacks That Are Perfect for Renters
Now that all of us are spending more time in our houses, thanks to a work-from-home culture, it's even more important that we feel more "at home". So what if you're staying in a rental property, and cannot make too many permanent changes? You can always use your creativity to think of smart apartment decorating hacks that will ensure that your home decor is not lackluster. Because that can be a downer!
Making your living space feel like your own when you're renting can be a challenge. That's why you need decor ideas that will transform your home into a place where you'd want to spend most of your time. That too, with your landlord's approval.
The reason is that you're quite obviously not knocking out any walls or changing your floor plan. Instead, you can invest in good easy-to-remove decorations, versatile storage spaces, and inexpensive upgrades.
If you want to set your roots in a temporary space and stop feeling like a nomad, do give these genius apartment decorating hacks a look. Because it's time to make your home your own.
Decorating your renting place
1. Invest in easy-to-move furniture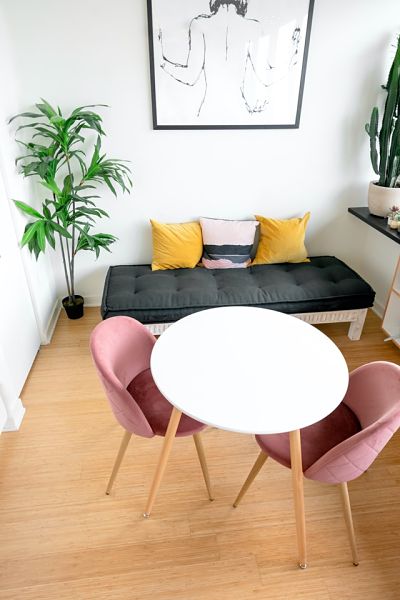 Home furniture that's versatile and easy moving is the most perfect choice for an apartment. Apart from the fact that you might want to spend money sparingly in a rented apartment, you can always change the furniture arrangement if you ever grow bored of it!
2. Upgrade lighting with unique pendant lights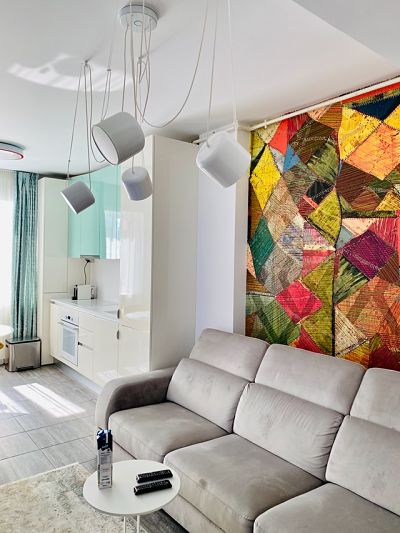 So what if you can't opt for extensive renovations? You can always invest in really cool statement pieces. One such area where you can go all out is your living room lighting. You can infuse some personality into your space with some unique light fixtures. A statement fixture will add a sense of drama to your living space. Once you get the light fixture in place, get light bulbs according to the mood of the room. LED bulbs are up to 80% more energy-efficient than traditional bulbs. They will lower your electricity bill significantly.
3. Get your own curtains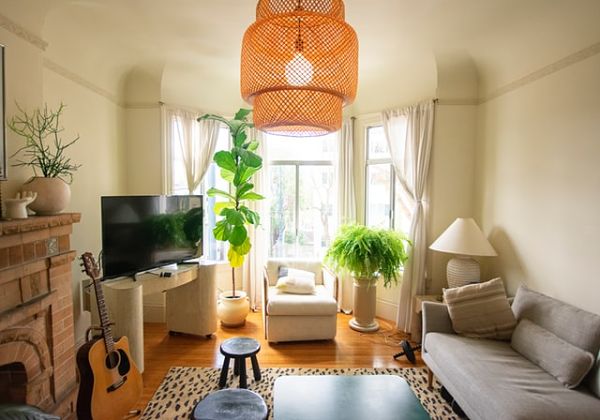 Hanging beautiful curtains and drapes is one of the easiest apartment decorating hacks. This window treatment instantly lifts up any room's aesthetic value. Moreover, they're easy to take with you when it's time to move and also are a relatively inexpensive investment to replace if you outgrow the style. So, go ahead and change those windows as well as shower curtains according to your style. Make the place reflect your personality!
Read more: 13 Most Popular Types of Window Treatments
4. Hang your photo gallery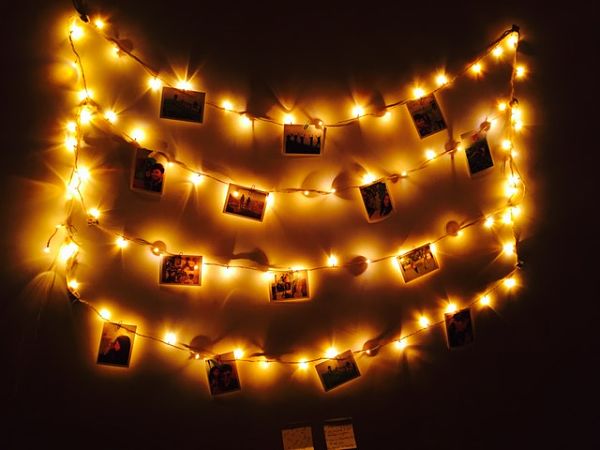 Think differently with string lights and your old photographs. Instead of having a wall-mounted gallery to display your memorabilia, hang the pictures on fairy lights. Place them on your bedroom wall and enjoy the dimly lit ambiance.
5. Enliven space with indoor plants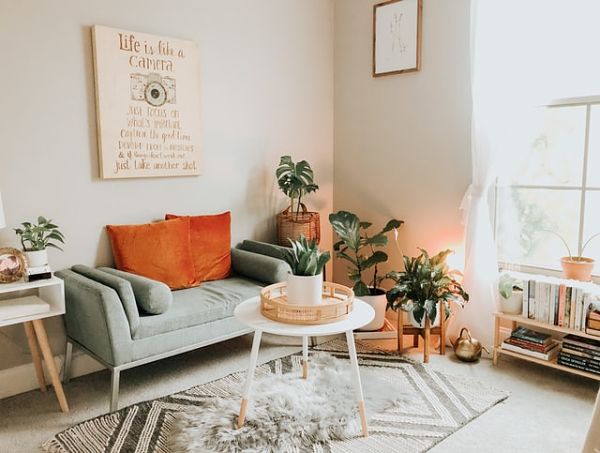 Nothing breathes more life into any bland space like live indoor plants. Plants will make your apartment feel warm and welcoming. Plus, will improve the air quality of your home.
Read more: 10 Gorgeous Ways to Beautify Your Rental House With Plants
6. Get a floating bookshelf
Isn't this the coolest apartment hack ever? You can use one of your walls to display all your literary treasures. But, instead of using a boring bookshelf, these floating shelves will make your wall a beautiful focal point.
Read more: How to avoid scams in apartment rentals
7. Place a free-standing mirror
A large mirror will always glam up your apartment. And, if you live in a small house, a mirror will help your space look bigger and brighter. It will reflect both natural light as well as accent lighting beautifully. The small space will not feel so small anymore.
8. Create a quaint corner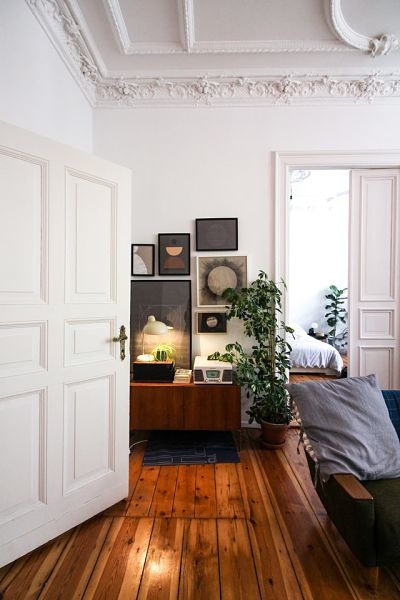 A quaint corner with your favorite artwork will add a lovely touch to your apartment. Just add the kind of lighting that you deem suitable to showcase your wall art pieces and a few planters.
9. Make space for an informal sitting area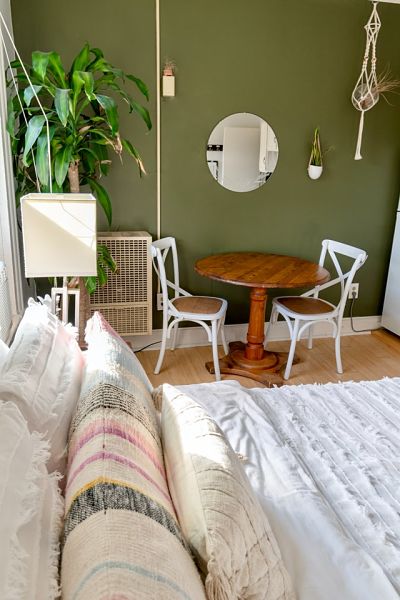 The kind of busy lifestyle we have, it's important that we take our time to smell the flowers. Errr, we mean to taste the tea. Have a little sitting area in your bedroom and enjoy a cuppa with your loved one.
10. Use furniture that has a dual purpose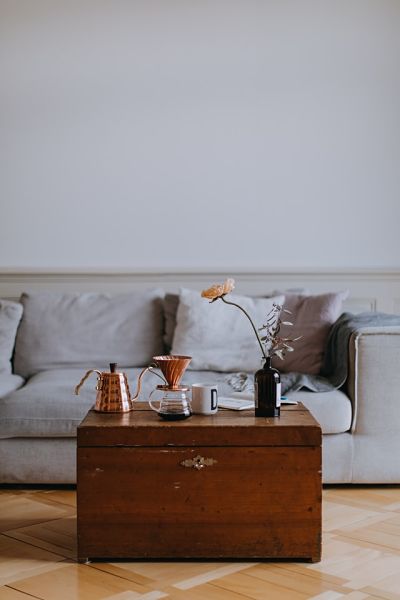 Invest in beautiful furniture that doubles as extra storage, like this big, rustic wooden trunk that can be used as a coffee table. Having such furniture pieces will help you save space while providing a good storage solution.
Read more: Budget-Friendly Storage Solutions for Your Expanding Needs
11. Design an accent wall or use removable wallpapers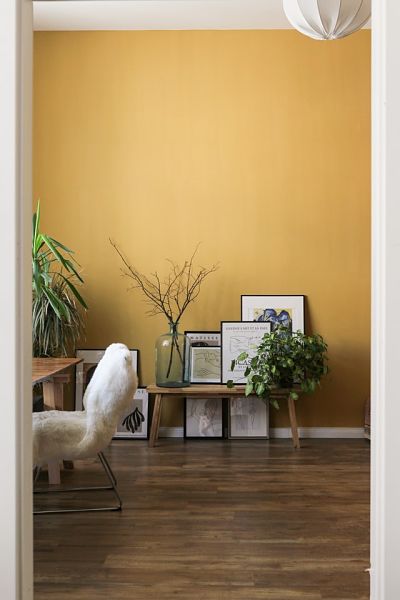 Usually, painting your walls, or a single accent wall is okayed by your landlord — as long as the wall color isn't too polarizing. A good paint job ups the value of the place — making it aesthetically attractive and giving the house a beautiful makeover. Another option is to paint your kitchen cabinets with a color and finish that matches your home decor.
If painting the walls is a strict no-no with your landlord, you can always opt for removable wallpapers to personalize your place without any permanent change.
12. Create a DIY bar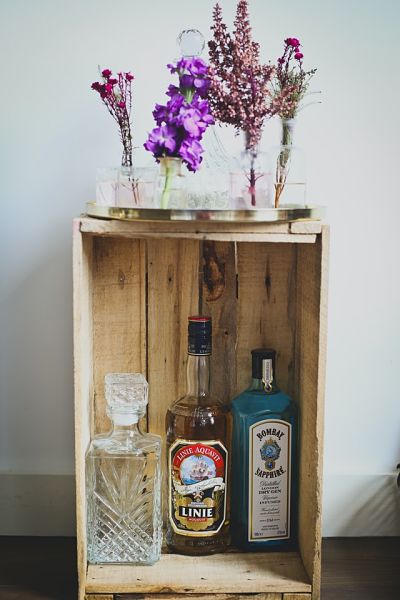 If a full-fledged bar isn't in your budget, you can design your own DIY bar cart or a rustic bar shelf. It will ensure that you serve your guests in style. Why shouldn't luxury and leisure be a part of a renter's life!
13. Utilize open storage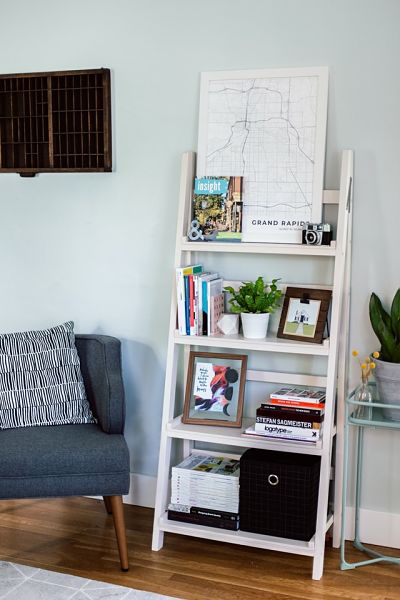 Open storage spaces that are not wall-mounted are the renter's best friend. They can go where you go, require less space, and give your home a personal touch. It's the best way to optimize the limited space without damaging walls or fixtures.
Last words
If you're living in a rented home or apartment, with a little creativity, and a little elbow grease, you can live in the home of your dreams — right now! We hope these budget-friendly, portable apartment decorating hacks will change the way you think of your house. The ideas will make the most of every inch of your abode and stamp your personality on your living space — making it a home. Your home!
Read more: Buying vs. Renting: Answers to the age-old debate
13 Apartment Decorating Hacks That Are Perfect for Renters
was last modified:
May 30th, 2022
by
Recommended