A great app to keep track of home maintenance systematically
Staying on top of your home maintenance is a huge task. After all, you want your home to be in top condition, keep improving its value, and avoid costly repairs. So, how do you do it? The trick is to use an app to keep track of home maintenance systematically and seamlessly.
Life is about making things easier and hassle-free, right? Today, home automation has gone from being a novelty to a lifestyle necessity. Most of our home appliances are now smart, be it a refrigerator that can read messages, connect with Alexa to order your groceries and play back your favorite songs, or the home lights that you can control using your mobile phone.
With everything being technology-driven, it's no wonder that home maintenance is headed in the same direction.
Useful app to keep track of home maintenance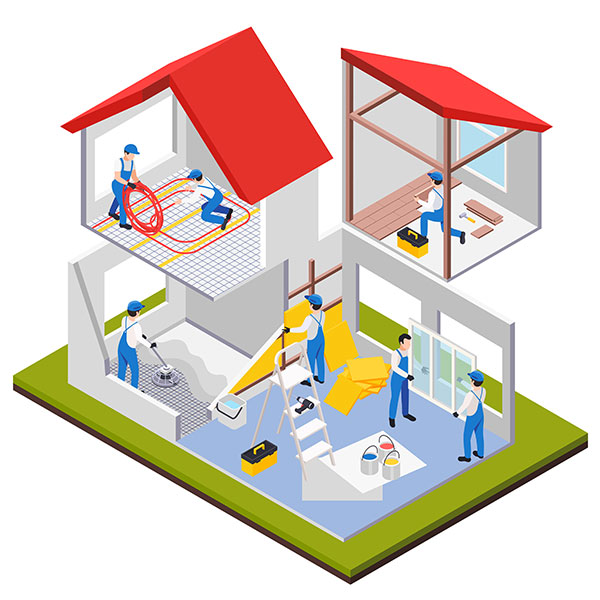 Kukun's My Maintenance™ helps homeowners keep track of all home maintenance tasks that need to be done on a regular basis. You can easily schedule the projects in the calendar and even notify your service providers. From your roofing and flooring to home appliances such as refrigerators, washers and dryers, and dishwashers – every home-related issue is taken care of. You can personalize your home maintenance schedule based on your needs and preferences.
What's more, the mobile app is free and can be downloaded for both ios and android devices.
My Maintenance™: The features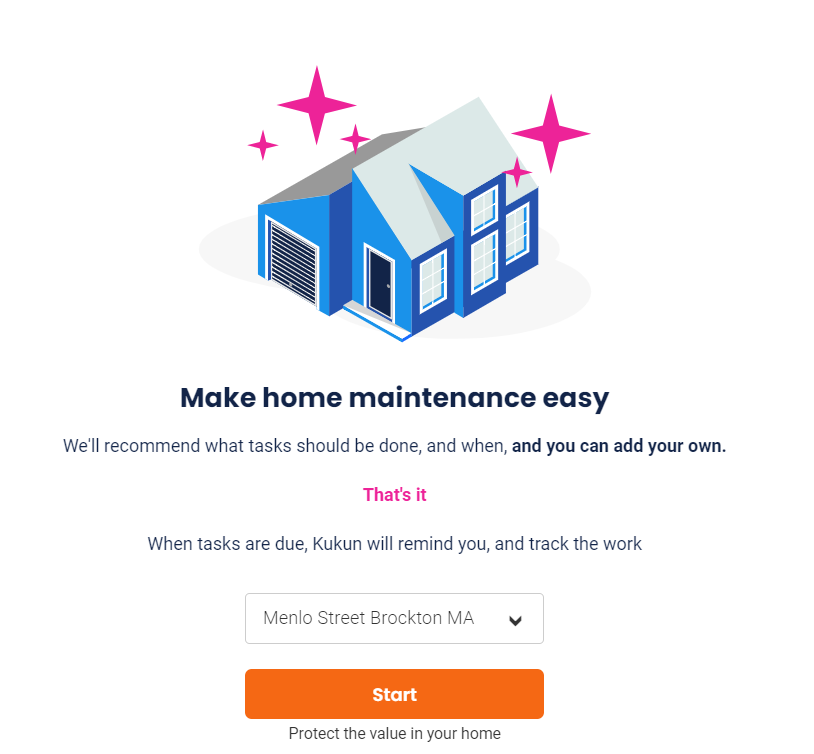 Keeping your house in top condition is as easy as signing into the Kukun app. All you need to do is enter your address, add some basic information about your home, and set up your home maintenance alerts.
You can:
Get your personalized dashboard or maintenance plan
Create and add home maintenance tasks
Schedule the different tasks in your calendar according to time and date
Add a recommended task
Delete a task
Store information about your service provider
Send notifications to your service provider
All these can be done simultaneously – at the click of a button! Home improvement was never this easy. Simply identify your home's maintenance goals and your preferences and the app will do the rest. My Maintenance™ helps you keep your house in tip-top shape. Keep in mind that timely upkeep will help improve your home value. You can schedule a lot of maintenance work in just a little time.
The advantages
Your home is one of the biggest financial investments. Every homeowner wants their dream house to be safe, secure, and well looked after. Maintaining your house is more than just taking care of its structure, fixtures, and fitments. It's also a great way to increase its longevity. Moreover, regular upkeep helps prevent expensive repair bills in the future.
My Maintenance™ helps homeowners in:
Easy management
The app can help you stay on top of your home maintenance — easily adding maintenance tasks to your calendar, keeping a record of your service providers, and even sending notifications to them when required.
This way, your home maintenance will never slip to the bottom of your priority list. And, you can run your home smoothly.
Home value protection
As you keep your home up-to-date and well-maintained, you can impress potential homebuyers and improve your home's resale value too.
What's more, it helps you keep a record of the expenses for each repair/replacement task.
You can manage your home remodeling budget seamlessly.
How to use Kukun My Maintenance™?
All you have to do is follow three simple steps:
Sign in with your email address
Enter your home address
Start planning and managing your home maintenance and DIY projects
For example, you can set an alert for rain gutter cleaning, examine the weatherstripping and caulking on doors and windows, or check attic insulation by scheduling it for a specific time and date. What's more, Kukun will recommend what other tasks should be done, and when. The app will track the work and remind you when it's due.
How does Kukun My Maintenance™ work?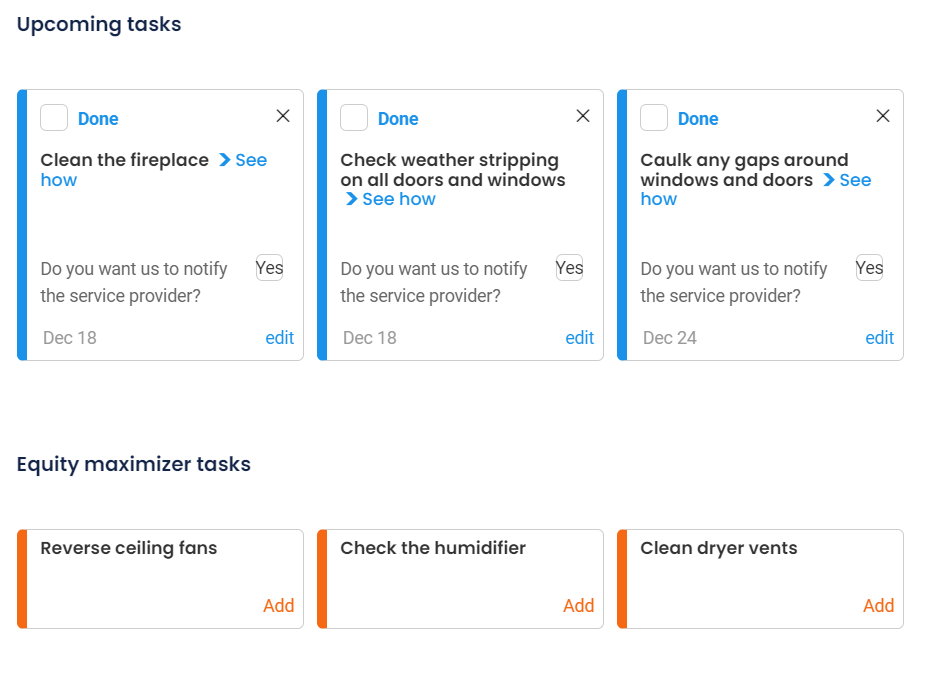 The app is designed to help homeowners plan a maintenance schedule in a systematic way.
You can plan maintenance home projects as well as home repairs on a monthly, quarterly, half-yearly, and yearly basis. Set reminders for yourself with the task name and description using the app. You can even customize the time interval for when you want the activity to repeat.
Define the start date and end date of the activity, as well as the time you intend to spend on it.
The app includes giving you suggestions of home maintenance tasks that need to be done periodically, while also allowing you to define your own tasks.
The home maintenance app will send you periodic messages as reminders of the tasks you have coming up.
If you want a professional contractor of your choice to be contacted for a task on your My Maintenance calendar, you can enter the contractor's details. The app will remind you to send an email and to call the contractor.
My Maintenance will track and update overdue tasks, completed tasks and tasks coming up, helping you plan your maintenance schedule accurately.
The iHome Manager dashboard allows you to quickly access upcoming maintenance tasks, home renovation estimates, and contractor suggestions based on your location.
Last thoughts
Maintenance is an ongoing process that continues throughout the year.
According to a recent survey by Consumer Reports, the average amount of money that people spend on house maintenance is about $1,290 per year. Now, that's an amount that cannot be taken lightly.
Keep in mind that our homes are only as good as we keep them. Regular home maintenance is a great way to ensure that there are no sudden large repairs that can cost a lot. It also gives you insights into how your home is aging, allowing you to plan home renovations more efficiently. And remember, a well-maintained home is sure to fetch top dollar should you ever decide to sell it. So, use this app to keep track of home maintenance and make homeownership hassle-free and easier – at the click of a button!
A great app to keep track of home maintenance systematically
was last modified:
December 23rd, 2022
by
Recommended