If your home has a U-shaped kitchen, you're fortunate! A U-shaped kitchen is one of the best kitchen layouts. With a good amount of space on three sides, the floor plan lets the cook work with ease. And, the top of the 'U' is typically left open for a doorway or a living room.
Generally speaking, there are some common types of kitchen layouts that homeowners prefer. These include the one-wall kitchen layout, the galley kitchen, the L-shaped kitchen layout, and the U-shaped kitchen layout.
The U-shaped kitchen is probably one of the most practical kitchen layouts — providing a home dweller with an additional run of potential kitchen storage or appliance space.
You can design a beautiful, functional kitchen by keeping the kitchen work triangle (the stove, fridge, or kitchen sink) in mind.
U-shaped kitchens are ideal for kitchens with a good width, where they're usually combined with a dining area or a kitchen island. Or, you could make one arm of the 'U' into a kitchen peninsula — accessible from both sides.
What is a U-shaped kitchen?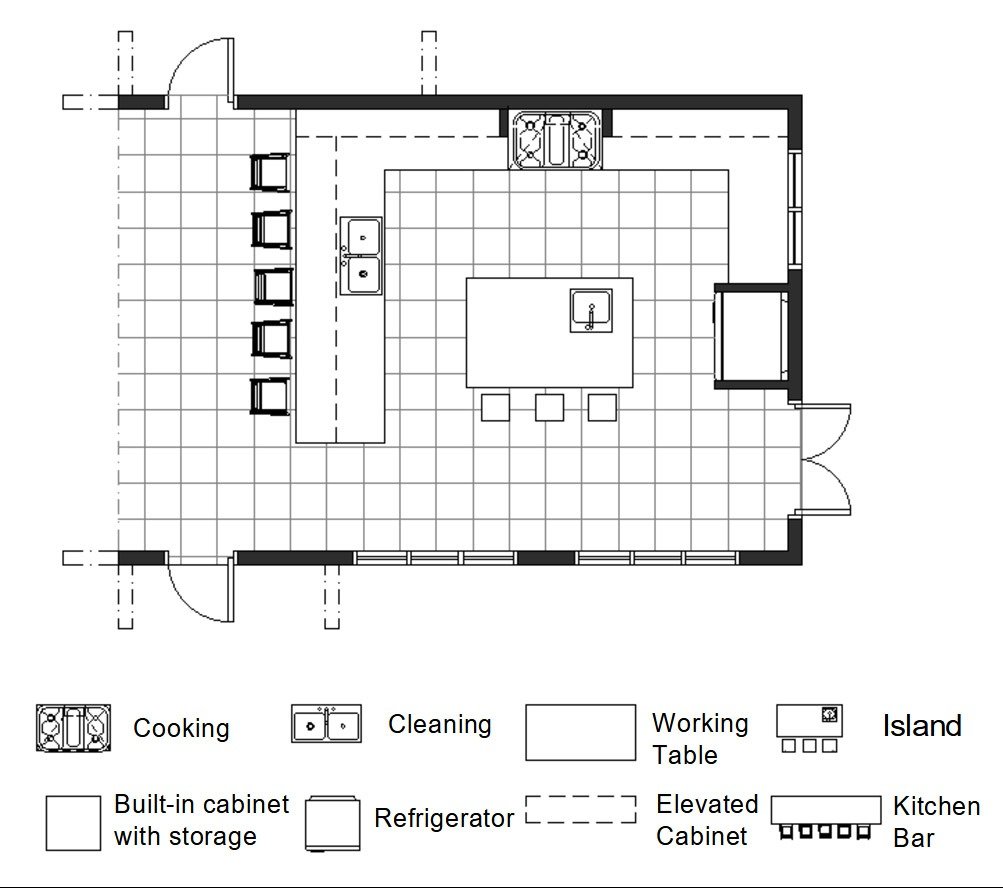 U-shaped kitchens aka C-shaped kitchens feature a horseshoe-shaped work area, with kitchen cabinets and countertops running around three sides. Ideal for small spaces, the kitchen design has an open end for access.
There's an element of versatility in this classic layout; it works no matter what the size, shape, or style of the kitchen. However, do ensure that the distance between the sink, stove, and fridge is not more than 1200mm apart. Otherwise, it reduces efficiency in the kitchen.
Home Renovation Cost Estimator
Sorry, we currently don't have that project at our disposal.
---
You can take a look at our most popular ones:
Water Heater Installation
Exterior Door Replacement
Install Recessed Lighting
Exterior Door Installation
Interior Door Installation
Interior Door Replacement
Our expert architect, Edna Ramirez, will help you explore some practical kitchen ideas using this type of layout through this article. So, save yourself the hassle of spending hours browsing through interior design magazines, looking for the best kitchen designs. Get inspired, today!
Looking for a licensed professional to undertake your kitchen remodeling? Let Kukun help you hire the best.
U-shaped kitchen design idea 1: Ideal for a square kitchen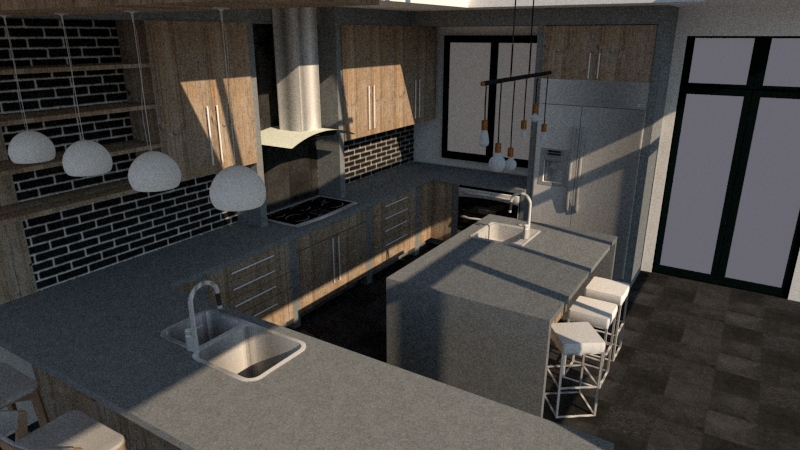 This kitchen design is one of the most common configurations; it adapts to both closed and open kitchens. Moreover, you can incorporate an island, a peninsula, or a bar space — forming a 'G' shape.
That's why such a design is recommended for kitchens with a square proportion. It offers more distribution possibilities than elongated spaces. The design also allows multiple people to work at the same time, at multiple stations — without colliding!
Here's a large U-shaped open-concept kitchen, where both a peninsula and an island (with cascading edge drop design) are incorporated into the kitchen space. As a result, what you get are four work areas and two dining areas, with a capacity of 10 to 12 seats.
Moreover, there are two sinks — one double sink facing the peninsula and another smaller one on the island. The distance between each station ranges from 3.94 feet to 7.55 feet.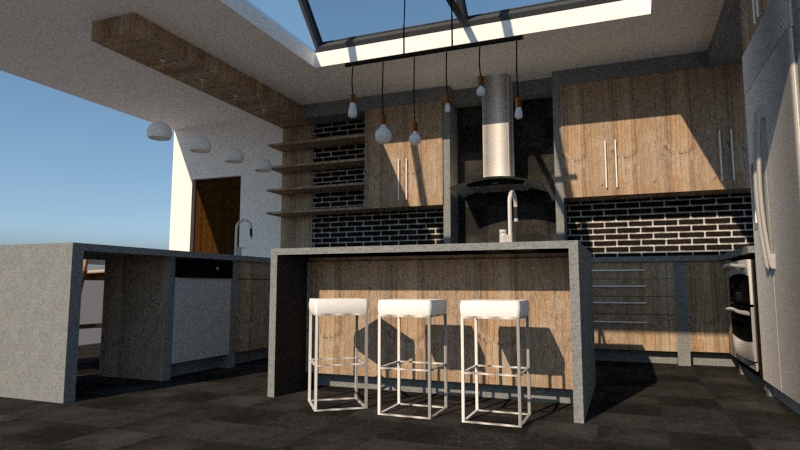 The design consists of a concrete structure — starting from the base cabinets to the concrete countertops. The hood acts as a focal point in the center, set against a panel of dark-colored tiles.
The top cabinets have been cleverly installed to leave space for some unique LED lighting. The pendant lights beautifully emphasize the dining areas on the peninsula and island. The architect recommends stainless steel appliances and accessories (hood, stove, sinks, refrigerator, oven, and dishwasher) and modern kitchen style furniture.
Overall kitchen dimensions: 23.92 feet x 15.78 feet
Height of the countertops: 3.02 feet
Dimension of the backsplash: 2.95 feet
Height of the top cabinets: 8.73 feet
Circulation space: 3.28 feet (minimum) to 3.94 feet (maximum)
Color palette: black, white, and grey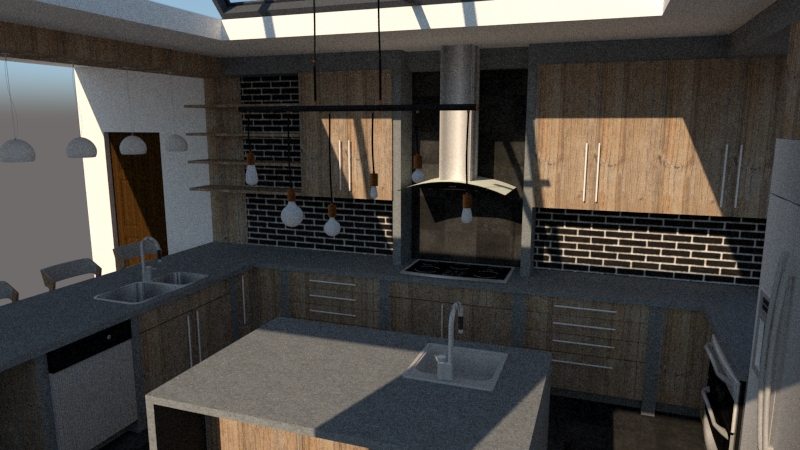 U-shaped kitchen design idea 2: Ideal for an open concept kitchen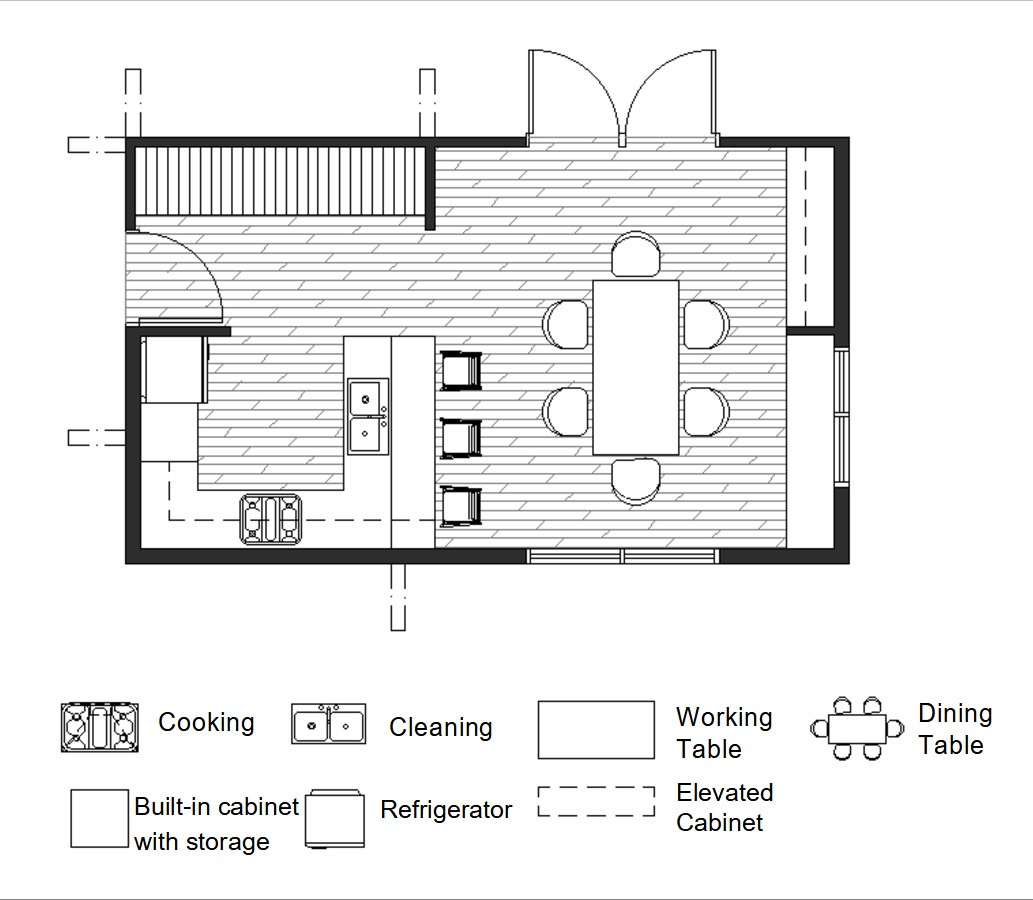 This U-shaped design is ideal for an open concept kitchen. It has good storage space with strategically placed open shelves. Remember that in such a kitchen layout, storage must be optimized vertically, taking the cabinets all the way up to the ceiling to make the most of the space.
Access to the kitchen is through two sides — one from the patio (with a French glazed door) and the other from one of the two adjoining rooms.
The peninsula opens out to a more formal living room, game room, or dining room setting depending on the floor plan.
There's a lot of natural light coming into the kitchen, thanks to the windows and the French glass door that connects to the patio. In addition, there's a skylight on the ceiling, just above the central space where the island is located. The black tile floor seems to put together the kitchen design in a beautiful way.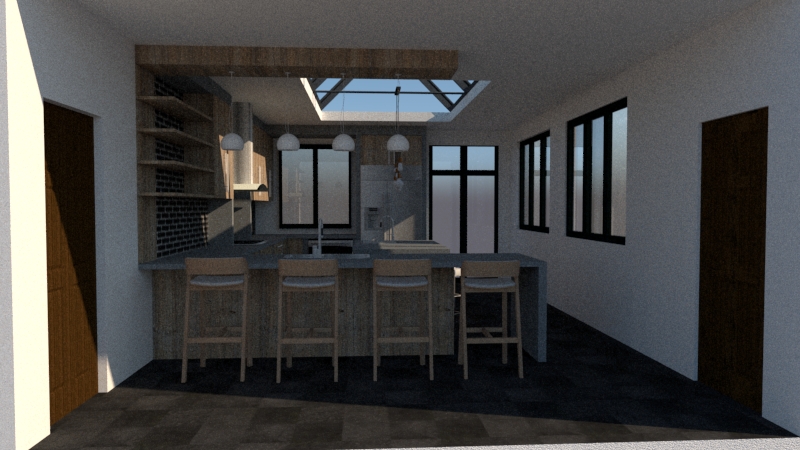 Overall kitchen dimensions: 9.97 feet x 7.22 feet
Circulation space: 1.97 feet (minimum) to 2.95 feet (maximum)
Worktable areas: 1.47 feet to 1.97 feet
U-shaped kitchen design idea 3: Ideal for a small kitchen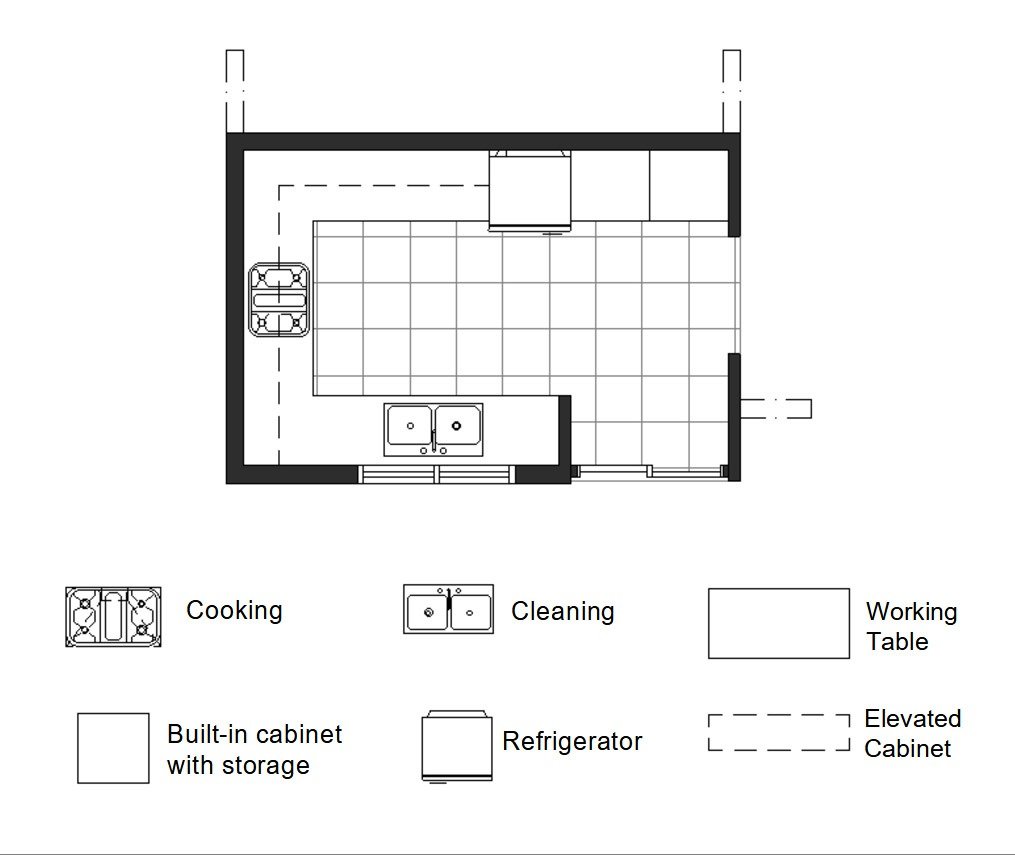 This design is ideal for a small cooking area. Here, the kitchen is an individual space — without a dining room. It's accessed only by an adjoining corridor. The kitchen has work stations on each wall, on three sides.
Working in a small space is a blessing in disguise. The area is optimal because if you keep the kitchen work triangle too spread out, it becomes cumbersome to walk from wall to wall.
In this type of kitchen too, storage must be optimized vertically — with cabinets all the way up to the ceiling. Only then will you be able to utilize the small space.
Do take care of the fact that there's sufficient kitchen lighting — both natural and artificial.
Overall kitchen dimensions: 13.62 ft x 8.86 ft
Parallel circulation: 4.59 feet
Minimum work table areas: 1.97 feet
Last thoughts
When you're designing your dream kitchen, it can be a bit overwhelming trying to figure out which layout to opt for. Trust us, a U-shaped kitchen is a practical choice, especially if you're someone who values good kitchen space.
What's more, it's easy to keep the layout flexible and well organized. Additionally, the floor plan allows for free-flowing traffic (a boon if you have a big family) and an efficient work triangle.
You can choose from different kitchen styles due to its flexible layout — from Scandivanian and industrial to a farmhouse kitchen. We hope our expert kitchen layout ideas and tips will help you make the right choice for your next kitchen renovation.
Planning a kitchen makeover? Try our free kitchen remodel cost estimator. It's easy and convenient to use!
Read more: An architect's tips on the perfect game room floor plan
An Expert Architect's Tips and Ideas for a U-Shaped Kitchen
was last modified:
May 12th, 2022
by
Recommended