Planning a kitchen remodel to maximize your cooking space? You can consider an L-shaped kitchen design. The kitchen plan beautifully retains the open concept kitchen design and is one of the most popular kitchen layouts. In fact, it's a classic kitchen design.
The highly flexible L-shaped kitchen can be adapted to different sizes and styles of kitchens. We won't be wrong when we say that this type of ergonomically correct kitchen design allows a practical and efficient workflow.
Want to know more about this popular kitchen configuration, with some great design ideas? We have an expert architect to guide you through this type of kitchen design. It should help you plan your kitchen renovation well.
What is an L-shaped kitchen?
As the name suggests, the L-shaped kitchen design looks like it's namesake alphabet — consisting of two adjoining, perpendicular walls, usually consisting of kitchen cabinets on at least one of the walls. Such a kitchen layout, typically, has one side dedicated to smaller kitchen tasks — like a base for the kitchen sink and countertop appliances while the other side is for larger tasks such as accommodating the range hood, refrigerator as well as additional kitchen storage.
The efficiency of an L-shaped kitchen
When you're designing a functional kitchen, you need to keep the kitchen work triangle in mind. In other words, the distance between your fridge, kitchen sink, and stove. An L-shaped kitchen nicely accommodates this work triangle efficiency.
That is to say, the design easily allows a cook to work through storing the food, washing it, and cooking it. Thereby, offering them more comfort to work and greater agility.
You can also use your kitchen walls as a background for a bar, a dining table, a kitchen island, or a peninsula. Our expert in-house architect, Edna Ramírez, recommends dividing the L shaped kitchen layout into different zones — such as food storage (kitchen pantry and refrigerator) and food preparation (washing and cooking) — for greater functionality.
While you're working out the cabinet placements, shelving designs, or statement backsplashes — keep in mind that you shouldn't spread out the workstations too much.
Our expert will help you explore some practical kitchen ideas using this type of layout. It will save you from spending hours browsing through interior design magazines, looking for different looks and designs.
Design idea 1: L-shaped kitchen near an independent access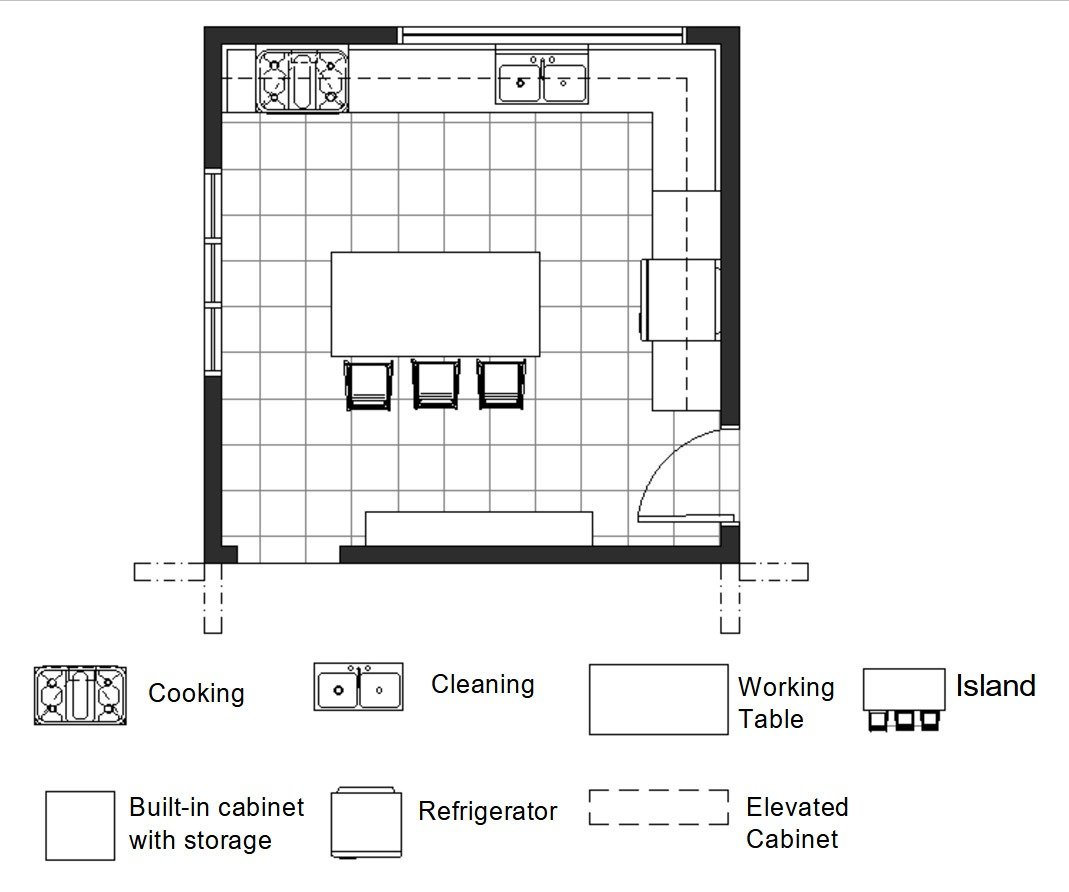 This type of L-shaped kitchen is located near independent access. Due to such a placement, it consists of three entrances. Here, the design comes with a modular configuration of kitchen windows in front of the sink preparation area, and a floor window — which is of the same height as the kitchen door (6.89 feet).
Such a setup enhances the look of an open kitchen and is typically bathed in a lot of natural light. The entire kitchen is divided into three zones, namely storage, prep, and a 2.95 x 5.90 feet dining table/island — with seating for six chairs.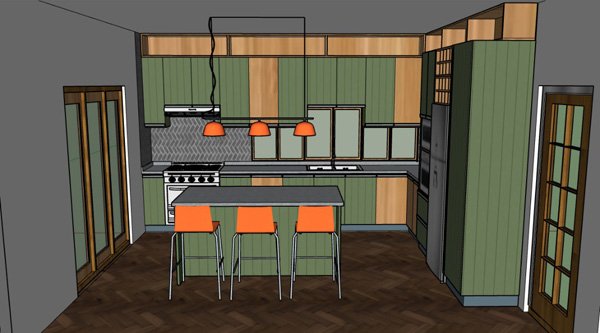 Kitchen design dimensions: 14.17 feet x 14.2 feet; height: 9.28 feet.
Minimum circulation: 2.95 feet to 3.94 feet.
Countertops: 2.95 feet high.
Backsplash panels: 1.97 feet.
Top cabinet height: 8.20 feet, ending with an open shelf on the upper level.
Such a kitchen design helps maintain continuity and beautifully complements a modern style kitchen.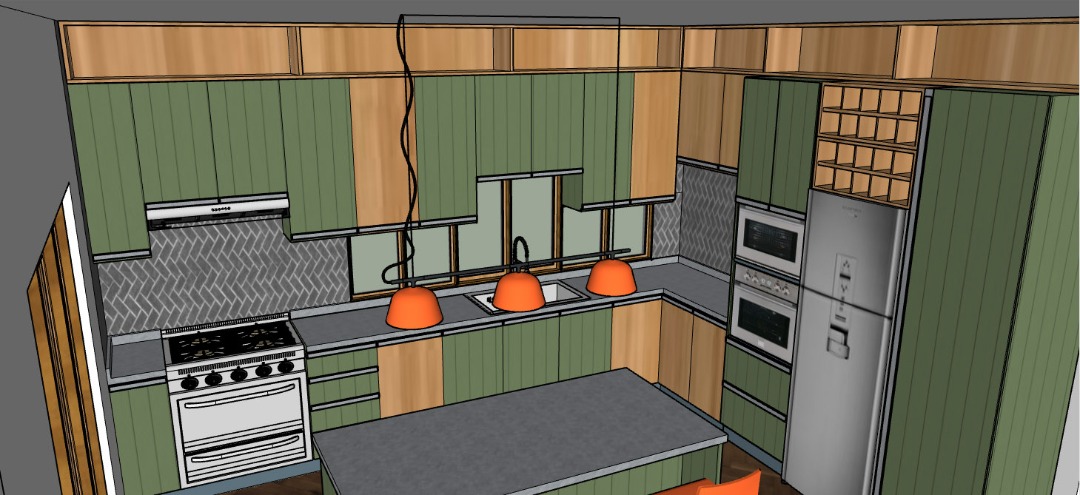 The cabinets in the cooking zone have been designed in such a way that they allow for more natural light through the windows. You can plan the placement of artificial lights, including LED lights or under-cabinet lights to illuminate the preparation area.
Read more: Smooth finish when painting kitchen cabinets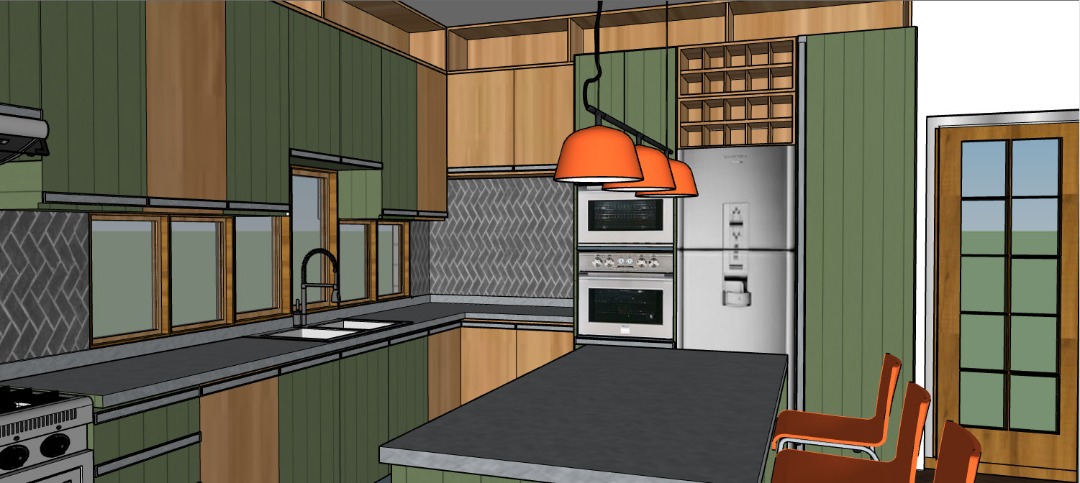 Our expert recommends custom built-in storage furniture to take advantage of the kitchen space. Keep in mind that the space between each workbench station should be greater than 1.97 feet for comfort, but not too much.
Architect's tip: Paint the kitchen walls in light green tones with ribbed textures to contrast with the wood cabinets. This type of color palette will highlight the sink as well as the storage areas. You could use orange for the island chairs and lighting fixtures.
A granite countertop with a tile backsplash in gray will balance out the white of the bedroom walls. Opt for stainless steel appliances. For flooring, choose a herringbone-patterned wood floor in a darker tone.
Read more: Kitchen Countertop Financing
Design idea 2: Small-sized L-shaped design; with reduced dimensions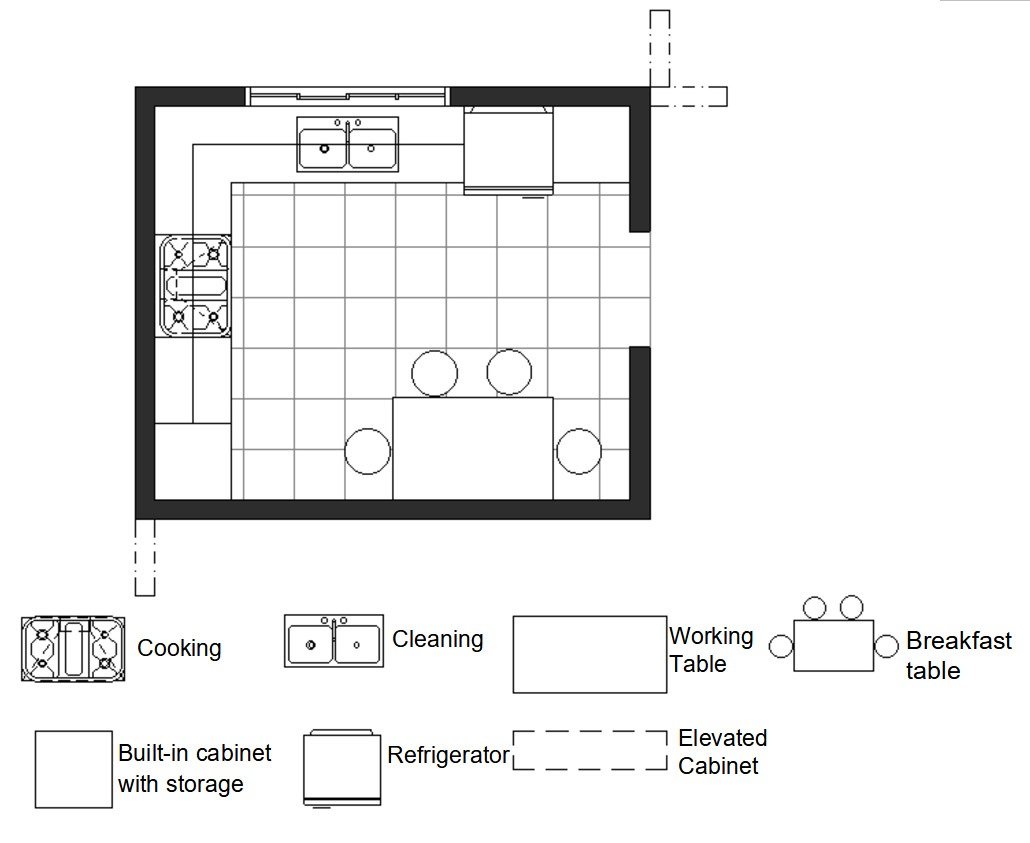 Such a kitchen is ideal for small spaces, such as in apartments and condos. It's particularly space-efficient and convenient. There's no physical barrier between the kitchen workspace and the dining area. Both share the same floor space.
Kitchen design dimensions: 12.20 feet x 10.07 feet.
Minimum circulation: 2.95 feet.
Minimum work zones: 1.48 feet to 1.97 feet.
Here, the kitchen area is made up of different areas — storage (pantry and refrigerator), washing area, and food preparation areas (work table). The eating area is an informal dining room — perfect for everyday dining.
Architect's tip: Do not use a kitchen island since there is not enough space for circulation. In such small L shaped kitchens, storage should be optimized vertically. Kitchen storage must be designed all the way up to the ceiling to make the most of it.
Read more: 17 Small Kitchen Remodel Ideas for the Perfect Makeover
Design idea 3: Open-concept L-shaped kitchen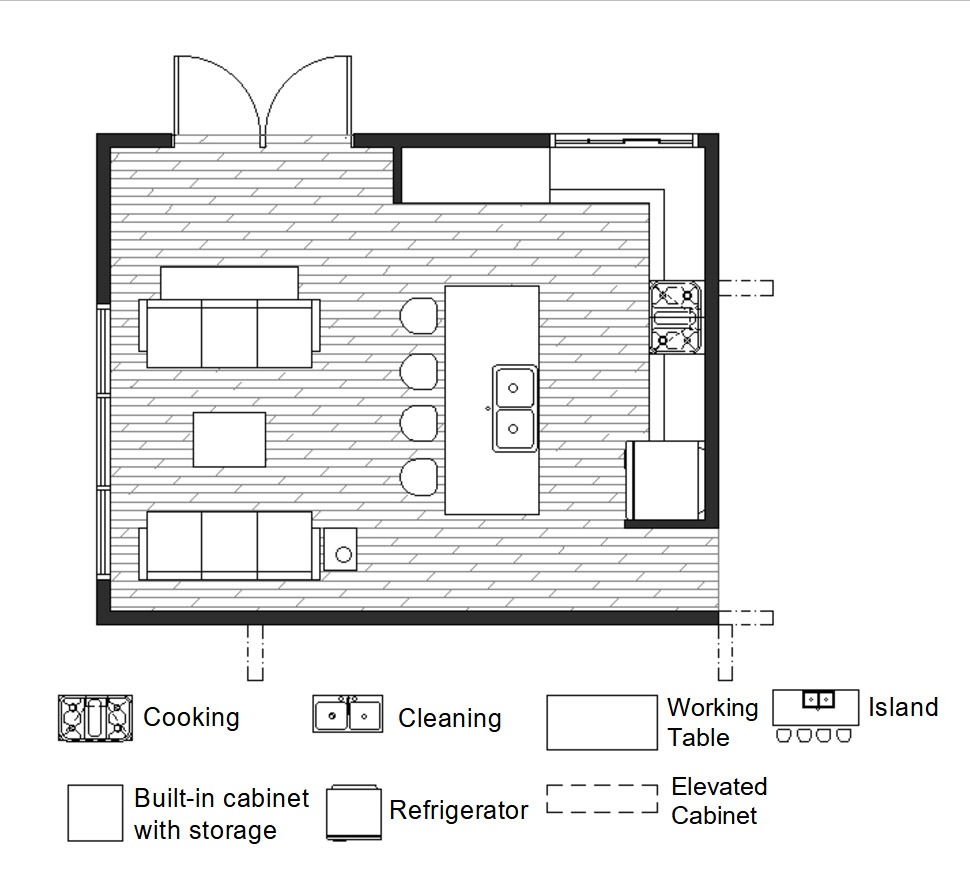 This design corresponds to an open-concept kitchen. In such a layout scheme, the kitchen is usually accessed from an adjoining hall or room. It consists of two areas, namely, the L-shaped kitchen and a living room. The spaces are integrated with a kitchen island — acting as a dining area.
Kitchen design dimensions: 21.29 feet x 16.57 feet.
Minimum work zones: 1.97 feet to 2.95 feet apart.
Minimum Circulation: 3.94 feet.
Care should be taken that the main zones and appliances comply with the kitchen triangle and do not exceed a distance of 8.86 feet between them.
Architect's tip: The sink should be located on the island. You could give a height difference between the dining area and the kitchen. The kitchen island should be around 3.60 ft x 8.17 ft, with a capacity for eight dining chairs.
Make sure to add good lighting and adequate windows. Double French doors leading to an open patio space will be an excellent idea for such a floor plan.
Last thoughts
The L-shaped kitchen design creates a classic cooking corner. This kind of layout makes the most of a medium-size or even a small cooking area. Most importantly, it allows a cook to work quickly and efficiently due to a natural, ergonomically efficient kitchen work triangle.
As you can see, this design provides a lot of design flexibility. This is the reason cooks from across the globe love this basic layout. To put it simply, such a kitchen reduces the walking time between kitchen stations. And, when you're putting together a delicious meal, you surely don't want to be doing a lot of running around. Right?
Read more: One wall kitchen layout: Great tips from an expert architect
An Expert Architect's Tips and Ideas for an L Shaped Kitchen
was last modified:
October 20th, 2022
by
Recommended