What if we told you that you can put your lawn mower under lock and key forever? Quite a relieving thought, right? Yes, artificial turf, which comprises polyethylene plastic grass and a crumb rubber infill base, is currently becoming a popular choice among homeowners. However, every synthetic option comes with its own advantages and disadvantages. Therefore, in order to help you make an informed choice, we have compiled this detailed guide about artificial turf grass pros and cons. Read on!
The Pros
Saves on maintenance costs
Of course, the first time costs of buying and installing artificial grass is quite high when compared to that of real grass seeds or sod. But since you don't have to mow, water, refill or repair a synthetic lawn, it saves you a huge percentage in terms of long-term maintenance costs. Moreover, you don't even need to spend on pesticides and insecticides. Hence, this makes for a good investment option.
Ensures increased durability
In order to maintain a forever green, natural grass lawn, you need to follow strict care and upkeep schedules. Some of the reasons for real grass getting discolored, patchy, or damaged with time are poor soil conditions, pest infestations, uneven terrains, seasonal changes, and irregular shade. On the other hand, turf not only looks uncannily real and aesthetic, but it is also durable. Available in a myriad of variants such as bluegrass, bentgrass, pet grass, winter-rye, and fresh-cut, they lend a beautiful appeal to your yard or garden and can stay intact for 15-20 years.
Reduces environmental impact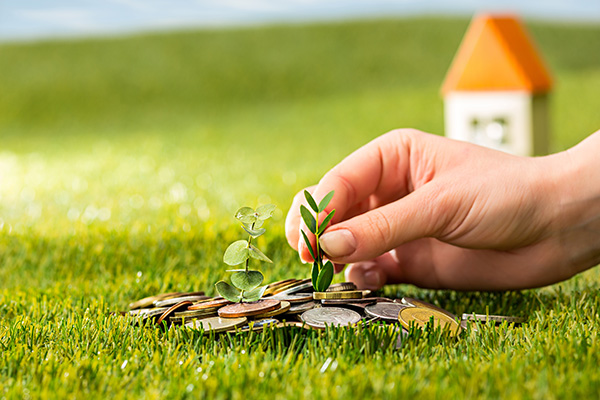 Did you know that an artificial lawn can save up to 55 gallons of water per square foot (annually)? Therefore, if you go for this alternative, you can save water, in fact, a huge percentage of it. Additionally, gas-powered lawnmowers increase environmental pollution — which is again a benefit when you use the synthetic eco-friendly variety. Since you don't require to apply fertilizers on artificial turf, this also contributes toward lessening the negative environmental impact.
Co-exists with your landscape
As we already mentioned, an artificial lawn does not cause any environmental damage. Hence, it co-exists perfectly with its neighboring natural plants and trees. It also does not cause any harm to humans and pets. Moreover, it looks exactly like real grass. At times, customization techniques can make it in a design that adapts to your landscape. Other technologies, such as UV stabilization, makes it immune to color changes or fading. It is also water permeable and soaks in water just like natural grass; the only exception being that you don't have to worry about sticky mud.
Turf Vs Grass: Choose The Best One For Your Lawn
The Cons
High initial cost
Turfgrass does ensure long-term savings with regards to maintenance costs. However, it does come with a high initial cost. Additional expenses include removing the current grass, preparing the ground, and installing an irrigation system for temperature control. The cost of artificial turf ranges from $5 to $20 per square foot.
Increased temperatures
Synthetic grass comes with high heat-absorbing properties. Hence, you cannot use artificial lawns for playing or lazing on, especially during the hotter summer months. Under direct sunlight, its temperature can range from 120 to 165 degrees. However, you can combat this defect by shading the area adequately. Moreover, manufacturers are now coming up with newer variants that are infused with cooling technology.
Health hazards
Recycled tire rubber, which forms a part of synthetic turf, has been reported to contain carcinogens. However, this claim is not backed by any scientific research and is a subject of huge debate. Other elements like heavy metals may be potentially dangerous. Therefore, make sure that you contact a good manufacturer when you opt for turf technology.
Final take
The above list of turf grass pros and cons is not exactly a catalog of advantages and disadvantages. It is merely a round-up of its various trade-offs. Over the years, the technology for manufacturing turf has evolved and hence, you can conclude that artificial grass does seem to be a bit heavier on the pros side. However, it is highly recommended that you check out all the factors, before you take a final decision.
Artificial Turf Grass for Your Lawn: Pros and Cons
was last modified:
May 24th, 2022
by
Recommended