A complete guide on attic cleaning cost
Cleaning your attic is something that should be done regularly. A neglected attic can adversely affect the overall quality of your house – and everyone who lives in it. If you're looking to clean your attic and are wondering about the attic cleaning cost, this article will give you all the information you'll need.
Why is attic cleaning important?
Attic cleaning is important as the attic is just below the roof and is exposed to extreme weather conditions as well as drastic temperature changes. A filthy attic that's not appropriately sealed, insulated, and cleaned can over time lead to gradual home deterioration.
Moreover, a dirty attic can attract pests, cobwebs, dust, allergens, mold and mildew. It can produce a bad odor and spread diseases.
Also, it may end up increasing your utility bills. That's because it will lower the energy efficiency of your home – skyrocketing your heating and cooling bills.
If you live in an older home or haven't cleaned your attic in a while, remember that this kind of build-up will over time spread throughout your living space via the ventilation system. That's something that must be avoided at all costs.
A badly maintained attic (or a crawl space for that matter) will not just collect dust and rainwater but also cause cracks and gaps, mold growth, and wood damage in your house. What's more, it can trigger allergies that can be extremely harmful to your loved ones.
So, before that pesky rat or squirrel finds a perfect breeding ground in your attic, get it cleaned at the earliest. You can hire a professional attic cleaning service to successfully prevent all the above problems.
Another reason for cleaning the area could be to replace your existing insulation or remove damaged attic insulation installations. The insulation services will cost you depending on the type of insulation and the extent of the damage.
What is the average attic cleaning cost?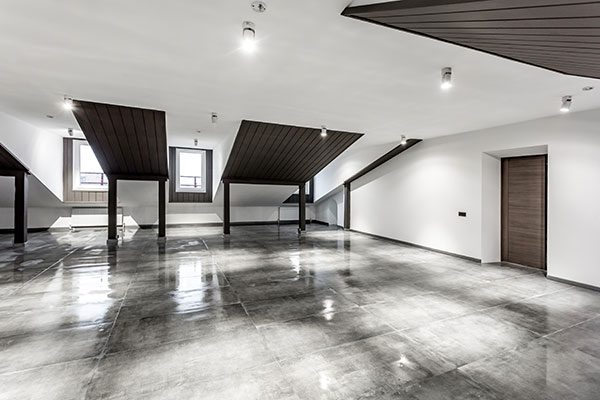 Before you hire a professional attic cleaning individual or company, you should have a fair idea of the attic cleaning costs. Cleaning an attic by a professional can cost you approximately $163, on average.
Generally, the prices can range from $150 to $200. This amount translates to about $1.50 per square foot. Additional attic services such as junk removal will increase the total cost of your attic cleaning by $170 to $375. Rodent removal will mean another $95 to $235. Furthermore, there's usually a flat rate of $200 for deodorizing and disinfecting the space.
Keep in mind that your attic cleaning project is worth the money as it eliminates a lot of problems and restores your attic to its clean and healthy version.
Attic cleaning steps
The first step is to remove any junk or debris by a certified junk removal specialist. Its average cost depends on the type of junk you have, its amount, and accessibility.
It's a good idea to hire a junk removal specialist before hiring a professional attic cleaner.
You'll also have to deal with a rodent infestation. It can cost you an additional $125 to $200 – depending on the severity of the infestation. A pro will locate such areas and seal or block all entry points for rodent proofing. If your local attic cleaning professional is unable to handle the problem, you'll have to call an exterminator.
How often should you clean your attic?
You should ideally clean your attic once every two years. The frequency can increase if you experience any of the following problems in your attic.
Dust and dirt
Mold and mildew
Rodent or pest infestation
Foul odor emanating from the attic
Without proper cleaning, these problems can escalate – increasing your energy bill and deteriorating your health.
How to save money on attic cleaning?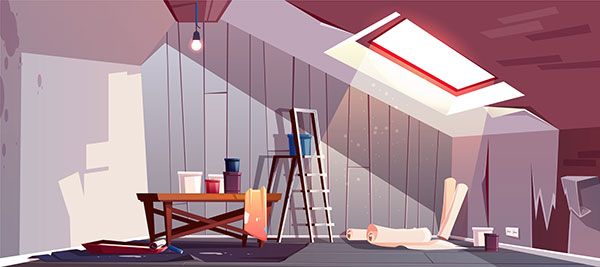 A professional attic cleaning can be an expensive affair. However, since it lowers your utility bills in the long run, saves your property from potential damage, and makes your life healthier, it's worth the expense.
You can always do your bit to save a little extra upfront. For instance, you can remove and dispose of the attic junk yourself before the pros arrive.
Having a yard sale will help you get rid of some of the stuff you don't need anymore – while helping you make some extra money.
Advantages of hiring a professional attic cleaner
A pro will inspect the attic, the extent of damage or infestation, provide you with a solution to make it sanitary and safe, and give you a quote. They have the know-how, specialized equipment, and experience to deal with dangerous contamination.
For example, rodent droppings and mold infestation can be extremely harmful. Attic cleaning professionals use proper safety equipment and biohazard suits to remove the bio-waste.
It's always a good idea to look for someone who has a good line-up of work, online reviews, and is licensed as well as insured. And, should be able to provide you with a warranty for the attic decontamination. 
Read more: How to avoid mold cross contamination
Last thoughts
The attic of your house may be a good storage solution for your home, but it's also a breeding ground for vermin, mold, and other nuisance. All these can make the area dangerous and unhealthy. Therefore, you need to remove the filth and clutter in your attic at the earliest. Regardless of the attic cleaning cost, it will be worth it in the long run.
A complete guide on attic cleaning cost
was last modified:
August 2nd, 2022
by
Recommended