Summers are a great time for kids to spend outdoors playing, learning new skills, and growing while having a load of fun. A lot of that fun can be had without having to go out, within the safe boundaries of your home. Here are some great backyard ideas for kids to help you to build your children a private wonderland. A lot of these ideas are DIY in nature and can be done without having to spend too much money.
1. Up the Wall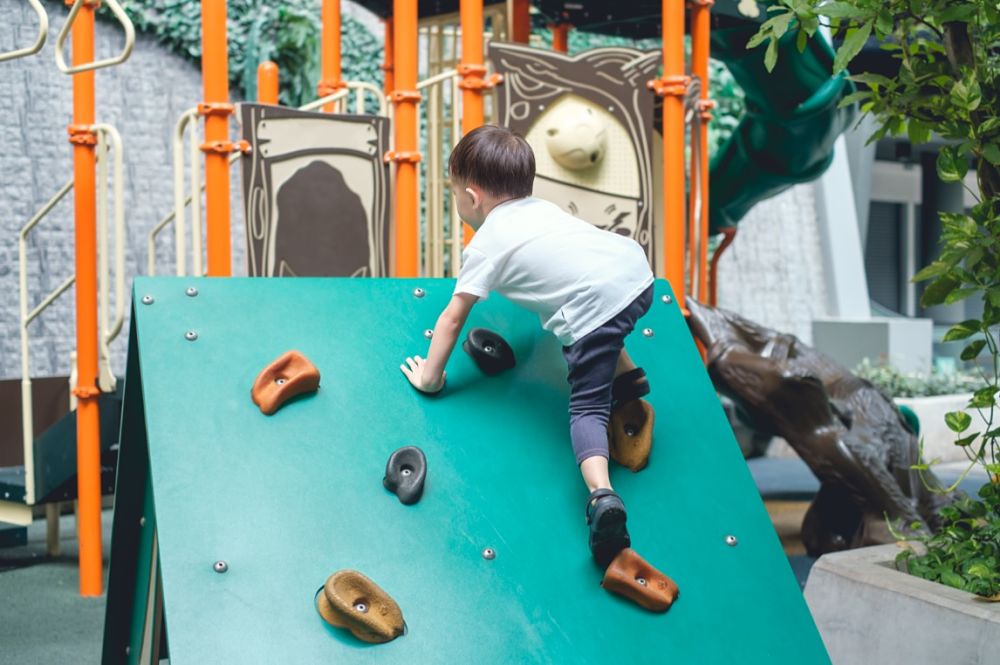 Have an empty wall in your backyard? Convert it into a climbing wall for your kids. Your kids will learn great hand-eye coordination while pushing themselves to climb the wall.
2. Outdoor Doodling
Another innovative use of an empty wall and an easy way to create an imaginative play space for kids is to create a chalkboard wall. Kids will love it, as it will give them the freedom to doodle and be creative whenever they want. Remember to paint your board using a flat exterior latex enamel instead of regular paint, so your chalkboard wall survives the elements.
3. Swinging Through the Summer
If you have large trees in your backyards, they make for great places to hang swing sets for your kids while retaining natural elements in their play area. You could choose the classic wood and rope swings, or go completely DIY and install tire swings. You could buy easily assemblable swings for your backyard even if you don't have trees. But remember that swings are easy to fall out of. We'd advise you to put some sand, rubber mats, pea gravel, rubber mulch, or wood chips under your child's swing to avoid injuries.
4. Teeter-Totters for the Little Tots
Amongst other classic essentials for outdoor play areas, seesaws or teeter-totters are must-haves. While they're a lot of fun, they help kids develop balance and coordination skills.
5. All in One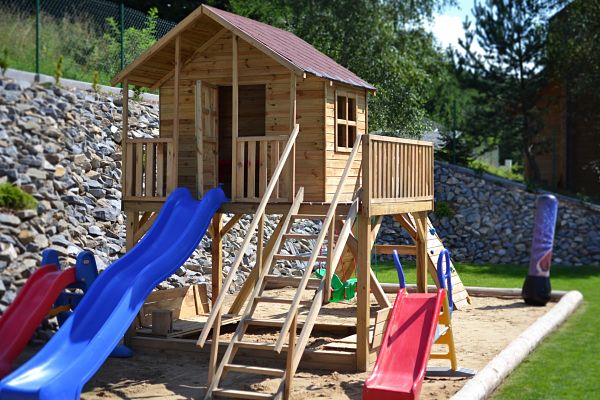 Don't have too much space? No problem. Invest in a playset. You get them in various designs and sizes. Playsets come with multiple attractions, such as slides, swings, climbing walls, rope ladders, picnic seating, and much more in a single unit that you can assemble by yourself.
6. Safety First
If you don't have a lawn in your backyard but have a paved surface, there are plenty of options for interlocking rubber tiles available in the market. These will allow you to create an injury-free, a safe play area where your kids can play anywhere, anytime. For the eco-conscious, you even have rubber tiles made out of used tires.
7. For the Little Acrobats
Kids love balance beams. Balance beams are not only fun, but they're also great for helping children develop gross motor skills and balance.
8. Some Sun and Sand
Sandboxes have been one of the favorite play areas of kids for generations. But how do you add a twist to it? Bring the beach home to your kids. Make them a sandbox with a small inflatable pool attached to it. Your kids will love it so much, they'll fight you to come back in! Remember to install a temporary roof, though. You don't want the hours of fun to lead to sunburn.
9. Backyard Water Features
Engage your kids in making creative DIY backyard water features. Create a water wall by attaching a bunch of bottles of containers and bottles to your wall. Ask your kids to get creative and make a circuit for the water to flow.
Another easy project is to ask your children to make a DIY sprinkler. Give them a large plastic bottle that you've poked holes into using a drill or a nail. Get them to secure one end of a garden hose to it using tape. Attach the other end to a faucet, turn it on, and you have a sprinkler!
A slightly more expensive water feature that will be a great addition to your kids' outdoor play area is a splash pad. While they do come in knocked down kits, we'd suggest you get a professional to help you set it up. The water used by splash pads is mostly recycled by the pads, and they come with chlorine and UV light sanitizers to kill bacteria.
Check these Small Backyard Pool Ideas to Beat the Heat!
10. Off the Ground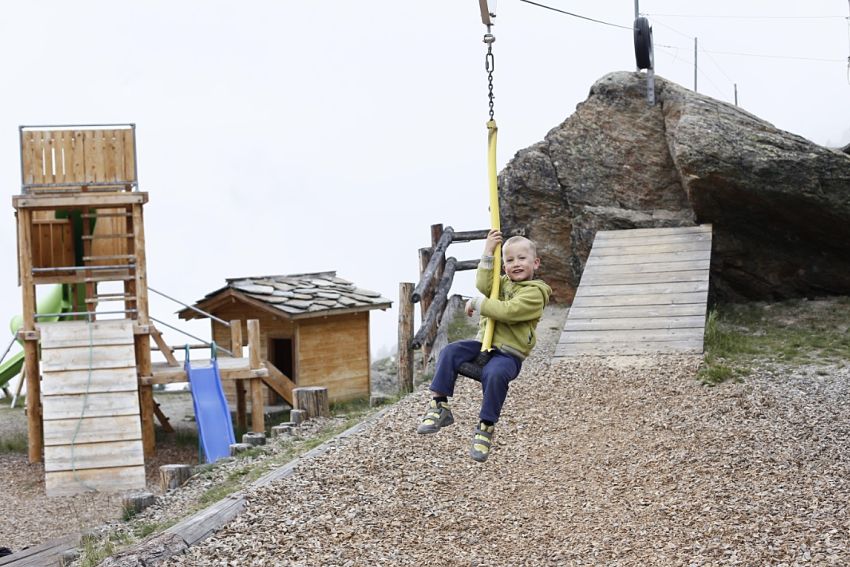 If you have a large enough outdoor space, you could take it up a notch, quite literally. DIY backyard zipline kits are the new rage, and they come in multiple sizes and designs. Just so you know, they make adult size zip line kits as well. Talk about out of the box play equipment.
Take a look at these Backyard Additions Perfect for the Entire Family
11. Bouncing Fun
Trampolines area surefire way to bring bouncing fun to your backyard play area. Choose a trampoline with a heavy-duty kid-friendly safety mesh around, so younger kids don't injure themselves while bouncing around.
12. Backyard Sports Club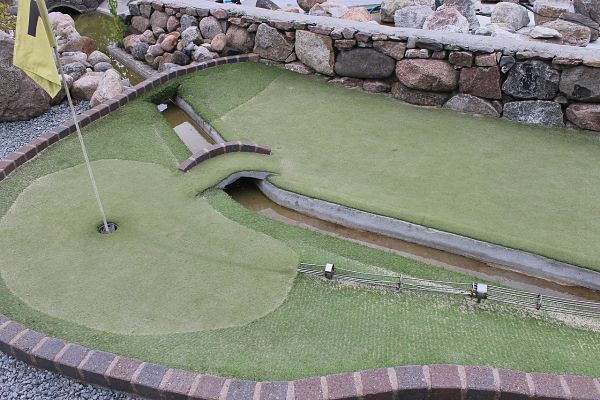 Encourage your kids to engage in more physical activities by adding a basketball hoop to your backyard, or even a miniature golf course that can involve the entire family.
Read more: Sport court cost
13. Stoke That Skater
If you have space and can afford it, convert a part of your backyard into a skater's dream come true by installing your own ramp. You can choose from above ground and subterranean ramps, depending on how much of your backyard landscaping you want to preserve.
14. Treehouse Magic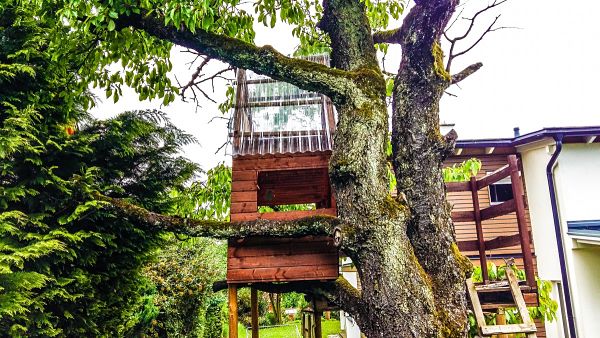 We've saved the best for last. That ultimate DIY project for your kids that's sure to bring the widest smile on their faces and give them memories they'll cherish for a lifetime. A treehouse! Away from the main house, a structure off the ground perched on a tree that kids can call their own is every child's dream. Treehouse designs can vary from a simple platform with a tarp for the roof to larger, more intricate designs with fancy lighting and actual furniture. Rope or wooden ladders add to the attraction and are a great way to exercise while giving children access to the treehouse.
Further tips on how to create a backyard playground in your house
Keep the Fun Outdoors
A lot of children nowadays seem to be drawn to video games, smartphones, and other technology-driven attractions as compared to playing outdoors. But it's outdoors that children learn how to use their imagination, control their limbs and develop physical, mental, and emotional strength. So much so that Albert Einstein once said, "Play is the highest form of research." We hope these 14 ideas help you build a children-friendly backyard that will encourage your kids to spend more time outdoors than indoors this summer.
Read more: How to Have a Child-Friendly Lawn
Fun Backyard Play Area Ideas For Kids
was last modified:
October 14th, 2022
by
Recommended