Looking for great backyard patio designs? We will help you. Whether you're creating a new patio or renovating an old one, we have 13 practical and charming patio design ideas to inspire you.
If you are an outdoorsy person who loves to spend considerable time out in the sun, it's only natural that you would want to get the best of backyard patio ideas for your outdoor space.
You can sit outside and enjoy cooking and eating meals with family and friends out in the fresh air. And, if you can add al fresco dining, entertainment units, and open-air lounge areas — it will be a dream.
When designing a patio, try to first chalk out a map about the permanent fixtures such as shrubs and trees. Wok around them as you cannot change them. Rather than seeing them as roadblocks to your backyard patio designs and ideas, it's best if you use them as inspiration in shaping your outdoor patio.
1. Add some warmth with an outdoor fireplace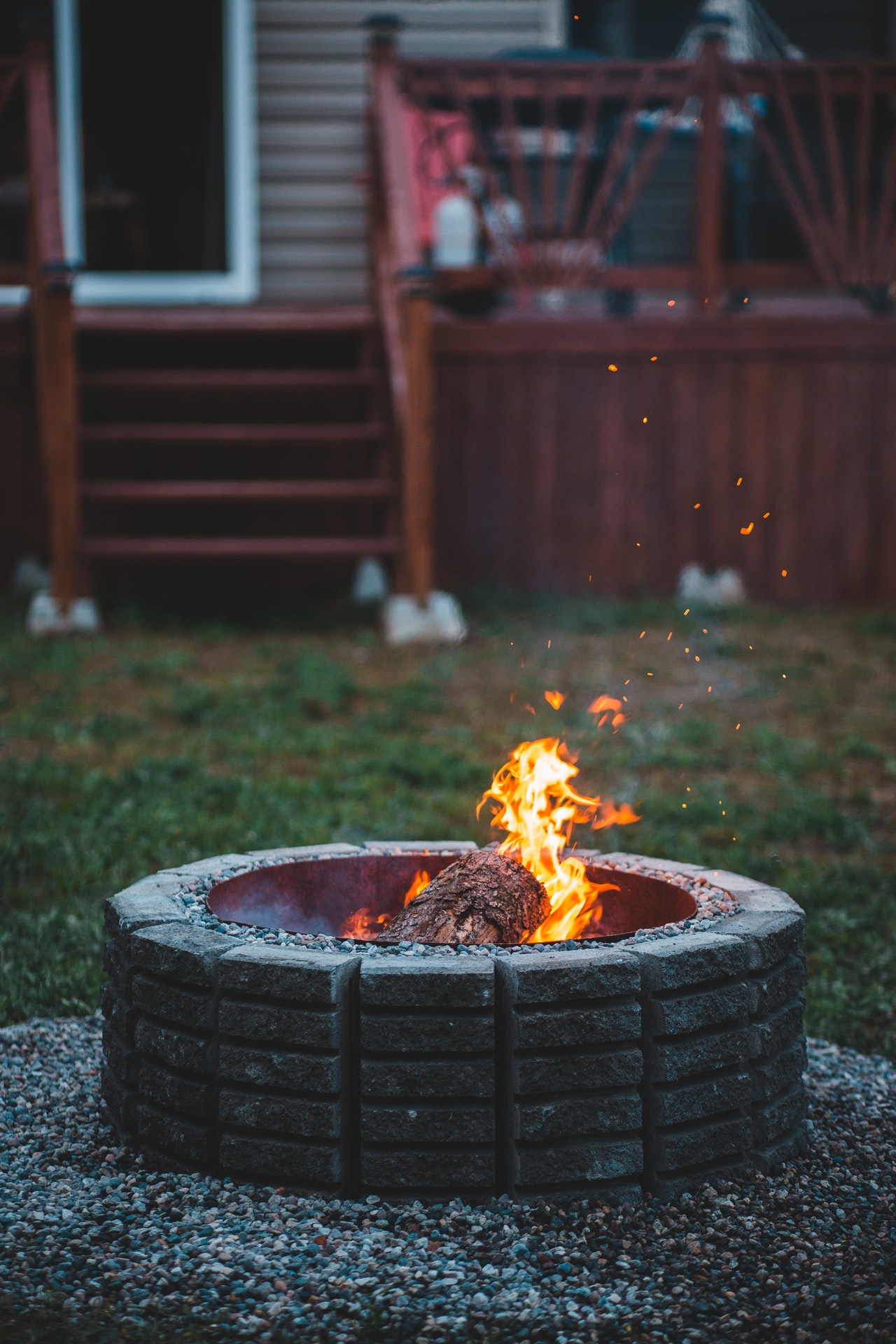 Chilly winter nights call for a session in front of a fire. If you want to sit outside for long or entertain way into the wee hours of the night — it's a good idea to include a roaring outdoor fireplace into your backyard patio design. And, we don't mean a fire pit. Think a modern fireplace instead with a door, logs, and the works. Place a comfortable, vibrant couch in front of it and your party is good to start.
2. Get built-in seating for an informal get-together
You can construct built-in seating in stone or solid concrete and dress it with cushions. There is minimal maintenance required as you can stow the cushions away in the rainy season or when not in use. We love how this outdoor fire pit with wall veneer and recycled glass accents lies in the center of these permanent stone seats. This idea is great for a small patio as well as a big one.
Take a look at these 8 Beautiful Patio Stone Ideas for the Perfect Outdoor Living
3. Bring the living room outdoors
Now, here's another one of our backyard patio designs that we love. Everything you ever want in an outdoor space is here. From a seating area around a fire pit to a sofa in front of a wall-mounted television — this patio is quite dreamy. Wait! Did we forget to mention that there's an outdoor kitchen too? Well, there is. You can brush up your cooking skills while watching the TV. Basically, this is an outdoor living room that is great for entertainment and relaxation.
4. Construct a multi-level patio with water feature
A backyard water feature is bound to add beauty and peaceful sounds to your patio. This multi-level stone patio design has a rustic vibe that is soothing as well as stunning. Stone steps lead to the upper seating area while the lower one leads to a flagstone platform where the stream of the waterfall ends. A scenic landscape indeed.
Read more: Tips on Creating a Backyard Sport Court
5. Let your outdoor swimming pool make a statement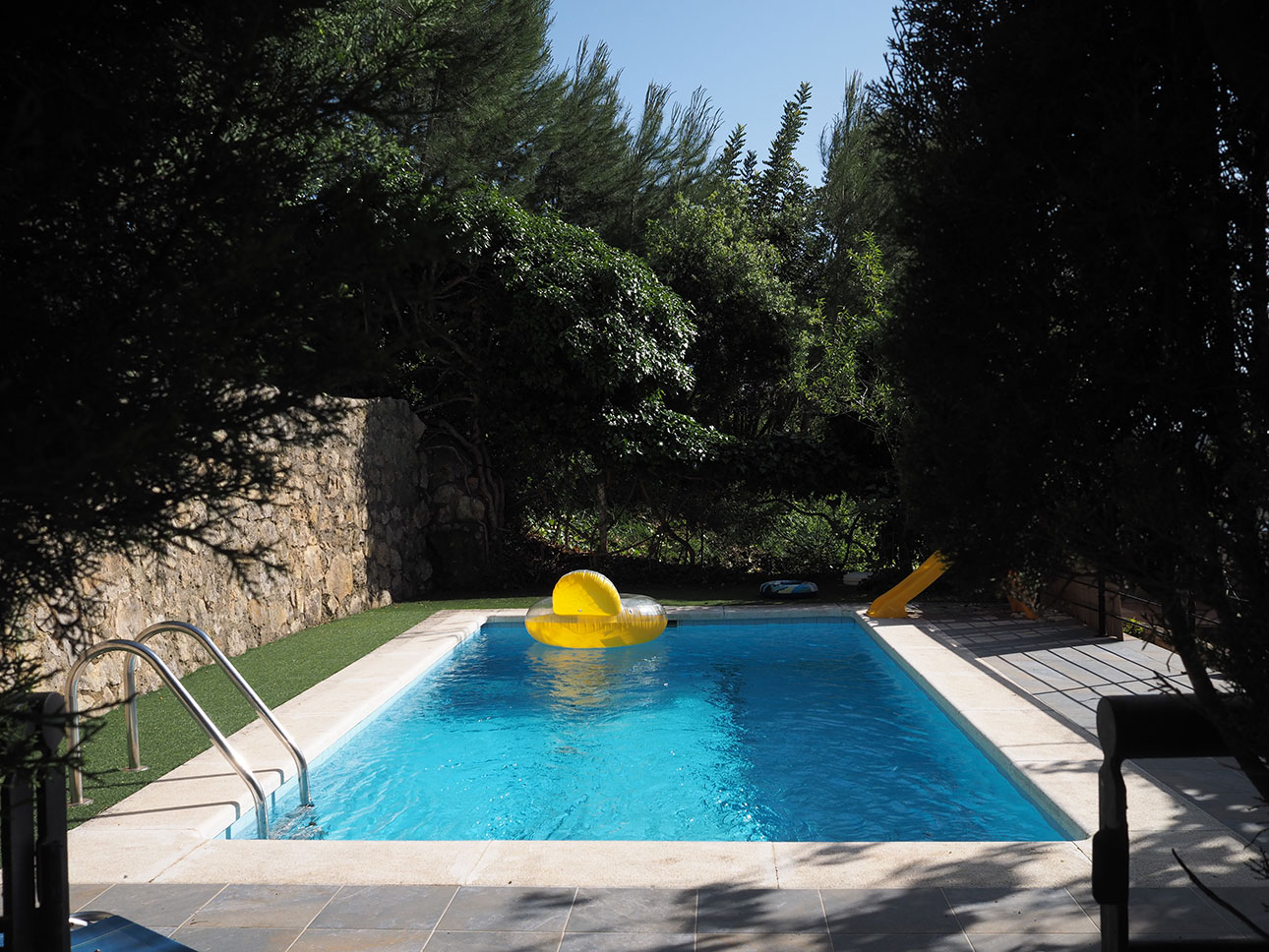 Not much is required in terms of designing if you're lucky to have a backyard swimming pool. Place a few loungers around it and your patio will look straight out of a magazine cover. Just make sure that the patio flooring you choose is sturdy and anti-slip. Plant a lot of shrubs and trees around the periphery of your pool to give it a tropical vibe.
6. Make your fire pit a focal point
If you're going for a fire pit, make sure the rest of the patio is designed in such a way that the pit becomes the focal point. Place a couple of comfortable chairs (take the comfort level a notch higher with rocking chairs) around it. You can install a garden umbrella for days while the blazing fire will keep you warm during the nights.
What about patio doors? Take a look at this guide on How To Choose The Right Patio Door For Your Home
7. Create your own stone park
This backyard patio design is for those who are blessed with a lot of outdoor space. They can create their very own park with a lot of greenery, stone pavers, a fire pit, a log house, and a swimming pool.
Read more: Different Types Of Paving Materials
8. Get some shade with a pergola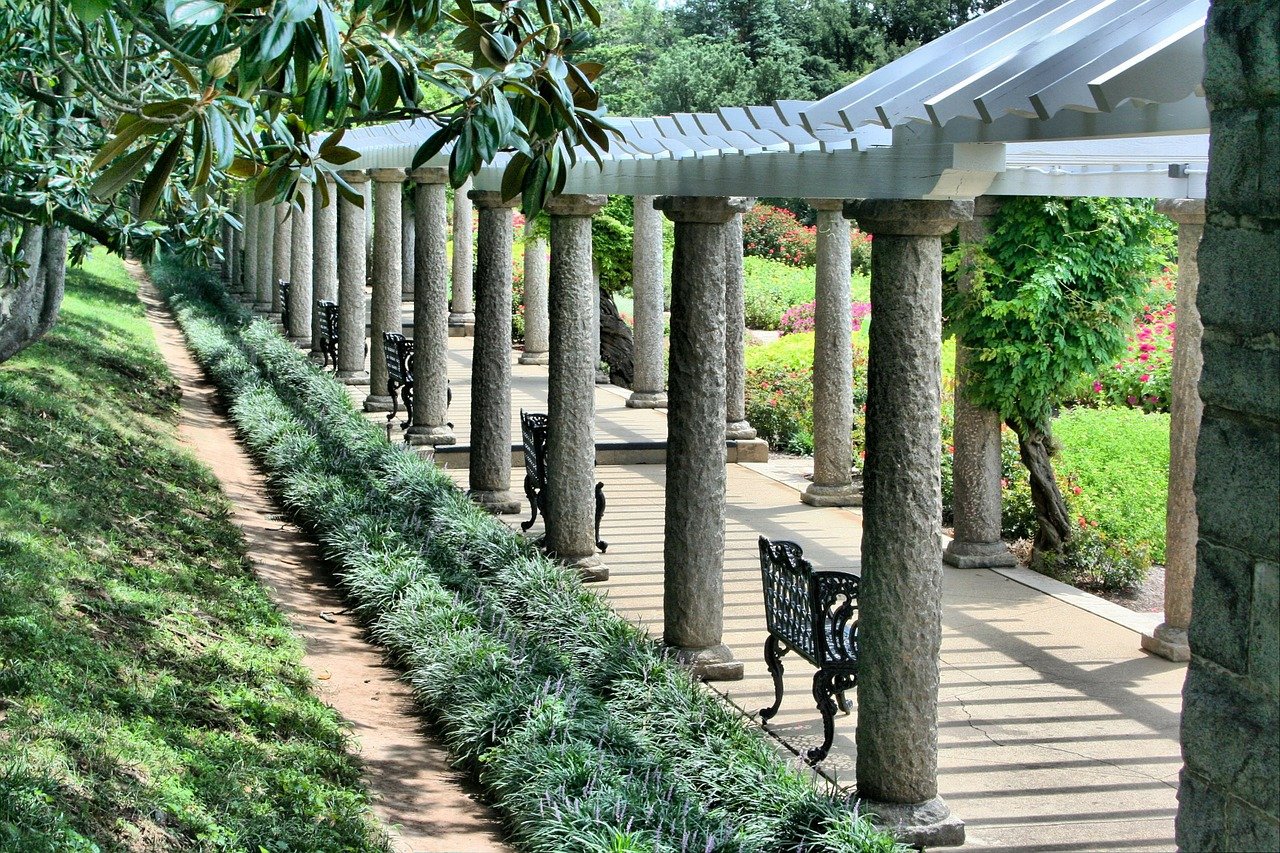 Backyard patio designs are incomplete without a pergola or an arbor. You can either choose to keep it basic in wood or opt for a metallic arbor that has colorful vines going up around it. This kind of pergola apart from making the patio stand out also gives shade to those sitting under it. And, you can use the pergola to hang lovely pendant lights for your get-togethers.
Read more: Maximalist Design Ideas For Over The Top Exteriors
9. Demarcate the area by lowering its level
Want to make your patio distinct and interesting? Lower the seating area a little more than the rest of it and beautify the circular area with wicker chairs and ottoman. Center them around a stone fireplace for a beautiful setting. Also, placing your sitting area in a lower section can protect it from chilly breezes.
10. Get the al fresco dining experience with an outdoor kitchen
Create your very own patio dining area by constructing an outdoor kitchen and placing a wicker dining table and chairs. Make the kitchen ultra smart with a grill, oven, and a cooking stove.
11. Color up your area with vibrant patio furniture

Once you have selected your patio garden design, you can have fun choosing outdoor furniture to complement it. Colorful patio furniture can effortlessly perk up your outdoors. Think vibrant wooden or rattan chairs on a beautiful flooring. By bringing in a lot of color to your patio design, you can achieve a lot in less.
How To Clean Outdoor Patio Cushions? Let's review the basics!
12. Think different with a covered patio
A covered patio gives you a lot of spatial freedom to incorporate features. You can include a fireplace, a seating area with wooden furniture, and even a mini bar. Enjoy a rainy day while sitting here with a cuppa or your favorite cocktail.
Read more: Backyard Additions Perfect For The Entire Family
13. Keep your patio open and simple
Sometimes, the simplest of ideas are the most impressive. This brick patio is beautiful due to the sheer fact that it's open and large. We love the black lamp post over a movable bench with an attached table. Simple yet utilitarian. You can always add more patio furniture if you decide to host your friends and family.
Further info? Check Out These Perfect Patio Design Ideas
Conclusion
Patios give your outdoor space a new and beautiful look. A well-designed patio integrates your home seamlessly into the garden area, creating a lovely area that can serve multiple functions.
From adding a seating area with lounge chairs and sofa to an outdoor kitchen and a dining table to your patio design — this space can be used to help you relax, entertain, cook, and dine in style.
Planning your patio design before your remodeling is important. We hope our 13 backyard patio design ideas will help you utilize your existing outdoor space in the best possible way. Happy renovating!
Read more: Design A Backyard Perfect For Your Climate
13 Backyard Patio Designs and Ideas That Will Charm You
was last modified:
September 28th, 2022
by
Recommended