A Guide to Easy and Cozy Balcony Decoration Ideas
Summer is well and truly amongst us. The birds are singing and the bees are buzzing amongst the flowers. It's now more than ever that balconies become nooks of internal bliss where we can sit and enjoy shooting the breeze on balmy evenings. Here are some easy balcony decoration ideas to help you convert your balconies into your personal zen spaces.
Choose the right color
You may not have a choice about the color scheme on your balcony if you're living in a rented space. However, if your landlord gives you free rein, or if you're setting up your own apartment, choose a color based on the theme you want your outdoor space to represent.
For example, shades of brown go well with wooden decks and a generally earthy or green theme.
Yellow and its shades are great for vibrant and sunny balconies.
If your balcony is going to be adorned by creepers, a mix of green and brown would work wonders.
If your balcony boasts of intricate architecture, bright colors work well to highlight the designs.
Read more: Landlord friendly decorating ideas
Seating options
You can choose the kind of seating you want in your balcony based on the amount of space you have and the purpose you want your seating to serve.
A simple wooden table with a couple of plain wooden chairs with fabric cushions thrown on them are perfect to sit in your balcony and sip on your coffee while the sun rises.
Wrought iron furniture has always been a popular choice for the outdoors, and balconies are no exceptions. Wrought iron tables with glass tops and chairs will give your balcony that timeless touch.
You could choose to build storage benches and tables off of your balcony walls to maximize the utilization of space. This makes for easy maintenance, can store your cushions when you're not using them, and is a great way to ensure the elements don't misplace your furniture.
If you have a decently large balcony with an overhang, install a large wooden swing for you to sit on with your partner and watch the sun go down from your vantage point. Throw pillows on a shady corner and you have the perfect siesta spot.
Add a hammock to your balcony, and you have yet another laid back nook for afternoon naps.
If your balcony is big enough, you could put a small dining table and a few chairs in a corner, so your family and you could enjoy some private alfresco dining.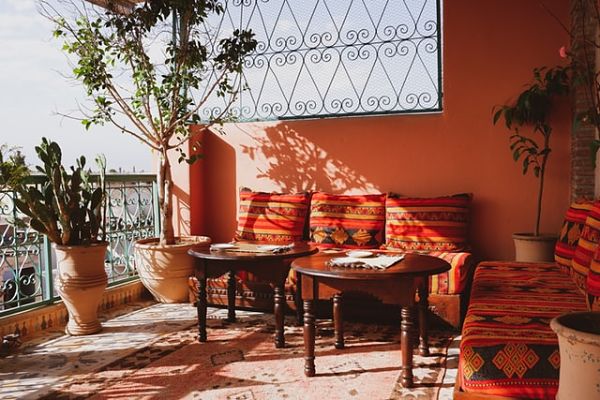 If you have a small balcony, just chuck some floor pillows or beanbags and a low coffee table on a colorful rug on your balcony floor and you have the perfect bohemian vibe.
Foldable lounge chairs are a great idea for balconies that are short on space, or even otherwise as a solution for extra seating when you're entertaining guests. Poufs are another must-have for extra seating.
Merge into the outdoors
A great way to infuse color and life into outdoor spaces like balconies is to add plants to them.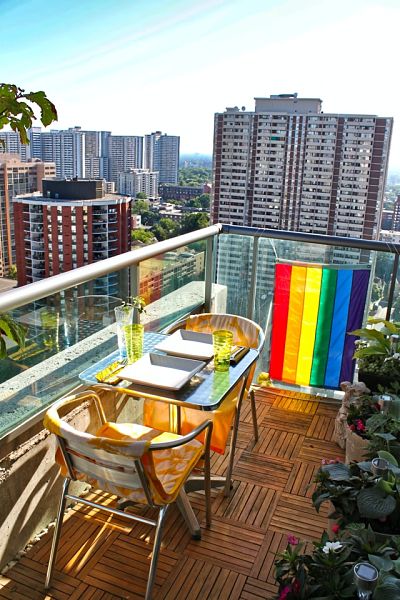 Let's begin from the ground up. You could use a turf carpet to mimic a lawn instead of leaving your floor bare. Tiles with wooden finishes are also favorites with those that want an earthy, natural-looking balcony floor.
Flowering plants both on your balcony floor and from the roof in hanging pots are sure to add zest to your surroundings. You could even start a small kitchen garden with herbs and tomatoes from your hanging pots. Flowering pots can be hung outwards from railings as well, to create more space as well as beautify the exterior of your home.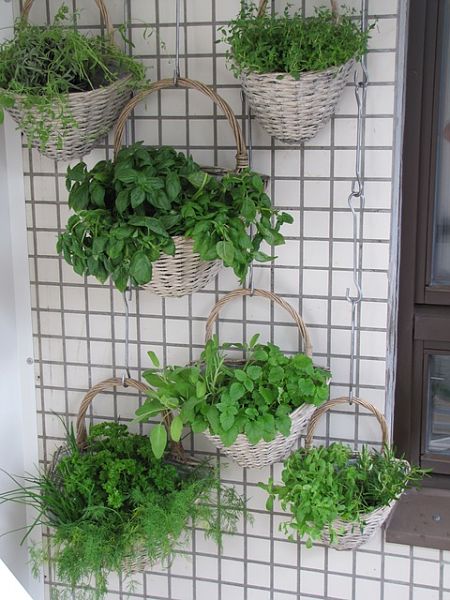 Another great idea for your balcony herb garden is to have wooden shelves suspended from your walls to house pots in.
Adding a trellis to your balcony can serve multiple purposes. It provides a structure for ornate climbers and creepers to grow on. It also provides shade from the sun and gives you much-needed privacy on your balcony.
Adding a retractable awning on your balcony roof will give you shade on sunny afternoons while also allowing you to enjoy the outdoors even when it rains.
Don't forget to accessorize your balcony garden with stone and/or clay statues, incense holders, and wall hangings.
Lighten up the mood
Choosing the right kind of lighting is one of the most important aspects of home decor. Why should decorating ideas for your balcony be any different?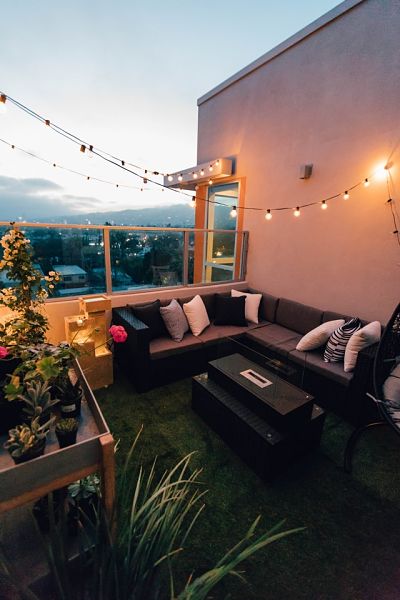 Hanging lanterns from your ceiling is a great way to give your balcony a cozy, rustic, old-school feel after the sun goes down.
String lights can be wrapped around everything from your balcony railings to the trellis to rafters on your roof, instantly beautifying your balcony.
Pendant lights are another popular choice for balcony lighting.
Of course, there's nothing like old fashioned candles and lamps to set the mood for a romantic evening outdoors with a loved one.
Enjoy your summers outdoors
We hope we've given you enough balcony ideas to change the way you look at that humble outdoor space. Convert it into a garden, a kitchen supply, a place to entertain your friends or just a place for you to fall asleep in while reading a book on a lazy Sunday afternoon. The choice is all yours to make.
Read more: How To Make The Most Of Your Apartment's Outdoor Balcony
A Guide to Easy and Cozy Balcony Decoration Ideas
was last modified:
November 11th, 2022
by
Recommended