If you like all things natural in your home, bamboo flooring is perfect for you. It's the most eco-friendly way of updating your house. What's more, such a flooring brings a unique and inviting look to your living space without being expensive. For all those wondering if bamboo is indeed a viable option, know that it's an affordable alternative to traditional hardwood flooring. So, how much does bamboo flooring cost?
To answer the question, bamboo flooring costs about $1,250 for a 250 square foot room, on average. In other words, it's about $3.80 per square foot. This amount does not include preparation work (removing an existing floor or reinstalling baseboards).
The cost to install bamboo flooring depends on a number of factors. These may include the size, thickness, and quality of the material, its manufacturing history, and any treatments used for its development.
You also have to factor in installation costs, the price of materials, adhesives, or underlayment layers.
Also, there are various kinds of bamboo — each with their installation techniques. The total bamboo flooring cost depends on the material you've chosen for your home. A qualified flooring contractor will be able to assess your requirements.
Let's explore the most popular types of bamboo flooring and their approximate cost per square foot.
Types of bamboo flooring
Solid bamboo flooring comprises stalks of bamboo grass. These are sliced or shredded and then bonded together with chemicals, heat, and pressure — creating planks that are similar to hardwood ones.
Approximate material cost: $1.50 to $5.00 per square foot
Here, stalks of bamboo are sliced into thin slats and then pressed together, flat, laying one on top of another. As a result, the material has fewer joint lines, but more natural bamboo characteristics.
Approximate material cost: $1.80 to $3.30 per square foot
These are similar to horizontal planks with the only difference being that the thin ends of these tiny slats are pressed together from either side — forming a firm plank. Such a floor has joint lines that give it a beautiful textured appearance.
Approximate material cost: $1.90 to $3.50 per square foot
This flooring is made in a very interesting way. The natural bamboo grass stalks are shredded into a pulp which is pressed into a mold along with adhesive chemicals — forming solid blocks. Then, these blocks are sliced into durable planks. These are moisture-resistant and one of the hardest flooring options available. Needless to say, they are also the most expensive.
Approximate material cost: $3.00 to $5.00 per square foot
This is a traditional bamboo flooring whereby craftsmen even out the imperfections in the hard plank floors with a variety of hand tools. The one-of-a-kind results are a great mix of natural beauty and skilled craftsmanship.
Approximate material cost: $2.00 to $5.29 per square foot
Since bamboo has a composite nature, it's difficult to stain it. But for homeowners who prefer a floor with a dark look, carbonized bamboo is the answer. In this process, heat is applied to natural bamboo until it achieves a rich, dark, smoky color. The only downside is that this process weakens the bamboo slightly.
Approximate material cost: $1.80 to $3.90 per square foot
This engineered bamboo is actually made by using a filler material. The surface is then coated with a thin sliver of real bamboo. It is then covered with an invisible wear layer that protects the material from stains and water damage. The thickness and quality of the wear layer you choose can determine the total cost of this flooring.
Needless to say, a laminated bamboo floor is more affordable than other types of bamboo since it only uses a thin layer of natural bamboo veneer on its surface.
Approximate material cost: $1.30 to $4.00 per square foot
Read more: Bamboo Vs. Laminate Flooring. Which Is Best?
These specially manufactured planks just click together with tongue-and-groove edges. They stick to one another instead of adhering to the subfloor. Interestingly, the weight of the entire surface holds the material down in place.
This flooring option is great for a DIYer as its installation is fairly simple — saving you the cost of hiring a contractor. And, there's no requirement for adhesives, nails, or specialized tools.
However, this kind of engineered flooring may not contribute to your real estate value.
Read more: Eco friendly building materials
Approximate material cost: $1.79 to $3.29
Now that we have looked at the various bamboo flooring options and their material cost, it's time to factor in the installation cost too.
Installation costs
You can make bamboo flooring a DIY project but if you are unsure of the process, then it's best to hire an experienced professional for the work. Flooring is a big step toward home improvement. Therefore, there's no point making a mistake and causing damage or wastage.
A professional installation (excluding flooring materials) will cost you between $20 to $40 per hour.
If you include material as well as labor charge, the national average cost for installation of bamboo flooring comes out to be approximately $740.
Materials plus labor costs range from $8 to $12 per square foot.
The material cost, as well as installation cost, depends on quality, your zip code, the complexity of work involved, and the availability of materials in your location.
Other bamboo flooring cost factors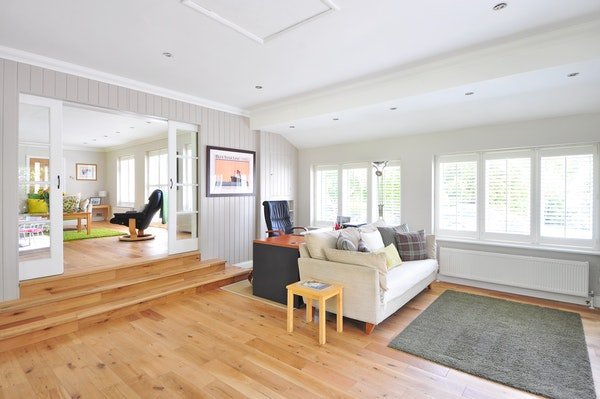 Preparing the existing floor for the new installation. This includes repairing any joists or replacing damaged plywood. The costs would be $22 for a 4'x8′ sheet of plywood. If you have a 16'x16′ living room, for example, you will require at least eight sheets. This amounts to approximately $176

.

Hiring a carpenter

for the removal of the old flooring.

Any furniture removal or replacement.

The removal and reinstallation of moldings and baseboards.
Conclusion
If you are looking for a durable, affordable, and eco-friendly flooring material — bamboo is the ultimate solution. This plank-style hard flooring is easy to install and is great for high traffic areas with higher moisture content. And, it's much cheaper than wood flooring.
We hope our cost guide inspires you to opt for bamboo flooring. The best part about bamboo is that it produces no chemical emissions during its manufacturing process, and bamboo trees are renewable. Also, with a variety of styles and finishes to select from, you will never run out of bamboo flooring ideas.
Read more: How Much Does It Cost to Install Laminate Flooring?
How Much Does Bamboo Flooring Cost?
was last modified:
May 26th, 2022
by
Recommended