Planning to add a bathroom to your finished basement? Great idea! You won't ever regret having a bathroom in your basement. Although this home improvement project requires effort and money, with the right basement bathroom ideas, you can create a beautiful and functional living space in your house.
Adding a bathroom to your basement will definitely make your life easier, especially if you're planning to turn your basement into a guest room, an additional living room, a gaming room, a home gym, a media room, a wet bar, or a home office.
If you're an enthusiastic DIYer, you can tackle the job yourself, or can always hire the right contractor to help you.
Whichever is the case, you need to think over your bathroom layout carefully. Plan where you want to place the bathtub, where you'll have the shower area and the toilet. Once the plumbing fixtures are installed, you won't be able to change a lot after.
A basement bathroom will give you the convenience of using a washroom — without having to climb up and down the stairs every time nature calls.
A basement bathroom also boosts your property value in the process. Any extra living space — allowing for various purposes and activities — adds value to your home and is good from a resale point of view. Since you already have the available space, turning it into a full basement bathroom or a half bathroom (powder room) is not a very expensive affair.
A bathroom installation in your basement will cost you $10,000 to $15,500 on average. This amount includes material costs as well as labor costs. If you're adding a bathroom under an existing one, you can simply pull down the existing plumbing for the new construction. This will save you considerable time and expense.
Instantly estimate the cost of your remodel...
...or take your time to personalize dozens of choices to transform your house into your dream home.
You must make sure that the plumbing and drainage work is done correctly to support a sink, toilet, bathtub, or a walk-in shower. If your sewer line is deep enough for your basement plumbing, adding a new bathroom is simple enough.
Keep in mind that most electrical or plumbing renovations need a permit. However, if you plan to just change the visual elements of your bathroom, a permit is not required. Otherwise, a bathroom remodel would require compliance with structural guidelines laid down by the building regulatory body of your area.
Whether you're adding a new basement bathroom or remodeling an existing space to make it look and feel better, we have some great basement bathroom ideas and tips for you. Create a room where you'd want to spend time in, an area that is as functional as it is beautiful.
Read more: Considerations and cost of adding a half bathroom
1. Floating vanity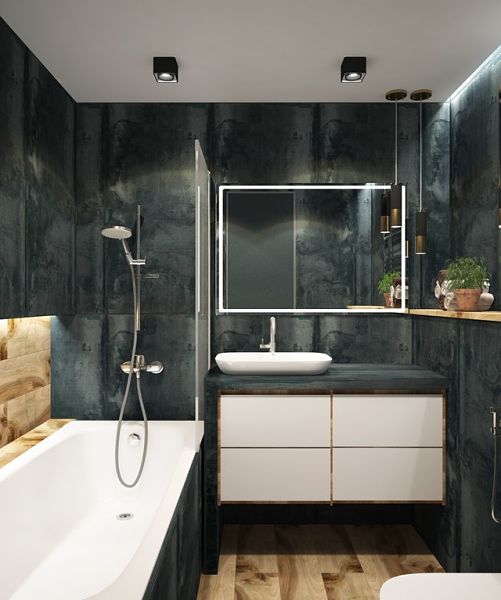 Since most basement bathrooms are smaller than your other bathrooms, you need to install suitable bathroom fittings. Think floating vanities or pedestal sinks. Both have smaller footprints than traditional ones and take up minimum floor space.
Read more: How to spruce up a bathroom with no windows
2. Right kind of lighting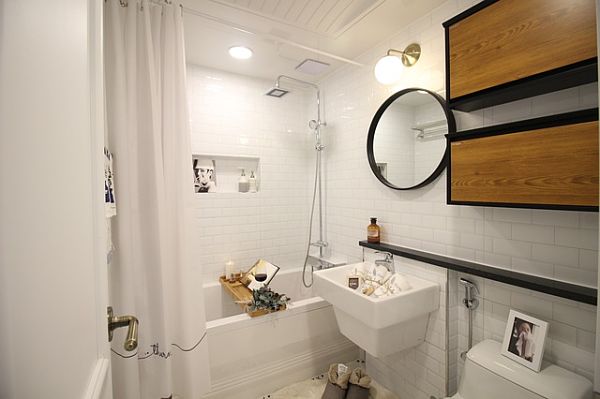 Lighting is absolutely essential in any bathroom, especially one that's in the basement of your house. Since it's less likely for this area to have natural light, the right bathroom lighting can turn a dark, cave-like room into a cheerful washroom. It's a good idea to install a pair of wall-mounted sconces at eye level on either side of the mirror or indirect lighting to make your space feel warmer and inviting.
Pay special care to wattage. The ideal illumination would be between 75 and 100 watts. You can choose compact fluorescent, LED fixtures, or a dimmer (for a spa-like bath experience!).
3. Light wall colors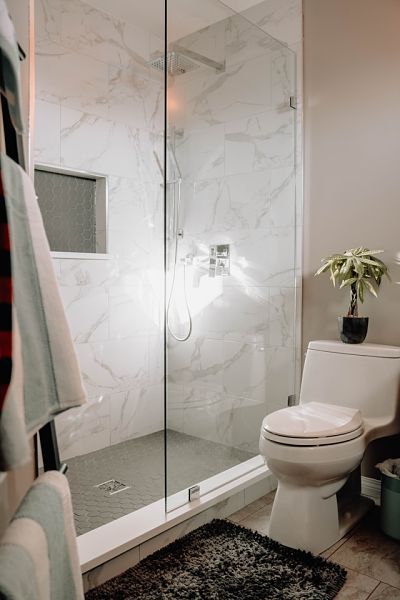 Since basement bathrooms notoriously lack natural light, it's a good idea to brighten up the space with a light or neutral coat of paint. Such light hues help to make even the smallest of basement bathrooms appear larger and more open. Not to forget, they perfectly hide any imperfections and reflect light.
4. Bathroom window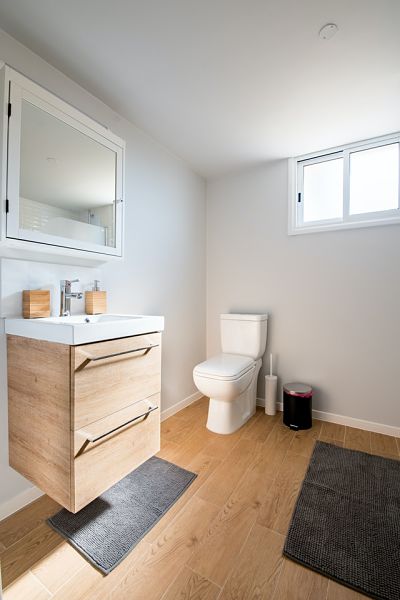 If there's even the slightest chance of accommodating a bathroom window, use it. A window in your basement bathroom, if possible, will not only improve the quality of air and light dramatically but also give you good air circulation. A window is a boon in a damp space such as a basement bathroom.
5. Bathroom storage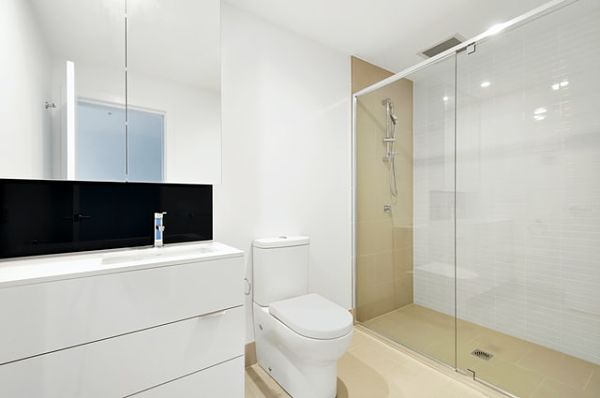 Your basement bathroom is a great place to store bathroom essentials such as paper towels, toilet papers, or extra towels. Install as much storage as you possibly can in the form of vanity, linen closet, or even open shelving. Good storage solutions will make your bathroom feel more finished, rather than just an addition to your home.
6. Bathroom flooring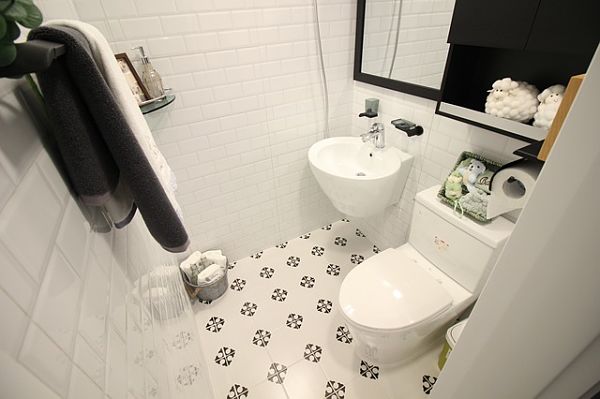 Excess moisture, more often than not, becomes an issue with bathrooms — more so in the case of a basement bathroom. It's best to stick with a concrete floor or hard tile floor. You could use porcelain or ceramic tiles. You may even invest in a radiant heat system to keep your bathroom floor warm and comfortable.
7. Curbless shower doors or curtains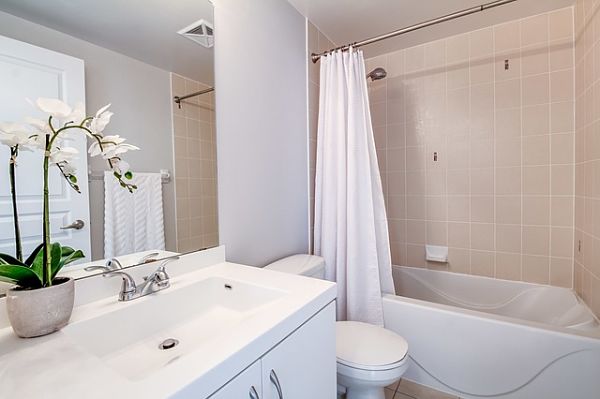 Curbless showers with a frameless, glass enclosure is a good strategy to keep the bathroom looking neat and compact — while keeping the shower stall (and water) contained. If you're on a tight budget, you may install a light-colored shower curtain for this purpose.
8. Bathroom decor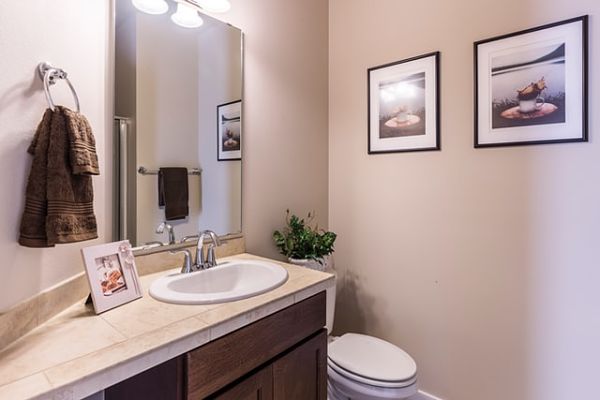 Just because a basement bathroom is not as grand or big as your master bathroom or other above-ground bathrooms, there's no reason to opt for boring bathroom decor. Do up your bathroom with eye-catching wall art, bring in some live plants to add a homey vibe, or even personal memorabilia and photographs. Your basement bathroom design will come alive, and how!
Read more: Guest bathroom ideas by architect
9. Small powder room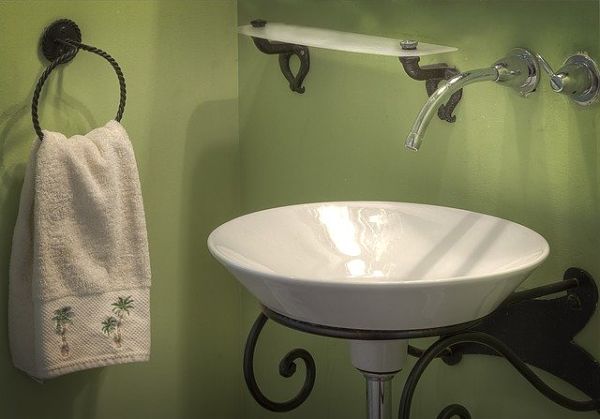 If square footage comes at a premium for you, you needn't go the extra mile. A small powder room can suffice as a small space with only a toilet and sink. This is an especially practical solution if you plan to use your basement primarily as a space for entertaining. However, do make this small area as striking as you can. Think stylish stone floor tiles and a one-of-a-kind bathroom sink.
Read more: Basement guest room
Last words
Adding a basement bathroom is a great way to utilize the below-ground area of your house. If basements are a common feature in your zip code, you can unleash a whole lot of new living possibilities! And, a bathroom adds extra brownie points to all those ideas.
Read more: Great 3/4 bathroom floor plan ideas by an architect
Finished Basement Bathroom Design Ideas
was last modified:
June 24th, 2022
by
Recommended