A basement kitchen or a kitchenette is an important part of your basement living area. A beautifully finished kitchen in your basement can bring a ton of value — in providing functional living space, overall convenience, and the resale value of your home.
Here are some of the ways in which a basement kitchen adds value to you and your home.
Higher ROI
Creating a basement kitchen makes for an excellent financial investment. It increases the resale value of your home significantly – up to 85 percent of the expenditure!
Planning for basement remodeling? Get the best estimate with our tool!
According to The Wall Street Journal, a basement remodel equals a kitchen remodel in terms of getting you the best financial return among all home renovations. With such a high return on investment, a basement remodel is one of the smartest home upgrades.
Good kitchen design and quality construction, that matches the rest of the house, adds to the worth of your basement. A basement that truly feels like a beautiful part of your home, instead of just a basement, will attract potential buyers if you ever put it up on sale in the future. Conversely, a basement that's poorly designed will detract from the home's value.
Read more: Basement remodel financing: How to finance finishing a basement
Cost savings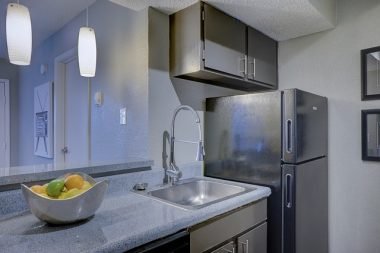 If you're looking for an additional living area, a basement apartment, complete with its own cooking space, will serve you well. Building or buying a bigger home will cost you approximately $150 to $200 a square foot while the cost of finishing a basement runs only $40 to $75 a square foot. The latter will provide you extra living space in less!
FYI: A kitchenette or a basement kitchen of modest size costs anywhere between $1,000 and $5,000 installed. If you're opting for a full-featured guest apartment kitchen, you should be prepared to pay about $12,000 to $20,000.
Planning for basement remodel? Get the best estimate with us.
While we're talking about cost savings, there's another benefit of adding a basement kitchen. Acquiring a tenant is an easier task if your basement apartment has a kitchen that's separate from the rest of the house. And, you can enjoy the extra rental income!
Take a look at these 12 Affordable Kitchen Upgrades Sure To Boost Your ROI
Greater convenience
It's quite convenient to add a basement kitchen. Since the basement is already close to the drains of your house, you won't have to install new pipes for plumbing and drains. Moreover, there's a lot of ease when it comes to adding a kitchen sink, wet bar, or connecting the washing appliances.
Moreover, you can utilize the existing utilities such as electricity, water, gas and sewer lines — providing you additional cost savings.
Also, as circuit panel boxes are typically located in the basement, you can easily add electrical outlets or kitchen wall lighting. All in all, you'll be adding extra square footage without a large increase in your utility bills.
Beautiful kitchen design ideas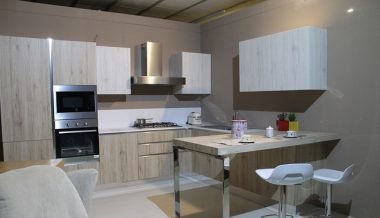 When it comes to the basement environment, you can experiment with a lot of unique layouts — an opportunity that isn't available in your main kitchen. For instance, you can design a tiny or galley kitchen with quality hardwood floors that sits along one wall or have a family room in the basement with a kitchenette at one end. Or, have a home theater with a kitchenette nearby. Basically, you can try combinations that give you a lot of scope for entertaining and practicality.
Read more: Kitchen island size guidelines
Extra storage space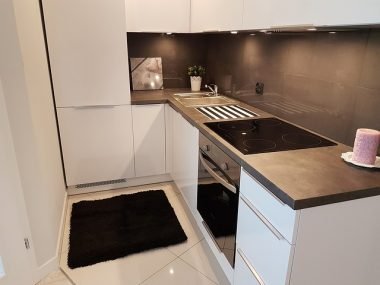 You may try open shelving over an eye-catching tile backsplash for displaying your lovely decor pieces. Or, install colorful kitchen cabinets to store all your kitchen supplies. Pair them with a stylish countertop or a kitchen island to create the most beautiful basement designs.
If you're looking for an industrial vibe, for example, you can opt for stainless steel cabinets, range hood, and kitchen appliances. To say it simply, you can afford to let all your creative design ideas flow.
Take a look at these Effective Ways to Help Your Home Maintain its Value
More leisure time
A basement kitchen provides the perfect space for entertaining and special occasions. With a fully functional kitchen at hand, there's no need to run up and down the stairs for your snacks and refreshments. The basement retreat will make your cooking, listening to loud music, or animated chitchats a lovely experience — without disturbing your main household.
This is especially a boon for homeowners who have aging parents living with them. A basement kitchen provides a private, hassle-free zone.
The benefits of adding a basement kitchen are numerous. No wonder, basement kitchen ideas are gaining popularity among people who want to turn their basements into warm living areas.
Read more: Kitchen Plumbing – A Comprehensive Maintenance Guide
So, if you too are thinking of this home improvement, know that you and your family will enjoy the addition for years to come.
Just keep in mind that creating a new basement kitchen will, in all likelihood, require planning permission. Especially if it involves major renovation work and alters the outside appearance of your home. Know your local ordinances regarding what you are and aren't allowed when outfitting a basement kitchen or kitchenette.
Read more: How to Create the Perfect Basement Design?
Does a Basement Kitchen Add Value to Your Home?
was last modified:
October 11th, 2022
by
Recommended