Want to own a bathroom that looks luxurious yet is practical with a good amount of workspace? Invest in good-quality bathroom countertops and make a beautiful statement. Choosing the perfect countertop material can set the tone of the space and create the most interesting bathroom.
To help you select the best one, we have listed out eight most popular bathroom countertop and vanity top materials and their associated pros and cons. From marble, quartz, granite to laminate and crushed glass — we have covered them all in this article. You can compare their appearances, prices, maintenance, and durability. So, let's begin:
1. Quartz Countertops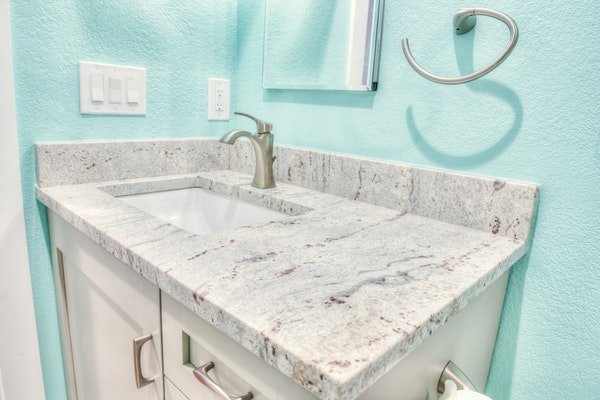 Average price range: $100 to $250 per square foot.
Quartz countertops are engineered from approximately 90 percent ground-up quartz and other stone minerals. The synthetic composite is blended with resins and pigments and then shaped into countertop slabs. Generally, these countertops are available in the market with integrated sink basins built into them.
Interestingly, quartz can easily imitate the look of limestone, granite, or marble — and is even more resistant to scratches and stains. No wonder, it works well in heavy-use family bathrooms too.
It also is a great option if you need specialized edging in your bathroom. Since quartz comes in a wide range of colors and thicknesses, homeowners are spoilt for choice. 
Thinking about quartz countertops? Get the best cost for your project!
All in one, quartz is a practical choice for your bathroom. It is durable, easy to clean, and does not require any sealing.
Pros
Available in a variety of shapes, colors, sizes, and styles.

Uniform coloring than natural stone slab countertops.

Stronger and less brittle.

Stain-resistant.
Cons
Expensive.

Sometimes, seams are visible.

Not as heat-resistant as natural stone countertops.
2. Ceramic or Porcelain Tile Countertops
Average price range: $35 to $40 per square foot
Traditionally, ceramic or porcelain tiles have been top materials for bathroom countertops. Fortunately for us, they are still very much trendy with modern styles — thanks to technological advancements.
Ceramic tiles are made of clay and then heated by high-temperature fire to harden them. Porcelain is a kind of ceramic only but is harder and denser. An excellent choice for countertops and vanity tops.
Moreover, porcelain can perfectly mimic other materials — even wood and leather! All in all, ceramic and porcelain tiles are a good choice if you want quality countertop in less.
Pros
Easy installation.

Relatively affordable countertop option.

Numerous designs available in your local store.
Cons
Brittle and may crack under impact.

Grout lines easily stain and discolor.

Such tiles require periodic cleaning and resealing.
Take a look at our guide on Most Durable Countertops That Will Look Beautiful Too
3. Marble Countertops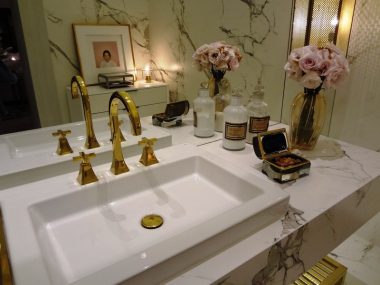 Photo by Pxhere CC0
Average price range: $100 to $200 per square foot
Marble is a type of stone that's highly veined — one of the most beautiful of all the natural stones. Surprisingly, contrary to its solid appearance, it is a relatively soft, porous stone. Therefore, it needs to be sealed every year or two.
A marble countertop offers unmatched elegance and is available in a wide variety of colors and patterns. Needless to say, it's a great choice for a master bathroom. Thanks to technological improvements, marble has become a bit more affordable than it was in the olden days when only the rich could afford such as a luxurious material. But, not anymore.
A word of caution though: DO NOT go for cultured marble countertops; they are not marble at all but plastic ones that do not last long and are brittle too.
Pros
Long-lasting.

Strong enough to resist most chips or dents.

Available in various finishes — high shine or honed for a casual, matte finish.

Suits any style of bathroom.
Cons
Expensive option.

Not easy to find two exactly same slabs to match.

Prone to stains, scratches, and etching — especially from acidic substances.

Requires periodic sealing to maintain its finish.
4. Solid-Surface Countertops
Average price range: $45 to $75 per square foot
Such a countertop is the product of a blend of acrylic and polyester particles. They are then bonded together with resins. This countertop is generally formulated to resemble stone and is available in a variety of shapes, colors, and styles.
This countertop material is an excellent choice for heavy-use bathrooms such as your children's bathroom. Furthermore, if you want a quick solution to redecorating a bathroom for a home sale, the solid surface material countertop will do the trick.
When it comes to pricing, solid-surface countertops occupy a middle tier between laminate at the lower end, and natural stone and quartz at the upper end.
Pros
Seamless countertops.

Generally, have the convenience of integrated sink basins.

Stain-resistant.

Easy to maintain and repair (by sanding).

Consistent colors and patterns.
Cons
The faux stone look is not as elegant as natural stone.

No DIY option available.

May scorch under extreme heat.
5. Granite Countertops
Average price range: $75 to $200 per square foot
Many people confuse granite with marble but they are as different as chalk and cheese. Granite may have flecks of varying colors in it, with less veining than in marble. In fact, granite is the most popular choice when it comes to natural stone countertops.
It is long-lasting, stain-resistant, and beautiful to look at. It's also the most durable and easy-to-maintain natural stone material. You can even polish down small chips and scratches easily. 
Get the best cost for your granite countertops with our estimator tool.
However, keep in mind that granite countertops need sealing every six months to a year. You can clean such countertops with warm water and a liquid detergent. Avoid abrasive cleaners.
If you find the relatively expensive granite slabs putting a dent in your total bathroom renovation cost, you can opt for granite tiles that are more affordable.
Pros
Wide variety of options available.

Hard and scratch-resistant.

Requires minimal maintenance if properly sealed.

Impervious to humidity or damage from extreme temperature.

Long-lasting.

Likely to add resale value to your house.
Cons
One of the most expensive countertop materials.

Difficult installation; best to hire a professional.

Granite's transport and mining use up extensive energy resources.
6. Concrete Countertops
Average price range: $75 to $150 per square foot
Of late, concrete has started becoming very popular as a countertop material. Do not picture a concrete countertop as having rough and unpolished slabs like those found in sidewalks. Today, concrete countertops are beautiful to look at, as well as practical. They can be stained, highly polished, or even texturized.
In fact, they have miraculous shape-shifting abilities. No wonder homeowners can find an endless array of patterns when it comes to choosing concrete countertops. Therefore, such countertops are a good choice if you want to make a special design statement. Moreover, they are great for heavy-use family bathrooms.
Pros
Usually a strong selling point for a house.

Extremely durable and strong.
Cons
Can only be fabricated and installed by professionals.

Repairing cracks is not an option; you will need to go for a replacement.
7. Laminate Countertops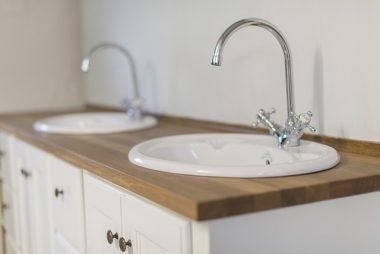 Average price range: $10 to $65 per square foot
Laminate countertops are made from layers of plastic which are bonded to a particleboard core or MDF. Hence, are lightweight. This can be both advantageous (for installation and transport) as well as a bane because it lacks the solidity of the other kinds of countertops.
Thanks to technological advancements, today, laminated countertops are so good that they can fool you into thinking that they are granite, marble, wood, or even stainless steel.
However, do know that while laminate countertops might be great for guest bathrooms or powder rooms, they are not so much for master baths where style and durability are important.
The best part about a laminate countertop is that it is reasonable in price and yet looks stylish. Easy to install, it comes in stock pieces that you can cut and use as per your requirements. Or, you can customize the countertops according to your specifications — giving it special edges or designer features.
Pros
One of the most inexpensive countertop materials.

A variety of colors and patterns available.

Easy installation; even DIY.
Cons
Customization is a bit difficult; requires professional installation.

Lightweight, lacking the solidity of other materials.
8. Crushed Glass Countertops
Average price range: $50 to $100 per square foot
Recently, there has been a new addition to the list of top countertop materials. It's crushed glass. These countertops are made from recycled crushed glass embedded in either clear acrylic or concrete. And, they are becoming more popular with each passing day. They are easy to maintain, are strong, and look absolutely stylish.
The stunning countertops lend a trendy designer appeal to any bathroom. They match every style of bathroom and still manage to look very unique. They are usually custom fabricated — blending in perfectly with the rest of the decor.
Pros
Tough, strong, and stylish countertops.

Great for upper-end bathrooms.

Very easy to clean.

Available in different styles and looks.
Cons
Can be brittle.

No repair for cracks possible.

Needs regular sealing.
Last words
When it comes to bathroom countertops, you need the one that is great in functionality as well as looks. Since bathroom surfaces do not have to be as tough as kitchen countertops, you can afford to keep their appearance as a priority.
As is apparent in this article, a homeowner has a lot of options when it comes to countertop styles and designs. Choose the best one from the above eight popular and practical bathroom countertop materials and create a great-looking bathroom.
Read more: White kitchen countertops
Bathroom Countertops: 8 Top Materials to Consider
was last modified:
August 22nd, 2022
by
Recommended