Different Types of Bathroom Door Locks
Bathrooms are places of solitude and, in many ways, quiet reflection. They're private sanctums, definitely not the kind of place anyone would appreciate intrusions. This makes securing the entry door to a bathroom extremely important. Here's all you need to know about bathroom door locks to help you make the right choice while renovating your bathroom.
Different types of bathroom locks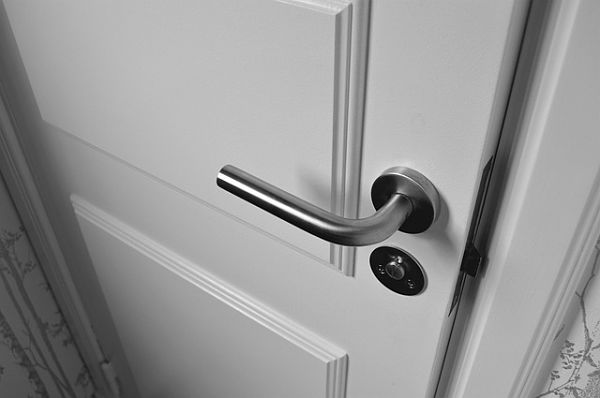 While choosing a lock for your bathroom door, you will be looking for a lock that has certain important attributes.
You will want a door lock that is easy to use and secure at the same time. You're obviously not looking at the kind of security features you'd expect from an exterior door. Instead, you'd be looking for a locking system that is easy to lock from the inside of the bathroom, and easy to open from the outside when the bathroom is unoccupied.
You'd want a lock that is capable of ensuring your privacy when you use the bathroom, so you don't have unwarranted intrusions while you're inside.
You'd also want a lock that is reliable enough to not jam when you're inside. If that happens, you'd probably need to dismantle the entire locking system or break open the door to get out.

Find out how much your interior door installation will cost with our estimator tool.
And most importantly, irrespective of whether you're in the market for locks for your home bathroom or for a bathroom in a commercial establishment, you'd be looking for a lock that is durable. A lock that can handle traffic and will not require repeated replacement.
Here are some of the popular types of bathroom locks used in both homes as well as commercial establishments.
1. Handleset locks
Handleset locks are door locks that come with door handles on the outside to open the door and have a keyed lock or deadbolt on the inside to lock the door attached to the handleset frame.
2. Deadbolt locks
Deadbolt door locks are popularly paired with nonlocking door handles or doorknobs. While the doorknobs or handles fulfill the basic function of opening and closing the bathroom door, the deadbolt locks are fitted separately on the inside of the door, operated by a simple thumb-turn lock mechanism. When these locks are used in commercial establishments like coffee shops, there is often an indicator above the exterior doorknob or lever to show whether the bathroom is occupied or not.
3. Privacy function locks
These are possibly the most widely used type of interior door locks. They are characterized by a locking mechanism that is operated by a button that is a part of the doorknob or lever on the inside of the bathroom. This means that when the bathroom is not occupied, the door can be closed and opened freely. Once the button on the inside is either turned or pressed, depending on the design, the door locks itself.
A lot of privacy function locks come with an exterior emergency release function as well. If a child or someone incapable of opening the door themselves gets locked in, a pin is inserted into the exterior button to release the lock.
Planning for interior door replacement? Get the best estimate with us.
4. Passage locks
Passage locks are probably the least secure amongst all these options, considering it does not have a locking system at all. However, these are ideal for homes that have small children that could lock themselves in, or if you have elderly people who need to be able to get in and out of washrooms without much of a hassle.
Difference between bathroom locks and privacy locks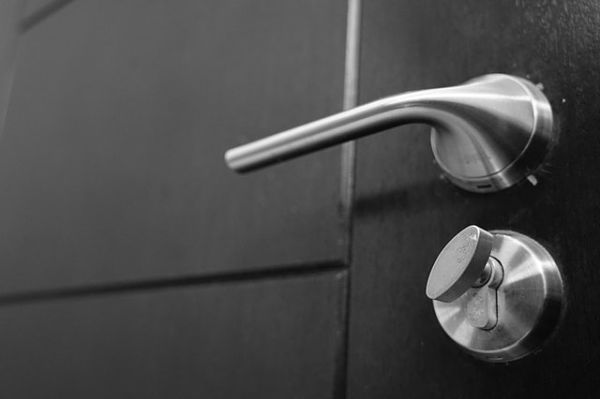 Both bathroom locks and privacy locks look very similar but have distinct differences. It helps to know the differences especially if you're planning to change your bathroom locks.
A privacy lock will have a tubular notice latch, while a bathroom lock will have what is called is full bathroom mortice, which is a larger and more complex locking system.
Both bathroom locks and privacy locks come with a release on the external handle. This safety feature can be operated using a flat screwdriver and is an essential safety feature in case someone gets locked in.

Planning for install interior doors? Get the best estimate with us.
How to change a bathroom door lock
Changing a bathroom lock isn't all that difficult, especially if you're replacing it with a similar type of lock. Here's how to go about it.
Unscrew and remove the old door lever or doorknob.
Unscrew and remove the latch from the door panel.
Unscrew and remove the strike plate.
Insert the latch first into the door hole, making sure the curved tip is in the same direction as the strike plate. Once it's in place, screw in the latch.
Press the latch bolt and install the door handles or knobs. Screw them in place.
Screw in the new strike plate in place. Check and make sure the door latches on tightly.
Thinking about interior doors replacement? Find the best cost for your replacement.
Read more: Change door to open the other way
What's your choice?
You now know what options you have while choosing the ideal bathroom lock, and how easy it is to change it. Whether you're looking at ease of operation, increased security, or maximum privacy, there is a bathroom lock to suit your needs and your budget. Keep in mind that these door locks also come in a variety of designs to suit the decor of your bathroom. So, have you decided which one works best for you yet?
Different Types of Bathroom Door Locks
was last modified:
January 17th, 2023
by
Recommended