When we think in a bathroom, terms like sink, toilet or shower come quickly into our minds. Basically all plumbing fixtures. Somehow, this should be more than enough while considering a bathroom remodel or addition, but when it comes to choosing the style your bathroom is going to have, the devil may actually lie in the details. These details are none but your bathroom fittings.
Planning a bathroom design needs to consider many things, among them there are tendencies, a color pallet, or even tile selections. However, functionality is also a factor of importance while choosing a design. Bathroom fittings are the proof of this, and while many designs tend to forget about them, they can be the definitive factor between a classic and a modern approach.
Here we list some important (and useful) bathroom fittings. As well as how the different tendencies between them can help to accent a design.
Shower curtains
Stripe Shower Curtain by Wicker Paradise – blog.wickerparadise.com on flickr [CC BY 2.0]
Shower curtains can seem like an endless classic. We tend to see them in movies and tv shows, and there's even a tendency to personalize them (that big bang theory episode with the periodic table shower curtain?). Even if we think in glass doors while thinking on modern designs, the shower curtain maintains itself as a must. Especially if your bathroom has a bathtub and you live in a crowded home.
Apart from the classic white curtain, soft blue-toned curtains can make help your bath look classic and clean. While line stripped designs, especially pastel colored ones, can help to transmit a country vibe.
Soap dispenser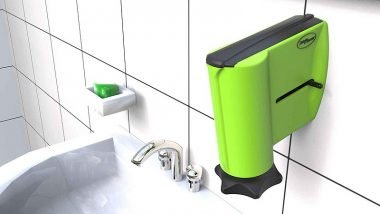 Photo by Dmitry Martyanov from wikimedia commons [CC BY-SA 4.0]
Soap dispensers began its road mainly in public bathrooms. We can attribute this to how easy it is to recharge them and the fact that, at the end, you do not want to use someone else's soap.
In the last years though, we can observe how many more people are using them at their homes. Soap dispensers tend to last longer than the classic soap, are easy to use and of course, decorative!
Tall soap dispensers can provide a classic touch for your bathroom. Especially white, ceramic shaped ones. For a more modern design, black and metallic colors are the way to go.
If you are looking to make the bath a friendlier place for your children, funny shaped soap dispensers are a great way to incentive your kids to watch their hands before dinner.
Detachable shelves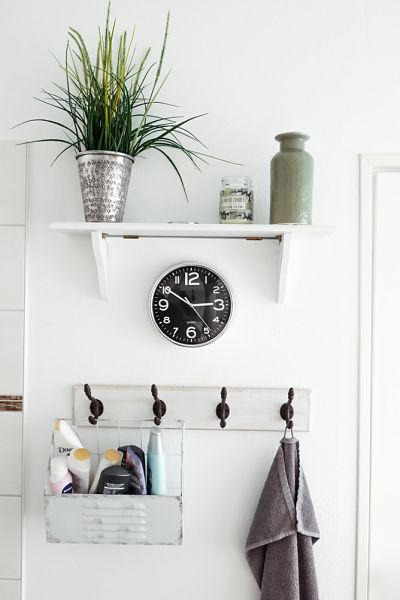 Photo by Jonny Caspari on Unsplash [CC0]
Functionality at its best. Detachable shelves allow you to easily place items near the "sites of interest" in the bathroom. Could it be near the shower for shampoo and towels, or near the toilet for an extra toilet paper roll and magazines (or an extra phone charger?)
On the matter of design, the battle is between metal and wooden shelves. Metal shelves would work great showing a classic style, while wooden ones combine perfectly with a country design.
Cabinets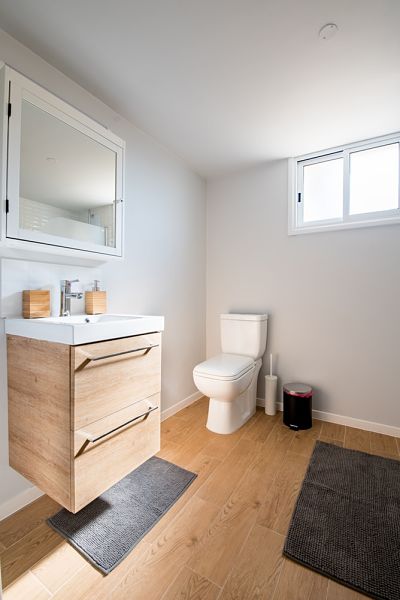 Photo by Filios Sazeides on Unpslash [CC0]
For the things your shelves can't hold. Cabinets play a stellar path in bathroom design. There's a universe of ideas and tendencies regarding this matter, but regarding the conflict between classic and modern, the important thing is how all the cabinets are related between them.
A classic style will provide a cabinet for each task. This is patent when you look at mirror cabinets, mainly destined to medicines. Upper cabinets would cover towels and under the sink cabinets are generally destined to cleaning products.
A modern minimalistic approach will keep things simple. One big under the sink cabinet can keep both towels and hygiene products (Correctly separated of course.) With more cabinets underneath this one to cleaning products.
Read more: Smart Bathroom Cabinet Ideas To Add An Additional Appeal
Toothbrush holder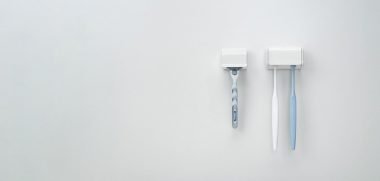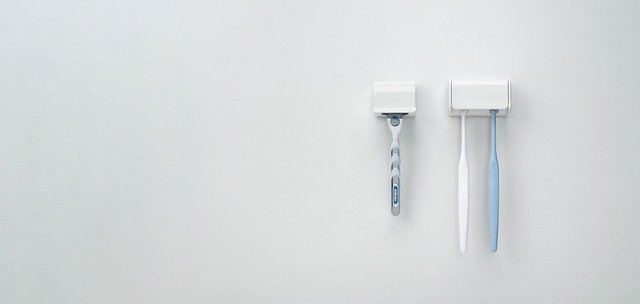 Image by En_lce from Pixabay CC0
Do we really think that much about where we put our toothbrush? In most cases, a white ceramic cup will do the trick, but there are many options to consider apart of this classic.
If you are thinking about saving space in your sink, a hanging toothbrush holder can be easily placed in your wall. This can give a modern vibe to the whole bathroom, and there is even one for your razor too!
This does not mean that the classic cup needs to stay in the past. You can bring it to the modern side with fun designs for the kids. Or even take the opportunity to print one on a 3d printer to add that personalized touch.
As you can see, choosing a bathroom style can be more than picking a design and stick to it. It should be a work of combining both design and functionality and try to make them harmonize. So, the next time you are brushing your teeth, think a bit in your bathroom fittings!
Read more: A Comprehensive Guide to Choosing Bathroom Fixtures
Bathroom Fittings: Classical and Modern Details to Explore
was last modified:
July 15th, 2019
by