Easy and Efficient Ways to Ensure Bathroom Window Privacy
Of all the places in our home, bathrooms are probably the most private. Due to their function and purpose, bathrooms demand a unique kind of window treatment. The windows ought to be able to ensure complete privacy from prying eyes while providing sufficient natural light and ventilation. Well, consider these easy and efficient ways to ensure bathroom window privacy before you start your next home improvement project.
Window Types and Placement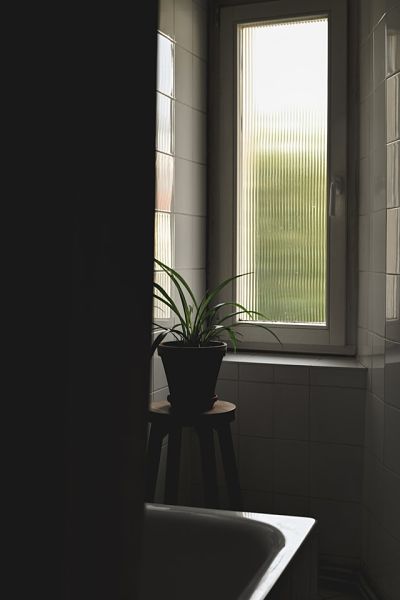 There are multiple types of windows you could choose from, based on the size of your bathroom and utility.
Popular choices include outward opening crank windows, slider windows, skylights, classic shutter windows, transom windows and hopper windows.
While the size, style and placement of the bathroom windows is entirely your choice, safety regulations dictate that if you're placing your windows around your shower/bathtub area, any glass below 60 inches ought to be tempered glass.
Frosted Glass Windows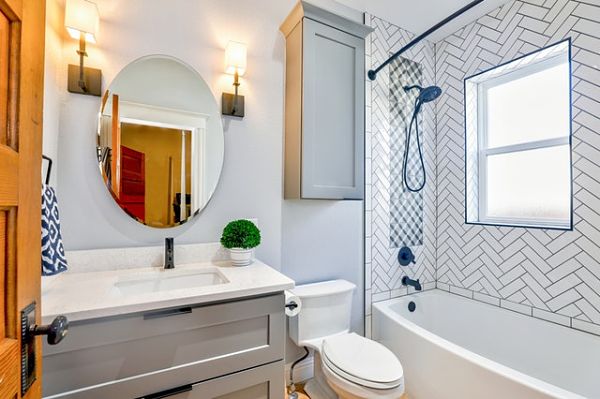 Frosted glass windows are a great way to maintain your bathroom privacy while still making sure you get adequate natural light during daylight hours.
There are multiple ways to achieve this.
You could buy frosted window film and stick it onto your window. You could even cut it into decorative shapes and designs if you wanted to. However, this might not be a completely foolproof solution. Bathrooms tend to be more humid than the rest of the house, and this humidity could cause the cling film to peel after a while.
Window cling films made of vinyl are more durable, and a little more expensive than regular window film.
You could buy a can of frosted glass spray paint and easily apply it to your glass window. Make sure you use some masking tape to protect the areas you don't want to be affected.
While on the topic of using films, another option, if your insurance covers it, is to use double-sided tinted cling film. This not only tints your windows, but it also allows you to look out while completely obscuring the view from the outside.
The use of glass etching cream is a way to remove a thin layer of glass, leaving behind a permanently frosted window pane.
Home Renovation Cost Estimator
Sorry, we currently don't have that project at our disposal.
---
You can take a look at our most popular ones:
Water Heater Installation
Exterior Door Replacement
Install Recessed Lighting
Exterior Door Installation
Interior Door Installation
Interior Door Replacement
Textured Glass Windows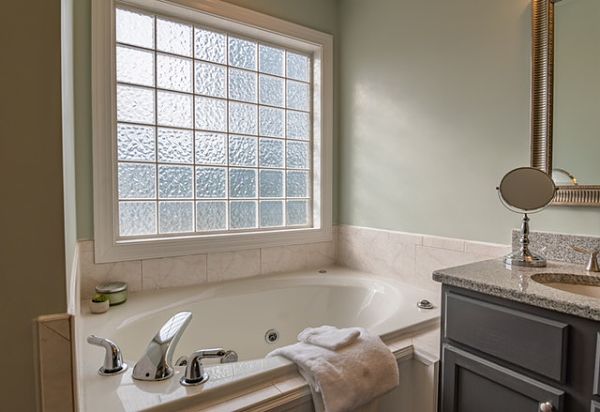 If you're looking for a more classy solution than using frosting cling film for your bathroom windows, you could consider textured glass windows.
Multicolored stained glass windows, like the ones we'd find in older churches, are a very popular option.
Another option is to replace your window with solid or hollow glass blocks. These serve the double purpose of obscuring the sight of outsiders and increasing the insulation of your bathroom.
A modern take on this is to interlay clear glass and dimpled glass blocks, allowing for ample privacy and natural light. They are also brilliant materials for glass shower windows.
The use of glass blocks, however, is not a particularly affordable solution. Not only are glass blocks expensive, they definitely do not make for DIY projects. Using this in your bathrooms also makes it necessary for you to install exhaust fans, since glass blocks cannot be opened like windows. The lack of ventilation can lead to mold or mildew infestations, and will definitely make your bathroom stuffy.
Read more: How to spruce up a bathroom with no windows
Shutters, Shades, Drapes, and Curtains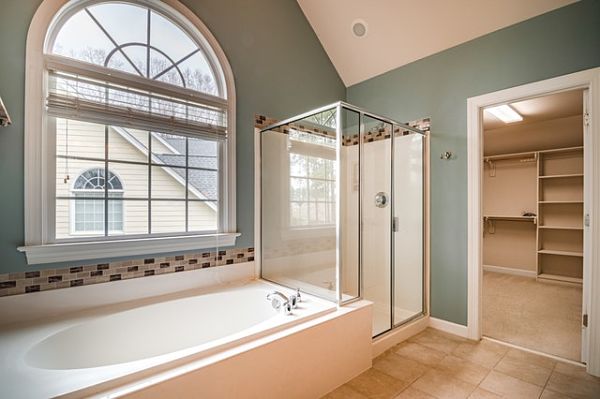 If you want privacy in your bathroom without having to do any window treatment, shutters, shades, drapes, and curtains are the way to go. These old school solutions are easy to install, and the only thing you'd need to consult your interior designer about is probably color schemes.
An old classic is to use a curtain made of lace or any similarly sheer fabric.
Another popular solution, especially for bathrooms with large windows, is to use curtains to cover half the windowpane, leaving the top half uncovered to let the natural light in.
Leftover materials from your shower curtains can be used to make Roman shades.
You also have multiple aftermarket options available: corded and cordless bathroom shades made of vinyl, PVC, faux wood, etc.
Bamboo shades are a great option for those who are ecologically sensitive.
For smaller bathroom windows, wooden shutters that open and close on hinges are a great way to achieve the balance between ventilation and privacy. These shutters can be easily built using salvaged wood.
Take a look at these Dreamy Bathroom Lighting Ideas
Off the Beaten Path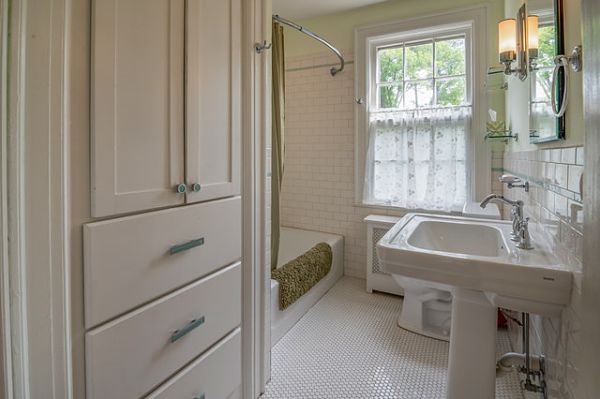 Thus far, we've explored some of the more conventional methods of ensuring bathroom privacy. There are some solutions that are off the beaten path.
For example, you could hang a vanity mirror over a portion of your window, completely converting the utility of that space and giving you absolute privacy.
Another off-neat solution is to cover a portion of our window with artwork, making your bathroom aesthetically pleasing.
There are, however, drawbacks to such solutions, The amount of natural light your bathroom gets will be affected since you are permanently covering a portion of the bathroom window.
Your windows also cannot be opened. This means you will have to install exhaust fans to ensure adequate ventilation and to deal with humidity.
Read more: How to Convert Your Bathroom Into an Eco-Friendly Bathroom
Curtain to Call
Bathrooms are synonymous with privacy and intimacy. It's only right that we keep unnecessary prying eyes away from these areas. Also, we also need to make sure these areas receive sufficient ventilation and natural light for a healthy atmosphere. We hope these options we've presented to you make it easy for you to make the best choice when you plan your bathroom renovations.
Click here to find out how much your bathroom renovations will cost you.
Read more: A complete guide on window tinting cost and benefits
Easy and Efficient Ways to Ensure Bathroom Window Privacy
was last modified:
December 19th, 2021
by
Recommended