There are some really good reasons for choosing above ground pool decks. Such a platform — enveloping a pool — creates a lovely space for your family and friends for sunbathing, or just leisurely sitting around it.
Above ground pool decks add immense value to your house. A neat deck is a perfect addition to your pool — making your yard look straight out of a magazine cover.
The cost to build a deck around an above-ground swimming pool runs from $15 to $30 per square foot. A standard-sized deck can range from $2,800 to $10,000 or more — depending on its design and material cost. A small deck system or a deck kit, on the other hand, costs about $800 to $3,000. It's the most practical and cost-effective solution for a DIY project. The cheapest above ground pool deck!
Practically speaking, decks make getting in and out of the pool a lot easier. Without a deck, you will probably be relying on a pool ladder to enter and exit your pool — an inconvenient task for small children and senior family members.
Read more: Deck loans & financing options
Apart from this, because of the deck, a swimmer (most often children) can't bring mud and dirt from the yard directly into the pool. The deck acts as a wonderful savior — making it easy for you to maintain your pool's hygiene and cleanliness.
Since an average above ground pool lasts 7 to 15 years, investing in a pool deck is a wise decision. Aesthetically speaking, it makes your outdoor pool stand out, and how!
Wait, if you're still not convinced, the following trendy above ground pool deck designs will!
So, let's start inspiring you.
1. Pool with a composite deck

This beautiful rectangular, open pool is surrounded by a composite deck. Even the in-built seating, as well as the stairs, are in the same decking material. You may also opt for the traditional old-school pressure-treated wood. But, do know that with composite, you'll get the same wooden finish but a more durable, low-maintenance, and long-lasting outdoor destination.
2. Rectangular pool with a concrete deck
This concrete deck surrounding a buried above ground pool is simple yet stylish. The enclosed space is absolutely no-nonsense with a white diving board that offers a lovely contrast to the dark-hued flooring.
3. Tiled deck around a square pool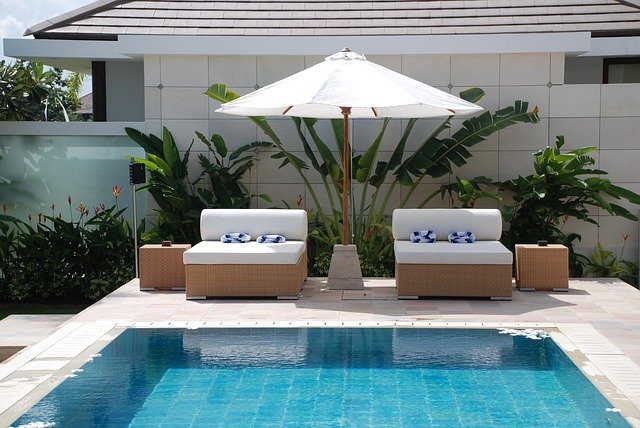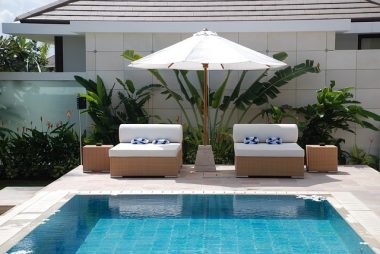 Now, here's a deck idea that's fit for a honeymooning couple. The light-colored tiled deck offers a brilliant canvas for the exotic plants and shrubs in the background. You may use ceramic tiles or porcelain ones. A few loungers or rattan chairs, a garden umbrella — and your "vacation" at home is ready to start.
4. Glass pool with a wood deck
If you love all things beautiful, you will flip at the site of this drool-worthy deck design. A wooden deck partially encloses a glass above ground pool — leaving a part of it visible. The effect is surreal. The wood pavers that act as steps to enter the pool — against a grassy background — are as charming as the deck itself.
Read more: Pool Resurfacing: The Ultimate Guide
5. Above ground pool deck in natural flagstone
There's something lovely about using natural stone as a deck material. This heavily textured flagstone flooring looks beautiful while providing traction due to its natural finish, and is anti-slip. A perfect choice for a pool deck.
6. Pool with terraced deck
Thinking of installing a terraced deck? This round pool with its circular deck is a great option. Throw in a couple of easy chairs under a pergola and we guarantee that you and your family will want to stay outdoors the whole day.
7. Wood deck enveloping a splash pool
Here's another wooden deck that's won our hearts. This small splash pool is a great space saver and can be tucked in almost anywhere. Such a deck design is especially useful for urban backyards or terraces. We can imagine the amount of fun your kids will have, with you relaxing on the poolside furniture.
Check our easy guide to attractive pool landscaping
8. Rustic wooden deck around a pool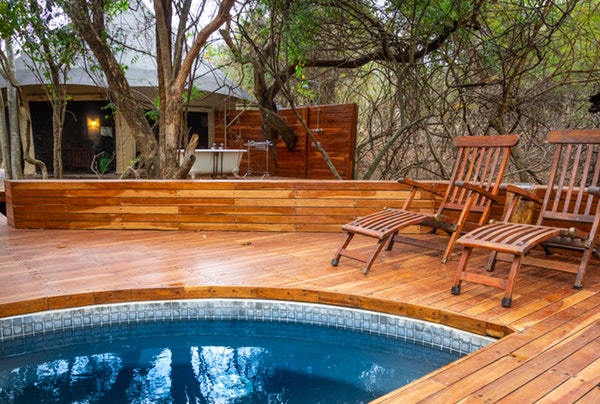 This D-shaped pool, enclosed within a stained wooden deck, looks charming due to the rustic vibe it reflects. The scene looks right out of an Alfred Hitchcock movie! The comfortable loungers against a backdrop of trees, the half-hidden cottage, and the silence of the woods.
Conclusion
Every backyard tells a story. It's up to us to make that story more beautiful with enhancements and improvements. Give your pool and the entire yard an exotic look with a well-installed deck.
Just make sure that your above ground pool deck is not attached to the pool for stability. It should be just adjacent to the pool. Keep in mind that your deck can be anywhere between 3 to 6 feet above the ground and should laterally brace it from the beams or joists to the posts' bottom.
We hope some of these above ground pool decks inspire you to create your own heaven in your backyard. It's time to give your house a beautiful deck and enjoy spending most of your time outdoors.
Read more: Important Things To Be Considered For Pool Fencing
If you need a friendly abstract, take a look at this infographic.
8 Above Ground Pool Decks to Make Your Yard Look Beautiful
was last modified:
November 25th, 2022
by
Recommended