There are some really good reasons why most homeowners go for above ground pool decks. Such a platform — enveloping a pool — creates a lovely space for your family and friends for sunbathing, or just leisurely sitting around it.
Imagine how alive such a house would look — with your family and friends sitting down on the deck and dangling their feet in the water before diving in for a dip on a hot summer day. You get the picture, right?
Above ground pool decks add immense value to your house. A neat deck is a perfect addition to your pool — making your yard look straight out of a magazine cover. 
Practically speaking, decks make getting in and out of the pool a lot easier. 
Without a deck, you will probably be relying on a ladder to enter and exit your pool. But for small children and senior members of your family — this might be highly inconvenient. 
Apart from this, because of the deck, a swimmer (most often children) can't bring mud and dirt from the yard directly into the pool. The deck acts as wonderful savior — making it easy for you to maintain your pool's hygiene and cleanliness. 
Aren't these wonderful reasons enough for you to invest in above ground pool decks? Wait, if you're still not convinced, the following trending designs of over ground swimming pools with their decks will!
So, let's start inspiring you.
1. Pool with a composite deck

Photo by cheawpk on pixabay CC0
Don't you just love this panoramic view of a beautiful pool deck? The rectangular, open pool is surrounded by a composite deck. Even the in-built seating, as well as the stairs, are in the same decking material. You may also opt for the traditional old-school pressure treated wood. But, do know that with composite, you'll get the same wooden finish but a more durable, low-maintenance, and long-lasting outdoor destination.
Take a look at our guide on Composite Decking Materials And Prices
2. Rectangular pool with a concrete deck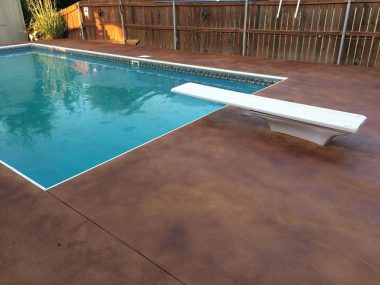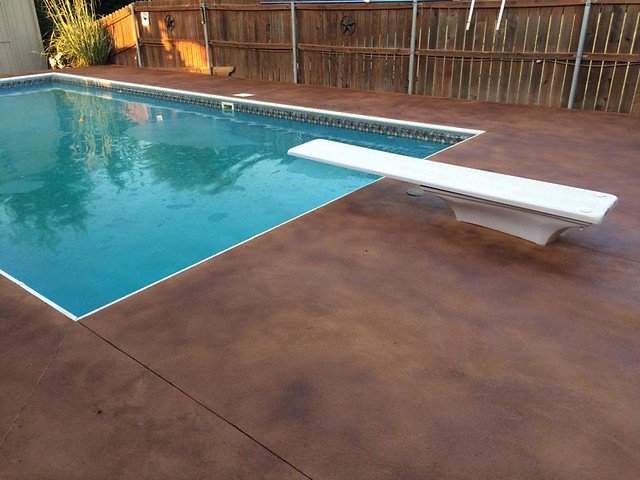 Pool Deck Trowel Texture & Stain, by Decorative Concrete Kingdom on flickr theconcreteprotector.com [CC BY 2.0]
This concrete deck surrounding a buried above ground pool is simple yet stylish. The enclosed space is absolutely no-nonsense with a white diving board that offers a lovely contrast to the dark-hued flooring.
3. Tiled deck around a square pool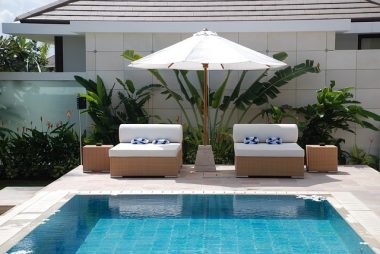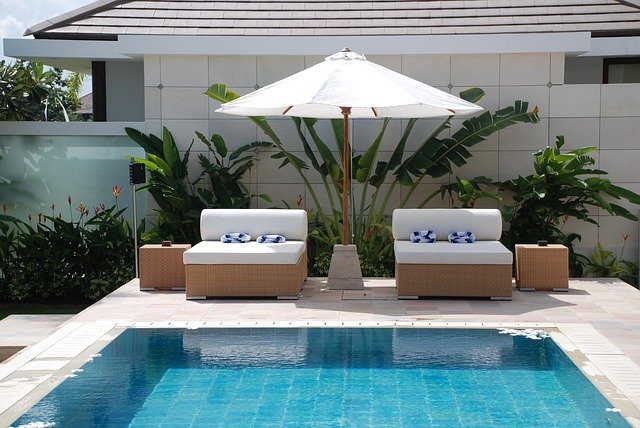 Image by namji0813 from Pixabay [CC0]
Now, here's a deck idea that's fit for a honeymooning couple. The light-colored tiled deck offers a brilliant canvas for the exotic plants and shrubs in the background. You may use ceramic tiles or porcelain ones. A few loungers or rattan chairs, a garden umbrella — and your "vacation" at home is ready to start.
How Much Does It Cost To Build A Deck? Let's find out!
4. Glass pool with a wood deck
Photo by Wicker Paradise on flickr www.wickerparadise.com [CC BY 2.0]
If you love all things beautiful, you will flip at the site of this drool-worthy deck design. A wooden deck partially encloses a glass above ground pool — leaving a part of it visible. The effect is surreal. The wood pavers that act as steps to enter the pool — against a grassy background — are as charming as the deck itself.
Read more: Pool Resurfacing: The Ultimate Guide
5. Above ground pool deck in natural flagstone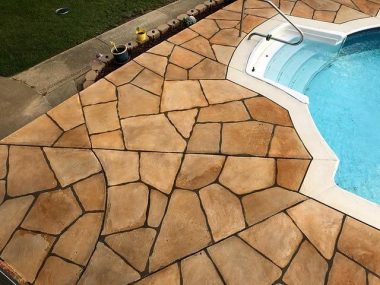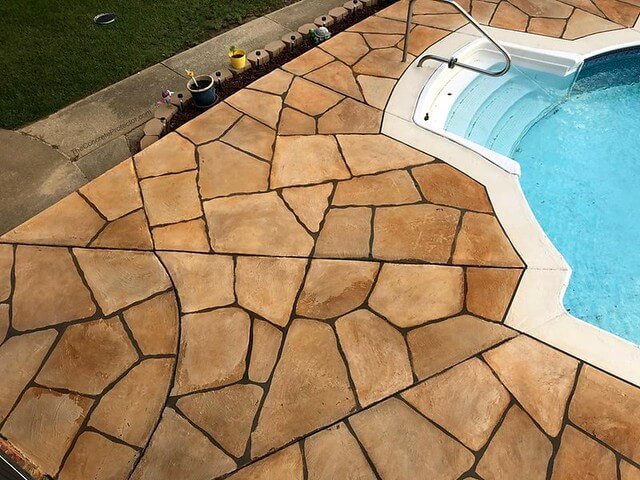 Grand Flagstone Concrete Pool Deck, by Decorative Concrete Kingdom on flickr theconcreteprotector.com [CC BY 2.0]
There's something lovely about using natural stone as a deck material. This heavily textured flagstone flooring looks beautiful next to this differently shaped pool. The best part about flagstone is that it provides traction due to its natural finish and is anti-slip. A perfect choice for a pool deck.
Read more: A Complete Guide for Installing an Indoor Pool in Your House
6. Pool with terraced deck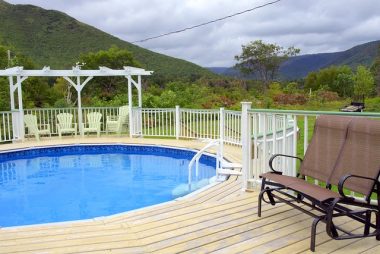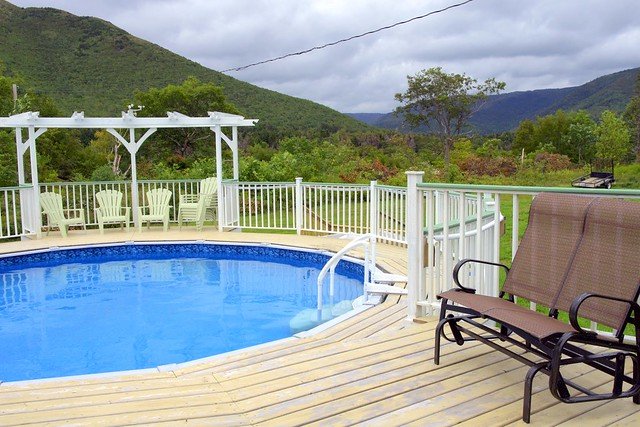 Photo by Inverness County C@P Network Society on flickr [CC BY 2.0]
Thinking of installing a terraced deck? This round pool with its circular deck is a great option. Throw in a couple of easy chairs under a pergola and we guarantee that you and your family will want to stay outdoors the whole day.
Read more: Ways to Landscape Around Above Ground Pools
7. Wood deck enveloping a splash pool
Photo by Pexels CC0
Here's another wooden deck that's won our hearts. This small splash pool is a great space saver and can be tucked almost anywhere. Such a deck design is especially useful for tiny, urban backyards or terraces. We can imagine the amount of fun your kids are going to have. And, you? We bet you'll be relaxing on the poolside furniture thrown around the deck.
8. Rustic wooden deck around a D-shaped pool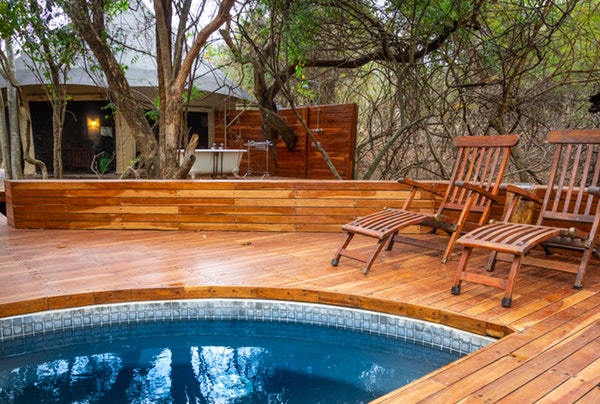 Photo by Magda Ehlers from Pexels CC0
This D-shaped pool, enclosed within a stained wooden deck, looks charming because of the rustic vibe it reflects. The scene looks right out of an Alfred Hitchcock movie! The simple yet comfortable loungers against a backdrop of trees, the half-hidden cottage, and the silence of the woods.
Conclusion
Every backyard tells a story. It's up to us to make that story more beautiful with enhancements and improvements. Give your pool and the entire yard an exotic look with a well-installed deck.
We hope these pictures of some of above ground pool decks will inspire you to create your own heaven in your backyard. Such decks are affordable, easy to install, and do not require too much maintenance.
On average, an above-ground pool deck cost ranges between $300 and $3,000. That's excluding the $700 to $3,700 cost to build an above-ground pool. You can even go for readymade pool kits that come with a patio area already included.
So, now that you are convinced, get your house a beautiful deck and enjoy spending most of your time outdoors.
Read more: Important Things To Be Considered For Pool Fencing
8 Above Ground Pool Decks to Make Your Yard Look Beautiful
was last modified:
January 23rd, 2020
by