14 Fireplace Decor Ideas to Glam up Your Living Room
We won't be wrong when we say that a fireplace is the heart of your home. Whether you decide to light a crackling fire to warm up your living space or not — you need to dress up this cozy corner and give it the attention it deserves. To help you make your hearth a perfect focal point for your living room, we have 14 wonderful fireplace decor ideas.
These fireplace decorating ideas will enhance the look of your hearth — without necessarily relying on the fire. They will add visual interest to your fireplace — making it the centerpiece of your living room. Your home will benefit by looking its best — all-year-round.
So, here are some inspirations that use your fireplace as the perfect setting to showcase your space, artwork, and antiques. Be ready to roll up your sleeves and get started with some really smart fireplace decor ideas.
If you are planning a living room remodel, try our free estimator tool to have an approximate of how much the cost would be. It's easy to use!
1. Play up that stylish integrated fireplace with color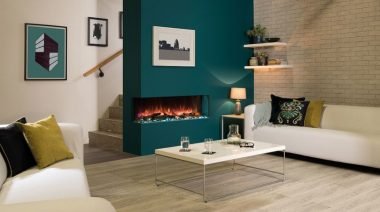 Photo by Pxhere CC0
We simply love this integrated electric fireplace and the fact that the wall has been colored a beautiful shade of green to go with the amber flames. The accent wall beautifully complements the white couches and coffee table in the room. The wall adjacent has been purposely kept a soothing beige to balance out the flamboyance of the green.
2. Brighten up your fireplace face with a wall-mounted mirror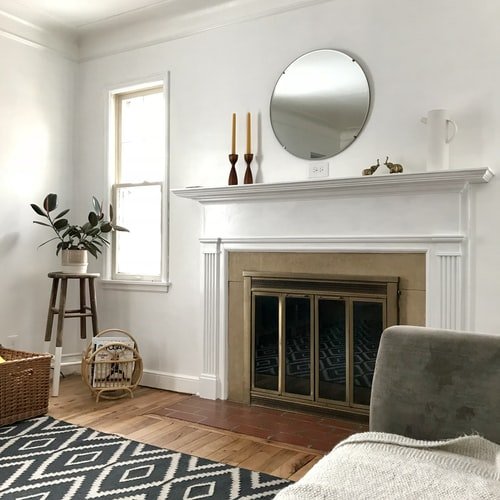 Photo by kelsey roenau on Unsplash CC0
Some things never go out of style. Placing a mirror above your fireplace is a staple that adds a stylish vibe to your living space — creating a bright focal point in the room. Whichever shape and size you choose, it should reflect your style and be the perfect partner to your fireplace.
Here, a seamless mirror along with a metallic fireplace having glass doors, a pair of sized-down candlesticks, and a no-frills decor add a minimalistic touch to the living space.
3. Create a stone facade for your fireplace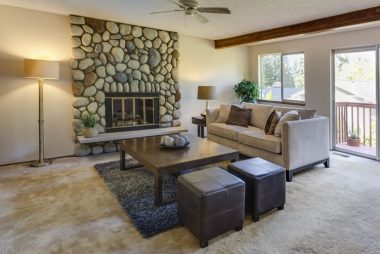 Photo by Francesca Tosolini on Unsplash CC0
There's nothing more eye-catching than a fireplace with a stone facade. The unique style helps to glam up the otherwise simple yet classy decor. This perfect blend of rustic and modern interior decoration gives a character to your living room without making it look kitsch.
Planning a renovation for your house? Try our free home remodel cost estimator; it's easy and convenient to use!
4. Keep it minimalistic with signature wall art
When you want to keep things simple with understated elegance, all you need is a signature wall art. Let the piece be the only decor item in this airy and bright living room (thanks to the large energy-efficient windows letting in uninterrupted natural light). The vintage oil painting acts as the perfect de facto mascot for a brightly colored fireplace. A lively green in this case.
5. Texture your fireplace with woodsy elements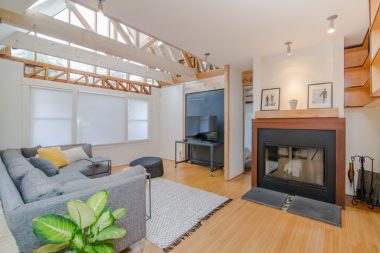 Photo by Outsite Co on Unsplash CC0
We like how this rustic fireplace decor idea gives a cozy and unique vibe to the room. The interior designer has textured the fireplace mantel by adding wood and metal — using it beautifully to incorporate the natural elements. We love the wooden open cabinetry, simple upholstery, a handcrafted rug, exposed beams, and lovely indoor plants. We bet you'll refuse to move away from the fire in this cozy setting.
6. Add an old-world charm by painting your fireplace black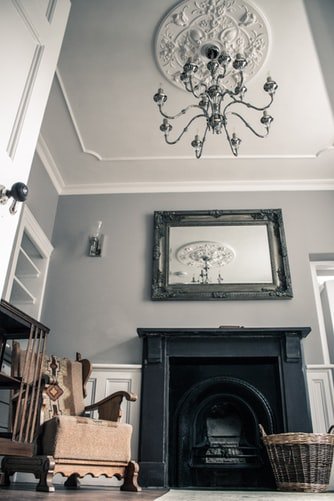 Photo by Rik Hopkinson on Unsplash CC0
A pitch-dark metallic fireplace against white or gray walls will help you showcase the architectural features of your room. A mirror or artwork in the same color scheme will accentuate the contrast in the most beautiful way. We love how the ornate mirror above the fireplace reflects the equally mesmerizing vintage chandelier.
7. Think white brick facade and contrasting greenery
It's time to ditch the typical red brick fireplace for a white one. This decor idea looks even more appealing when there's a traditional wood-burning fireplace — complete with a chimney and burning logs. Even if you have a non-working fireplace, you can use the white brick fireplace to add a touch of greenery or a pop of color.
We like how this hearth comes alive with an indoor garden. You can arrange an array of low-maintenance succulents or ferns in differently shaped pots. Your living room will instantly start reflecting unbound positive energy!
8. Create a cozy fireplace nook with a wooden bench
Here's a fireplace decor idea that will not only dress up your hearth but also the entire corner. Place a wooden bench underneath your fireplace — creating a DIY mantel. We love that the simple piece of furniture is surrounded by a woven planter on one side and a quirky stool on the other. And, do you know the best part? You can utilize the inside of the bench to store your favorite bestsellers and recipe books!
9. Add a classy touch with neutrals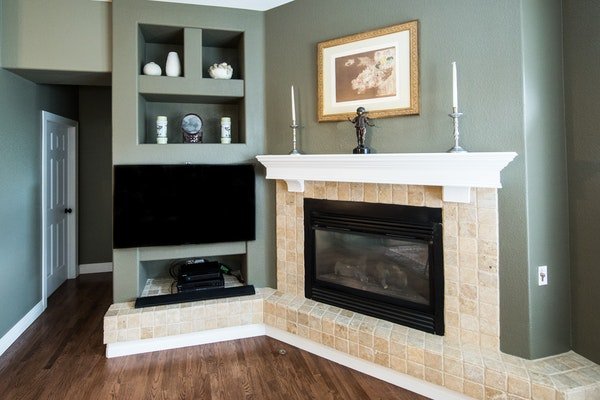 There's something very homey about a fireplace set against neutral-colored walls. The light hues make the fireplace an inviting place, even on warmer days. We can almost imagine how the flames will dance to give the room a burst of red!
10. Let your fireplace talk with a large wall clock
Adorn the fireplace wall with an oversized antique wall clock. Trust us, your wall will talk! Keep the rest of the decor simple with a few glass bottles, framed family photographs, or other collectibles. Just remember to keep it low-scale.
11. Go all-white with marble fireplace decor ideas
A marble fireplace is another look that's not going out of style anytime soon. An elegant-looking marble fireplace adds immense style to an all-white living room. You can use the wall space above your mantel to add in a matching mirror and the mantel to show off your favorite pieces of China. Just pick up a few classy pieces at antique shops or tag sales — and make your living room look spectacular.
12. Add a vintage vibe with cast-stone fireplace
We love this impressive living room. And, the dark cast stone fireplace adds a warm vibe to it effortlessly. The stone hearth, the cathedral ceiling, the Persian carpet, and the comfortable chairs — all add an ethereal (read mid-century) vibe to the room.
13. Create the perfect mantlepiece
With the right fireplace decor ideas, you can treat your fireplace as a console. Utilize its mantel and treat it as a piece of furniture. Just like a console, you can add timeless accessories such as lamps, artwork, and urns.
We love how this fireplace with the glass door brings something extraordinary into the room. It easily becomes a part of the overall design because of the carefully chosen decor items.
14. Bring in an eclectic touch with fun accessories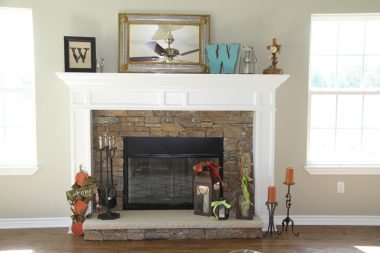 Photo by Pxhere CC0
Glam up your fireplace mantel with assorted decor and accessories. The best part is, you can change them from one season to season and bring a fresh look to your home every single time.
Think eclectic pieces and shades like in this fireplace decor idea. There are candles, tea-light holders, quirky mantelpieces, and what have you.
Conclusion
Nothing is as cozy as a lovely looking fireplace with a toasty fire, some throw blankets around, and your loved ones on a cold winter day. If you're looking for some inspiration to revamp your living space, we have 14 beautiful fireplace decor ideas that will lighten and brighten up your home.
These decorating ideas and tips will give your fireplace a facelift and how! Add your special touch with creative arrangements and accessories and turn your living room fireplace, or any fireplace, into an eye-catching focal point.
Read more: Living Room Ideas with a Fireplace
14 Fireplace Decor Ideas to Glam up Your Living Room
was last modified:
October 14th, 2022
by
Recommended