14 Beautiful Window Treatment Ideas For Your Home
When it comes to window treatment ideas for your home, there's no dearth of creativity. However, do keep in mind that windows can either make or break the look of your home. So, it's important to choose the most suitable and stylish window treatment ideas.
One of the most common mistakes that homeowners commit is to overlook the importance of window treatments. Indeed, window coverings can be functional, decorative, or both — depending on your space, the amount of natural light you prefer, and of course your budget.
Planning a home remodeling? Use our free home renovation estimator to have a fair idea of the total expenditure of your project.
Our home is the perfect canvas for great window treatment ideas. You can choose a lovely pop of colors, structural elements, and aesthetically pleasing furnishing solutions. All of these will give your space personality, comfort, and functionality.
From flowing floor-to-ceiling curtains and drapes, classic blinds to Roman shades and laidback shutters — there are several window treatment ideas. Here, we'll explore 14 of those. Which ones you choose will depend greatly on how you and your family use that particular space. Let's begin. 
Thinking about window installation? Find the best cost for your installation.
1. Bring in the simplicity of Venetian blinds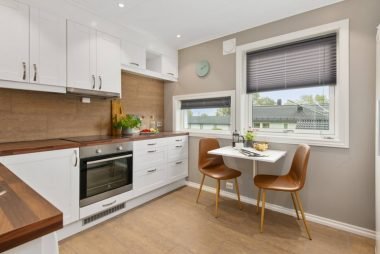 Photo by Rune Enstad on Unsplash CC0
There's nothing more simple yet classic as these no-fuss blinds. They are one of the most popular types of window treatments. When it comes to the material, you can choose wood, metal, or plastic.
The flexible fitments are suspended using strips of cloth, tapes, or cords. Usually, you are able to rotate the slats to almost 180 degrees! Just use the chord mechanism to open the blinds (the slats will overlap each other) and close it (the slats spread out completely).
What's more, you can even choose varying degrees of separation and rotation.
Ideal location: Home office or kitchen.
2. Go the eco-friendly way with woven wood shades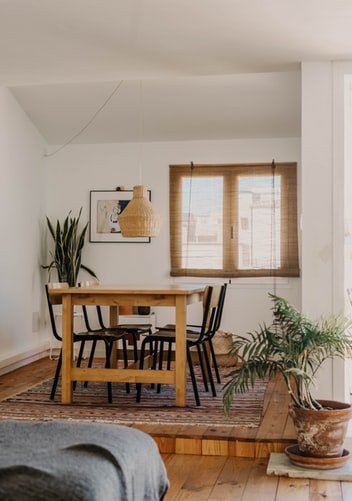 Photo by Toa Heftiba on Unsplash CC0
Want your home to have a casual, relaxed, yet stylish vibe? Opt for woven wood blinds aka bamboo shades or matchstick shades. This textured window treatment adds a natural touch to your living space.
You can always choose the color, texture, or material you want. They come in a variety of materials such as twines, reeds, hemp, grass, wood, and bamboo — all of them eco-friendly and natural.
FYI: If you want to increase the privacy quotient or insulation, just add liners.
Ideal location: Patio or dining room.
3. Spread the magic of sheer curtains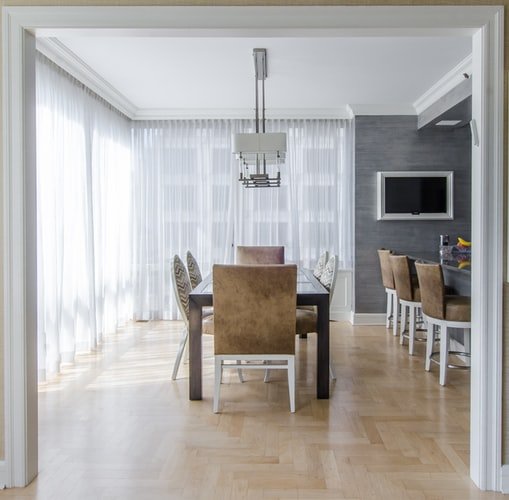 Photo by Chastity Cortijo on Unsplash CC0
Sheers, especially ivory or white sheers, look magical. They create a whimsical, breezy, light vibe that's unmatched. These beautiful pieces of cloth allow for plenty of light into any room.
The best part is, in the daytime, you can easily see from the inside out while the people outside will not be able to see directly into your house. And, they do not cost you a fortune.
FYI: They look their best when hung from floor to ceiling.
If you're worried about privacy, the good news is that a sheer or net curtain can have different variants in terms of translucency. You can choose thin, very thin, or barely visible.
Usually, sheer curtains come in silk, rayon, gossamer, or nylon. And of course, there's a wide range of colors and prints.
Ideal location: Living room, kitchen, or dining room.
4. Beautify your space with Roman blinds/shades
Roman shades look beautiful! With the soft appearance of a drape, they give an understated elegance to your space. An exotic vibe. You can select linen, silk, or cotton Roman shades. They'll lend warmth to your room.
As you work the cord mechanism to open the blinds, the fabric gets lovely soft, horizontal folds. If you want to close them, just release the cords and the folds lay flat against the pane — providing you complete privacy.
You can even the height of the cover depending on the amount of light or insulation you want.
Ideal location: Living room, verandah, or sunroom.
5. Add a touch of drama with fabric valances or wood cornices
If you want to add some vintage style to your windows, a dramatic valance or cornice is a good idea. Do not underestimate these traditional beauties; with the right textiles and materials, they look amazing.
Plus, your room will get a well-put-together look with all the curtain hardware nicely blending with the rest of your home decor.
Ideal location: Living room, family room, or guest bedroom.
6. Bring in an elegant vibe with wooden blinds
Wooden blinds look pretty in any room. These classic window treatments complement all decorative styles, especially if you choose the right type of wood.
There's a wide variety of finishes available. From sustainable bamboo and light pine for the Scandinavian home design to dark ebony for dens.
There are also faux wood options that are much cheaper and durable. And, they don't fade or warp — the perfect choice for humid climates.
FYI: Wood blinds always look best when layered with drapery and a cornice.
Ideal location: Den, family room, or study.
7. Add style with shutters
Shutters have an old-world charm that's undeniable. They are perfect for a cottage, country, or rustic-style house. Fitted on the window frame with hinges, these easily swing open or close.
And you can adjust the small louvers with the help of levers according to how much light you want to filter in.
FYI: Wood shutters add great value to your home because they look attractive from both sides — inside as well as outside.
If you're lucky enough to have a bay window or custom windows in any room, you can combine shutters with curtains on rods. Such a look will help make your window treatment idea stand out.
Ideal location: Bedroom or living room.
8. Go for a no-fuss curtain rod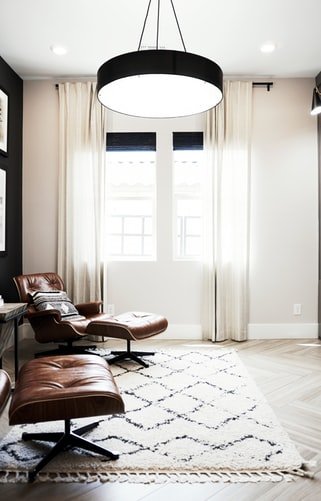 Photo by Josh Hemsley on Unsplash CC0
Drapes and curtains on simple rods are the easiest window treatments to install. For first-time homeowners, while curtains are light-weight, drapes are heavier.
Nevertheless, both add style, elegance (a drape more so), light control, and tons of privacy to your house.
If you want an extra dose of elegance, try hanging white curtains or drapes from the to the floor on no-fuss hardware. You can hang them just a few inches below the ceiling line. Of course, you have the option of selecting any height or length you desire.
Moreover, they are available in various styles, fabrics, colors, and patterns.
FYI: While choosing home curtains, make sure that they complement your home decor and flooring.
Ideal location: Bedroom, living room, or family room.
9. Choose lacy shades
Want to add a glamorous look to your space? Bring in the lace shades or curtains. The easy-breezy look gives a surreal vibe to any room. As a result, your space will look airy and brighter.
Coordinate your lace curtains with the colors of your walls or decor.
Ideal location: Bedroom, kitchen, or living room.
10. Get a combination of curtains on double rods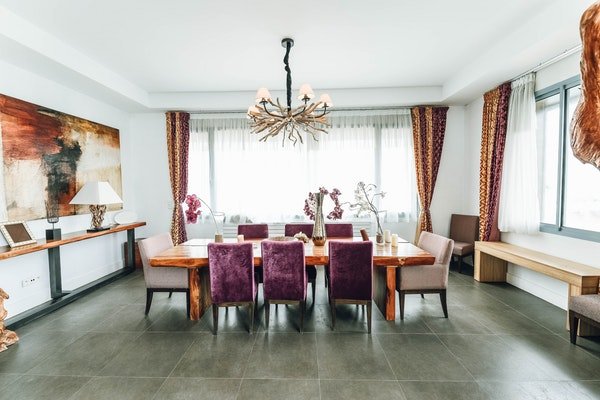 Here's a window treatment idea that gives you the flexibility to change the look of any room instantly. The idea is to use two different types of curtains (in terms of material, texture, thickness, and weight) on a double rod. 
Planning for window installations? Get the best estimate with us.
Choose the thicker fabric in a darker hue and the sheer one in a lighter tone. Use the sheer one during the mornings or afternoons and the heavier curtain for entertaining in the evening.
Ideal location: Living room, bedroom, or guest bedroom.
11. Opt for the classic glass window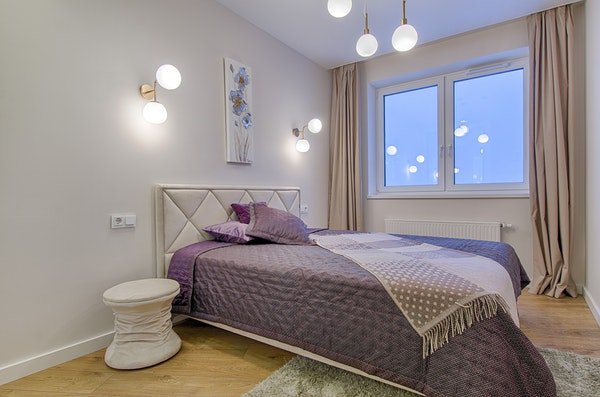 Sometimes the simplest of the window treatments give a wonderful look to the room. If you're blessed with a beautiful view outside, try showing off that glass window of yours with a simple drape with concealed rods.
Keep the drapes drawn and enjoy the view through the clear glass windows. The room will look airy, bright, and full of life.
Ideal location: Bedroom.
12. Dress up your window with checks
Checkered curtains add depth to a window — making it stand out and how! Not to forget that it gives any room a cozy vibe. You can try the grommet style — which makes it easy to maneuver the curtains — or valances in the same material and pattern.
That way, the valances will give your windows a complete look. And your guests will be impressed!
Ideal location: Family room, living room, bay window, or bedroom.
13. Bring easy movement with ring-top curtains
A ringed top makes it very easy to maneuver the drapes or curtains. Keep a few points in mind when going for such curtain hardware:
Coordinate the curtain rings with the curtain rods.

Use the appropriately sized rings.

Hang the rod just a few inches below the ceiling line. Do not leave a huge gap.
Ideal location: Any room.
14. Accentuate your window with a cafe curtain
If you want your windows to let in a lot of natural light and yet offer you a decent amount of privacy, cafe curtains are the perfect choice for you. Most often than not, these straight curtains cover the lower portion of a window — providing privacy.
They hang from rings that slide along a rod and effortlessly make your space look homey and inviting.
Ideal location: Kitchen or guest bedroom
Conclusion
A person who likes to entertain friends and family knows that the windows of a house, much like other parts, deserve some good amount of TLC as well. If your window treatments are pleasing to the eye, they will make your home look more inviting and full of warmth.
No wonder, it's important to select the right kind of furnishings and decorative details.
Any of these window treatment ideas will add extra style and charm to your home — creating a more intimate ambiance. Just don't forget to open your stylish curtains or blinds to let in some sunshine!
14 Beautiful Window Treatment Ideas For Your Home
was last modified:
August 31st, 2022
by
Recommended