Regardless of your interior style, all windows look better with at least some kind of a window treatment, with a window blind for instance. Even the simplest curtains can enhance your style and create a more intimate atmosphere. So, if you feel like your windows need a fresh treatment, here are a few stylish window treatment ideas you can try out. All of them are quite easy to pull off and will not break the bank, so feel free to give them a shot.
Ombre curtains
You can easily create an ombre effect on your curtains with some bleach and water. One popular design is stripes. For this, you should soak the bottom two-thirds of a colored curtain in a 50-50 solution of bleach and water. Hold it in until it reaches a desired lighter shade (it usually takes about 5-6 minutes) and let it dry. Next, leave the bottom third of the curtain in the bleach until completely white and then dry it. Now you should have an ombre curtain with three different shades! For the best result, opt for natural, dyed fabrics like cotton or linen. The 100% synthetic fibers are usually colorfast, so they might not be the best option.
Geometric shades
Geometric shapes are very popular today and they fit in with any interior design. So, if you want to add some stylish symmetry to your home, you can easily do it with chevron shades. Grab a plain shade, create chevron stripes with painter's tape and use a roller to transfer paint onto fabric. Once everything is dry, remove the tape and install your new geometric shades. You can go crazy with the design (opt for a small pattern or a big one) and find a shade that complements your color palette nicely. For instance, white and gray are the perfect choice if you're going for a contemporary look.
Marbling
Those who want a real challenge and a gorgeous result can try marbling. This process is neither fast nor easy, but it's super fun and exciting. Curtain marbling works best on smaller pieces of fabric because, otherwise, you would need a huge marbling tray and patterning tool. Here's a detailed guide on marbling fabrics, but don't let the seemingly complicated process discourage you from ending up with a chic, colorful and unique window treatment. It's perfect for all rooms that need a bit of color and pizzazz.
Add fabric valances or wood cornices
If you want to add some old-fashioned style to your windows, you can always opt for a valance or a cornice. They often get overlooked because of their vintage and traditional nature, but if you use the right textiles and materials, they can look amazing. Plus, your room will get a more thought-out and sleek look with all the curtain hardware nicely blended with your home. A fabric valance can be quite easy to make, while wood cornices require a bit more work. However, if you're serious about DIY and own a practical measuring stop, you can easily create a custom, stylish wood cornice. With the right tools and quality materials, you can make one in less than an hour and for as low as $15. This will allow you to splurge on some stylish curtains!
(Faux) wood blinds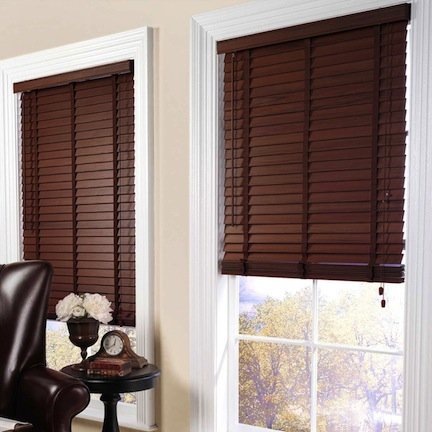 Photo by David Mallet, via Wikimedia Commons (Public domain)
No matter what your opinion on wood blinds is, the truth is that they look pretty great in any room. They are a classic window treatment, but the one that can complement all decorative styles, especially if you choose the right type of wood. There are many finishes available from sustainable bamboo and light pine for the Scandi style to dark ebony for manly dens. There are also faux wood options that are much cheaper and durable. They don't fade and warp, which makes them a perfect choice for humid climates. However, no matter the finish and material you choose, wood blinds always look best when layered with drapery and a cornice.
Any of these window treatment ideas will add some extra style and charm to your home. Just don't forget to open your beautiful curtains or stylish blinds every once in a while to let some sunshine in!
Beautiful Window Treatment Ideas for Your Home
was last modified:
June 11th, 2019
by